Child Support Aims and Objectives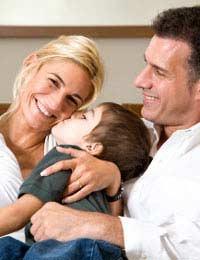 Both the Child Support Agency (CSA) and Child Maintenance Service (CMS) have one main objective which is to promote responsible parenting, after separation or divorce. This should be shared between the parent with care (or resident parent or guardian) and the non resident parent, who is expected to pay child maintenance. Child Maintenance Options also aims to provide resources and information to anyone seeking assistance with child maintenance concerns.
Core Values
Where supporting children and families is concerned there are many important values that must be upheld. These must consider children's rights at all times, and predominantly focus on supporting a loving relationship between children and parents and the contribution parents make to their child's development.
Support Objectives
The UN Declaration of Children's Rights defines the considerations that are important in all matters concerning the welfare of children.
Any child support agency that works in supporting children and families must all promote progressive welfare practice, whilst maintaining strict standards and principles. Promoting shared parenting, supporting families after breakdown and separation and campaigning for parental responsibility, particularly where unmarried fathers are concerned, are all key policy objectives.
Challenging gender-based inequalities in judicial, and welfare, practice and support the principles of shared parenting after divorce or separation are also objectives that are clearly promoted. The main responsibility of a child support agency however is to collect and distribute child maintenance on behalf of children whose parents are separated or divorced.
Providing Effective Support
Providing support for families and children requires that awareness of the impact poverty has on home life, and the development of children, is raised. By developing and promoting policies that address the issues of low-income families support can be made more readily available.
The Government expects all parents to act responsibly towards raising their family, by providing adequate financial support for the children. This reduces child poverty and provides a stable environment for children to grow and develop in.
Potential Problems
As with any service that relies on the collation of detailed information, before distribution of maintenance funds can be issued, there is a possibility of problems occurring through the system. Having to gather information from various sources, carry out assessments and reassessments and the calculation of maintenance requires time and good organisation.
Difficulties also arise when there are changes to individual circumstances, and records need to be updated and reassessed, or a non resident parent has to be traced for maintenance.
Although child support agencies generally aim to resolve issues and problems as quickly as possible there are occasions when the collection and distribution of maintenance is affected. Understanding the functions of an agency may enable parents, or legal guardians, with care to temporarily adapt whilst maintenance payments are sorted and distributed.
You might also like...
@grubby - I think in this case you would have to get on to the CSA directly and see if this is a service it will offer.
ChildSupportLaws
- 17-Feb-15 @ 1:01 PM
can i request a letter of proove for all the csa payments made if my ex partner is saying to my child that he has never recieved payments of me for him
grubby
- 15-Feb-15 @ 12:23 PM