Child Support: Legal Case Studies
By: Lorna Elliott LLB (hons), Barrister - Updated: 29 Apr 2016
|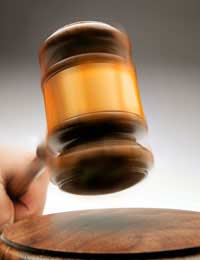 Although the majority of child support cases are decided without court intervention, there are occasionally cases of legal significance that go all the way to the Court of Appeal, or even to the House of Lords. Cases that involve human rights issues can also be taken to the European Court of Human Rights or ECtHR.
Re H (Paternity: Blood Test) [1996] 2 F.L.R 65
This was a court of appeal case about paternity in which a married couple could not agree on whether or not to have a blood test to establish the paternity of a child. The couple had been going through marital difficulties and the mother had an affair with a man ten years her junior, for a period between November 1993 and July 1994. She became pregnant in March 1994.
The mother intended to leave her husband but changed her mind and decided to reconcile her marriage. The intention was to raise the child as hers and her husbands but the man with whom she had an affair thought he was the child's father, and wanted contact and legal parental responsibility for the child. Prior to the affair the husband had undergone a vasectomy operation but had not subsequently been tested to find out whether it had been successful. He and his wife, the mother of the child, had been engaging in sexual intercourse for some time and it had resulted in no conception. The mother refused to consent to blood tests for herself and her child. (Nowadays the paternity test would normally be conducted by inner cheek swab, not blood test.)
Judgment
The court held that it should permit a blood test of a child unless there was evidence to show that the blood test would not be in the interests of that child. Welfare considerations relating to that child were relevant, but not the overriding factor in the decision making process.
The Right to Family Life
The Human Rights Act 1998 brought into law the European Convention on Human Rights of which Article 8, gives a right to respect for private and family life. This means that people have a right to keep private matters in their home and to do with private correspondence. There is an exception to this, in that public authorities can become involved 'in accordance with the law' in relation to matters of national security, public safety, to prevent crime and disorder, in the interests of the economic wellbeing of the country, to protect health or morals, or in relation to the rights and freedoms of others. It is this last element "the rights and freedoms of others" and to a lesser extent the provision relating to health and morals, which most greatly impacts on circumstances relating to children and child support. The following case relates to number of Human Rights points.
House of Lords in Secretary of State for Work & Pensions v M (2006)
This mother in this case had two children by her former husband from whom she was divorced. The children spent most of the week with their father, so she was the non-resident parent for child support purposes. The claim for child support related to a period between 2001 and 2002 so the rules relating to calculation for that period applied. These rules calculated that the income and outgoings of the mother's heterosexual partner could be taken into consideration when calculating the amount of maintenance that she should pay towards her children. However, the mother was in a lesbian relationship, which meant that she was required to pay more than if she had been in a heterosexual relationship.
Judgment
The mother claimed that she was entitled to treat her same-sex partner as a member of her family. Although she succeeded initially in her appeal the case went to the House of Lords who held that the mother's claim was not an Article 8 case in that she was not claiming that she was being deprived access to her children, or indeed being denied contact with them at the home she shared with her same-sex partner. The court held that her claim was not a valid one and that the CSA under the 1991 Act was able to treat same-sex couples as either two individuals or one family unit.
Paternity and the CSA
Other high-profile cases aren't so significant in terms of the law but still capture media attention due to the perceived injustices of the child maintenance system. A man made the headlines in the UK in 2007 when he donated his sperm to a lesbian couple who then had a child together. He was a friend of the couple and gave his sperm so that they didn't have to go through a clinic. Because he was the legal father the Child Support Agency was pursuing him for maintenance for the child.
You might also like...
my children are university. The tuition is paid and maintenance is paid separately. They are living abrosd and Board and Meals are charged seprately from the Tuition. While they are at University does the maintenance payment cover the Boarding and meals while they are at School?
Showfaith
- 29-Apr-16 @ 1:25 AM
worried - Your Question:
My son and his wife are on the verge of splitting up, she has been ill for some time and has never really looked after there little boy, for quite some time she has been unable to.my son has done everything for him since the day he was born and takes him everywhere with him, will she be able to stop my son from keeping there little boy as he has always done it all.How is the law on that and is there anything he can do to protect himself and his son from being separated.
---
Our Response:
Hopefully, this is something they will be able to agree between them and could perhaps agree to shared care. In cases such as this Mediation is a good way to come to an agreement. Mediation is when two or more parties meet to resolve problems before the matter reaches court. It is most often used in family proceedings, Contact Orders, residence agreements and divorce. It is a formal negotiation and courts can accept the agreement of the mediation instead of having to go through the court process, although it is subject to final court approval. Mediation takes place in front of a neutral third party. The mediator has no pre-conceptions and will not force an agreement. They will assist the two parties in taking turns in the conversation, and help them reach a decision they are ready to agree with. I hope this helps.
ChildSupportLaws
- 26-Feb-16 @ 2:27 PM
My son and his wife are on the verge of splitting up, she has been ill for some time and has never really looked after there little boy, for quite some time she has been unable to. my son has done everything for him since the day he was born and takes him everywhere with him, will she be able to stop my son from keeping there little boy as he has always done it all. How is the law on that and is there anything he can do to protect himself and his son from being separated.
worried
- 25-Feb-16 @ 7:22 PM
Can you or someone explain the two court cases: Mallamo v Mallamo and Centanni v Centanni
randy
- 28-Aug-14 @ 1:09 PM
Hi, My ex husband and I divorced about 10 years ago. We have a daughter who is now 14. He stopped seeing her when he remarried. He was forced to pay maintenance through the CSA and it caused a lot of resentment from his part. Last year I moved abroad to the Middle East to better my life and bring financial stability for my kid. The CSA suddenly stopped payments as the 'child' was no longer in their jurisdiction! I sent several emails to ascertain why they had not informed me of this, no real answer from them. I am in the UK for a few weeks and would like to know how I can get maintenance as my daughter's schooling had cost more than half my wages last year. My ex has signed a 'no-objection' letter to take our daughter abroad. This has been attested by a solicitor. Am I able to apply as we live abroad? I appreciate your quick response as time is short.
Sam
- 26-Jul-14 @ 6:03 PM
Hi "they can apply for a foreign maintenance order which will be enforceable against the non-resident parent who is living in the UK." Where can I apply for this in South Africa? Kindly assist.
Loafer father
- 26-Jul-14 @ 3:52 PM
My wife and I are separated but have not finalized our financial arrangements yet.We are about to do so but I need to know exactly what is child maintenance intended to cover? I'm guessing it's for basics like light & heat, clothing, food.But is it also intended to go towards child-minding, school uniforms, doctor, dentist, social?What other once-offs should I expect to be asked to pay out for which are not included in the realm of the basic child maintenance? Please help me with this. I would like to do it right.
fint
- 27-Jun-14 @ 11:02 PM
My son aged 15 has moved out and gone to live with his half sister. she is making a maintenance claim against me, can she do this even if she has no parental rights. Thanks
rusty
- 16-Jun-14 @ 10:04 AM
Hi. Iwanted to ask where we stand re my partners ex contacting csa regarding maintenance payments. He is out of the country working away at the moment so stopped the payments as he couldn't afford them and I received a letter from the CSA asking for details of my and his salary.He has told me that an agreement was set up between him and his ex and not through the CSA.Firstly am I legally obliged to provide my salary details as his kids are nothing to do with me and secondly I am receiving disability benefits as have been unable to work for over 14 months due to an injury at work and I receive no salary from work.Does this affect the amount they will order him to pay etc.Thanks in advance for all replies.
lofty
- 26-May-14 @ 8:54 PM
my husband and I are very likely to get separated. We have 2 boys from our marriage, both are carrying his name, I still have my maiden name, just was not able to get around to change it. I want custody of both children, my husband wants the same or split them up. Besides that he is from Namibia and if he was to get custody he will take them back to his country. What are my options to make sure I will get custody?
Sue
- 19-Sep-13 @ 1:22 PM
I'm 17, and in full-time education, asking on behalf of my father (the non-resident parent):My dad paid child support to my mum, but was then fired in November. Since then, he has been claiming Job Seeker's Allowance, but hasn't paid my mum at all. She is aware of his situation, but is of the mind that she is owed around £1,400, and is talking of seeking legal advice (my dad is as yet unaware of this). What is the resolution to this, until my dad has found employment? Should he simply be paying the flat rate of £5 per week? Also, are there any potential legal ramifications if my mum does seek legal advice etcetera? Any clarification that you could give would be much appreciated.
joshua
- 22-Feb-13 @ 1:33 AM
I previously lived with a woman who had to girls to me. I was self employed on a low income and now working for a company, my ex partner has now contacted the CSA and they have gone back to when she first applied in 2007 for maintenance. This is all very well and above board. However as the CSA don't take into account that my ex partner moved in with me in my own property and ensured that her name was put on the deeds,after I had a period of ill health, and my ex wanted to ensure that my girls and her future would be safe should anything happen to me. My ex then took a loan out of against the property and ended up with it being repossessed when all the legal work completed ended up with approx £40k she also owed my family in access of £20k that she borrowed to set up her own catering business 10 years earlier, and when she sold the business ended up with another £20k profit. Did not repay my family back and they have no paper work or proof that she borrowed the money, she states it was a gift. The girls stayed with me 4-5 nights per week, often not both together as two teenage girls together constantly argued, so they did it on a night by night basis. If one did not stay over came for her tea, and needed taxi money home. After a conversation with CSA my ex partner had been advised that the girls should not have over night stays with the non resident parent as the amount in her maintenance would increase. Hence the girls have never been allowed to stay. The CSA are now taking direct payment from my salary,. My partner has now moved in with me and is having to pay the shortfall in my mortgage [taken out with my father as a guarantor as I was unable to have a mortgage in my own right after ex had last house repossessed] and my partnerhelp towards my bills as well as paying her half of the bills/food. My partner has pushed for the CSA as she informed my partner that she would end up with my partners wage as well, this has left us in financial hardship, my partner is not only paying my shortfall but also paying my girls mobile bills paying for their other requests for clothes/outings. So in an indirect way my partner is receiving some of my partners income. Child maintenance is not means tested which is totally unfair. This is putting a huge strain on my partner and I and our relationship, my partner has other financial commitments. This is even more annoying that my children are not benefiting from the maintenance as all it is used for that mum and her husband are have lavish meals and weekends away. my payments including arrears are 50% of my income.and they say they do not take partners in to consideration. Would like your view on this case and whwre can I go with it from here have appealled but have not had any luck
terry
- 14-Feb-13 @ 11:46 AM
Hi, my youngest daughter who is 17 recently went to live with her dad.He walked out nearly 9yrs ago and never in all that time paid a penny to me to help support our 2 girls.He used to cash work, which I reported on numerous occasions, but no one ever investigated or listened to this.I have come home this evening to an application for Child Maintenance from him!!I earn £19k a year, pay a mortgage, my bills, I am still paying off a loan for a car I had to buy to get to and from work, I have £30k of his debt on my mortgage that I am left with.He messed around so much during the divorce, not turning up for hearings, supplying paperwork etc, so I ended up with a £13.5k Legal fee, which has now been set as a charge against my house.This charge is now in excess of £20k as it accrues £1,100 a year in interest!!Surely they can't honestly expect me to pay??To say I am livid right now would be understating it!!!!
JJ1969
- 7-Dec-12 @ 6:17 PM
I have a 9 year old daughter and a 2 year old daughter with two different men. I was previously married to my older daughters dad but we have since divorced and I haven't seen or heard from him in six years. My current partner (father of my two year old) wants to legally adopt my older daughter. Where does he stand based on her birth father still having parental responsibility? Would he be able to adopt her if we are unable to find her birth father?
Kiki
- 19-Nov-12 @ 8:13 PM
My son and his girlfriend were living together and the girl decided to come off the contraception without telling my son, she is now 6 weeks pregnent and wishes to have the baby. Bear in mind that she is 17. My son tried to discuss with her that she should have an abortion as he does not want the baby. What are his rights and will he end up paying the maintainence allowance despite the fact that he has made it clear to her and her parents that he does not want the child, also he has now left her and come back home.
Neil
- 2-Nov-12 @ 1:51 PM
Hi, im 16 years old and fear i maybe getting thrown out of my mothers house, for trivial reasons. my father pays her £500 a month for my child support. However if i am chucked out my house i will have to move to my ads 200 miles away from my 6th form and my life, is there anyway i could get the £500 a month and use it to live in the area i am in at the moment or will i have to move in withmy father?Additional: i have a 21 year old brother who would move into an appartment with me if age is a problem for living alone.
jason
- 21-Sep-12 @ 3:21 PM
Im going to be seperated/divorced from my wife soon we have 3yo twins how my earnings cover the family home/bills/debts this leaves me with nothing for myself ie rent food basically i will be homeless and pennyless please help with some advice
richard7467
- 26-Aug-12 @ 11:56 AM
Hello. I don't know if I am too late to seek an appeal against the first-tier tribunal or whether I have a case. My ex made a number of appeals to the CSA against me. They were all vexatious. The CSA found all her appeals to be groundless. She then appealed to the first-tier tribunal. After nearly 2 years - because of delays and my poor health / stress - the Tribunal denied all the appeals except one. The judge found in her favour that my company's profits should be taken as my income. (I am a director of my company.) A profit of £27,000 in the company's account, built up over 3-4 years, was determined to be my income and used to calculate maintenance of about £85.00 per week, backdated to about 2 years. I tried to appeal the decision/judgement with the same judge but it stood. Is this legally correct?
uhuru
- 17-Aug-12 @ 4:20 PM
My husband lives in UK and i live in another country. He doesn't contribute anything for the upkeep and welfare of the two children we have. How do i claim child maintanence?
mrm
- 18-Jul-12 @ 3:25 AM
The csa has informed me that my private pension contributions are not taken into account when calculating my monthly payments, although these payments have been regular over the last ten years.the cas say that only company pensions taken from your pay are included in the calculation.how can this be correct why does it matter if i pay on a month to month basis or it comes directly from my pay.
kev
- 21-Jun-12 @ 1:56 PM
Whilst married to my former husband i had an affair which resulted in a pregnancy. My then husband never knew and has brought up the child believing her to be his and has paid maintenance since the divorce. My child has now found out at the age of 14 that my former husband is not her father and her biological father has made contact and wants to be a part of her life. Where do i stand legally with maintenance with my former husband. Could he claim the maintenance back that he has paid since the divorce. My former husband is named as the child's father on the birth certificate.
Missy
- 12-Jun-12 @ 3:45 PM
@DR. They do not take into account the actual wage of your partner but will consider the fact that there are two of you (wage earners) who are sharing the household costs.
ChildSupportLaws
- 19-Apr-12 @ 2:04 PM
@Magsy - no your salary should not be taken into account as they are not your children or your responsibility - but the CSA will take into consideration the fact that there are two salary earners in one household so sharing some of the costs there.
ChildSupportLaws
- 19-Apr-12 @ 11:49 AM
the csa i belive use scare mongery,they told me i have to pay a 12month back payment of 3000, they have tried to double my csa i just can not physically afford this,how can they say o have to pay what i dont have?its a joke.i pay over what i should pay so whers the harm.the mother of my girl is pure evil i didnt know i had a dugher until 3 year ago, for two years the mother had anohter guy belive he was the dad,he failed a dna. if you send all your paper work in to prove you just cant afford the payments they surly can come to some agreement.if i can give any advice it would be to not to fight it pay what you can via cheque,switch your payements to monthly and speak to your case worker, if you dont get any where appeal, write a simple letter appealing, state what problems your having with the csa an it will get looked at, failing that, write to the parlimentary ombusmand. take it higher and higher. i also want to know can the csa take into account my parnters wage?
I am moving in with my partner in the next couple of months. He split from his ex 2 years ago and has 2 boys from the relationship he had with her. I am financially independent and am just checking that my salary will not be taken into account when his child support payments are calculated? The CSA order was started about a year ago so I dont believe my salary is but just want to double check to protect myself. Please could you clarify for me? Thank you.
Magsy
- 18-Apr-12 @ 4:17 PM
QUESTION,I have been using csa since 2000,ex husband gave them 2 low payslips of 18,000 I informed them I thought this was incorrect repeatedly over the years.No reviews have been done in 12 years it has now come to light he is earing 25,000 doing same job same place within the police.csa have told me they wont do anything about the last 12 years, they will only to correct the amount due to me and any arreas since it came to light 5 months ago!!!! where do I go from here ?
frustrated
- 17-Apr-12 @ 1:45 PM
The relationship between me & my son's dad broke down when he was one. (he is now 11) Initially it was fairly amicable but 5 years ago when I began a new relationship & moved 30 minutes away my ex became difficult & stopped communicating properly with me. This has continued for years with frequent fall outs due to his lack of communcation & belief that I should drop off & pick up our son from his house as he won't get a car to facilitate contact.(he can drive) I went to Mediation but my ex refused to engage with it at all. I feel I don't want our son going to his flat unless I can rely on him to communicate properly with me as it's a safety issue. For example in the past he hasn't replied to my texts so when I drop our son off I now wait as previously our son has been left standing in the street pressing the buzzer wondering where his dad is. Since November 2011 he has stopped maintenance payments because of a fall out over Christmas contact. He does not have any parental responsibilities as we were not married & he couldn't be bothered coming with me to be put on the birth certificate. Can I stop my son having contact with him until he starts making payments again & more importantly starts to communcate with me properly for the benefit of our son?
JCboo
- 6-Mar-12 @ 7:26 PM
My eldest stepdaughter is moving in with her father. My youngest stepdaughter still lives with us. My partner and I plan to get married soon will I as the stepfather be liable to pay maintanence?
thomas the tank
- 4-Mar-12 @ 12:07 AM
My son is 18 and in full time education, covering level 3 subsidary diploma in IT.equalivant to Btec/ A levels.(14 hours per week) However my ex left us two years ago and there was a court order stating that he should pay whilst my son was in full time secondary education, my ex now says that as it is not secondary education and there was a court order stating that, he now does not have to pay, is this correct, is it not that my son is in full time education enough for CSA to pursue. I look forward to your response, if you cannot answer in email please telephone me on 07817535755. Best wishes Carol.
chaddie
- 23-Feb-12 @ 9:57 AM
how are self employed assessments worked out?if ex partner pays mortgage in full, is this taken off maintenance
DEBFROMKENT
- 13-Feb-12 @ 8:45 PM