Child Support and the Children Act 1989
By: Lorna Elliott LLB (hons), Barrister - Updated: 10 Nov 2015
|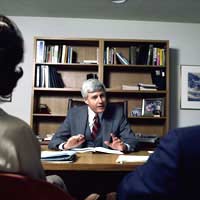 The Children Act 1989 is a very commonly used piece of legislation in family law. It was introduced to incorporate the United Nations Convention on the Rights of the Child. The UN Convention provides a number of 'Articles' that are fundamental to children's rights. These include Article 37, which prohibits torture, or cruel or inhumane treatment being inflicted on children (similar to Article 3 of the Human Rights Act, for adults) and Article 9, which provides that children should not be separated from their parents unless to do so would be in the best interests of the child.
When the Children Act 1989 was introduced, it created the concept of 'parental responsibility', which is a fundamental definition for the purpose of parent and child relationships in this country. Another very important definition in the Children Act 1989 is that of residence and contact between parents and their children. These concepts apply to all children under the age of 18 years.
The Best Interests of the Child
Section 1 of the Children Act defines the court's role in cases involving children. If a court needs to determine a question relating to a child's upbringing, or a child's property or income, the court will always put the best interests of the child first.
Other Principles of the Children Act
If at all possible, a child should be brought up by and cared for, within their own family unit. Rather than take a child who is in need away from its parents, parents should be helped to look after their children at home. These types of services to assist in the child's upbringing should be provided in partnership with the child's parents, and must be tailored to meet the particular requirements of the child. Children's services have to treat each child as an individual, and take into account race, religion, language and cultural differences and be accommodated accordingly. In the event that anything goes wrong, there should be accountability by local authorities.
Keeping Children Safe
Children should be protected from danger. This means that there should be effective intervention of children's services. If it is necessary to go to court, children's cases should be heard without unnecessary delay. Orders should only be made in cases in which it would be better to make an order than not: in other words, courts should refrain from making orders unless absolutely necessary. Children should be encouraged to contribute to decisions made about them, and to be kept informed about what is happening to them.
Child Support Laws
The Children Act gives parents parental responsibility for their children, which is not negated by the fact that the parent lives apart from their child. This concept allows parents who no longer live with their child on a day to day basis still to be consulted in decisions relating to their children's future. This also means that a parent is responsible financially for a child's future and, as a result, liable to be pursued by the Child Support Agency.
You might also like...