What Are Parents' Rights on Separation?
Author: Lorna Elliott LLB (hons), Barrister - Updated: 27 July 2015
|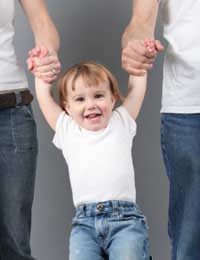 The break up of a relationship is always stressful and can leave one or both parents feeling lost, hurt and bewildered. When you separate from the other parent of your child or children, there are certain rights and responsibilities that you need to understand which will help you to make better decisions for yourself and your child.
Parental Responsibility
Mothers automatically have parental responsibility for their children. Fathers also have this right if they were married to the mother when the child was born. If you are an unmarried father, you will have parental responsibility if your name is registered on the child's birth certificate. You can also get a court order to get parental responsibility of the child, which does not in principle require the consent of the mother. If you separate from your partner and child, you do not lose parental responsibility.
Financial Arrangements For Your Child
When you separate, you will both need to make decisions about the welfare and upbringing of your child. This includes where the child lives and with whom, how the parent who is not living with the child will have contact with the child, and how the child will be supported financially. If you cannot agree this amicably, you will probably need to go to court to have arrangements enforced. Other issues that separating parents should discuss are holidays, education, who has responsibility for taking a child to a doctor, and what would happen if one of you became too ill to care for the child.
It invariably costs more for parents to live apart than together and if financial arrangements are not made this can cause hardship for the child. No matter how angry you feel about what has happened in the break up of your relationship, you should always remember that your child's needs must come first. If you are able to come to a financial arrangement between yourselves about your child (known as a 'private agreement') then that is often best, but it does mean that your arrangement is not legally binding. If payments are not made under a private agreement, the Child Support Agency cannot get involved and help you recover this money.
What If We Can't Agree?
If you cannot agree payment arrangements amicably, you may decide to use the CSA or get the court to decide. Using the court is likely to cost money, because you will have to pay court fees and will probably need a solicitor. Going to court over child support payments is not covered by legal aid, but if you are already going to court to determine other issues you can decide child support matters at the same time.
You should also look at changing your will after separation, or if you don't have one, you should definitely make one! If you don't have a will, your assets will be dealt with under the laws of intestacy. If you do have a will that is out of date, and your ex partner was the main beneficiary, your assets will go to your ex partner on your death.
What About Our Home?
In terms of property, one partner may decide to leave the family home. This can be problematic if the parents aren't married, especially if a new partner moves in with your ex before arrangements can be finalised. In these situations, it is very important that you speak to a solicitor without delay. If you and your ex partner are married, one person automatically receives the other's estate on death – which you will want to avoid if you have separated.
You don't always have to sell your home on separation. You may be able to agree who pays the mortgage, or get a court order as to that effect. One partner may be able to buy the other partner out of the property, or you could decide to sell it at some point in the future.
Do I Have To Go To Court?
Not all separations and divorces end up in court. Some people are content to use a separation agreement, or to enter mediation in order to come to an agreement about issues between you, your partner and your child. Mediation is often much less stressful than having to resort to court action, and can also be cheaper than litigation. That said, you will have to use the court if you decide you are going to divorce. There is no way around this.
Speak To A Solicitor
In short, if you can possibly keep negotiations amicable then this is best. Things do however have a tendency to deteriorate and you can find yourself very short of money, or without a home, or both, if you decide to leave. In these circumstances, you should always contact a solicitor.
You might also like...
My 8yr old son lives with his dad. He has done for 2yrs. His father dictated that our son could come to mine Wednesdays and Thursdays. He's a very manipulative man so any contact at weekends with my son or plans we make this man ruins nearly every time. I've just gone along with it as the arguements really affect my little boy. But now my daughter starts nursery September, and as I can't be in two places at the same time (my son lives half an hour away and attends school there) I've asked to have him Tuesdays and Wednesdays instead. This man has caused uproar about this. Involved our son yet again in the arguement and told me I'll need to take him to court to get anything changed? There is NO legal agreement at all, just him dictating when I can see OUR son. I'm not sure what steps I need to take. Can anyone help please?
libEL36
- 27-Jul-15 @ 12:32 PM
Is it mandatory to do a paternity test before a maintenance order is given ... or only if the father request it first ???
juoel
- 5-May-15 @ 3:09 AM
@vickie - I'm not surprised you're finding it hard. If he is refusing to let you see your child, you need to go through the process listed in the article; When Your Ex-Partner Denies You Access, link
here
. I hope this helps.
ChildSupportLaws
- 24-Apr-15 @ 10:19 AM
I'm currently going through a break up we have a one year old child.. I'm working fulltime and I let him have all benifits as he would be having her one more day than me but I've recently got in a new relationship and he's turned around and stopped me from seeing our child full stop! He wants to take me to court I wish he could be civil any advice just to shine some light as I'm finding this very hard at the minute
vickie
- 22-Apr-15 @ 7:01 PM
Hi CSL, I am feeling really sorry for my niece. Her mum is a massive control freak and will not let my brother have any parental control or access to his daughter because she states that I am rude and aggressive. She once decided to tell people I called her a bad mother ... So when I confronted her and realised she had made it up, she has since stopped my brother from seeing his daughter. States that out warm & humble home enviornment is too stressful for her daughter to come too. She is using and finding any excuse to not allow him to see or spend time with his daughter. Also... She has since been telling people since I confronted her that I assaulted her!!!! Absolutely shocking. She loves any attention, whether it be of the good or bad kind! It's really wearing us all down!
Feeling sorry for th
- 13-Mar-15 @ 12:43 PM
@libby - you have rights to see your children regardless of whether you and your ex do not get on. You need to apply for a c100 contact order through the courts if he has stopped access. You can access one via the link
here
. I hope this helps.
ChildSupportLaws
- 15-Jan-15 @ 2:43 PM
@libby - apart from the information in the article laying out your rights, you don't say what you want help with, which makes it difficult to advise. Do you need guidance regarding access, has he stopped you from seeing them? You need to be more specific and then we can help to try and answer your question.
ChildSupportLaws
- 14-Jan-15 @ 2:53 PM
I have three children who live with thier father he has residency of them I'm thier mother I have rights to my children regardless what he says.We had a bad relationship and hate each other's guts he do anything to use my kids as weapons please help with regards to my rights
libby
- 14-Jan-15 @ 2:08 PM
Hi a final court order was placed back in June for my ex to have access to my daughter every other weekend. He has now come to the conclusion he doesn't like it and wants more access. I don't trust him and I feel his tryna control the situation now that court is over. His very demanding and is now threaten me with court again. Am I worrying for nothing? ? Has he still got his full rights to just take her even thou the court order is in place?
mummyof1
- 11-Oct-14 @ 1:52 AM
Hi, my problem is i am Pakistani I passed life in the uk test but I don't have citizenship. My husband and my son British. I don't wanna live my in laws and my husband as well. Every time arguments with my husband and in laws as well. I don't wanna stay there but if I will leave this house I have no place to stay and my husband never let me go with my son. I am not working.
Adibha
- 22-Jul-14 @ 10:17 AM
I am an Indian citizen married to a British Citizen of Indian origin. Our marriage happened in India and registered in India. I have stayed in UK for around 1.5 years on my husband's dependent visa after marriage. Our relationship was never good and there were fights, disagreements mainly over my job and my contribution to house's expenditure. There were even few instances of domestic violence on me. I have never reported this to any authorities. A few months back a baby boy was born and he is a British Citizen. My parents were in UK to help me with my delivery and new born. When they returned, I came to India with my baby. We applied for OCI (Overseas Citizen of India) visa for our baby. This was with my husbands consent and the agreement was to return back in 3 months time. Back in India, I discussed the issues in my marriage with my parents and in-laws. The in-laws didnt take it well and informed my husband. My husband is highly unhappy with me and I am scared and worried to come back. He said I need not be back on his spouse visa but he wants his baby back as the baby is a UK citizen. I do not want to be separated from my 7 months old baby. My husband is threatening me that he will file an abduction case in UK against me. Will it be valid? What are my rights? Please advise.
srethik
- 26-Jun-14 @ 7:20 PM
my husband and i split because he drank and did not provide for me and my children. \i worked and we finally got a council housewe never divorced as we were both roman catholics. this was 1972 i didtry through dhss to get maintenance but they always said in the DHSS offices that they could not trace him.. When it was four years from my pension age i asked for a pension forecast and was shocked to learn that although i had always paid full insurance stamps my pension was going to be small as i had time off to have my children, and nostamps were paid what they did not tell me ws that my husband died at the time i was enquiring about nmy pension rights i asked them to trace him and every time they said no trace although i knew very weel he must be on their books as he was paying tax and national insurance. finally in 2010 after18 years of phoning writing and never giving up one man at the now dwp spent 40 minutes with me asking questions and informed me my husband was dead and had been since 1992. So when in april 1993 when i was enquiring about him and asking them to check as his contributions should have covered my maternity leave he was already dead for five months my quesition is that although dwp knew this they kept saying they could not trace him why was i not informed and i believe this was because as still being his wife legally and the mother of his children i was entitled to four years widows pension from december 1992 until november 1996 when ireceived my own pension and they did not want to pay me i amstill fighting this so wish me luck
cellp08
- 27-Sep-12 @ 4:54 PM