Legal Rights for Separating Parents
By: Lorna Elliott LLB (hons), Barrister - Updated: 30 Dec 2015
|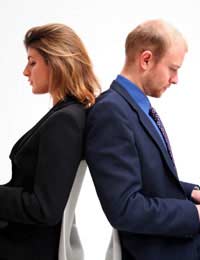 When the bombshell hits you – that you and your partner are separating – you might feel a whole tangle of emotions: upset, anger, hurt, bitterness and bewilderment to name but a few. It's hardly surprising, then, that people who find themselves in this situation often spare little thought for their legal rights. Within a very short time, however, you may be involved in several legal battles so it is important that you know where you stand from the outset.
Fathers And Parental Responsibility
As you probably know, all parents have a legal responsibility to support their children, regardless of whether they live with them or not. If as a father you were married to the mother of your child or children when they were born, you will automatically have parental responsibility. It can get complicated if a father is not married to the mother. If your name is on the child's birth certificate, you will have parental responsibility. If it is not, then you will need the mother's consent to have your name added to the birth certificate. You can only do this if there is no other father already named on the birth certificate. In the last instance you may apply to court to get an order stating that you have parental responsibility – whether the mother consents to this or not.
Decisions About Your Child
Living apart from your children does not negate the fact that you have parental responsibility for your child. You are still able to have a say as to how your child is brought up, although the day-to-day decisions are made by the parent who lives with your child. You may wish to discuss major events in your child's life with your partner, such as religion or culture, where they go to school, who needs to be consulted about health and medical treatments, where your child will spend their holidays and what would happen to your child if one of you became to ill too look after them.
Child Maintenance
There are in effect three ways to make financial provision for your child's upbringing. These are:
making a private agreement (although this is not legally binding)
going through the CSA
using the courts to make an order as to maintenance payments
Each of these options is dealt with in detail elsewhere on this website.
Your Will
If you do not have a will, now is the time to make one. If you don't, then all of your assets, money and other possessions will be dealt with by way of the laws of intestacy in the event of your death. In practical terms, your assets may be distributed otherwise than in accordance with your wishes. If you do have a will, you may want to revise it now that you and your partner are splitting up. It is also important to consider appointing a guardian for your child in your will, in the event of your death. If you are the person with parental responsibility, this may be of particular significance to you.
Divorce
If you and your partner are married, you may be considering getting a divorce. It is always wise to consult a divorce lawyer if there are assets in the marriage that are likely to be the subject of dispute. There are several legal reasons for divorce. These are:
Adultery
Unreasonable behaviour
Desertion for two years or more
Separation for two years or more (for which you need your partner's consent to divorce)
Separation for five years or more, in which case you do not need your partner's consent.
Your Home
If you own your home it is likely to be your biggest asset. Home ownership is often a hotly-contested issue amongst separating parents. Often, people think that they have to sell their home but this is not always the case. There are several options to consider:
changing the share that each of you hold in the home
delaying the sale until a future date
deciding how much of the money each of you will receive on the sale
deciding who will pay the mortgage
Things can get complicated if the property is in only one person's name, but both parents have contributed to the upkeep of the property, or the mortgage or other household commitments like childcare. If this is you, you must speak to a solicitor before you move out as things can get very complicated legally if you don't.
Other Possessions
If you and your ex-partner lived together but weren't married, the court generally applies principles to your possessions. If you paid for something, you own it, unless it was given to your ex-partner as a gift. If you bought something as a couple and paid equal shares, you own the item equally. If you bought something out of both of your money, but it is not possible to say who paid what, you both own the item equally.
You may be entitled to legal aid to help you with the costs of your separation, divorce or other family proceedings. People on income support, Job Seeker's Allowance, Employment and Support Allowance or Guaranteed Pension Credit are automatically entitled to legal aid. You may also be eligible if you have savings or assets that are worth less than £8000, and your pre-tax earnings each month are less than £2,657. For more advice, contact a solicitor.
You might also like...
Hello, I live with my partner for over 3 years, we have 18 moths old child, unfortunately the things between us are not going well and I feel like this relationship will be over soon or late. We both are not from the UK and our daughter was born here. Also we don't have marriage. I feel insecure in this case because he is the main income bringer, I DON'T CLAIM ANY BENEFITS so I have no income, I can't get back to work because I look after our daughter. What rights doea my partner have as a father(he is on the birth certificate), can he claim custody for our daughter because he has the money to look after her? My parents live in the UK and they will support me whatever happens. I'm desperate...many thanks in common
Bluberry
- 30-Dec-15 @ 3:14 PM
@7gk - I am really sorry to hear about this and it must be particularly hard given her baby is so young. If your daughter's ex is registered on the birth certificate then he has 'parental responsibility' which means he has automatic rights to his child. This may be why is is difficult for the police to get involved. I assume you have spoken to a solicitor, who will advise the best course of action and who can work on your behalf. A trace can be put on the child through the courts to find its whereabouts. The court won't take lightly to the father taking the law into his own hands and running off with a very dependent child without firstly applying for residency, so I'm sure that will work in your daughter's favour. The most difficult aspect is finding the father, her child and bringing the case to the courts quickly. I hope you manage to get this matter resolved soon, I can't imagine the anguish your daughter must be going through.
ChildSupportLaws
- 18-Jun-15 @ 10:49 AM
Hi my daughter had a baby 6 weeks ago and having gone through abuse felt she had to end the relationship. She admitted she still had feelings for an ex and spent a weekend with her grandparents..a lot of upsets and anger were felt and in the end to keep things ammicable she agreed the father could see the baby gor a few hours on her return..little did she know that he had emptied their flat of every single item belonging or to do with the baby..the father has aggressive attitude drinks and smokes cannabis done little to help with the baby and has done a bunk....police are powereless to do anything ss seem to not care...the emotional stress on my daughter being apart from her baby is unbareable although she is being rational and strong..where does she stand in getting her daughter back? The father was esvorted from a hospital for stamping on my daughters foot due to him not wanting to go to a hospital further away for my daughter to be induced...my daughter does not smoke or take drugs and drinks rarely.
7gk
- 16-Jun-15 @ 8:56 AM
Im 5 months pregnant!I was with the babys father for 7 months i didnt think i couldnt have kids and i fell pregnant i havent been with the babys father since before i found out he knows about the baby and he will not leave me alone! I dont want to be with him at all and it wont stink it ! He is mentally ill he has PTSD from the arm and he is an alcoholic and need to know what rights he has as he wants the baby over night when the baby is born and i dont ! What can i do ?
Staceylaura
- 11-Jun-15 @ 10:51 PM
@sally - I am sorry to hear this. Please read the article, When Your Ex-Partner Denies You Access, link
here
. Your son will have to go through the process laid out, in order to get access. I hope this helps.
ChildSupportLaws
- 3-Jun-15 @ 9:43 AM
my sons partner left him without warning taking their 4yr old son. After 3 weeks she is still refusing contact for my son to see the child, refusing mediation and demanding maintenance via child maintenance service. What rights does he have?
sally
- 31-May-15 @ 12:10 AM
@MD - I am sorry to hear this, but I am afraid I cannot predict what will happen here. However, if the child has been bought up with his mother in a happy, stable home life, the important fact to remember is that, in the majority of cases, the father will not be granted custody of the child by the courts unless the circumstances are exceptional. Exceptional circumstances may include; if the mother has a history of addiction to drink or drugs or an extensive history of binge drinking, or if the mother has a repeated criminal record. Other circumstances may include if the mother might be considered physically or emotionally incapable of raising a child either through disability or emotional instability. The plus for your daughter is that Social Services has decided not to investigate (I presume they have thought there is no reason to or are not concerned that your grandson is coming to any harm?). The courts will ultimately decide on what is in the best interests of the child and if the child has had a happy home life, then there really shouldn't be a case. I understand it is an emotionally traumatic experience for your daughter to have to go through. I hope this helps.
ChildSupportLaws
- 9-Apr-15 @ 12:21 PM
My daughter has a 4 year old son- the father of the child (they were never a couple) took my daughter to court and has my grandson friday and saturday nights alternate weeks- shes now recieved a letter from social services saying shes an unfit motherand the father is taking her to court and he wants full custody so social services are not investigating - shes an amazing mother but is a nervous person and the court terrified her last time. Where does she stand?
@Layla - every father is entitled to spend time with his children and if you cannot decide how that time is spent via mediation (whether supervised or unsupervised), given he has parental responsibility he can take it to court. The court will decide what is in the best interests of your children. If you are scared he may try to abduct them or take them from you, I would suggest you go to mediation and opt for a supervised agreement giving the reasons why. I have included a link to the Family Mediation Council, link
here
. If you don't agree to go to mediation (as it is voluntary) if he follows through with his court order, then it will be left up to the court to decide. I hope this helps.
ChildSupportLaws
- 9-Feb-15 @ 2:26 PM
I'm single mother separated from my ex husband and we have two kids 3yrs and 9months after my ex not having interest to my kids for about 1yr suddenly now he wants to spend time with my kids I said no so he got court and trying to scare me with court ,becouse off not beying confident about him taking them and not trusting him what can I do to stop that .thank you
Layla
- 7-Feb-15 @ 7:16 AM
please advise me:I have been separated from my husband for 5 yrs. I deal with all aspects of my children's lives. they see their father regularly. however he wants to have them over night, they are old enough to make that diction 12 & 14 however he is now threating to take me to court if I don't let them stay on their own with his new partner/ let her take them out on her own, where do I stand, can I stop this from happen or do I have to go to court.
Hi I really need some advice. I divorced my husband 3 years ago and we have joint residence for the 2 children. One child is 16 and the other is 14. My ex-husband is moving to brunei in two mnths and I am worried he is trying to convince my 16 year old to go with him. I am really scared because he is very vulnerable and unhappy in this period.He's been drinking alcohol, taking drugs and failing at school.He keeps on going from my house to his father's but not happy anywhere and I'm worrie he will be easily talked into moving with his father as he is promising heaven to hime. I need to stop him and make sure he finishes his education and then decide what he wants to do. Asa mother I don't know how to protect him. Thanks Giovanna
Gio
- 2-Jan-15 @ 11:37 AM