What Rights Does My Ex Have With Regards to Our Children?
Author: Elizabeth Mugan BA/BSc, PGDipLaw, BVC, CIArb - Updated: 15 September 2014
|
We get many comments and questions from you about child support. We've taken a selection of your comments addressing the issue of keeping contact with your children and the fear of your ex taking them from you - and asked our expert to give some comprehensive information and advice.
The traditional view of the family set up has become something of a minority in 21st century society and because of this, a broken down relationship can lead to complicated legal issues. Whether you are recently divorced and wondering about the role your ex-husband has in your child's life, or you have a child from a relationship that has broken down, but were never married, you need to understand your legal position when it comes to creating an amicable situation for your child to grow up in. Here we aim to dispel some of the myths about parental access and to give you the advice you need to rebuild your life and your children's lives.
Parental Responsibility
Parental responsibility (also known as PR) creates "responsibilities" rather than "rights" regardless of whatever the state of the parents' relationship, emphasising the view that each will maintain an equal, shared and continuing responsibility towards the child.
Where both the mother and the father have PR, they have the power to act alone unless there is a circumstance where, by law, each person with PR is to give consent i.e. in the case of adoption. In reality, holding PR gives the ability to make decisions in relation to the child's name, religion, school, consent to medical treatment and marriage etc.
Who has Parental Responsibility?
Below is a flow chart to help you determine if you have Parental Responsibility:
A mother always has PR. A father who is married to the mother at the time of birth will automatically have PR.
To clarify, for unmarried fathers, the situation is different. Unmarried fathers will have PR if:
They marry the mother after the child is born
They have jointly registered the child's birth with the mother i.e. their name is on the birth certificate
For pre December 2003 registrations, the mother provides a formal declaration of agreement that the father's name is to be added to the birth record and the father re-registers the birth to add his details
The court orders a residence order in favour of the father, although this will usually terminate when the resident order ends (generally age 16)
A birth parent has signed a parental responsibility agreement
A step-parent's PR agreement can be made by consent with all those already having PR for the child
By obtaining an adoption order from the court
Where a father has not automatically gained PR, the mother does not have to add the father's name to the birth certificate. However, this will not stop the father from being able to apply to the court for an order, such as a parental responsibility order, which may result in him acquiring PR.
Other family members
Other family members, taking grandparents as an example, do not automatically have PR. They would only be granted PR by a court if, for example, they were appointed as Guardian or were to adopt their grandchild for any reason. If a father with PR asks his parents to take care of the child, they can do so usually without the mother's agreement. However, the child would not be able to remain resident with the grandparents unless they had been granted a residency order by the court.
Voluntary access arrangements
If more than one of you has PR, then the best thing you can do for both your children and yourselves is to voluntarily agree to contact and access etc. If you can do this, then you are more likely to maintain a more harmonious relationship for the sake of your children. Additionally, it will prevent you from having to go to court and from having to pay court and solicitor's fees if you are unable to get legal aid.
Of course, this is the ideal scenario and not always a realistic one. If you cannot agree on residence and contact etc. then you may find that your ex will end up applying to the court for an order.
My Child has Been Taken Away From Me: What Can I Do?
Unfortunately in some circumstances, a father may take your child during agreed contact time and then refuse to bring them home again. If this happens and you are unable to negotiate with the father then you should call the police. However, the police may not be able to do anything. This generally comes down to whether or not the father has PR. If they do not, then the child is the mother's sole responsibility and the police may be able to take the child back to the mother. If the father does have PR, then in usual circumstances, they have the same rights as the mother to look after the child and therefore, so long as the child is not in any harm, the police cannot usually do anything about it. This can be understandably distressing for a mother. What can be done about it?
Residence Orders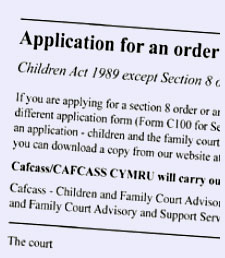 A person can make an application for a residence order, whether or not they have PR. For example, a father without PR can make an application for and be granted residency but then he will automatically acquire PR at the same time. It is unusual for a father to be granted residency as well as a mother as this would result in shared residency, which is not always in the best interests of the child. As a result, it is usually the mother who would be granted sole residency.
If a child has been taken by their father and the police cannot do anything, the mother can make an application for a residency order. If the child was snatched or she believes that her child may be in danger, then she can apply for an emergency ex parte application. This is also known as a 'without notice application' i.e. the other party is not given notice of the application. If the mother cannot make an ex parte application then an application can still be made but the father can attend and make his case. At the end of the hearing, the judge will make an order.
There are lots of other orders which the court can make, including contact orders, prohibited steps orders and specific issue orders.
What Factors Will be Taken Into Account?
When reviewing applications, the court will take a number of factors into consideration with regards to the child or children's welfare. These are:
What is best for the child and the feelings and wishes of the child. This is considered according to the child's age and understanding
How capable the parents (and any other relevant people) are of meeting the needs of the child or children
Any harm that the child is at risk of suffering or has suffered
The likely effect of a change of circumstances on the child
The age, background, personality, sex and any other characteristics that the Court believes to be relevant
The child's emotional, physical and educational needs
Domestic abuse
If you have been subjected to domestic abuse, this would clearly be a very important factor for the court to consider when determining what will be in the best interests of the child. If the father makes an application to the court then you can oppose it by giving evidence as to why he should not be given the order. You can oppose any application in much the same way.
Reality Check
When you find yourself fighting to look after your own child your emotions can begin to take over. It is important when you begin to plan your child's parenting and the access of the father that you understand the law and how it might impact on your child's future.
Remember that if your child's father is on the birth certificate, or you were married and are now divorced, the father has the same access to the child as you do in the eyes of the law. If they take your child or even threaten to do so, the police can often be powerless to change the situation. The best advice is to seek mediation and organise access in a written agreement, give yourself something concrete to work from. If your ex is unreasonable then apply for a residency order to ensure that you keep custody of your child.
You might also like...
Novel: Me and my ex were never married but we had a son in 2010, I moved out when he was 3 months old as she left me for my bestfriend. I still got to see my son and he would sometimes stay the night with me or I would go visit him or take him to the park etc. About 2 years later her and my friend moved into their own house and I would still always see my son as I picked up and dropped of my friend because we worked together and so I was always able to see my son. Then I finally moved on and found someone else and all of a sudden she was stopping me from seeing my son. She's always hated my partner for no reason and has always kept my son from me saying she doesn't want him around someone she' hates. I could only see him if it was at her house but we would fight every time and I did not want to be around her.She ended up breaking up with my friend and all though she said she wasn't jealous she pretty much told me I couldn't see my son if I was with my partner so I hardly ever got to see him, Then 2 years later she got a partner and said that I was aloud my son around my then pregnant girl friend just because she was letting our son around her partner all the time. After a few weeks she was back to not wanting him around us but always taking our son around her new partner, she was letting me see my son occasionally and then the day that my next son was born I went to pick up my first son to take him to the hospital and she wouldn't let me take him My second son has only met his big brother once but I had to sneak into his church class to do that and they drilled me for it later. I haven't seen my son since that day and my second is now 10 months old. She won't even let our son come to my brothers wedding who asked if he could be his page boy. Once my second son was born I stupidly stopped paying her child support. About 4 months after he was born my partner found out I had stopped paying my ex and made me contact child support. I owe 150 in child support a week because of a contract I should not have signed and I asked her if we could cancel the contract so I could pay her based on child supports assessment as I cannot afford to pay her 150 a week, also since I stopped lying I accumulated thousands in debt to her, when I contacted child support They told me the only way to get out of paying that debt was for her to make a new agreement and agree that I didn't have to pay her, she said she wouldn't cancel anything unless I gave her full custody, I was so desperate to get debt free that I agreed. She soon realised it was going to be a long process but I wanted the contract canceled ASAP and she wanted custody to be able to get our sons passport on her own. she then said she would give me my money back each week if I signed his passport. I told her she could keep what the assessment would force me to pay which I think was around 40-50 dollars but she said she didn't want any of it. I signed his passport and she was paying me back weekly.
TDVT
- 15-Sep-14 @ 9:23 AM
What a disgustingly sexist article this is. I can't believe that in 2014, articles written by 'experts' still consider the *father* as the only party who might abduct a child or be the the perpetrator of domestic abuse.
taiko666
- 15-Sep-14 @ 12:07 AM
CAN SOMEONE PLEASE ADVISE ME??? I have a 4 year old daughter I spilt with her father 3 years ago, he has never paid a penny towards her stating he left the rented house we shared with a freezer and some sofas that were his. Despite this I have taken her and picked her up from his mums house (where he lives now) every Saturday where she has stayed the night, despite many people telling me he is never there and constantly out drinking. Over the past few months I noticed little things that my daughter was telling me regarding both her father and nanny taking her out in vehicles without a car seat, I have advised them several times that this is dangerous and they went out and bought one, however on the odd occasion still didn't use it, when tackled about it her nanny says she forgets and her father says it's not the law to have a car seat when she is a van, I checked with the police and it is the law! When I went to pick her up last Sunday she was returning from the pub with her dad who had been drinking, and didn't have a car seat. I rang the police and they weren't interested they said to contact social services if I had an issue regarding her safety!!! Since all this I have told them both that as they cannot ensure my daughters safety my daughter will not be going round to their house but it they want to see her we can meet at a park etc. I arranged the meeting yesterday but no one turned up and when I text saying we were leaving as we had been waiting over half an hour I got told that they were taking me to court. The only proof I have of him not having my child in a car seat is him stating to me over a text message that it's not the law. I know if it goes to court he will fight dirty and lie through his teeth, so my question is what is the likelihood of him getting unsupervised visits if that does happen, or indeed joint custody. He brags that he works 18 hours a day and the place they live is dirty and has no central heating. Please can somebody advise me, I have had a week of sleepless nights and I am very agitated and upset about all this agro. Thanks in advance
Katty
- 14-Sep-14 @ 12:42 PM
Just wondering if anyone can help, I'm looking at adopting my partners eldest boy but as my partner knows who the father is but is not listed and has never had anything to do with him, we still need to ask permission from him to do so, if he does not allow me to do so what would he the next step? I have tried to look it up but ccant seem to find the anwers
carlp
- 13-Sep-14 @ 2:31 PM
@Georgie, yes you are their mother so you can go and get them and take them home. He took them from your care so you can now, as long as there are no court orders in place, go and get them back.
Sunny76
- 12-Sep-14 @ 1:43 PM
My ex took my 2 boys 2 mths ago makin a claim against my current partner and all investigations have been droped nothing has come to anything and rightfuly the children can be returned but hes refusing to bring them home am i legally allowed to just go and collect them providing its what the children want??
Georgie
- 11-Sep-14 @ 3:20 PM
My Wife and i are still married.We have not legally separated, but she is engaged and just gave birth to a boy. That I think it my child. I told her i wanted a DNA test and she said its not my child, and after talking to her about it she threatened to send some man over to my house to deal with me if i did not stop threating about getting aDNA test. Along with the mans photo. When she filed for dissolution of marriage she lied about the baby. She said that theres no child born during our marriage. My question is did my wife commit pergury. And do i as her husband have legal right to the child even though DNA test has not been done. I want to do the right thing for this child. If iam the father then this child has the right to know who his father is. And i want to be apart of his life.
Daniel B
- 11-Sep-14 @ 8:10 AM
My ex has taken our 15yr old saying he no longer wants to live with me. I have a residence order in my favour but my ex is saying by the time it gets to court and an enforcement order is granted our son will be 16 and nothing can be done. My question is how long will it take to go to court and how much am I looking at. My sons 16 in 10 months time. He has said he wants to stay with his dad but I want him home with me.
DIPPY
- 9-Sep-14 @ 8:17 PM
@destin, the surname means nothing and doesn't have any rights attached to it. However, as your daughter's father is named on the birth certificate then he has parental responsibility for her. You don't need his permission to take her on holiday though.
Kaz
- 9-Sep-14 @ 11:32 AM
Hi i was just wondering where I stood my daughter doesnt have the same surname as her birth father but he is on the birth certificate does this give him the same rights as if she had the same last name as him..eg. promission from him to take her on holiday abroad. Or does this give him less rights because she hasny got his name. Thanks.
destin
- 9-Sep-14 @ 10:25 AM
So i have a question about what options I have as the father of my 2 children which both have my last name and I'm on the birth certificate as well, my ex and I have decided to split it was mutual, she was actually living with me at the moment until she got her own place. We had a falling out in which she was all of a sudden scared of me after 15 years together and wouldn't ride with myself or our kids. We took them to a place where they could play for a bit. I had to leave but told her I would return to pick them up. She said okay be back between 830-845pm. I had an uneasy feeling so I showed up at 8 and waited outside. I seen her and my 2 children without car seats drive past me, but at the time I couldn't say 100% if it was them. So I waited till the place closed, and of course no kids or her. It has been going on 2 days now and still i haven't seen or heard from them, I did make a call to the police, who of course couldn't do anything and actually said when they left they had to get back to do some real work. Anyway I live in Edmonton Alberta Canada it is the weekend and I have no clue what to do........
jake
- 7-Sep-14 @ 11:03 PM
@Chris, as your ex is the main carer for the children she can, unfortunately, decide when and where you see them. Have you considered taking her to court to get a contact order in place which states what days you can see the children?
leon
- 2-Sep-14 @ 11:32 AM
@James, many children spend half the week with mum and half the week with dad and most parents find that this works really well. If you have everything the child needs in both homes then it isn't disruptive to schooling as long as you both live close to the school.
No1
- 1-Sep-14 @ 12:17 PM
Hi I was with my partner for over 6 years and now we are splitting up she had two children from last relationship who are now aged 10 & 12 and not long after getting together my partner agreed to have another child for me because I was 36 and wanted kids but on the basis I stay home looking after him because she wanted to go to work (that was the deal). My boy is now 5 next month and starting school and she decided to find another house and told me I'm not going with them... I looked after my beautiful boy for all his life doing everything for him that a good mother would usually do and also her other two children for over 6 years.. my partner never did anything for my boy even when she had a day off work or over the weekend I was always the one to look after him cooking his food feeding him taking him to doctors dentist and nursery but she did do things for her other two children.. now my son will not even eat food from her because she can't make it like dad and I'm very worried about him eating properly because she never makes an effort to see he eats all she does is feed him milkshakes day and night to substitute his food and suppress his appetite with up to 6 pts a day that makes him sick at night.. she even admitted she needs to build a relationship with him but why now what was wrong with making more of an effort before.. So moving on she took him on holiday for two weeks and has now just come back and I asked if he was eating ok and she said no all he has had is biscuits crisps and egg & bread so now you see she can't look after him on holiday or even at home because he always eats his food with me but never with her.. now she is back from holiday I'm having him tomorrow and telling her I'm keeping him with me because I'm on the birth certificate and have been his main carer all his life . I consulted a solicitor and he said I have the right to keep him with me so I that's what I'm doing .. she already said when I asked her that I could have him half & half Wed Thurs and Fri and every other sat but imo that's too disruptive for schooling with all the overnights here and there it's just her thinking of her free time & not what's best for are boy.. I read that there is nothing she can do but call the police but the have no power to take him from me because of the aabove facts but there is still a part of me that makes question what I read and have been told for some reason ..
james
- 30-Aug-14 @ 1:21 AM
my ex and i agreed upon tuesdays thursdays sundays and every other weekend now she is mad at m and wants to take away my kids on the week days, we have no legal agreements can she do that and what should i do?
chris
- 26-Aug-14 @ 4:29 AM
My ex and father if my two kids - 17 & 10yr has recently stopped giving us more than a wk notice of when he wants to see the children. He always (for 4yr) gave me the dates for a month a month ahead of time but in the past few months (I am recently single again and think he doesn't want me going out and getting a life) he will only give me a day during the wk when he will have children and it's only at most 7 days notice. I have asked for more notice than this as I also work shifts and it's hard for me sorting child care and paying for child care which might not be required as he is having children. (We were never married but he is on birth certificate)can I demand more notice than this and even a regular day or some sort of structure. I know he works shifts but I believe he is on a 22wk rolling rota after speaking to other employees. Thanks appreciate help
Caz
- 25-Aug-14 @ 9:30 PM
I got divorced from my children's mother in 1999. My son was nearly 2 yrs old and my daughter was just a few months old. I have always paid child support and continue to pay child support to this day. Over the years I have been denied access to see my children on various occasions; always from a result of disagreements between myself and my ex-wife. My son of 16 yrs old has recently come to live with me due to his continued behavioural problems over the past 2 years or so, which has resulted in him clearly heading down the "wrong road". The agreement for him to live with me was fully supported by my ex-wife who also agreed that it was in the best interest of my son to have some guidance in his life. It has now emerged that back in 2000 my ex-wife had changed my sons name by deed poll. I am unaware if the same was done with my daughter? Over the years I was aware that my ex-wife was using her maiden name with regards to my children's schooling etc but was always told, when both my children had questioned me to why they had a different surname to me, by my ex-wife that our children could make their own decision to which surname they want to use when they are 16 years old. I have read on the UK Deed Poll website that to change a child's name everyone with parental responsibility has to consent to the name change, something I was never consulted about. My son now wants to be know by my surname, something that he (and my daughter) have always expressed to me over the years that they wanted to be know by. My ex-wife has given me my sons birth certificate and paperwork of proof of the name change by Deed Poll. My questions are: Did my ex-wife have the right to change my sons name by Deed Poll? Can I overturn the name change on the grounds that I did give my consent?
Daz-la72
- 19-Aug-14 @ 8:51 AM
My husbands exgirlfriend abonded therthere child for almost 5years know she wants back in the child life he has custody of him what can she do
lupe
- 14-Aug-14 @ 5:06 AM
As a paternal grandmother, and like many of the other comments posted, I too am shocked at the tone of this website and the total bias against fathers' rights (and with this, a child's rights to a father). My son's relationship with their baby's mother has broken down - he was ordered by to leave their home, but to continue to pay her 50% of the household bills while she was setting about claiming benefits and until these have been sorted, even though this left him with no money to provide his own accommodation. He is now 'allowed' to see his son 1 day and 1 evening a week and has been told that he is lucky. If his shift working does not allow him to be free to see his son on the allotted day allowed (i.e. when the mother is working and therefore needs childcare) then it is simply tough luck - he does not get to see his son, who is just 9 months old. He is a very loving and committed father and is quickly becoming deeply depressed and feels wholly powerless in this situation; as do I as the grandmother. We are scared of speaking honestly about this with the mother in case it makes the situation worse and access is even more limited. My son has asked for mediation but the mother so far refuses. Is this a good situation for the child or indeed for any of the parties involved? And how does your website justify this attitude to fathers?
saddest
- 1-Aug-14 @ 5:38 PM
As a paternal grandmother, and like many of the other comments posted, I too am shocked at the tone of this website and the total bias against fathers' rights (and with this, a child's rights to a father). My son's relationship with their baby's mother has broken down - he was ordered by to leave their home, but to continue to pay her 50% of the household bills while she was setting about claiming benefits and until these have been sorted, even though this left him with no money to provide his own accommodation. He is now 'allowed' to see his son 1 day and 1 evening a week and has been told that he is lucky. If his shift working does not allow him to be free to see his son on the allotted day allowed (i.e. when the mother is working and therefore needs childcare) then it is simply tough luck - he does not get to see his son, who is just 9 months old. He is a very loving and committed father and is quickly becoming deeply depressed and feels wholly powerless in this situation; as do I as the grandmother. We are scared of speaking honestly about this with the mother in case it makes the situation worse and access is even more limited. My son has asked for mediation but the mother so far refuses. Is this a good situation for the child or indeed for any of the parties involved? And how does your website justify this attitude to fathers?
saddest
- 1-Aug-14 @ 5:25 PM
@sad30, I'm not sure there's much you can do about it other than go back to court and try and change the order but you'd have to prove he wasn't looking after the kids and that's not going to be easy. I know how annoying this can be when the father is suppose to be spending time with his children and he has left them with someone else!
beenthere
- 31-Jul-14 @ 11:38 AM
My ex and I have shared custody, me 54% him 46%. When it is his time with the kids he gets his family members to look after them quiet a bit. What can I do about this? I would like to have more custody but know he won't agree easily. But he isn't looking after them anyway?
Sad30
- 31-Jul-14 @ 11:14 AM
@jj, as you are the main carer for your child you have the ultimate say in where your baby stays and if you don't want your baby to stay overnight with your husband then you can stop this. If your husband hasn't seen your child for two months he can't just expect to come back into your baby's life whenever he feel like it.
mum
- 30-Jul-14 @ 11:56 AM
My husbandand I are separated and he is trying to take my8 month baby for two nights, it has been two months that we haven't heard from him or he have help us money wise, he have been depress. and he now wants his rights to be with the baby I'm scare that he won't b able to care for her after going into a depression. can he do that?
My ex never looks after her kids we have 3 boys 11-14and she never takes them anywhere just gives them to her mum all the time can I put a stop to this?I have a shared residency order but would love them full time
stupot
- 20-Jul-14 @ 8:20 PM
my sons dad has PR but does not see his son and does not provide anything for him, my partner wants to adopt my son but do we need permission from my sons dad? thanks x
candy
- 16-Jul-14 @ 9:37 PM
@upsetfriend, this is awful! I can't imagine what your friend must being going through, not to mention what the children must be feeling not being able to see their mum. If the children are left with someone or even at school then I don't see why she couldn't take them back as they are hers and she has PR. Other than that she could take her ex back to court (I know it costs money but she has limited choices at the moment) for a breach of court order - if there is a court order in place?
mum1
- 8-Jul-14 @ 10:57 AM
Hi my best friend has sent her children to contact with they father as part to their arrangement. This weekend the father has decided he wants to keep the children there. He has got PR over the three children aged 9 6 and 5 she have been to the police but they are powerless and she can't afford court now there is no legal aid. The father is trying to put the children into school where he lives. If he leaves the children with anyone else (who doesn't have PR) can she simply take them back? Eg if he leaves them with neighbors grandparents or school?
upsetfriend
- 8-Jul-14 @ 10:35 AM
@tam, this depends if the child was taken from the mother in the first place and also the situation the mother is in now i.e. is she still in that relationship? Or does she still have contact with the abuser because if so then she won't be allowed to have her children back as they would still be classed as 'at risk'. However, if there is a residency order in place then the mother can't just go and take the child, she will have to go back through the courts to obtain the legal powers to take the child back.
gregson
- 7-Jul-14 @ 12:24 PM
Hi .....I have a child who is one and his mother (who I am no longer with for over a year now) is from Lithuania but she lives here in the uk and has done legally for years, so after my sons 1st bday the mother then gave him to her mother to bring and stay in Lithuania for a couple of months (until she got back on her feet) now she has finally "gone" out there to collect him but said she will stay out there for a bit..... but just before she left to go Lithuania she found out I was having another child (which didn't seen like a problem as she left) but now she won't reply to my txt or Facebook msgs.... Also Just before she left she said needed a copy of my passport to get our son a Lithuania passport so I took a photo of it and sent it to her ....but I am really worried that she may try and stay over there now, keeping my son away from me... I am not sure who her lawyer is but she gets such advised like him telling her how to beat the system which after hearing some of them I know they are not all legal, it's really frustrating because I feel helpless and really don't know what to do let alone who to turn to.... help in anyway would be brilliant so I can hopefully have some kind of hope that there is something that can be done! Thank you
Helpless
- 7-Jul-14 @ 5:35 AM