What Rights Does My Ex Have With Regards to Our Children?
By: Elizabeth Mugan BA/BSc, PGDipLaw, BVC, CIArb - Updated: 20 May 2020
|
We get many comments and questions from you about child support. We've taken a selection of your comments addressing the issue of keeping contact with your children and the fear of your ex taking them from you - and asked our expert to give some comprehensive information and advice.
The traditional view of the family set up has become something of a minority in 21st century society and because of this, a broken down relationship can lead to complicated legal issues. Whether you are recently divorced and wondering about the role your ex-husband has in your child's life, or you have a child from a relationship that has broken down, but were never married, you need to understand your legal position when it comes to creating an amicable situation for your child to grow up in. Here we aim to dispel some of the myths about parental access and to give you the advice you need to rebuild your life and your children's lives.
Parental Responsibility
Parental responsibility (also known as PR) creates "responsibilities" rather than "rights" regardless of whatever the state of the parents' relationship, emphasising the view that each will maintain an equal, shared and continuing responsibility towards the child.
Where both the mother and the father have PR, they have the power to act alone unless there is a circumstance where, by law, each person with PR is to give consent i.e. in the case of adoption. In reality, holding PR gives the ability to make decisions in relation to the child's name, religion, school, consent to medical treatment and marriage etc.
Who has Parental Responsibility?
Below is a flow chart to help you determine if you have Parental Responsibility:
A mother always has PR. A father who is married to the mother at the time of birth will automatically have PR.
To clarify, for unmarried fathers, the situation is different. Unmarried fathers will have PR if:
They marry the mother after the child is born
They have jointly registered the child's birth with the mother i.e. their name is on the birth certificate
For pre December 2003 registrations, the mother provides a formal declaration of agreement that the father's name is to be added to the birth record and the father re-registers the birth to add his details
The court orders a residence order in favour of the father, although this will usually terminate when the resident order ends (generally age 16)
A birth parent has signed a parental responsibility agreement
A step-parent's PR agreement can be made by consent with all those already having PR for the child
By obtaining an adoption order from the court
Where a father has not automatically gained PR, the mother does not have to add the father's name to the birth certificate. However, this will not stop the father from being able to apply to the court for an order, such as a parental responsibility order, which may result in him acquiring PR.
Other family members
Other family members, taking grandparents as an example, do not automatically have PR. They would only be granted PR by a court if, for example, they were appointed as Guardian or were to adopt their grandchild for any reason. If a father with PR asks his parents to take care of the child, they can do so usually without the mother's agreement. However, the child would not be able to remain resident with the grandparents unless they had been granted a residency order by the court.
Voluntary access arrangements
If more than one of you has PR, then the best thing you can do for both your children and yourselves is to voluntarily agree to contact and access etc. If you can do this, then you are more likely to maintain a more harmonious relationship for the sake of your children. Additionally, it will prevent you from having to go to court and from having to pay court and solicitor's fees if you are unable to get legal aid.
Of course, this is the ideal scenario and not always a realistic one. If you cannot agree on residence and contact etc. then you may find that your ex will end up applying to the court for an order.
My Child has Been Taken Away From Me: What Can I Do?
Unfortunately in some circumstances, a father may take your child during agreed contact time and then refuse to bring them home again. If this happens and you are unable to negotiate with the father then you should call the police. However, the police may not be able to do anything. This generally comes down to whether or not the father has PR. If they do not, then the child is the mother's sole responsibility and the police may be able to take the child back to the mother. If the father does have PR, then in usual circumstances, they have the same rights as the mother to look after the child and therefore, so long as the child is not in any harm, the police cannot usually do anything about it. This can be understandably distressing for a mother. What can be done about it?
Residence Orders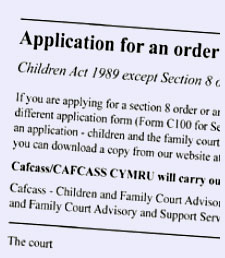 A person can make an application for a residence order, whether or not they have PR. For example, a father without PR can make an application for and be granted residency but then he will automatically acquire PR at the same time. It is unusual for a father to be granted residency as well as a mother as this would result in shared residency, which is not always in the best interests of the child. As a result, it is usually the mother who would be granted sole residency.
If a child has been taken by their father and the police cannot do anything, the mother can make an application for a residency order. If the child was snatched or she believes that her child may be in danger, then she can apply for an emergency ex parte application. This is also known as a 'without notice application' i.e. the other party is not given notice of the application. If the mother cannot make an ex parte application then an application can still be made but the father can attend and make his case. At the end of the hearing, the judge will make an order.
There are lots of other orders which the court can make, including contact orders, prohibited steps orders and specific issue orders.
What Factors Will be Taken Into Account?
When reviewing applications, the court will take a number of factors into consideration with regards to the child or children's welfare. These are:
What is best for the child and the feelings and wishes of the child. This is considered according to the child's age and understanding
How capable the parents (and any other relevant people) are of meeting the needs of the child or children
Any harm that the child is at risk of suffering or has suffered
The likely effect of a change of circumstances on the child
The age, background, personality, sex and any other characteristics that the Court believes to be relevant
The child's emotional, physical and educational needs
Domestic abuse
If you have been subjected to domestic abuse, this would clearly be a very important factor for the court to consider when determining what will be in the best interests of the child. If the father makes an application to the court then you can oppose it by giving evidence as to why he should not be given the order. You can oppose any application in much the same way.
Reality Check
When you find yourself fighting to look after your own child your emotions can begin to take over. It is important when you begin to plan your child's parenting and the access of the father that you understand the law and how it might impact on your child's future.
Remember that if your child's father is on the birth certificate, or you were married and are now divorced, the father has the same access to the child as you do in the eyes of the law. If they take your child or even threaten to do so, the police can often be powerless to change the situation. The best advice is to seek mediation and organise access in a written agreement, give yourself something concrete to work from. If your ex is unreasonable then apply for a residency order to ensure that you keep custody of your child.
You might also like...
Hi im 15 years old, my dad cheated on my mum when i was 9.The women my dad cheated with thinks she can control me and tell me What i can and Cant do shes vile to me and my family what should i do?
Kate
- 20-May-20 @ 6:48 PM
Your a bunch of controlling freaks man... get a grip of yourself, be an adult meetface to face, use reasonable words or have a mediator present. What's with these threats of courts and with holding custody? It's nonsense and you should be ashamed of yourselfs. I get most of your situation and it s scary but half of the comment section is full of vindictive snakes looking for control.
Cappy
- 1-May-20 @ 9:34 PM
I need urgent advice. My daughter has just had a bsby. The father has not paid a penny either before the birth or after for the child even though he promised to pay for the child. He wants access everyday but doesn't want to help with money, not even buying nappies and milk. Hes insisting the baby has his surname. What are our rights. I'm very concerned.
Worried grandparent
- 24-Apr-20 @ 5:51 AM
Hi me and my ex girlfriend are expecting a new born baby for the first time and we broke up and I started getting messages off her new partner one in which he threatened me and said horrible stuff so he should be deemed as a danger to my child when he/she arrive. Is there any way I can stop him from having any kind of contact with my child. So that my ex partner can see my child without him.
Will98
- 30-Mar-20 @ 5:55 PM
My o /off narc partner has taken our 2 kids to see his brother while his wife is there when I'd told him not to. Got no problem seeing g their uncle but I've never seen this woman and I'm never invited. He met her online and married her after a week. My argument is she could be anyone he doesn't know anything about her. Does anyone agree with me or am I in the wrong?
Gigi
- 11-Feb-20 @ 7:29 AM
Hello I have 2 kids a 12 n a4year oldsfew years ago I went true domestic violance and had to run been in a refuge n manage to get life bk track so few years later found out ma eldestis a diabetic type 1 wit no families in the country I tried make it up wit him so we could get support but he started mentally abuse n I feel his trying to turn my kids against mi, says am and mom because I went true depression n anxiety so his constantly saying hi will take dem from mi am really scard simply because his on birth certificate, wat can I do will he be able to take my kids?????
Tatty
- 4-Jan-20 @ 1:32 AM
My ex was abusive and is really narcissistic. I've spent years in therapy healing from PTSD and post natal depression nd am finally getting to a great [lace and now he wants to have my son for half the week - he's always had him for a third of the week and has wanted more time but always on his terms. He's now speaking to my son about how unfair it all is on Daddy and my son keeps speaking to me about his Daddy's needs and how unfair I am being and that he wants to be with dady but I know where all this is coming from. now, his father is sending me lots of emails about how I am messing up our child and is clearly building a case. Ive said he can of course have more time but that i don't want it to be three consecutive nights as I don't feel its right for our child and that I think it should be a friday night twice a month. He doesn't want to lose his friday nights as he is a musician (I was a musician too before my child but have become a teacher now to pay the bills). What rights do I have. He's a real busy and I don't want to answer his emails but feel I should respond with the truth of how abusive he is etc.
Flower
- 31-Dec-19 @ 11:34 AM
I need help understanding what to do my kids father (never married) moved out of state he just started actually co parenting non court order 3 yrs ago and the children are 7 and 10 years old. Since he's moved he keeps asking me to pick up and move to his new state of residency but I refused now my kids went for Christmas break and he called and said he's not sending them back I called my state police but they can't do anything but I believe it's because they're in the other state. Now I have been co parenting with no issues even when he wasn't there or helping with them. And for him to now decide this is tearing me up Can anybody tell me what to do? I'm going to court house first thing Monday morning but I'm still in shock that my kindness is being stepped on
Devastated Mother
- 29-Dec-19 @ 7:24 AM
I feel my ex is emotional abusing my daughter. She is saying stuff like ur dad wants to get the police on me and sends me texts off my daughters phone pretending to be my daughter. I have a court order which I have my daughter 3 nights a week but I do have concerns for my daughter by the way my ex gets in her head. Should I keep my daughter???
Watson
- 28-Dec-19 @ 7:18 AM
Hi, I have been split with my ex for a year and a half we have a 2 and a 4 year old together we broke up due to not getting on I had a nervous breakdown two years ago and whilst having therapy was told I was being mentally abused which I didn't see at the time but joe I see very clearly I was, my ex is in the military and he sees the children when he has time, he doesn't have a car he doesn't have much money and he also doesn't have a stable home for them to stay at when he does see them it's stayinf at his nans or at a military base, he isn't being amicable with me his very abusisive with his words and then makes me angry and then he will turn it back on me, he can not look me in the face when he drops them or picks them up or if I take them to him, he tells me to move on and that he has met someone else (which I can not see) but then makes me feel like I'm doing something wrong and doubt myself, do I need to take Him to court? What rights do I have or him? He will not do mediation thanks
Emesmith
- 26-Dec-19 @ 5:19 PM
Does my ex have the right to tell me that he doesn't want his daughter seeing her friend. I am friends with the child's parents but the ex doesn't like us spending lots of time with them. And this now caused a discussion between us all. But he has told me not to take our daughter to the friends house until this is resolved....!?
Floro
- 11-Nov-19 @ 2:11 PM
Hello My child live with his mum and has lewtning difficulties and speech problems. I am growing concerned that he is not progressing snd his mum isnt spending enough tine with hin to help him. He spends a lot of time at his nans. I spend majority of weekends with him but i think he will benefit living with me. I love with my partner, second child and my partners chils who my sons gets on with very well. She also without knowing helps my son with his speech and learning and every week we do honework together which he loves and learns from. We also havr a set routain which he addapts to reallu well where at his mums he doesnt serm to have one. He comes to me looking like a mess on many occasions and has sometimes come with no underwear on. Has anyone got any advice?
Jgord
- 15-Oct-19 @ 12:56 PM
Been with miss 20 years got 3 kids youngest 5 17 16 and now found out son taking drugs drink then she text me to come sort him out go to has she then say I push her over then say phoning police so I took my son for week end I also pay 50 pound aweek with out fail
Paddy
- 5-Oct-19 @ 1:20 PM
Hi I'm looking for advice my sons dad has him every other weekend with a court order. He has just shaved my sons hair 0 grade when I asked him not to cut it nicely so he did it out of spite , does anywhere state he needs permission? Please help thank you
Nicki36
- 29-Sep-19 @ 11:26 PM
Morning, can someone please help my ex has taken my son again and I've had to apply for c79 form to enforce the child arrangement order we have. This is the last thing I wanted, but he takes him away and won't bring him home till his life is busy. He sends abusive texts constantly watches my house and drives so dangerously. I'm by no means perfect but my life is falling to bits I can't sleep or think and I'm paranoid all time he's watching. He has my neighbors watching me and more. The police are powerless because we do need to have contact over are son. Can anyone help me with what will happen at court? My anxiety is through the roof :-(
ALG
- 21-Sep-19 @ 10:11 AM
I divorced 8 years ago; we have a 10 year old son who lives with me and sees his father when he has time (the father not the son). I am still single, but my ex husband is about to move in with his girlfriend (I found out about this, AND HER) about a week ago. He now wants my son to live with them.They are both professionals, have a large income, and don't have mental health issues (whereas I do).I can't afford to take this to court - what do I do?
Cauda
- 15-Sep-19 @ 7:43 PM
My ex took my daughter at age 3 months due to me having mental health issues I tryed to get my daughter back but unfortunately no luck been to court and only have small contact with my child any support or adivice would be helpful mums
Zozo
- 31-Aug-19 @ 10:11 PM
My Ex is stressing out my daughters when they visit him ranting and saying horrible things to them about me and my family and that he is going to kill my brother and make it look like an accident...he continues to send me nasty txt since we split up 7 months ago...he has been abusive to me in the relationship and my daughter age 13 is angry with him as she said she realises he has been manipulating her to hate me.... she doesn't want to see him anymore but is afraid of him so next time he asks to have them I will have to say no as I need to protect her... what can I do to stop him as she is so distraught about all this he takes drugs and is very unreasonable.
Beanie
- 30-Aug-19 @ 11:52 AM
So I split with my ex when I found out I was pregnant as he didn't want a baby, he then was never involved in the pregnancy and wasn't for the first 4 weeks off my babies life. He is not on the birth certificate and he sees her twice a week for 4 hours each day. However he has let her down 5 times in 4 month. He also refuses to buy things for at his house as he's got a holiday to pay for with his girlfriend if this carries on do I have the right to stop him from seeing my baby as I don't want her to grow up and me being the one telling her why he lets her down.
J15
- 25-Aug-19 @ 6:43 AM
Me and my well I suppose ex broke up this week. We both have children of our own and have recently had a baby together. However we don't live together as both of our children from other relationships live with us in our own houses. My children being older (15 and 16) and the children's mother being reasonable has allowed me abit more time to stay at hers through the week and spend more time with the baby. However she has always resented me going back home to spend time with my boys, visit my house and just generally do anything that wasn't anything to do with her and her child. Now we have split it up, I want to have access to our baby and take him home for a few nights a week. She is saying that while i can see him whenever I want i can only see him and spend tome with him at her house as she doesn't like the area I live in. Is she allowed to do this ?
Shybrows
- 9-Aug-19 @ 8:36 AM
Good day I have a problem my ex he want to see a child but he is not paying a maintenance so now he took me tochildren's court. I don't want to see him near my child since well he not providing. last when we were at court he said the child must not visithim i must keep her so i did what said now he her back now.
slender
- 7-Aug-19 @ 11:39 AM
Me and my daughters father have 50/50 care over my 15 yr old (we agreed that not the courts). He has now blocked all contact with me and says my daughter is of age now so he has no need to contact me. I'm not happy with this as there have still been issues in the past where he has had to contact me or vice versa. He's outlook as a parent is different to mine. He believes she can do as she wants as she is over 14 but I'm stricter and believe she needs rules and boundaries he doesn't. She always has time off school when she stays with him and I'm not happy with thatbut I'm not informed only if the school contact me about it. I have told him the 50/50 stops until he accepts that I should not be blocked from contacting him.
Cassie
- 5-Aug-19 @ 8:12 AM
My ex left when my youngest was 3m and and now he try everything he can to get full custody I am getting married at the end of the month to my current partner and he doesn't like it and if he doesn't get custody his mother is going to try I am at my wits end of all the lies alagations agenst me and my partner what can I do
Tasha
- 2-Aug-19 @ 11:19 AM
My ex left nearly 7 years this year he had hit me in front if children aged 2 and 6weeke at the time.... I found out he then was on a lot of drugs no contact with children for nearly 6 years not seen them.... would a judge give me a resistance order so I know my children are safe if he turned up at anytime? My youngest wouldn't even no him and my oldest wouldn't recognise him help needed please. Hes been homeless for 3 years as I know of he pinched off me hes in and out od prison and still on drugs thank you all I want is the man to sat away from my children
Happy23
- 31-Jul-19 @ 4:58 PM
hi me and my ex are no longer together, he now as a new gf and wants our children to meet her, he doesn't have shared care and is barely in my children lives also my children have struggled so much with the separation, am I in my rights to not allow the kids to see her
Jess
- 26-Jul-19 @ 9:12 AM
I am a single mum to my 3 year old daughter her father and me have not been together all the time of her growning up he has another family with another women I don't get no money off him and I had to get a child arrangement order in place as me as a residential order but now he wants me to take her to see him am I in my right for him to come see her instead of me running around after him where do I stand!!!
Kylie Thrussell
- 26-Jun-19 @ 7:16 PM
Me and ex divorced 8 years ago and children live with me. He has since moved out of the area and set up home with another woman and remarried. When he lived in the area he would see them every 2nd weekend and Wednesday evenings. Since he moved away, he has been collecting them every 2nd weekend until a couple of months ago at which point he made the decision to stop seeing them stating he could no longer afford the petrol in his car (lives 80 miles away) as he said he couldn't affordto pay the amount if child maintenance he pays. He earns £70,000 and his wife earns £35000 and they live in a large house and drive expensive. He now says he woukd lije to see them every 3 weeks and won't see them every 2nd weekend unless cms decrease payment by £50 a month. My question is, can he just pick and choose like this,dipping in snd out of seeing them and on his terms?
Jolie
- 22-Jun-19 @ 4:26 PM
I was wondering if anyone can give me any advice.My partner announced several years ago that he wanted to leave, but decided to stay for financial reasons and because he didn't want to leave the kids (we have two, one 10, the other 15), although he still wanted to end the relationship. I found out recently that he is in a relationship with another woman and that she is expecting his baby, so I naturally asked him to leave. I told him he can come over and see the kids Tuesday and Thursday evenings and on weekends, which I don't think is unreasonable. The thing is he wants to come over everyday, whenever he wants to, without informing me before hand. At the moment things are very strained between us and this is just causing stress for the children, as well as myself. I have no problems with him seeing the children, I just want it to be a formal arrangement, not whenever he feels like it. Do I have any legal standing on this at all, or does he have every right to do this. Any advice would be helpful. Thank you.
Neat
- 7-Jun-19 @ 11:43 AM
Its been 4 years since my ex and I separated. Amicable child arrangements throughout mostly, only a few bumps in that time...He's taken 2 out of 3 children on holiday for 1 week (our eldest is 12 and a half- becoming a moody teenager, so he said to her he wants nothing to do with her?! She's excepted it as seen what I see in the end) He arrived back to drop them back home, had a screaming match with me at the door, as if a power thing as he's got and had the children. They wouldn't then step inside their home and off they all went again in his car. He's stating he's keeping them and applying full custody. I don't want to upset the children anymore then they must be or allow them to see us being like that, I wouldn't of allowed it if the children were in the door already. We was married so in law I know he gets parental rights but 4 years amicable and now this. What happens now?
Sarah
- 2-Jun-19 @ 4:42 AM
My daughter has returned from 5 days with her dad and I find out she was in hospital with suspected appendicitis and was being prepped for surgery. He never informed me!Turned out to be a water infection, but still!! He refuses to tell me when he is taking them on holiday or communicate in any way but not to be told my daughter is potentially in a life threatening condition in hospital!! I'm livid. I have advised him straight away when our daughter got to hospital with a broken leg. Is it law that I am to be kept informed? We both have parental responsibility and I have full custody.
KarenC
- 29-May-19 @ 6:56 PM