What Rights Does My Ex Have With Regards to Our Children?
Author: Elizabeth Mugan BA/BSc, PGDipLaw, BVC, CIArb - Updated: 26 April 2015
|
We get many comments and questions from you about child support. We've taken a selection of your comments addressing the issue of keeping contact with your children and the fear of your ex taking them from you - and asked our expert to give some comprehensive information and advice.
The traditional view of the family set up has become something of a minority in 21st century society and because of this, a broken down relationship can lead to complicated legal issues. Whether you are recently divorced and wondering about the role your ex-husband has in your child's life, or you have a child from a relationship that has broken down, but were never married, you need to understand your legal position when it comes to creating an amicable situation for your child to grow up in. Here we aim to dispel some of the myths about parental access and to give you the advice you need to rebuild your life and your children's lives.
Parental Responsibility
Parental responsibility (also known as PR) creates "responsibilities" rather than "rights" regardless of whatever the state of the parents' relationship, emphasising the view that each will maintain an equal, shared and continuing responsibility towards the child.
Where both the mother and the father have PR, they have the power to act alone unless there is a circumstance where, by law, each person with PR is to give consent i.e. in the case of adoption. In reality, holding PR gives the ability to make decisions in relation to the child's name, religion, school, consent to medical treatment and marriage etc.
Who has Parental Responsibility?
Below is a flow chart to help you determine if you have Parental Responsibility:
A mother always has PR. A father who is married to the mother at the time of birth will automatically have PR.
To clarify, for unmarried fathers, the situation is different. Unmarried fathers will have PR if:
They marry the mother after the child is born
They have jointly registered the child's birth with the mother i.e. their name is on the birth certificate
For pre December 2003 registrations, the mother provides a formal declaration of agreement that the father's name is to be added to the birth record and the father re-registers the birth to add his details
The court orders a residence order in favour of the father, although this will usually terminate when the resident order ends (generally age 16)
A birth parent has signed a parental responsibility agreement
A step-parent's PR agreement can be made by consent with all those already having PR for the child
By obtaining an adoption order from the court
Where a father has not automatically gained PR, the mother does not have to add the father's name to the birth certificate. However, this will not stop the father from being able to apply to the court for an order, such as a parental responsibility order, which may result in him acquiring PR.
Other family members
Other family members, taking grandparents as an example, do not automatically have PR. They would only be granted PR by a court if, for example, they were appointed as Guardian or were to adopt their grandchild for any reason. If a father with PR asks his parents to take care of the child, they can do so usually without the mother's agreement. However, the child would not be able to remain resident with the grandparents unless they had been granted a residency order by the court.
Voluntary access arrangements
If more than one of you has PR, then the best thing you can do for both your children and yourselves is to voluntarily agree to contact and access etc. If you can do this, then you are more likely to maintain a more harmonious relationship for the sake of your children. Additionally, it will prevent you from having to go to court and from having to pay court and solicitor's fees if you are unable to get legal aid.
Of course, this is the ideal scenario and not always a realistic one. If you cannot agree on residence and contact etc. then you may find that your ex will end up applying to the court for an order.
My Child has Been Taken Away From Me: What Can I Do?
Unfortunately in some circumstances, a father may take your child during agreed contact time and then refuse to bring them home again. If this happens and you are unable to negotiate with the father then you should call the police. However, the police may not be able to do anything. This generally comes down to whether or not the father has PR. If they do not, then the child is the mother's sole responsibility and the police may be able to take the child back to the mother. If the father does have PR, then in usual circumstances, they have the same rights as the mother to look after the child and therefore, so long as the child is not in any harm, the police cannot usually do anything about it. This can be understandably distressing for a mother. What can be done about it?
Residence Orders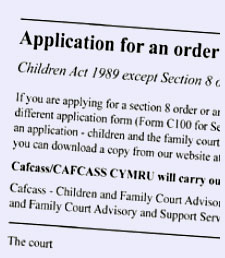 A person can make an application for a residence order, whether or not they have PR. For example, a father without PR can make an application for and be granted residency but then he will automatically acquire PR at the same time. It is unusual for a father to be granted residency as well as a mother as this would result in shared residency, which is not always in the best interests of the child. As a result, it is usually the mother who would be granted sole residency.
If a child has been taken by their father and the police cannot do anything, the mother can make an application for a residency order. If the child was snatched or she believes that her child may be in danger, then she can apply for an emergency ex parte application. This is also known as a 'without notice application' i.e. the other party is not given notice of the application. If the mother cannot make an ex parte application then an application can still be made but the father can attend and make his case. At the end of the hearing, the judge will make an order.
There are lots of other orders which the court can make, including contact orders, prohibited steps orders and specific issue orders.
What Factors Will be Taken Into Account?
When reviewing applications, the court will take a number of factors into consideration with regards to the child or children's welfare. These are:
What is best for the child and the feelings and wishes of the child. This is considered according to the child's age and understanding
How capable the parents (and any other relevant people) are of meeting the needs of the child or children
Any harm that the child is at risk of suffering or has suffered
The likely effect of a change of circumstances on the child
The age, background, personality, sex and any other characteristics that the Court believes to be relevant
The child's emotional, physical and educational needs
Domestic abuse
If you have been subjected to domestic abuse, this would clearly be a very important factor for the court to consider when determining what will be in the best interests of the child. If the father makes an application to the court then you can oppose it by giving evidence as to why he should not be given the order. You can oppose any application in much the same way.
Reality Check
When you find yourself fighting to look after your own child your emotions can begin to take over. It is important when you begin to plan your child's parenting and the access of the father that you understand the law and how it might impact on your child's future.
Remember that if your child's father is on the birth certificate, or you were married and are now divorced, the father has the same access to the child as you do in the eyes of the law. If they take your child or even threaten to do so, the police can often be powerless to change the situation. The best advice is to seek mediation and organise access in a written agreement, give yourself something concrete to work from. If your ex is unreasonable then apply for a residency order to ensure that you keep custody of your child.
You might also like...
Hi. I have a 3 year old and me and my ex have been spilt just under to years...and iv had nothing but hassle off him. If had to het a resident order out on him. He still sees him but my sons coming home saying hes not been fed or had a drink and my ex is letting my son go owt to play by his self were theres cars coming and going. I dont feel safe when my sons with him. And I need help what can I do???
stac
- 26-Apr-15 @ 7:19 PM
My son is 16 and in his last year of school, he is due to start collge in September.His father(ex husband not divorced yet) has now told me that he will be stop paying maintenance when he finish school as he doesn't have to pay after that.Is this right?Also he is demanding that I have to give him my telephone number as a emergency contact. I don't want to do this as I'm not putting up with verbal abuse. I'm I within my rights to refuse, also he can contact my son as he has a mobile which his father pays for.
Lofc
- 25-Apr-15 @ 3:33 PM
My brother's unwed wife just took his kids out of school (one month before school year end) and left the state without letting him know.She threaten to harm the kids and himself a month before she took off, but he didn't report her.He only have his family member witness.He couldn't get a hold of his kids; he called their mother and left messages and text her to call him back so that he can talk to his kid but no respond.He called her family members but no pick up.He did consulted a family lawyer and report missing person on the first day that we couldn't find them.What are the chances that he will get custody of his kids?
Mary
- 24-Apr-15 @ 3:21 PM
I've split from my children's father and moved away from the town where we lived. Only 10 miles in the next town. My ex has agreed that he will have the children every other weekend but when it comes down to me and my new partner being able to plan anything to do we cant because we never no what time the children are being picked up and what time they are being dropped off. Or sometimes he will text the day befor to say he can't have them due to him working. All this normally ends in a massive argument. So I've asked him to sign a piece of paper saying the times he's having the kids and the times he's having them but he's refusing to do this, I've told him he's not having the kids till he does this am I being unreasonable by doing this ?
Mummyof3
- 24-Apr-15 @ 1:59 PM
My babies daddie and I separated (I left) October 2013. Since then it's been awful. He would turn up unannounced demanding to see the children and wouldn't make arrangements. I then said lets do "daddy days" so we all know where we are. 9 times out of 10 he would return them late, even if by 10 minutes, to show he had control. Anyway, he continually texts me abuse, from im a horrible mum to he wishes me dead and everything in between. He is verbally abusive towards me in front of the children to the point where my 3yr old said "daddy shouts at mummy and it make's me sad". I have stopped access as he is unable to collect the babies without being abusive to me, and it was having a detrimental effect on them. I DO and have always said I DO WANT HIM TO SEE the children just not to damage them in the process because he can't control himself. We had a mediation session which was stopped, I can only presume this was because he was shouting and angry as he wasn't getting his own way. The babies are 2&3, he's had zero contact for the past 2 months then just turns up at the door unannounced demanding to see them. They then are unsettled again.. I don't feel comfortable in my own home, I drive past the end of our road to make sure he isn't there before I drive home? were out all the time, when we are in, we live in "lock down" so to speak, blinds / curtains closed in case he shows up shouting. I have tried to appease him at every step.. I just don't know what to do. Tonight he showed up, then went to my parents house to be abusive there too! My parents are in there 70's!! This is a grown man of 40! I'm at a loss. I've tried everything. Help ??
ataloss
- 24-Apr-15 @ 4:11 AM
@G - the court don't take lightly to this form of parenting and unless her ex can present a very valid reason for taking the child. The courts order custody and visitation according to the child's best interest, so if her ex has decided to take the law into his own hands by taking the child and refusing contact with the other parent, especially as the mother has naturally been awarded parental reponsibilty and he didn't go through the legal route to apply for a residency order, then the courts will consider this action adverse to the child's best interests. Your niece really needs to get this sorted as soon as possible and really it should go straight to court where hopefully the court will rule against the other parent for playing tug-of-war with the child. She should also be allowed to take it to court to get an interm court order to at least have contact with her child. I hope this helps.
ChildSupportLaws
- 23-Apr-15 @ 11:21 AM
@Snowflake - as specified in the article. Unfortunately in some circumstances, a father may take your child during agreed contact time and then refuse to bring them home again. If this happens and you are unable to negotiate with the father then you should call the police. However, the police may not be able to do anything. This generally comes down to whether or not the father has PR. If they do not, then the child is the mother's sole responsibility and the police may be able to take the child back to the mother. If the father does have PR, then in usual circumstances, they have the same rights as the mother to look after the child and therefore, so long as the child is not in any harm, the police cannot usually do anything about it. This can be understandably distressing for a mother. What can be done about it? You can apply for a residence order if you think the father may do this, which makes it official that you have care for your children. I hope this helps.
ChildSupportLaws
- 22-Apr-15 @ 2:20 PM
@van - I'm afraid you cannot force your ex to see your children and it is very unfortunate if he doesn't comply, as it sounds as though you obviously need some help here. All I can suggest is you asking if he would he attend mediation sessions. It does cost and he would have to agree, as it is voluntary. However, having a third party to try and sort out your dispute might help him realise that he needs to do more to help your situation and to see his children as a valuable part of his life. You can see if mediation may be for you via our Separated Dads pages, link
here
. I hope this helps.
ChildSupportLaws
- 22-Apr-15 @ 11:25 AM
My nieces boyfriend did not return home with their child. When she rang him to ask how long he will be he told her he was leaving her, and that he and their 5 month year old child will not be returning. The Police would not help, there was no on to offer advice and 4 days later she has been told that they need mediation to get access rights - she has been warned it maybe that at best she might get to see her through court arranged access. In other words in the next 15-16 years she might get to see her daughter for half a year in total. That's if he even agrees, as we all know how hard it is to gurantee access even if decreed. The whole system is a mess, and seems to reward the parent who plans the breakup of the relationship best and has foresight to "kidnap" the child before the other partner is aware there are problems.
I am a single mum of one and 30 weeks pregnant I am thinking if leaving my bf we do not live together but he is on my babies birth certificate when we have argued before he has said he will take my lb how can I stop this if I do decide to leave?
Snowflake
- 21-Apr-15 @ 8:21 AM
My ex partner is not coming to a agreement to when he wants to see his 3 children. He also does not want to have all 3 together due to 2 children having challenging behaviour He has been having them individually once a week For about 3 hours Have asked him to start Having them overnight, but is not agreeing on a day. Where do I stand with this as he is on birthday certificate. Do not know what else I can do he says I am controlling this. If it went to court for him to see children what would be the outcome.
van
- 20-Apr-15 @ 12:29 PM
@Dave - you may be able to self-litigate see A Guide to Representing Yourself in Court
here
. Many fathers are having to do this as they legal aid is very much in short supply. If you can do this, it is better saving your money trying to get back to the UK to see your children. Plus self-litigating gives you a good chance to stand up and say your piece in court. A lot of fathers are having a good deal of success taking this route. I hope this helps.
ChildSupportLaws
- 17-Apr-15 @ 12:40 PM
I am trying to get back and I understand the leverage she now has, I think it was a big shock that she has taken this route, when she knew my immigration status, she does not care much for my relationship with the children, does not nuture that relationship, the school is looking out for the welfare of the children, the british gov. Can give me a visa to return but its a very difficult process, I dont have much money to do this, but they have said the first step is getting a contact order in place as for immigration it has to be in place, but im battling to find a lawyer to help me in the UK on a pro bona basis. I realize im in a very sticky position, but im following the law with all its twists and turns and its not easy, the immigration clamp down is not helping my situation. She is in a better financial position earning pounds and having citizenship in the UK already. I have been reaching out for almost eight months now and its not as simple as picking up the phone to ask her to let me talk to the children, one other disadvantage for me is she is working for lawyers giving her free advice. Any more advice from your side would be very helpful.thank you Dave.
Dave
- 16-Apr-15 @ 6:22 PM
@young mum - You don't initially. Once your baby was born, your ex would have to apply through the courts for both parental responsibility and to see your child. It depends on whether the courts view it as in the 'best interests' of your child, as to whether either supervised or unsupervised access is granted.
ChildSupportLaws
- 16-Apr-15 @ 12:54 PM
@Dave - the difficulty really for you here is the distance which is giving you ex leverage to think that she can extricate the children from your influence, given you are so far away. If you have parental responsibility then she cannot take that away from you. However, she can give her new partner a role to play in your children's lives merely by them living under the same roof. It is very hard to fight a court access case from another country, as for one it is very costly. Is there any way you can come back to the UK to try and fight your corner?
ChildSupportLaws
- 16-Apr-15 @ 10:33 AM
My wife had an affair and used it as a gateway out of our marriage, she took away my two children and moved in with her bf. I had to leave the UK due to immigration issues on my spousal visa. I did not contest the divorce and it went through recently, my now ex has cut me off from the two children aged 7 and 5, she claims her new bf is my childrens new father and role model and she also states she is well within her legal rights to protect the children from me. I raised and was theprimary care giver to both my children as of 8 months ago and my ex just wants her new life with her new bf andis closing all access to my kids, ive asked to speak to her lawyer but she has no council. I asked her for a cafcass or any documents from socialservices, but she cant produce any of this to back her so called legal claim that i am a harm to my children. Can she just do this and or keep my kids or have them adopted by her new bf or change their surnames to hers if she marries this new man? She changed her email and contact details claimingharrasment but has not laid charges against me. I am trying to understand what she is trying to do to myself and my children. Im now 6000 miles away and have no way of supporting my children in my currency. Is she trying to take my rights as a father away? Any advice? Thank you. Dave
Dave
- 15-Apr-15 @ 10:45 PM
ive recently gotten out of an emotionally abusive relationship im 18 and 37 weeks pregnant he wont be on the birth certificate i just want to know where i stand hes threatened to have my child taken away from me its got to the point if im home alone i keep all the doors locked. do i have to let him see the child? as i fear id never get my baby back
young mum
- 14-Apr-15 @ 11:25 PM
@Down - I am sorry to hear this. There isn't anything you can do really, as you can't force your husband to behave. But you can put a voluntary access agreement in place through discussing it with him and agreeing it and telling him that if he doesn't stick to it, he will have to regain contact of your children through the courts.
Sal
- 14-Apr-15 @ 12:58 PM
@jenni - I am sorry to hear you are so unhappy with the relationship. Firstly, it is assumed that mothers and fathers with parental responsibility will have the best interests of their children at heart. So, I assume that your son is coming to no harm, but if you have certain 'reservations' you really should seek some external advice appropriate to your concerns. Can you not ask him to leave? Or do you have the option to leave yourself? You may find the helpline Family Lives useful, as it sounds like you could do with someone to speak to in order to clarify your situation and give you some useful advice on how to move forward. You can access its free helpline via the link
here
. I hope this helps.
ChildSupportLaws
- 14-Apr-15 @ 11:14 AM
I had a few problems with my 13 year old daughter. She got in with the wrong type of boy. (Drug taking, poss in possession of a knife) I said no way was she seeing him.ground her, start to trust and she let me down again. came to light she had been self harming.I took her to the doctors, school etc we had another rowl again about this boy! And she wanted to stay with her dad. ( I thought she'd soon be back) but no. She has no room at his house (ssleeping on a sofa bed) he lets her stay with her friends ALL weekend. She is friends with this boy again on face book. Following lots of hardcore stuff on intersgram. Hes applied for her to move school (tto another county) and ive no imput at all. I've said on numerous occassions I want her home. He won't! Im worried all the time as shes left to own devices. She won't talk to me/see me! I love my daughter and only ever wanted to protect her. I need advice as I seem to not have any imput.
whitsend
- 13-Apr-15 @ 5:56 PM
My husband (in process of divorcing) has been having an affair. The other woman has a reputation for cheating with married men. Yesterday, after only 3 weeks of knowing about the affair he tried to take my kids to her house. I've discussed it with my children and they won't nothing to do with her. Also he asked to swop access days this week because he had to work away but I've just found out he's gone to Dublin with her. Is there anything I can do. He clearly isn't putting his children first. Please help
Down
- 11-Apr-15 @ 11:41 AM
@Shirley- if your son is not your ex's and he does not have parental responsibility, plus your son does not want contact, then your ex will have no influence on the courts and he wouldn't be granted a contact order.
Will
- 10-Apr-15 @ 12:33 PM
I really need some advice , I have recently split up with my partner but we still live in same house , I ended the relationship aft months of stress and his bullying towards my daughter , his stepchild ( who has now left few months ago to live with her biological father due to how unhappy she was cause of my partner , we have a 2yr old son together and I'm currently 34 wks pregnant with his 2nd child , I'm on medication for depression and anxiety due to him and my life is hell , the problem is he takes my son out the house and won't inform me where he is taking him , who with , and when he will return , this is making me ill and I surely have a right as the child's mother to be kept informed but he blatantly ignores me and know how it upsets me , I also have concerns to him being with my son due to certain reasons and it's killing me , I feel I have no choice but to see a lawyer , health visitor and my GP , I need some legal advice on where I stand and if he can just take my son away without me knowing about his welfare etc , the whole situation is making me ill and I want to cut all ties with him , I.e living arrangements, financially etc , if someone can help I would appreciate it , thanks .
jenni
- 10-Apr-15 @ 12:15 PM
@l1979- if he can't abide by the arrangement, you can either sit down and talk to him rationally about this and warn him that you wont tolerate him messing you about. If you want a more official arrangement then perhaps you could go through mediation. I have directed you to a link via our partner Separated Dads pages: Mediation: What is it and is it For Me? Link
here
. If you don't think either of them are suffice, you would have to try and make the order through the courts. I hope this helps.
ChildSupportLaws
- 9-Apr-15 @ 2:01 PM
@Goodhusband - I am sorry to hear this and it must be a very difficult time for you. Is this something you can overlook for the sake of your daughter? Sometimes what happens over Facebook doesn't translate to real life. You say that she is having 'relationships' with men and girls, is she just talking to them? Perhaps she is lonely or bored and may need something else to occupy her mind. Is there anything she would like to do such as a course, or hobby you might be able to encourage her to do? A lot of people resort to Facebook because there is nothing much else going on in their life and it is their way of engaging with the outer world. I think before you split up, it might be something you can work on between you. Perhaps you could ask her to attend marriage guidance counselling such as Relate, see link
here
. I hope this helps.
ChildSupportLaws
- 9-Apr-15 @ 12:45 PM
My ex is seeing his daughter and taking me to court to get rights to my son he is not the biological parent and his name has been removed from birth certificate my son want nothing to do with him and has told the judge he is very sure of his feelings but the ex won't take no for an answer my son told the judge he would run away if they try making him where do I stand
Shirley Short
- 8-Apr-15 @ 4:36 PM
@Jim - it is quite understandable that your ex is upset, as she may not be maternal by nature, but that does not mean she loves her daughter any less, or wants to be separated from her. You have to agree that 250 miles is a long way and access invariably will be restricted. Your ex can apply through the courts for a Prohibited Steps Order which is an order granted by the court in family cases which prevents either parent from carrying out certain events or making specific trips with their children without the express permission of the other parent. This is more common in cases where there is suspicion that one parent may leave the area with their children.
ChildSupportLaws
- 8-Apr-15 @ 2:13 PM
@Petra79 - if she feels it is not in the best interests of her children to move away then she can apply for a A Prohibited Steps Order (PSO). This is an order granted by the court in family cases which prevents either parent from carrying out certain events or making specific trips with their children without the express permission of the other parent. This is more common in cases where there is suspicion that one parent may leave the area with their children. I hope this helps.
ChildSupportLaws
- 8-Apr-15 @ 12:11 PM
Relations between myself and my babys father have broken down, I have always be flexible with contact as I believe that fathers deserve to see their child, but recently he has been cancelling with not much notice and dropping and ppicking up tthe child off with only 20mins notice so I can't make any arrangements. Does he any legal rights to force me to let him do this? Would like to put a proper arrangements in place which is suitable for both of us and not just him is this possible
l1979
- 7-Apr-15 @ 5:17 PM
Hi my wife want me to leave her .we have 6 years old child girl. This start long time as I find she is have relatio in Facebook with men and girls (talking bad really bad ) I ask her why this she says she we'll never doing again and this the 4 time I find her talking with man but when I ask her let me see what you are doing in facebook she says this is her private thing . I love her and I love my daughter too I can't imagine life with out my daughter. Now she say she don't want me she want to be alone ??! She have bad history as she left 2 child b4 long time ago (16 years ago ) and she have bad history with drugsshe trying to kill her self b4 2 times now I'm not asking her anything just ask her to be good wife and give good picture to her daughter but she is not want and she like to have private thing . I don't know what to do I don't want my 6 year daughter life with her like this please any advice well help. The last thing I want to say I still want her in my life as I don't want my daughter miss dad or mum
Goodhusband
- 7-Apr-15 @ 2:01 PM