What Rights Does My Ex Have With Regards to Our Children?
Author: Elizabeth Mugan BA/BSc, PGDipLaw, BVC, CIArb - Updated: 28 March 2015
|
We get many comments and questions from you about child support. We've taken a selection of your comments addressing the issue of keeping contact with your children and the fear of your ex taking them from you - and asked our expert to give some comprehensive information and advice.
The traditional view of the family set up has become something of a minority in 21st century society and because of this, a broken down relationship can lead to complicated legal issues. Whether you are recently divorced and wondering about the role your ex-husband has in your child's life, or you have a child from a relationship that has broken down, but were never married, you need to understand your legal position when it comes to creating an amicable situation for your child to grow up in. Here we aim to dispel some of the myths about parental access and to give you the advice you need to rebuild your life and your children's lives.
Parental Responsibility
Parental responsibility (also known as PR) creates "responsibilities" rather than "rights" regardless of whatever the state of the parents' relationship, emphasising the view that each will maintain an equal, shared and continuing responsibility towards the child.
Where both the mother and the father have PR, they have the power to act alone unless there is a circumstance where, by law, each person with PR is to give consent i.e. in the case of adoption. In reality, holding PR gives the ability to make decisions in relation to the child's name, religion, school, consent to medical treatment and marriage etc.
Who has Parental Responsibility?
Below is a flow chart to help you determine if you have Parental Responsibility:
A mother always has PR. A father who is married to the mother at the time of birth will automatically have PR.
To clarify, for unmarried fathers, the situation is different. Unmarried fathers will have PR if:
They marry the mother after the child is born
They have jointly registered the child's birth with the mother i.e. their name is on the birth certificate
For pre December 2003 registrations, the mother provides a formal declaration of agreement that the father's name is to be added to the birth record and the father re-registers the birth to add his details
The court orders a residence order in favour of the father, although this will usually terminate when the resident order ends (generally age 16)
A birth parent has signed a parental responsibility agreement
A step-parent's PR agreement can be made by consent with all those already having PR for the child
By obtaining an adoption order from the court
Where a father has not automatically gained PR, the mother does not have to add the father's name to the birth certificate. However, this will not stop the father from being able to apply to the court for an order, such as a parental responsibility order, which may result in him acquiring PR.
Other family members
Other family members, taking grandparents as an example, do not automatically have PR. They would only be granted PR by a court if, for example, they were appointed as Guardian or were to adopt their grandchild for any reason. If a father with PR asks his parents to take care of the child, they can do so usually without the mother's agreement. However, the child would not be able to remain resident with the grandparents unless they had been granted a residency order by the court.
Voluntary access arrangements
If more than one of you has PR, then the best thing you can do for both your children and yourselves is to voluntarily agree to contact and access etc. If you can do this, then you are more likely to maintain a more harmonious relationship for the sake of your children. Additionally, it will prevent you from having to go to court and from having to pay court and solicitor's fees if you are unable to get legal aid.
Of course, this is the ideal scenario and not always a realistic one. If you cannot agree on residence and contact etc. then you may find that your ex will end up applying to the court for an order.
My Child has Been Taken Away From Me: What Can I Do?
Unfortunately in some circumstances, a father may take your child during agreed contact time and then refuse to bring them home again. If this happens and you are unable to negotiate with the father then you should call the police. However, the police may not be able to do anything. This generally comes down to whether or not the father has PR. If they do not, then the child is the mother's sole responsibility and the police may be able to take the child back to the mother. If the father does have PR, then in usual circumstances, they have the same rights as the mother to look after the child and therefore, so long as the child is not in any harm, the police cannot usually do anything about it. This can be understandably distressing for a mother. What can be done about it?
Residence Orders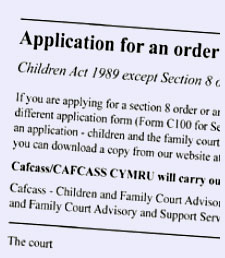 A person can make an application for a residence order, whether or not they have PR. For example, a father without PR can make an application for and be granted residency but then he will automatically acquire PR at the same time. It is unusual for a father to be granted residency as well as a mother as this would result in shared residency, which is not always in the best interests of the child. As a result, it is usually the mother who would be granted sole residency.
If a child has been taken by their father and the police cannot do anything, the mother can make an application for a residency order. If the child was snatched or she believes that her child may be in danger, then she can apply for an emergency ex parte application. This is also known as a 'without notice application' i.e. the other party is not given notice of the application. If the mother cannot make an ex parte application then an application can still be made but the father can attend and make his case. At the end of the hearing, the judge will make an order.
There are lots of other orders which the court can make, including contact orders, prohibited steps orders and specific issue orders.
What Factors Will be Taken Into Account?
When reviewing applications, the court will take a number of factors into consideration with regards to the child or children's welfare. These are:
What is best for the child and the feelings and wishes of the child. This is considered according to the child's age and understanding
How capable the parents (and any other relevant people) are of meeting the needs of the child or children
Any harm that the child is at risk of suffering or has suffered
The likely effect of a change of circumstances on the child
The age, background, personality, sex and any other characteristics that the Court believes to be relevant
The child's emotional, physical and educational needs
Domestic abuse
If you have been subjected to domestic abuse, this would clearly be a very important factor for the court to consider when determining what will be in the best interests of the child. If the father makes an application to the court then you can oppose it by giving evidence as to why he should not be given the order. You can oppose any application in much the same way.
Reality Check
When you find yourself fighting to look after your own child your emotions can begin to take over. It is important when you begin to plan your child's parenting and the access of the father that you understand the law and how it might impact on your child's future.
Remember that if your child's father is on the birth certificate, or you were married and are now divorced, the father has the same access to the child as you do in the eyes of the law. If they take your child or even threaten to do so, the police can often be powerless to change the situation. The best advice is to seek mediation and organise access in a written agreement, give yourself something concrete to work from. If your ex is unreasonable then apply for a residency order to ensure that you keep custody of your child.
You might also like...
If I've been behind Child support payments is it legal of the other parent to keep the child away from me?
Phil
- 28-Mar-15 @ 5:31 AM
@lea - it is a very good question. If you do not want your children to go to your ex should anything untoward happen then you can appoint a legal guardian via the link
here
. I hope this helps.
ChildSupportLaws
- 27-Mar-15 @ 12:52 PM
Im the father of 3 children and have been their main carer for the last year. I have PR for my two daughters but not my son. She is saying she wants them to move in with her next week and i can only have them alternate weekends. What can i do ?
ChrisDy
- 27-Mar-15 @ 12:16 PM
if my children have my boyfriends last name if anything was to happen to me would he have the children or if i put for my parents to look after them in a will would they go to my parents
lea
- 26-Mar-15 @ 2:56 PM
@Charlie - yes, you can apply for a Specific Issue Order to make sure his access is more ordered. You can read about Specific Issue Orders via our Separated Dads site
here
. The courts may want you to attend mediation first in order to work it out between you, but if you can't agree, or you want it made more official, then it will be left to the court to decide. I hope this helps.
ChildSupportLaws
- 26-Mar-15 @ 10:11 AM
@Me - you can apply for a Prohibited Steps Order through the courts. If you have parental responsibility, your ex needs your consent to move away. If she is planning this without your knowledge, then a Prohibited Steps Order (PSO) is an order granted by the court in family cases which prevents either parent from carrying out certain events or making specific trips with their children without the express permission of the other parent. This is more common in cases where there is suspicion that one parent may leave the area with their children. I hope this helps.
ChildSupportLaws
- 25-Mar-15 @ 2:32 PM
@Mummy - if you are not happy with the situation and you can't discuss your objections with him directly then you could try mediation. Mediation is a series of sessions with a trained, neutral mediator to sort out the issues you can't agree between yourselves. It will cost, but it is less coslty than taking it through court. I hope this helps.
ChildSupportLaws
- 25-Mar-15 @ 12:04 PM
I have had a nightmare seeing my daughter. To cut a long story short I went to court 2 years ago and got PR and a contact order, my daughter is 13 this year and her mother is near on neglectful (leaving her alone at night baby sitting her siblings etc) - she is getting into so much trouble at school and going down hill fast I want her here with me and my family. She will thrive here. I don't have money for court, can I just have her my weekend and not return her? My daughter wants to live here with us also.
need my girl
- 24-Mar-15 @ 9:35 PM
My partner's ex has made it all but impossible for him to see his kids. All she appears to be interested in is money. According to the law my partner has PR, they were married at the time the children were born. We tried to arrange mediation, but she refused saying she'd never stopped visitation. However, we have no idea where she lives, she moved & won't say where, & she won't consider meeting us halfway with the kids. Where do we go from here?
stepma
- 24-Mar-15 @ 7:22 PM
@Jenny - there is actually nothing he could do apart from take the matter to court and try to get a residency order, as the police are unable to help because as you have parental responsibility and he doesn't. However, if you take this approach it may backfire if he takes it to court. You would be wiser applying officially through the courts for contact etc. If any of your children are over the age of 11, they will be allowed an opinion on where they want to live. Before it goes to court, Cafcass will get involved and construct a report and the court will decide where the children should live on the basis of that report and what is in their best interests. I hope this helps.
ChildSupportLaws
- 24-Mar-15 @ 2:08 PM
@Shaz - you do not have to let your son go if you do not wish. Your ex would have to apply for a contact order through the courts and it could be either sorted out via mediation, or, if a solution was not reached between you and your ex through this process, then it would be left up to the courts to decide what sort of contact he can have.
Kathy
- 24-Mar-15 @ 1:46 PM
@Kids come first - it is up to you whether you let them stay overnight and if you don't feel comfortable with the arrangements then you should talk to him directly. However, you say it is only a shared kitchen, does he have a decent sized room of his own and a certain level of privacy? If it does, that wouldn't seem too bad. If it still doesn't feel right, you might want to suggest going to see it first before you agree on any overnight stays.
ChildSupportLaws
- 23-Mar-15 @ 2:28 PM
My ex has pr but had been emotionally abusive since split, he refuses me access to my belongings unless I pay for them, he gave the family cat away even tho my family travel 60 miles to collect him, he had threatened to have me assaulted, he has threatened to dump belongings at my work place. He swaps days etc that he will have my daughter to mess my work plans. Will I be able to get an order stopping him from just walking in and collecting her from nursery?
Charlie
- 23-Mar-15 @ 8:48 AM
I've split with the mother of my two kids about 5 months ago. She is planning to relocate to be with her new partner about 500 miles away. What rights do I have. I can't let that happen. All this is being arranged behind my back. Any help would be gratefully appreciated
Me
- 22-Mar-15 @ 11:02 PM
Me and my ex broke officially 2 months ago he regularly changes the day he see her. Will tell me off if I'm late as he lost 5 minutes of time with our daughter, but today he picked her up and dropped her off with his mother so he could go to football. I am really angry as I would not leave my daughter with his mother. What can I do
Mummy
- 22-Mar-15 @ 4:35 PM
Me and my fathers kids broke up nearly 6 years ago but due to personal cercomstances he's had the kids ever since and he's not willing to give them back to me even tho my kids keep saying they want to come an live with me but his currant girlfriend is controlling andI am not allowed to have any contact with my ex not alowd his number ect and she controls my kids an my kids say they hate her (don't blame them so do I)anyway he has no parental rights or anythin he's not even on there birth certificates if I chose to have the kids an not give them back to my ex what can he do about it or can't he do anything thank you please someone reply
Jenny
- 21-Mar-15 @ 2:30 PM
My ex hasnt seen our son in 3 weeks now he's saying he wants him 3 nights a week he's on the birth certificate as well what can I do has I don't trust him to be alone with our son he's never really done anything For our son I've done it all he's also attack me I don't want him to take my boy but what can I do to prevent this
Shaz
- 21-Mar-15 @ 12:59 PM
@ericamac23 - In theory your daughter should have gained her ex's consent or taken it through the courts to gain permission before moving away. Given he has parental responsibility he does have rights, regardless of whether he has paid maintenance or not, as financial issues have no bearing on this. However, now she has moved away it is unlikely she will be repatriated back to Liverpool as she has presumably good reason for returning to Essex. However, it is not a guaranteed result and the court will ultimately decide what is in the best interests of the child. It is up to your daughter to prove that the best interests of the child is to remain with her family in the south. I hope this helps.
ChildSupportLaws
- 20-Mar-15 @ 2:22 PM
@missingmybabygirl - you would have to arrange with your ex regarding seeing her. What you don't want is to go to the nursery and see her against your ex's wishes at this crucial time, as it could be mis-intepreted through the courts, and could give your ex extra leverage for stopping contact.
ChildSupportLaws
- 20-Mar-15 @ 12:24 PM
Me and my ex have a 15 month old daughter and our son is due in 2 weeks. At tho moment he sees our daughter every other night for a few hours and the weekend day he has her all day. He currently does not have a place to stay, (stopping where ever he can) he has found a place but it has a shared kitchen, is it exceptable for him to take our kids there and for them to stop over night? I don't like the idea. Obviously baby won't be for a good few months. He can't leave them on there own while he goes get things food drinks etc and he doesn't know the people who he will be living with. Would never stop him seeing them just I don't feel comftable with this.
Kids come first
- 20-Mar-15 @ 9:55 AM
@steph- you would have to let him take you to court. However, as part of the court process Cafcass will get involved and you can voice your concerns then. Have you decided whether you are puttting him on the birth certificate? If you do, he will have parental responsibility which will give him more rights, but not necessarily access rights. As specified in the article; where a father has not automatically gained PR, the mother does not have to add the father's name to the birth certificate. However, this will not stop the father from being able to apply to the court for an order, such as a parental responsibility order, which may result in him acquiring PR. If he applies through the courts he will be granted some rights and it will also mean that he will be financially responsible for your child through child support. The courts, with the help of Cafcass, will decide whether granting him access, whether supervised or unsupervised, will be in the best interests of your child. I hope this helps.
ChildSupportLaws
- 19-Mar-15 @ 11:10 AM
Wonder if anyone can help my daughter moved in with partner in liverpool and even rho was strained relationship they had a baby 7 months ago. A month into the baby they split coz he cheated and she came home to us in essex . Been loads of problems with the dad and since the split he not been to see baby and does not pay csaeven tho ny daughter has begged him to see baby. Today he has contacted her and has informed her that he has applied to a court in liverpool to nake her move back to liverpool si he can see baby ... can he do this has my daughter us terrified of this
ericamac23
- 18-Mar-15 @ 8:40 PM
I've got a prohibitive steps order issued against me without my knowledge. I am now no longer allowed to collect my daughter from the nursery or from the care of the mother based on allegations of abuse and now drug use. I have a hearing in a few days to put my side of the story but its been a week since I've seen my baby and miss her like mad. Can this order even prevent me from seeing my daughter in the nursery (even if it is for 5 mins), as the order says NOT to take her away from nursery and not mentioning whether I can no longer see her outright
missingmybabygirl
- 18-Mar-15 @ 2:46 PM
@Jimbo - You need to put the procedure in motion from our partner Separated Dads article; When Your Ex-Partner Denies You Access, link
here
. I hope this helps.
ChildSupportLaws
- 18-Mar-15 @ 2:39 PM
@Joe - your ex doesn't have to tell you her address by law.
Alex
- 17-Mar-15 @ 3:06 PM
@Dave - you will still have to pay child support, unless your own circumstances change, the payments are likely to stay the same as they are based solely upon your income. It makes no difference that she is getting married.
Nick
- 17-Mar-15 @ 1:53 PM
@Bubbles - it is never really a good idea to keep a child away from a parent whether that be mother or father. The issue it seems is not with the mother, but with the grandparents here, so I don't see the issue of keeping his daughter away from the mother, especially when they have agreed to a 50/50 split, that relationship could break down if the trust is broken between the parents. If he wants to apply for residency, he should do so legally through the courts. If he keeps the child, it becomes a tug-o-war with the child in the middle and suffering unnecessarily. I'd keep with the same arrangements with the mother and deal with the grandparent as a seperate issue. If he has to take it through mediation or the court then fine, but don't take his frustration with the grandparents out on the child.
Jack
- 17-Mar-15 @ 11:57 AM
I'm currently 22 weeks pregnant and my ex partner is currently in prison for a burglary charge, he says he taking me to court for full access to our child. Also he takes drugs and drinks and has been into with the police since a young age. There has also been domestic violence and abuse within the relationship although this didn't get reported as I was to afraid to do so. What can I do if anything to help my case so he doesn't have access to my daughter? Thanx
steph
- 16-Mar-15 @ 9:20 PM
The information here is very useful but also very mother oriantated. Is this the same for a father that has pr or not. my ex has kept my daughter away from me for 2 weeks now and is refusing access. what can i use from this to help me, the same as a mother with pr or is it different. cheers James
Jimbo
- 16-Mar-15 @ 4:17 PM
@mima - you can certainly specify that you don't want this to happen and if he doesn't agree you could apply for a specific issue court order to ask the courts if they can ensure his parents supervise your daughter's care.
Gel
- 16-Mar-15 @ 12:01 PM