What Rights Does My Ex Have With Regards to Our Children?
Author: Elizabeth Mugan BA/BSc, PGDipLaw, BVC, CIArb - Updated: 30 July 2014
|
We get many comments and questions from you about child support. We've taken a selection of your comments addressing the issue of keeping contact with your children and the fear of your ex taking them from you - and asked our expert to give some comprehensive information and advice.
The traditional view of the family set up has become something of a minority in 21st century society and because of this, a broken down relationship can lead to complicated legal issues. Whether you are recently divorced and wondering about the role your ex-husband has in your child's life, or you have a child from a relationship that has broken down, but were never married, you need to understand your legal position when it comes to creating an amicable situation for your child to grow up in. Here we aim to dispel some of the myths about parental access and to give you the advice you need to rebuild your life and your children's lives.
Parental Responsibility
Parental responsibility (also known as PR) creates "responsibilities" rather than "rights" regardless of whatever the state of the parents' relationship, emphasising the view that each will maintain an equal, shared and continuing responsibility towards the child.
Where both the mother and the father have PR, they have the power to act alone unless there is a circumstance where, by law, each person with PR is to give consent i.e. in the case of adoption. In reality, holding PR gives the ability to make decisions in relation to the child's name, religion, school, consent to medical treatment and marriage etc.
Who has Parental Responsibility?
Below is a flow chart to help you determine if you have Parental Responsibility:
A mother always has PR. A father who is married to the mother at the time of birth will automatically have PR.
To clarify, for unmarried fathers, the situation is different. Unmarried fathers will have PR if:
They marry the mother after the child is born
They have jointly registered the child's birth with the mother i.e. their name is on the birth certificate
For pre December 2003 registrations, the mother provides a formal declaration of agreement that the father's name is to be added to the birth record and the father re-registers the birth to add his details
The court orders a residence order in favour of the father, although this will usually terminate when the resident order ends (generally age 16)
A birth parent has signed a parental responsibility agreement
A step-parent's PR agreement can be made by consent with all those already having PR for the child
By obtaining an adoption order from the court
Where a father has not automatically gained PR, the mother does not have to add the father's name to the birth certificate. However, this will not stop the father from being able to apply to the court for an order, such as a parental responsibility order, which may result in him acquiring PR.
Other family members
Other family members, taking grandparents as an example, do not automatically have PR. They would only be granted PR by a court if, for example, they were appointed as Guardian or were to adopt their grandchild for any reason. If a father with PR asks his parents to take care of the child, they can do so usually without the mother's agreement. However, the child would not be able to remain resident with the grandparents unless they had been granted a residency order by the court.
Voluntary access arrangements
If more than one of you has PR, then the best thing you can do for both your children and yourselves is to voluntarily agree to contact and access etc. If you can do this, then you are more likely to maintain a more harmonious relationship for the sake of your children. Additionally, it will prevent you from having to go to court and from having to pay court and solicitor's fees if you are unable to get legal aid.
Of course, this is the ideal scenario and not always a realistic one. If you cannot agree on residence and contact etc. then you may find that your ex will end up applying to the court for an order.
My Child has Been Taken Away From Me: What Can I Do?
Unfortunately in some circumstances, a father may take your child during agreed contact time and then refuse to bring them home again. If this happens and you are unable to negotiate with the father then you should call the police. However, the police may not be able to do anything. This generally comes down to whether or not the father has PR. If they do not, then the child is the mother's sole responsibility and the police may be able to take the child back to the mother. If the father does have PR, then in usual circumstances, they have the same rights as the mother to look after the child and therefore, so long as the child is not in any harm, the police cannot usually do anything about it. This can be understandably distressing for a mother. What can be done about it?
Residence Orders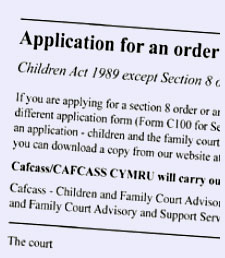 A person can make an application for a residence order, whether or not they have PR. For example, a father without PR can make an application for and be granted residency but then he will automatically acquire PR at the same time. It is unusual for a father to be granted residency as well as a mother as this would result in shared residency, which is not always in the best interests of the child. As a result, it is usually the mother who would be granted sole residency.
If a child has been taken by their father and the police cannot do anything, the mother can make an application for a residency order. If the child was snatched or she believes that her child may be in danger, then she can apply for an emergency ex parte application. This is also known as a 'without notice application' i.e. the other party is not given notice of the application. If the mother cannot make an ex parte application then an application can still be made but the father can attend and make his case. At the end of the hearing, the judge will make an order.
There are lots of other orders which the court can make, including contact orders, prohibited steps orders and specific issue orders.
What Factors Will be Taken Into Account?
When reviewing applications, the court will take a number of factors into consideration with regards to the child or children's welfare. These are:
What is best for the child and the feelings and wishes of the child. This is considered according to the child's age and understanding
How capable the parents (and any other relevant people) are of meeting the needs of the child or children
Any harm that the child is at risk of suffering or has suffered
The likely effect of a change of circumstances on the child
The age, background, personality, sex and any other characteristics that the Court believes to be relevant
The child's emotional, physical and educational needs
Domestic abuse
If you have been subjected to domestic abuse, this would clearly be a very important factor for the court to consider when determining what will be in the best interests of the child. If the father makes an application to the court then you can oppose it by giving evidence as to why he should not be given the order. You can oppose any application in much the same way.
Reality Check
When you find yourself fighting to look after your own child your emotions can begin to take over. It is important when you begin to plan your child's parenting and the access of the father that you understand the law and how it might impact on your child's future.
Remember that if your child's father is on the birth certificate, or you were married and are now divorced, the father has the same access to the child as you do in the eyes of the law. If they take your child or even threaten to do so, the police can often be powerless to change the situation. The best advice is to seek mediation and organise access in a written agreement, give yourself something concrete to work from. If your ex is unreasonable then apply for a residency order to ensure that you keep custody of your child.
You might also like...
@jj, as you are the main carer for your child you have the ultimate say in where your baby stays and if you don't want your baby to stay overnight with your husband then you can stop this. If your husband hasn't seen your child for two months he can't just expect to come back into your baby's life whenever he feel like it.
mum
- 30-Jul-14 @ 11:56 AM
My husbandand I are separated and he is trying to take my8 month baby for two nights, it has been two months that we haven't heard from him or he have help us money wise, he have been depress. and he now wants his rights to be with the baby I'm scare that he won't b able to care for her after going into a depression. can he do that?
My ex never looks after her kids we have 3 boys 11-14and she never takes them anywhere just gives them to her mum all the time can I put a stop to this?I have a shared residency order but would love them full time
stupot
- 20-Jul-14 @ 8:20 PM
my sons dad has PR but does not see his son and does not provide anything for him, my partner wants to adopt my son but do we need permission from my sons dad? thanks x
candy
- 16-Jul-14 @ 9:37 PM
@upsetfriend, this is awful! I can't imagine what your friend must being going through, not to mention what the children must be feeling not being able to see their mum. If the children are left with someone or even at school then I don't see why she couldn't take them back as they are hers and she has PR. Other than that she could take her ex back to court (I know it costs money but she has limited choices at the moment) for a breach of court order - if there is a court order in place?
mum1
- 8-Jul-14 @ 10:57 AM
Hi my best friend has sent her children to contact with they father as part to their arrangement. This weekend the father has decided he wants to keep the children there. He has got PR over the three children aged 9 6 and 5 she have been to the police but they are powerless and she can't afford court now there is no legal aid. The father is trying to put the children into school where he lives. If he leaves the children with anyone else (who doesn't have PR) can she simply take them back? Eg if he leaves them with neighbors grandparents or school?
upsetfriend
- 8-Jul-14 @ 10:35 AM
@tam, this depends if the child was taken from the mother in the first place and also the situation the mother is in now i.e. is she still in that relationship? Or does she still have contact with the abuser because if so then she won't be allowed to have her children back as they would still be classed as 'at risk'. However, if there is a residency order in place then the mother can't just go and take the child, she will have to go back through the courts to obtain the legal powers to take the child back.
gregson
- 7-Jul-14 @ 12:24 PM
Hi .....I have a child who is one and his mother (who I am no longer with for over a year now) is from Lithuania but she lives here in the uk and has done legally for years, so after my sons 1st bday the mother then gave him to her mother to bring and stay in Lithuania for a couple of months (until she got back on her feet) now she has finally "gone" out there to collect him but said she will stay out there for a bit..... but just before she left to go Lithuania she found out I was having another child (which didn't seen like a problem as she left) but now she won't reply to my txt or Facebook msgs.... Also Just before she left she said needed a copy of my passport to get our son a Lithuania passport so I took a photo of it and sent it to her ....but I am really worried that she may try and stay over there now, keeping my son away from me... I am not sure who her lawyer is but she gets such advised like him telling her how to beat the system which after hearing some of them I know they are not all legal, it's really frustrating because I feel helpless and really don't know what to do let alone who to turn to.... help in anyway would be brilliant so I can hopefully have some kind of hope that there is something that can be done! Thank you
Helpless
- 7-Jul-14 @ 5:35 AM
If a child lives with other relatives under a residency order started with a section 20 care order due to domestic violence which no longer exists can the child just be taken back by the mother and moved somewhere else
tam
- 6-Jul-14 @ 11:20 PM
Can i stop my ex seeing my son. He hasn't paid a penny for him and he is a drug user and he is violent, he was in jail a couple of times for slashing people with a knife, he has hit me and my eldest child and even though we split up he still tries to control me. I really feel my son would be better not knowing his father as he is a waste of space and always in and out of jail.
hi im angel..just want to have a concern about my case...i left there place because theres a big tragedy happens in my parents place..i left my daughter in my in laws..i ask permission in my husband(we are not marriad)that i will go home to my province and he allow me..they know the reason why i need to go home.theres a very strong thyphone called haiyan or yolanda in our place and it destroys all what we have in the house and most of the poeple are dead..im very much worried with my family thats y i decided to go home and they allow me..i did not message them for the reason that very hard network in my place..we have contact with my husband since he is on the ship that time,working as seaman.i left dec and my husband go back to philippines feb..he never contact me and no any message..its hard for me to go back to there province because of expensive ticket...im trying to contact him and i cannot..maybe he changed his number..i contact her cousin and i ask them that tell my husband to contact me or call me but he did not do it..and now i heared that he is trying to get a custody of our child which is 2 years old..need a advice.,.i want to have the rights for my daughter...
angel
- 27-Jun-14 @ 5:24 AM
I have split with my partner who I have two daughters with. I am very concerned for their well being as their mother is constantly smoking pot around them. She seems to think that what she is doing is not affecting her ability to be a mother but I know it is. She will go to bed at 11.30am till 14.30 and does this even when the children are home in her presence. What can I do to save my children from this and how can I get her to clean up her act?
Daz
- 24-Jun-14 @ 1:38 PM
hello my child, i understand how you feel right now, i know is not easy to get money but i also want you to know that i am not asking you to pay me for my services. my spell is free i am only asking you to send money to buy the items needed for the spell. my child i want you to know that this is about your happiness. my child i really want to help you because you have choose to save your relationship and i like it. my child don't worry your self ok, i promise you i will back your ex, i have helped so many before and they testify about my good work. my child i am ready to support you with the amount and i want you to tell me how much do you have let me see if i can assist you. greetings Dr Sacura
jane
- 19-Jun-14 @ 12:27 PM
Please help me - I have full custody of my son and my ex meets my son every 2 weeks for 2 hours. I am 31 and wish to get on with my life and want to study in U.S. please advise what can i do ? how to transfer the custody authority to my ex and what is he denies? where will my kid go?
Shelly
- 15-Jun-14 @ 6:57 PM
Me and my x split up when my son was born with a solisitor I asked my sons dad to sign his rights over to me which he did when he was 16 does he still have to pay for the child as I made him sign his rights over he is paying at the min but I'm not sure he should be
jennifer moxon
- 10-May-14 @ 11:25 AM
hi my son is 5 years old and me and his dad do not get on at all but he has been in his life since birth.we split when my son was just 6 weeks old the problem is when he had him last he brought him back 2 days late and i could not get hold of him and he was not answering any of my calls or txts and now im worried to let my son go to him but i know he has parental responsibility the same as me because his on the birth certificate im just worried sick that he will take our son and i wont be able to get him back can anyone help me on what i should do because i understand my son has to see his dad but he also needs his mum and im just stuck in what to do
shezza
- 26-Apr-14 @ 4:21 PM
Does my ex husband have automatic contact rights he shows very little interest in their lifes it is me who has to contact him over the children
booboo
- 5-Feb-14 @ 12:14 AM
My son inlaw has another child by someone else he pays csa for him,he has just found out the the mother of the child has changed his surname by depole to her new partners name.He is confussed and wants to know if he still has to pay csa for his child.I must add he has never had contact with the child.please can someone answer my question thankyou
twiggy
- 9-Jan-14 @ 8:10 PM
I split up from my partner nearly 3 years ago. I have never stopped him from seeing our child and never asked him for money to support our child. We both have new partners, I am extremely happy with my partner and he has his own business and supports me and my child with everything we could ever wish for but my ex now has a new partner who has 4 children and they are asking me for money to enable them to see our daughter. I have helped out in the past with small amounts of money which I know is wrong but now it's starting to turn nasty as they expect me to pay the travel fairs for him to come an collect our daughter and I am being threatend with solicitors and child protection towards my child. My child lives with me and has her own bedroom is clean an well looked after she is a happy healthy and extremely cleaver little girl. But my daughter has mentioned on more than one occasion that when she stays with her dad she has to sleep on the floor does not have a healthily diet when she is with him. She seems very unhappy when she has to go to her dads for the weekend and I am not happy with the words that he says to her for instance "why don't you tell mummy that you want to come and live with me!" She loves her dad but I find that all of these words are going to damage her. Am I wrong for seeking legal advice on these matters? I don't want anything from him just that he still has involvement with her an stops harassing and treating me.
Lesley
- 3-Nov-13 @ 10:44 PM
i was with my x parner she left me when pregnant then when she surfaced when the child was 8 month old like a fool i took her back looked after both of them become a dad paying for every thing then as i thought things were normal i put my name on the certificate 3 weeks later she leaves and puts in for csa now after 2000 pounds of solicitors fees she would not do a paternaty test now she has totally left the area no idea were she is but guess what i still have to pay for somthing that im sure aint mine and ive ran out of money to take her to court
fez
- 11-Sep-13 @ 12:34 PM
Hi my story is to say the least shocking. I had been married to my separated wife for 13yrs, last year at about this time (September) she started an affair with another man. After a few weeks she decided to move in with him and take our three children then aged 2 and 4 my daughters and my 10yr old son, I was not sure of my rights but had half custody of all three. From the start there were problems especially with my children's mental health, "it was later found out he had been the case of a social service report regarding his own children", after a couple of months she left him and I took full charge of our children, she re-housed herself in a three bedroomed house but the children stayed with me and have been since November last year, she has tried to have the children for a couple of nights but it didn't work out, mainly due to the fact she was unable to cope with them. Now the benefits we were entitled to are still payed to my wife and she gives me some money but not all of it, lately I've been asking her for more but she says she gives me everythingI'm due. Just recently she has demanded that our two girls stay with her and my son stays with me. Anyone know of any agencies or help lines I can contact for assistance?
solo dad
- 19-Aug-13 @ 4:26 PM
My partner left me when my daughter was 5 months old and I was 8 weeks pregnant with his second child for an older woman he started seeing before my daughter was born, he is named on my daughter birth certificate and want to be at the birth and named on his sons birth certificate when he is born in 6 weeks time.What rights does he have?Do I have to let him take my daughter to this woman's house? I think she'll get confused as she is only 9 1/2 months old now and I don't want her thinking she's her mother, also her dad hasn't really been there, he may come and see her once a week if we're lucky.Please help, any advise welcome
Robsmummy
- 6-Aug-13 @ 11:04 AM
As a female I am quite shocked & disgusted reading this that it is all written in women's favour. Children should be placed with the person most able to care for them & unfortunately this is not always the mother I think this website needs some drastic updating.
brackster
- 16-Jul-13 @ 3:51 PM
I find the wording of this incredibly sexist, I'm a 23 year old father with full custody of my 3 year old daughter. I find it ridiculous that in 2013 the wording of this piece is massively biased towards mothers trying to protect their child from being taken by the father. My situation is opposite, yet this piece repeatedly makes reference to a mothers rights regarding custody, and fathers 'taking' their children. As my daughters full time carer I've arranged agreed access with my ex, to read this piece literally I have no idea what my rights are if my childs mother decides not to return my daughter after visiting. Please clarify if this is intentional as there is a legal difference or if it is simple closed minded sexism.
Sam_Rowland
- 30-Jun-13 @ 10:39 PM
I am 17 years of age and study child care at college .I have left home and living with my friends family.the question I would like answering is can they claim family allowance for me or can I claim anything to help towards my keep.My mother says she as cancelled my family allowance but I am not sure knowing her. my mother also receives maintenanceCAR for me
peggy
- 31-Mar-13 @ 3:56 PM
My daughter has an 11month olds boy and the farther is on the birth certificate however He physically abused her and smashed the house up and only served a few months for this. .. He also has history of threatening behaviour and also assaulting his mother and brother. . My daughter is worried that he may be allowed access to his son . . . .surely this cannot be right with his history .. His family dont bother with cards,presents phone calls when baby was born more for his first Christmas !!!!!!!!!!
Nell
- 25-Mar-13 @ 3:54 PM
I quote you:Unfortunately in some circumstances, a father may take your childNot in the least biased then?God forbid the mother takes our child away from me? :)Just a thought: the rest isn't too bad. But do we really need the bias?
chris
- 13-Feb-13 @ 8:06 PM
I must say as a father who loves his son and has spent two years trying to gain equal access, that when reading your information, the intimation is,it would appear,that it is the father who has to be watched out for,that it is the father that is likely to snatch the child and that it is the father who is the root cause of many of the problems.Having seen my ex partner lie in court, make false allegations against myself and refuse to hand over my sons passport to me, so we can also have a holiday...I could go on...I would ask that you consider a more unbiased approach when giving information, as it is this outdated attitude that helps to maintain the inequality against fathers and our rights to be considered just as important to our childrens upbringing and welfare as mothers.
gentk
- 4-Feb-13 @ 6:06 PM
see me and my my sons mum split up 2 weeks after finding out that she was pregnant. Ever ssince she has planned eeverything out to try making sure that i cant see my son by not telling me any appointments forr the baby scan scans, when he was born or anything till after it's already happened and too late to do anything about it it which i think is pathetic and childish in all honesty. So i want to be in my sons life and be the respectful role model that he needs me to be and i can also help out which iam doingh except i have to keep lying where the presents and money actually comes from and it's so unfair that woman get all these rights that us men who are wanting to do what they can to ensure that thee child/children get what they need and not have to worry about those woman who just want to be spiteful and self centered rather then having a childs real father in the childs life. what can i do so i can actually get the access from the courts and stuff, how do i go about it all?
matt or Paulo
- 22-Dec-12 @ 6:44 PM
hi been on csa calculator and for one child the differance is over 20 pounds aweek rang csa they told me that i was paying the old rates and would be till the child left shcool.the ones on website were the new rates and nothing could be done is that true
sly46
- 21-Nov-12 @ 9:33 PM