What Rights Does My Ex Have With Regards to Our Children?
By: Elizabeth Mugan BA/BSc, PGDipLaw, BVC, CIArb - Updated: 13 Dec 2021
|
We get many comments and questions from you about child support. We've taken a selection of your comments addressing the issue of keeping contact with your children and the fear of your ex taking them from you - and asked our expert to give some comprehensive information and advice.
The traditional view of the family set up has become something of a minority in 21st century society and because of this, a broken down relationship can lead to complicated legal issues. Whether you are recently divorced and wondering about the role your ex-husband has in your child's life, or you have a child from a relationship that has broken down, but were never married, you need to understand your legal position when it comes to creating an amicable situation for your child to grow up in. Here we aim to dispel some of the myths about parental access and to give you the advice you need to rebuild your life and your children's lives.
Parental Responsibility
Parental responsibility (also known as PR) creates "responsibilities" rather than "rights" regardless of whatever the state of the parents' relationship, emphasising the view that each will maintain an equal, shared and continuing responsibility towards the child.
Where both the mother and the father have PR, they have the power to act alone unless there is a circumstance where, by law, each person with PR is to give consent i.e. in the case of adoption. In reality, holding PR gives the ability to make decisions in relation to the child's name, religion, school, consent to medical treatment and marriage etc.
Who has Parental Responsibility?
Below is a flow chart to help you determine if you have Parental Responsibility:
A mother always has PR. A father who is married to the mother at the time of birth will automatically have PR.
To clarify, for unmarried fathers, the situation is different. Unmarried fathers will have PR if:
They marry the mother after the child is born
They have jointly registered the child's birth with the mother i.e. their name is on the birth certificate
For pre December 2003 registrations, the mother provides a formal declaration of agreement that the father's name is to be added to the birth record and the father re-registers the birth to add his details
The court orders a residence order in favour of the father, although this will usually terminate when the resident order ends (generally age 16)
A birth parent has signed a parental responsibility agreement
A step-parent's PR agreement can be made by consent with all those already having PR for the child
By obtaining an adoption order from the court
Where a father has not automatically gained PR, the mother does not have to add the father's name to the birth certificate. However, this will not stop the father from being able to apply to the court for an order, such as a parental responsibility order, which may result in him acquiring PR.
Other family members
Other family members, taking grandparents as an example, do not automatically have PR. They would only be granted PR by a court if, for example, they were appointed as Guardian or were to adopt their grandchild for any reason. If a father with PR asks his parents to take care of the child, they can do so usually without the mother's agreement. However, the child would not be able to remain resident with the grandparents unless they had been granted a residency order by the court.
Voluntary access arrangements
If more than one of you has PR, then the best thing you can do for both your children and yourselves is to voluntarily agree to contact and access etc. If you can do this, then you are more likely to maintain a more harmonious relationship for the sake of your children. Additionally, it will prevent you from having to go to court and from having to pay court and solicitor's fees if you are unable to get legal aid.
Of course, this is the ideal scenario and not always a realistic one. If you cannot agree on residence and contact etc. then you may find that your ex will end up applying to the court for an order.
My Child has Been Taken Away From Me: What Can I Do?
Unfortunately in some circumstances, a father may take your child during agreed contact time and then refuse to bring them home again. If this happens and you are unable to negotiate with the father then you should call the police. However, the police may not be able to do anything. This generally comes down to whether or not the father has PR. If they do not, then the child is the mother's sole responsibility and the police may be able to take the child back to the mother. If the father does have PR, then in usual circumstances, they have the same rights as the mother to look after the child and therefore, so long as the child is not in any harm, the police cannot usually do anything about it. This can be understandably distressing for a mother. What can be done about it?
Residence Orders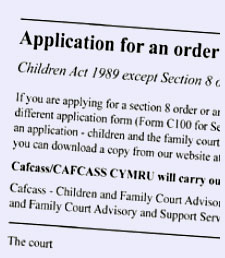 A person can make an application for a residence order, whether or not they have PR. For example, a father without PR can make an application for and be granted residency but then he will automatically acquire PR at the same time. It is unusual for a father to be granted residency as well as a mother as this would result in shared residency, which is not always in the best interests of the child. As a result, it is usually the mother who would be granted sole residency.
If a child has been taken by their father and the police cannot do anything, the mother can make an application for a residency order. If the child was snatched or she believes that her child may be in danger, then she can apply for an emergency ex parte application. This is also known as a 'without notice application' i.e. the other party is not given notice of the application. If the mother cannot make an ex parte application then an application can still be made but the father can attend and make his case. At the end of the hearing, the judge will make an order.
There are lots of other orders which the court can make, including contact orders, prohibited steps orders and specific issue orders.
What Factors Will be Taken Into Account?
When reviewing applications, the court will take a number of factors into consideration with regards to the child or children's welfare. These are:
What is best for the child and the feelings and wishes of the child. This is considered according to the child's age and understanding
How capable the parents (and any other relevant people) are of meeting the needs of the child or children
Any harm that the child is at risk of suffering or has suffered
The likely effect of a change of circumstances on the child
The age, background, personality, sex and any other characteristics that the Court believes to be relevant
The child's emotional, physical and educational needs
Domestic abuse
If you have been subjected to domestic abuse, this would clearly be a very important factor for the court to consider when determining what will be in the best interests of the child. If the father makes an application to the court then you can oppose it by giving evidence as to why he should not be given the order. You can oppose any application in much the same way.
Reality Check
When you find yourself fighting to look after your own child your emotions can begin to take over. It is important when you begin to plan your child's parenting and the access of the father that you understand the law and how it might impact on your child's future.
Remember that if your child's father is on the birth certificate, or you were married and are now divorced, the father has the same access to the child as you do in the eyes of the law. If they take your child or even threaten to do so, the police can often be powerless to change the situation. The best advice is to seek mediation and organise access in a written agreement, give yourself something concrete to work from. If your ex is unreasonable then apply for a residency order to ensure that you keep custody of your child.
CHILD SUPPORT LAWS IS FOR SALE.
This website is for sale [more info].
You might also like...
Yesterday dad took our child to his home without my permission/breaching CAO. It took ages to get through to my son by phone. He asked me why he was at his dad's and was worried. I didn't have a clue. I was at work in the next town. Dad is on holiday from today and cancelled loads. He returned him . Lied said arranged. Wasn't. Searched all our conversations. Need to do something but court n social his side . Reported to womensaid as only support in past tried it before to cause me distress. Left him for physical and mental abuse etc. He's still v controlling. What can I do ? He won't stop. Tried twice to get him taken off me . Nearly worked
My child's mother refused to let me see my son multiple times and then all of a sudden her car breaks down and she can't pick him up from school so she asked me to pick him up. The next day when she wanted him back I told her to file papers for custody and on the court date (few days max) I would hand my son over after we see a judge and she called the police and had me charged with inticement of a minor. I have court today and I plan on getting case dismissed for facial insufficiency of a complaint. If anyone has any insight I would love to hear what you have to say.
Tom
- 21-Jul-21 @ 11:40 AM
Can my partners ex girlfriend who hes got kids with demand a dna test on our baby
Loulou
- 8-Jul-21 @ 6:25 PM
Paragraph 133 of [2004] EWHC 142 (Fam) gives case law on what a parent can and can't do with or without the consent of the other parent.
I think it's horrible that all these articles relate to fathers being the villain. My situation is my ex has children living there and I have court ordered access. Qt the time I was not in suitable accommodation to have children full time. My ex has various mental health issues and has exposed my children to dangers. However despite my efforts they remain with her as she is able to say right things and put on a mask. She has borderline personality disorder. And narcissistic personality disorder. Among many others. However if I refuse to return my children I'm sure I will be the villain despite my concerns which are echoed by school and health visitor.
Ivar
- 30-Jun-21 @ 7:00 PM
Can a judge force me to pick my children up from my ex when he has collected them on a Friday and now wants me to pick them up from his house 70 miles away on the Sunday when he use to bring them back. I never stop him from picking them up or seeing them but before he takes me back to court for access again I just need that question answered.
Tails
- 28-Jun-21 @ 10:13 PM
I've had a long standing agreement with my Ex regarding access to our daughter. I have her every other weekend and it's been that way for a few years now. It's always worked. So I work everything weekend. Plan my weekends away with my partner & holidays etc around this agreement regarding my Ex. Now all of a sudden my Ex is demanding the weekends be swapped which I'm unable to do because of work and other commitments. However even after I've told her all of this she is still adamant that the weekends my swap to suit her new relationship. Where do I stand on this matter? I can't swap because of work etc. So therefor won't be able to have my daughter. Can she just all of a sudden swap a routine which she implemented years ago to suit her needs? Or do I have rights to stand my ground as I really can't swap anything around? Thanks for any information from anyone!
My 10 year old son, went to spend 2 weeks with his dad for the first time, out of state. His father has altered his meds so he could stay longer. His father is not on his birth certificate, doesn't pay child support and no DNA test has been done. And now is refusing to bring him home at all, also says that he believes I'm on drugs,(I'm not) and if I try and come get my son he will report me, and get full custody. What can I do?? Help me please
Manda
- 22-Jun-21 @ 3:38 AM
Hi, my partner faught in court for three years for 50/50 custody off his two kids. He was granted it, but for the last year and half his ex partner hasn't sent children on court ordered days, she lives with an abusive partner who has hurt her infront off kids and had to be removed by police during this time. She has now moved him back into the home with the children. He is at his witts end feels like he doesn't have a say or right about what his kids are seeing and doing. He has contacted his ex partner weekly when she unblock him, asking why she isn't sticking to order or replying to his solicitors letters, only to be told its a waste off her time and she dosent care what the judge says. In the mean time the children are living in a verbally and now physical abuse is happening. What should he do.
Belfastgirl
- 31-May-21 @ 5:27 AM
I haven't seen my kid in three months after a charge was filed too me. The officer told myself no contact with her and I haven't been in touch. I'm at a loss of words and don't know how to handle this case
Justin
- 29-Apr-21 @ 8:04 AM
Me and my exes relationship ended a year ago he has now met someone who lives 2hours and 30 minutes away and is moving in with her now alough i am happy for him i do not want my daughter to be staying there 4 nights a month as i cant get there if there is an emergency also my daughter has not met this woman nor have i and i just dont know what i can do as my ex thinks that he can do as he pleases
Nikki
- 17-Apr-21 @ 11:06 PM
Why does this segment begin with unfortunately yes, why would it be unfortunate that the father could take custody of the child in most cases the father is the more attentive parent,just because a woman gave birth to a child does not make her a good mother
Leocypher
- 18-Mar-21 @ 5:32 AM
I've recently found out my child farther has been lying about his income and under paying child support after a heated discussion he's agreed to pay the new amount he's willing to say he earns. I have suspicions due to his sudden willingness to change how much he pays and how the convo ended, I'm worried he's planning to not give my child back as he's due to see his dad this weekend for his dads bday. What can I do to ensure he does had my son back who's 12. Many thanks
Allen joel
- 24-Jan-21 @ 6:28 PM
my sons father who is an illegal immigrant is trying to keep my son he spoils him rotten so when its time for me to pick him up he doesn't want to come home because I actually say no his father gives him anything he wants so he won't leave what do I do
noodles
- 17-Jan-21 @ 8:11 AM
IF you need urgent help to fix your relationship or Marriage?? check on Google about ___________________ [ Robinson.buckler ]]]]].....???? [[My ex who left me came back after with his help]] [[This is absolutely wonderful, i cant thank him enough]]... THANK YOU
Lisa James
- 30-Dec-20 @ 6:51 PM
My son and his ex use their son to score points over each other, and my grandson is stuck in the middle, what rights as a grandparent do I have, can I get custody of him
Hi just a quick question, My daughter goes to her dad's every fortnight we have been court and have a court order but do I have to still send her if her dad grips her by her clothes and puts her in a coat cubbord for punishment. Many thanks
Kay
- 22-Nov-20 @ 9:10 PM
Hi I see my kids twice in the week and once over night at the weekend and on a weekly basis. Is it shared responsibility that the mother brings them to me and I bring them back? Or is it down to the father?
Rick
- 2-Nov-20 @ 8:11 PM
Hi, my son has been living with his father but I hold joint PR but there is no legal paperwork for this. My son is 14 and wants to live with me and his sister but his father is refusing to allow this. My ex is manipulative and wants to talk to my son to try and get his own way and promise change but this is only ever a temp thing. My son goes hungry at his fathers and sleep deprived. He uses my son a slave and his mental health is at an all time low. I need to help him please any advice ?
MrsB
- 21-Oct-20 @ 10:43 AM
My sons ex girlfriend is going to brazilbut leaving there son here in the uk with a baby sittermy son has pr can he go get his son
Sue
- 29-Sep-20 @ 10:22 PM
So my ex mislead me thinking he has status in the UK. Turned out that he lied and I had a child with him. Now I feel used because he now wants to use us to get stay in the UK. He was abusive and wants to see our child but I don't trust him and want to report it to the home office as his application is still being processed. I just want to protect my child away from him and his toxic family. I had to ask him to leave my home so I don't know where he lives. The other day he harassed me giving me 14 missed calls. What can I do?
Rainbowstars
- 9-Sep-20 @ 12:54 PM
I am seperated from my wife, I am not happy about a female friend of hers that she keeps company with when with children, this person is under the influence of drugs its not alcohol therefore I am not happy for my children to be around this person do I have any rights to stop this.
williams
- 8-Sep-20 @ 2:09 PM
Hi i recently found out I am pregnant with my exs child, we had split up due to the fact he was emotionally abusive a secret drug user and it came to a head when he got particularly aggressive towards me and trashed my house during a certain episode. Shortly afterI realised I was late so took a test and its positive, I have appointments with Dr's and such but when I told him he blocked me on every platform. Yet I fear he will try to gain contact when the baby is born, how could I stop this contact from happening or have some protection as due to his nature and behaviour i am worried he may possibly be agressive towards the baby or myself during the rest of the pregnancy
Jane
- 31-Aug-20 @ 12:31 PM
hi just wondering where I stand in regards to parental responsibility my ex wife and I divorced 10years ago all this time I have had very little contact with child due to the toxicity between ex and myself do I still have parental responsibility child now 18 have had no contact for last 6 years many thank
dunk
- 28-Aug-20 @ 2:34 PM
Hi, I was recently a victim of domestic violence, I left the relationship but then my ex partner could not get intouch with me he rang my child's father who then brought him to my address where my child was, he has now took my son as he has pr but is not letting me see him only only time that suits him, he stated that he was scared of my ex but he brought him to my property. He is now saying he is going for full custody of my son because of the domestic violence, my son has never witnessed anything.. I still have pr of my son my his father is emotionally and controlling me x
Caz
- 28-Jul-20 @ 7:24 PM
My nine-year-old stepdaughter claimssheis being abused at her mother's house. We have tried calling for a restraining order but was denied because she was denied because she was not in immediate Danger and we have called DSS but she refuses to talk to them because she's afraid that she'll be beaten by her mother if her mother finds out she has to talk to them she's been completed to Stay With Me and her father mother has primary placement of the child. We have visitation rights. The mother has not followed the visitation rights for over 5 years is there any legal way that we can hold the child here until our court date of custody when the child refuses to go back to their mother
Help
- 24-Jul-20 @ 1:54 AM
Hi, i need advice for my daughter who has a week old boy and is very anxious that if she gives her son to her ex partnerwho has PR then he will not give him back, what can she do legally.
Liz
- 19-Jul-20 @ 4:36 PM
My daughters (my daughter is aged11) mother called me on Sunday demanding I collect my daughter as they had yet another fairly heated argument and she didn't want her in the house with her two sons (not my kids) aged 4 and 2. These heated arguments have gotten progressively worse over the past 3 years and have resulted in violence from my daughter and then a call to me to collect her as the ex can't deal with her. So as requested on sudsy I collect my daughter, she has stated repeatedly she wants to stay with me and live here as she feels a lot calmer and her sometime violent behaviour doesn't happen with me and there are few arguments at my house. Now my ex had obviously gone nuts saying she can't stay here and came to collect her on the 1st July 2020 but my daughter refused to go with her again stating that she wants to live with me and wanted to stay with me. I asked my ex to outline what she wanted regarding contact but she has refused to say anything. She has now said she wants me to drop my daughter back on Sunday of this week, I'm concerned I won't get her back again. I have PR and just wanted to know what obligations I was under to take her back. Further if my daughter refuses to go does that improve the situation
MrBiscuit
- 2-Jul-20 @ 8:55 PM
My daughters (my daughter is aged11) mother called me on Sunday demanding I collect my daughter as they had yet another fairly heated argument and she didn't want her in the house with her two sons (not my kids) aged 4 and 2. These heated arguments have gotten progressively worse over the past 3 years and have resulted in violence from my daughter and then a call to me to collect her as the ex can't deal with her. So as requested on sudsy I collect my daughter, she has stated repeatedly she wants to stay with me and live here as she feels a lot calmer and her sometime violent behaviour doesn't happen with me and there are few arguments at my house. Now my ex had obviously gone nuts saying she can't stay here and came to collect her on the 1st July 2020 but my daughter refused to go with her again stating that she wants to live with me and wanted to stay with me. I asked my ex to outline what she wanted regarding contact but she has refused to say anything. She has now said she wants me to drop my daughter back on Sunday of this week, I'm concerned I won't get her back again. I have PR and just wanted to know what obligations I was under to take her back. Further if my daughter refuses to go does that improve the situation
MrBiscuit
- 2-Jul-20 @ 4:51 PM
My daughters (my daughter is aged11) mother called me on Sunday demanding I collect my daughter as they had yet another fairly heated argument and she didn't want her in the house with her two sons (not my kids) aged 4 and 2. These heated arguments have gotten progressively worse over the past 3 years and have resulted in violence from my daughter and then a call to me to collect her as the ex can't deal with her. So as requested on sudsy I collect my daughter, she has stated repeatedly she wants to stay with me and live here as she feels a lot calmer and her sometime violent behaviour doesn't happen with me and there are few arguments at my house. Now my ex had obviously gone nuts saying she can't stay here and came to collect her on the 1st July 2020 but my daughter refused to go with her again stating that she wants to live with me and wanted to stay with me. I asked my ex to outline what she wanted regarding contact but she has refused to say anything. She has now said she wants me to drop my daughter back on Sunday of this week, I'm concerned I won't get her back again. I have PR and just wanted to know what obligations I was under to take her back. Further if my daughter refuses to go does that improve the situation
MrBiscuit
- 2-Jul-20 @ 4:07 PM