What Rights Does My Ex Have With Regards to Our Children?
By: Elizabeth Mugan BA/BSc, PGDipLaw, BVC, CIArb - Updated: 26 Jun 2019
|
We get many comments and questions from you about child support. We've taken a selection of your comments addressing the issue of keeping contact with your children and the fear of your ex taking them from you - and asked our expert to give some comprehensive information and advice.
The traditional view of the family set up has become something of a minority in 21st century society and because of this, a broken down relationship can lead to complicated legal issues. Whether you are recently divorced and wondering about the role your ex-husband has in your child's life, or you have a child from a relationship that has broken down, but were never married, you need to understand your legal position when it comes to creating an amicable situation for your child to grow up in. Here we aim to dispel some of the myths about parental access and to give you the advice you need to rebuild your life and your children's lives.
Parental Responsibility
Parental responsibility (also known as PR) creates "responsibilities" rather than "rights" regardless of whatever the state of the parents' relationship, emphasising the view that each will maintain an equal, shared and continuing responsibility towards the child.
Where both the mother and the father have PR, they have the power to act alone unless there is a circumstance where, by law, each person with PR is to give consent i.e. in the case of adoption. In reality, holding PR gives the ability to make decisions in relation to the child's name, religion, school, consent to medical treatment and marriage etc.
Who has Parental Responsibility?
Below is a flow chart to help you determine if you have Parental Responsibility:
A mother always has PR. A father who is married to the mother at the time of birth will automatically have PR.
To clarify, for unmarried fathers, the situation is different. Unmarried fathers will have PR if:
They marry the mother after the child is born
They have jointly registered the child's birth with the mother i.e. their name is on the birth certificate
For pre December 2003 registrations, the mother provides a formal declaration of agreement that the father's name is to be added to the birth record and the father re-registers the birth to add his details
The court orders a residence order in favour of the father, although this will usually terminate when the resident order ends (generally age 16)
A birth parent has signed a parental responsibility agreement
A step-parent's PR agreement can be made by consent with all those already having PR for the child
By obtaining an adoption order from the court
Where a father has not automatically gained PR, the mother does not have to add the father's name to the birth certificate. However, this will not stop the father from being able to apply to the court for an order, such as a parental responsibility order, which may result in him acquiring PR.
Other family members
Other family members, taking grandparents as an example, do not automatically have PR. They would only be granted PR by a court if, for example, they were appointed as Guardian or were to adopt their grandchild for any reason. If a father with PR asks his parents to take care of the child, they can do so usually without the mother's agreement. However, the child would not be able to remain resident with the grandparents unless they had been granted a residency order by the court.
Voluntary access arrangements
If more than one of you has PR, then the best thing you can do for both your children and yourselves is to voluntarily agree to contact and access etc. If you can do this, then you are more likely to maintain a more harmonious relationship for the sake of your children. Additionally, it will prevent you from having to go to court and from having to pay court and solicitor's fees if you are unable to get legal aid.
Of course, this is the ideal scenario and not always a realistic one. If you cannot agree on residence and contact etc. then you may find that your ex will end up applying to the court for an order.
My Child has Been Taken Away From Me: What Can I Do?
Unfortunately in some circumstances, a father may take your child during agreed contact time and then refuse to bring them home again. If this happens and you are unable to negotiate with the father then you should call the police. However, the police may not be able to do anything. This generally comes down to whether or not the father has PR. If they do not, then the child is the mother's sole responsibility and the police may be able to take the child back to the mother. If the father does have PR, then in usual circumstances, they have the same rights as the mother to look after the child and therefore, so long as the child is not in any harm, the police cannot usually do anything about it. This can be understandably distressing for a mother. What can be done about it?
Residence Orders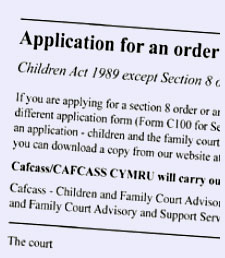 A person can make an application for a residence order, whether or not they have PR. For example, a father without PR can make an application for and be granted residency but then he will automatically acquire PR at the same time. It is unusual for a father to be granted residency as well as a mother as this would result in shared residency, which is not always in the best interests of the child. As a result, it is usually the mother who would be granted sole residency.
If a child has been taken by their father and the police cannot do anything, the mother can make an application for a residency order. If the child was snatched or she believes that her child may be in danger, then she can apply for an emergency ex parte application. This is also known as a 'without notice application' i.e. the other party is not given notice of the application. If the mother cannot make an ex parte application then an application can still be made but the father can attend and make his case. At the end of the hearing, the judge will make an order.
There are lots of other orders which the court can make, including contact orders, prohibited steps orders and specific issue orders.
What Factors Will be Taken Into Account?
When reviewing applications, the court will take a number of factors into consideration with regards to the child or children's welfare. These are:
What is best for the child and the feelings and wishes of the child. This is considered according to the child's age and understanding
How capable the parents (and any other relevant people) are of meeting the needs of the child or children
Any harm that the child is at risk of suffering or has suffered
The likely effect of a change of circumstances on the child
The age, background, personality, sex and any other characteristics that the Court believes to be relevant
The child's emotional, physical and educational needs
Domestic abuse
If you have been subjected to domestic abuse, this would clearly be a very important factor for the court to consider when determining what will be in the best interests of the child. If the father makes an application to the court then you can oppose it by giving evidence as to why he should not be given the order. You can oppose any application in much the same way.
Reality Check
When you find yourself fighting to look after your own child your emotions can begin to take over. It is important when you begin to plan your child's parenting and the access of the father that you understand the law and how it might impact on your child's future.
Remember that if your child's father is on the birth certificate, or you were married and are now divorced, the father has the same access to the child as you do in the eyes of the law. If they take your child or even threaten to do so, the police can often be powerless to change the situation. The best advice is to seek mediation and organise access in a written agreement, give yourself something concrete to work from. If your ex is unreasonable then apply for a residency order to ensure that you keep custody of your child.
You might also like...
I am a single mum to my 3 year old daughter her father and me have not been together all the time of her growning up he has another family with another women I don't get no money off him and I had to get a child arrangement order in place as me as a residential order but now he wants me to take her to see him am I in my right for him to come see her instead of me running around after him where do I stand!!!
Kylie Thrussell
- 26-Jun-19 @ 7:16 PM
Me and ex divorced 8 years ago and children live with me. He has since moved out of the area and set up home with another woman and remarried. When he lived in the area he would see them every 2nd weekend and Wednesday evenings. Since he moved away, he has been collecting them every 2nd weekend until a couple of months ago at which point he made the decision to stop seeing them stating he could no longer afford the petrol in his car (lives 80 miles away) as he said he couldn't affordto pay the amount if child maintenance he pays. He earns £70,000 and his wife earns £35000 and they live in a large house and drive expensive. He now says he woukd lije to see them every 3 weeks and won't see them every 2nd weekend unless cms decrease payment by £50 a month. My question is, can he just pick and choose like this,dipping in snd out of seeing them and on his terms?
Jolie
- 22-Jun-19 @ 4:26 PM
I was wondering if anyone can give me any advice.My partner announced several years ago that he wanted to leave, but decided to stay for financial reasons and because he didn't want to leave the kids (we have two, one 10, the other 15), although he still wanted to end the relationship. I found out recently that he is in a relationship with another woman and that she is expecting his baby, so I naturally asked him to leave. I told him he can come over and see the kids Tuesday and Thursday evenings and on weekends, which I don't think is unreasonable. The thing is he wants to come over everyday, whenever he wants to, without informing me before hand. At the moment things are very strained between us and this is just causing stress for the children, as well as myself. I have no problems with him seeing the children, I just want it to be a formal arrangement, not whenever he feels like it. Do I have any legal standing on this at all, or does he have every right to do this. Any advice would be helpful. Thank you.
Neat
- 7-Jun-19 @ 11:43 AM
Its been 4 years since my ex and I separated. Amicable child arrangements throughout mostly, only a few bumps in that time...He's taken 2 out of 3 children on holiday for 1 week (our eldest is 12 and a half- becoming a moody teenager, so he said to her he wants nothing to do with her?! She's excepted it as seen what I see in the end) He arrived back to drop them back home, had a screaming match with me at the door, as if a power thing as he's got and had the children. They wouldn't then step inside their home and off they all went again in his car. He's stating he's keeping them and applying full custody. I don't want to upset the children anymore then they must be or allow them to see us being like that, I wouldn't of allowed it if the children were in the door already. We was married so in law I know he gets parental rights but 4 years amicable and now this. What happens now?
Sarah
- 2-Jun-19 @ 4:42 AM
My daughter has returned from 5 days with her dad and I find out she was in hospital with suspected appendicitis and was being prepped for surgery. He never informed me!Turned out to be a water infection, but still!! He refuses to tell me when he is taking them on holiday or communicate in any way but not to be told my daughter is potentially in a life threatening condition in hospital!! I'm livid. I have advised him straight away when our daughter got to hospital with a broken leg. Is it law that I am to be kept informed? We both have parental responsibility and I have full custody.
KarenC
- 29-May-19 @ 6:56 PM
How much say or control does the parent of whom the child lives with when it comes to access and agreeing dates to have the child?
My ex husband has depression and anxiety disorder and has fit he see ever sat but want more time. Son is 11and will be 12 years old in Nov and does not want to see him. My ex tell my son inappropriate things and call me disgusting name in front of our children What can I do
Vom
- 23-Apr-19 @ 8:43 PM
Ive split from my partner 2 years ago because of him just not growing uo really out every week didnt come home for days lies constant etc anyway we agreed because of work issues he could see his daughter sun and mon because he stil has no fixed abode so he cnt have her over nite and he turns up wen it suits and its been weeks now since he saw her he jus thinks he can come wen it suits im at the end now because my little girl is upset every week i want to put something in writing to give him one last chance but have no idea wat to say and do for the best and he rarely pays me anything
Lola
- 17-Apr-19 @ 6:20 PM
My sons dad has started seeing his ex again. A year and half ago His ex accused him of rape, got him arrested and nearly got him sacked from his job, she has does this to another person a few years before and that makes me Suspicious, I don't want my son to be anywhere near her, I can't trust her. Do I have the right to say that she can't be near my son.
Film girl
- 17-Apr-19 @ 12:15 AM
Hi I split with my ex when he found out I was pregnant he said about abortion which is wasn'tgoing to do.he said hope she dies and doesn't want me to tell her who her dad is when shes older.always been controlling verbally mentally abusive and one time punched me in the ribs.my baby is now 3 months old.I decided to let him see her for an hour.he is now threatening me with courts has I said I will let her see you when she's old enough and if she wants to.his name isn't on the birth certificate which he also wants now.he took his ex wife's surname when they were married
Shell
- 15-Apr-19 @ 8:26 AM
My controlling ex wants to buy mobile phones for our children so she can message constantly while they are with me and track them using god tracking. I have never restricted her from calling them or from them calling her using my phone.Occasionally it hasn't been convenient or it may be delayed but never refused. She is threatening all kinds of things if I touch or restrict the phones in anyway.Do I have a right to ask god tracking is disabled and to limit phone usage in my own home / when my children are in my custody?I feel like she will digitally spy on them/me and it's very unsettling. Any advice anyone can give would be very much appreciated
Rick
- 14-Apr-19 @ 4:19 PM
Violet, if that is your partners home where he lives you cannot stop him seeing his child having him over night if your willing to allow your baby to still go where she iswhat is the difference? To many women believe they have all the power make him apologise, ask questions for your own piece of mind and then take it from there.. Do not punish your child.
Lil
- 10-Apr-19 @ 10:25 PM
My partner left me when my son was only 8months old, we came up with the agreement that he would pay (child maintenance) £50 a week and he could have his son over night every other Saturday.. when our son was 1 and half years old I asked my ex if he would like to have his son an extra night he agreed he then had our son every other fri-sun (2 nights a fortnight) and still paying maintenance, our son is now 2 and I have recently found out that he has been in a relationship for the past 8months and has moved from his current home and into hers he has been living there for over 3months.. due to this I now don't trust him as he lied to me where my son was staying, and from this I have also found out he stopped paying maintenance in Jan 2019 have I got the right to change arrangements and ask him to have our son on the weekend but not over night just days as I can't trust where our son is?
Violet
- 9-Apr-19 @ 3:26 PM
I have just split with my partner I'm 9 weeks pregnant he has told me to get an abortion or we are finished for good I am keeping my baby but what happens when the baby is born he has said his name won't go on the birth certificate and he won't pay do Should I allow contact
Hi me and my ex girlfriend have split up,she has got our daughter and is using her as a weapon and not letting me see her atall,ive tryed to text to c if she is ok then the police turned up and said i will b arrested if i try and contact her,i am no threat to my daughter so i dont know what to do
Gazza
- 5-Apr-19 @ 6:00 AM
This article could be much improved upon.Nowhere does it mention what happens when a mother, for no reason, prevents children from seeing their father.Sadly this is not usual, nor are the high levels of male suicide, which can and, do result from suchcases. Sadly, there is only one mens charity which deals with domestic abuse, and one refuge, in the entire UK. A well written piece on this would be very welcome
CT
- 27-Mar-19 @ 11:01 PM
Hi, I am currently in a situation where my sons mum did not allow me access for 6 years for made up reasons, my son has now started to ask about me and all of the 'problems' i had have suddenly gone away and i am allowed to now have access to him, she has since moved 4 hours away and is demanding me to go and see him every week, it is a £67 journey as i don't drive i will have to get a hotel to spend the night with him, i can do every other week as long as i do not have work commitments but she has advised me the weekends in between she is also unavailable, i am just wondering if i was to take this to court as i am fed up with trying to be reasonable and it only being a one way street would they take in to account my work commitments, the days i have off i am willing to see him but she is not available them dates. Is this all taken in to account?
Yamma112
- 21-Mar-19 @ 12:39 PM
Hi I am just wondering about paying the csa to my daughter's mother (i would be directly paying her) but I have some issues with it as I have my daughter 6 days out of the week and 3 nights of the same week I also work 40 hours a week I pay for all my daughter's needs and more and her mother is still asking me to pay csa to her I just want to know if I should be paying her the money or not can't find much on rights from the man's point of view. I am a PR of my daughter
123ste
- 28-Feb-19 @ 11:52 PM
Hi, I need some advice. I have a 4 month old daughter who is exclusively breastfed, I'm thinking about leaving her father due to his verbal abuse towards myself and my daughter! Before doing so id like the check what sort of contact I should offer him baring in mind I would have to move back to my home town which is approx 40miles away? Newmum
Newmum
- 10-Feb-19 @ 7:11 PM
So i am moving away for a better career but more and most importantly its to provide for my son. It was his birthday last week and i had to say no to his main present cause I coukdnt afford it. That moment on I felt like I failed as a father as I couldn't provide. Now with this career choice the ex partner (his mother) has stopped me altogether seeing my son as I'm moving away. I am on the birth certificate and well she has been vile with comments how he will not know me as his father. I dont want to go to court cause I don't want more stress for her but i want to see my son. I'm sick of playing nice and now im getting ready to go away for work. Approx 25 days before i go. Today she complained how i put a photo on social media of my son getting a haircut. It was her who took him but i was extremely proud how he didn't make a move like most kids are scared in the barber's seat. I just want my son and I'm coming back every 4 weeks for 5 days and I want him then and to facetime 2 or 3 times a week thats it. I do not want to leave him. I just want to provide for him and give him.the best life and I'm willing to sacrifice the time so I can own a house, provide for him and give him a good life. Thanks in advance.
Blue2510
- 31-Jan-19 @ 12:50 PM
I'm in a bit of a quandary, my ex husband is threatening to take me to court to make me take our son over to him for visiting (I do none of the travelling because he works in the same area as where we live and his home address is approx 20 miles away). On the friday ouf son has swimming and my ex is now threatening to take me to court if i refuse to drop our son at his rather than him wait half an hour for him after swimming. Can he make me do this?
CB
- 16-Jan-19 @ 12:13 PM
My 7 year old son's father left 18 months ago. About 7 months ago he moved away (2hrs travel time) and has continued to see his son at weekends. Recently he got a new job closer to his new home which means seeing his son less, because of the travel time. We both have PR as he's on birth certificate. I would now like to relocate with my son down south to be with a new partner and for us to be a "family". My question is- what could my sons father do to potentially obstruct this and what are my rights as the mother and primary carer. My sons father is not interested in the day to day runnings of things and for all intents and purposes has removed himself. thank you for the help
I was with my ex for 10 years engaged for 5 years, we were very happy together then in 2011 r beautiful daughter arrived, wen she was 1 year old he decided to go back to work on the ship's, cut a long story short he was cheating on me for 6 months with a 26 year old Philippineo, he never told me until he went back to work in Dubai where they met each other, he told me via a txt message coz I decided to confront him after I had a funny feeling that something was wrong, it was my birthday in the May then he started making plans for us in the June to move and buy a mortgage together, whilst all the time he was planning on leaving us, he wouldn't pay the areas that was due on the house that r daughter grew up in, so we had to move out and here we've stayed ever since, I hate it here, he was paying child maintenance but then stopped it, then started to pay again, and now he's just stopped paying altogether so I couldn't stand it anymore I got the cma involved,but coz he's been flitting from job to job to avoid paying child maintenance, now my daughter is 7 years old he hasn't bothered with her all these years, he never even sent his own daughter a birthday card or nothing for her birthday, and I had to watch the hurt look on her facethen tears rolled down her cheeks, which of course as her mum broke my heart to c her like that, and made me cry coz I could c wot he's doing to her, then tonight out of the blue he comes back to Liverpool which of course makes me so angry, I dnt want him messing with her head again, i want him to stay away for good, he thinks he can come back into her life wenever it suits him and start messing with her head again,wot can I do any advice is appreciated.
KittyKat
- 24-Nov-18 @ 11:53 PM
I split with my Ex early in 2017, we have 3 children under 13, we divorced late 2017, we had agreed 50/50 child care, she then told them to chose where they wanted to live and one chose to live with me two with her. We had been living in Surrey but in March 2018 she announced that she was moving to Northern Ireland and was expecting to take the children with her. I got a PSO and she moved there in June without the children who have been living with me ever since. I applied for a CAO and it will be heard early in January. CAFCASS have seen all concerned and are suggesting that my eldest (13) goes to live with her and the younger two stay with me(11/9). My question is as she is not a reasonable person can I get the court to define who pays for visitation, she moved why should I have to pay anything surely she should cover all the costs of flying the children backwards & forwards for visits? She currently pays maintenance for all 3. Neither of us earn that much as to afford regular visits.
Bread
- 12-Nov-18 @ 2:19 PM
Hello, I'm confuse about my situation. Since my pregnancy the dad of my child hasn't been about, he have been missing in all of this. When my godmother asked me to leave her house, he didn't take the responsibility of us, so I went with council and I got a flat already. Now after 6 months when he did find out that the baby it doesn't goimg to have hes surname, he's offering me money just to hes surname be there. I do honestly don't want nothing from him, I've been alone in this situation by myself. Now he want to be the dad that has been there. My question is: Can I have the baby without hes surname ?would he have right towards him? If I got to other country to have my baby, because I dont have support here, it would affect my house with council?can them take it away ?
Bea22
- 4-Nov-18 @ 6:01 PM
Hi me and my girlfriend really aren't happy together, I love my 18 month old daughter more than anything but ever since she was born we just haven't been getting on at all. I have tried to make the relationship work for the sake of my little girl but it is getting to the point now where being together is unbearable. I know the best thing to do is to go our separate ways but I am terrified she will make it as difficult as possible to see my daughter. How long will I have to be apart from my daughter if my girlfriend decides to make the separation messy?
Dadmk
- 21-Oct-18 @ 9:26 AM
Two children. Age 8 & 6. Both settled and well adjusted with great local school and extra curricular activities. Happy. Content. Cohabiting for 10 years. Relationship has broken down. Mediation agreed to settle residency, financial and property concerns. He cancelled pre-determined mediation date. He rearranged mediation date for a time when I couldn't care for our children. His response "ask your friends to look after them". While this is fine and well orrinarily it's not feasible before half term. Now mediation arrangement for November and our relationship is deteriorating daily. Issues, he ended relationship in August. Left family home after violent outburst and returned 2 weeks later. We are developing property. We are in debt. Neither of us have money to move out of the family home. He said categorically he cant do I've suggested I move into my parents. My parents live 4hrs drive away. He's not communicating with me and keeps on saying we will discuss at mediation. This in principle is fine, but he cancelled mediation in October and I have little faith he will keep appointment in November. Further, we have business together. 50% shareholders. He's saying I have no rights to business. It's my main source of income since 2012. He won't give me child maintenance, or any support whatsoever. He controls all financial matters. I want to leave to stay with my parents with our children. The advice I've been given is that it won't look favourable in the Courts if I just take them. I have looked into schools and I can get them moved and settled with another equally good school. He's refusing to even discuss it. We are now both arguing infornt of children. It's a toxic environment. It's awful. Advise? What's my legal position regards taking them without written consent.
Dolly1988
- 17-Oct-18 @ 3:49 PM
Hi I need some advice if anyone can help me. Me and my current partner are going through a bit of a tough time and I have 2 children to someone else he has made remarks to my 5 year old stating he is going to slap my current partner and get some one to slap me. Over these last 2 year's he has said he will pick the kids up or just show up with attitude he rarely pays any child support for his children he will give me £6 a week for my daughter's dinner money for school he will send messaged to me calling my partner saying he is going to get people round my house to drag my partner out. When I was with him he was physically abusive towards me he is also ex army and suffers from ptsd and is still violent towards other women and has recently been in a fight with someone who has left his face a mess I don't want this around my kids however I don't want my children not seeing there dad. My son has a great relationship with however our daughter does not he only started seeing her when she was 15 months old and he was ment to take her for a few hours as he lives quite far away and I don't have transport however he kept her over night and refused to bring her home until the next day all if this is causing problems for me and my current partner please can anyone give me any advice
Confused kitten
- 16-Oct-18 @ 5:20 PM
Hi I need some advice if anyone can help me. Me and my current partner are going through a bit of a tough time and I have 2 children to someone else he has made remarks to my 5 year old stating he is going to slap my current partner and get some one to slap me. Over these last 2 year's he has said he will pick the kids up or just show up with attitude he rarely pays any child support for his children he will give me £6 a week for my daughter's dinner money for school he will send messaged to me calling my partner saying he is going to get people round my house to drag my partner out. When I was with him he was physically abusive towards me he is also ex army and suffers from ptsd and is still violent towards other women and has recently been in a fight with someone who has left his face a mess I don't want this around my kids however I don't want my children not seeing there dad. My son has a great relationship with however our daughter does not he only started seeing her when she was 15 months old and he was ment to take her for a few hours as he lives quite far away and I don't have transport however he kept her over night and refused to bring her home until the next day all if this is causing problems for me and my current partner please can anyone give me any advice
Confused kitten
- 16-Oct-18 @ 2:33 PM
Hi I need some advice if anyone can help me. Me and my current partner are going through a bit of a tough time and I have 2 children to someone else he has made remarks to my 5 year old stating he is going to slap my current partner and get some one to slap me. Over these last 2 year's he has said he will pick the kids up or just show up with attitude he rarely pays any child support for his children he will give me £6 a week for my daughter's dinner money for school he will send messaged to me calling my partner saying he is going to get people round my house to drag my partner out. When I was with him he was physically abusive towards me he is also ex army and suffers from ptsd and is still violent towards other women and has recently been in a fight with someone who has left his face a mess I don't want this around my kids however I don't want my children not seeing there dad. My son has a great relationship with however our daughter does not he only started seeing her when she was 15 months old and he was ment to take her for a few hours as he lives quite far away and I don't have transport however he kept her over night and refused to bring her home until the next day all if this is causing problems for me and my current partner please can anyone give me any advice
Confused kitten
- 16-Oct-18 @ 11:26 AM