What Rights Does My Ex Have With Regards to Our Children?
Author: Elizabeth Mugan BA/BSc, PGDipLaw, BVC, CIArb - Updated: 25 November 2014
|
We get many comments and questions from you about child support. We've taken a selection of your comments addressing the issue of keeping contact with your children and the fear of your ex taking them from you - and asked our expert to give some comprehensive information and advice.
The traditional view of the family set up has become something of a minority in 21st century society and because of this, a broken down relationship can lead to complicated legal issues. Whether you are recently divorced and wondering about the role your ex-husband has in your child's life, or you have a child from a relationship that has broken down, but were never married, you need to understand your legal position when it comes to creating an amicable situation for your child to grow up in. Here we aim to dispel some of the myths about parental access and to give you the advice you need to rebuild your life and your children's lives.
Parental Responsibility
Parental responsibility (also known as PR) creates "responsibilities" rather than "rights" regardless of whatever the state of the parents' relationship, emphasising the view that each will maintain an equal, shared and continuing responsibility towards the child.
Where both the mother and the father have PR, they have the power to act alone unless there is a circumstance where, by law, each person with PR is to give consent i.e. in the case of adoption. In reality, holding PR gives the ability to make decisions in relation to the child's name, religion, school, consent to medical treatment and marriage etc.
Who has Parental Responsibility?
Below is a flow chart to help you determine if you have Parental Responsibility:
A mother always has PR. A father who is married to the mother at the time of birth will automatically have PR.
To clarify, for unmarried fathers, the situation is different. Unmarried fathers will have PR if:
They marry the mother after the child is born
They have jointly registered the child's birth with the mother i.e. their name is on the birth certificate
For pre December 2003 registrations, the mother provides a formal declaration of agreement that the father's name is to be added to the birth record and the father re-registers the birth to add his details
The court orders a residence order in favour of the father, although this will usually terminate when the resident order ends (generally age 16)
A birth parent has signed a parental responsibility agreement
A step-parent's PR agreement can be made by consent with all those already having PR for the child
By obtaining an adoption order from the court
Where a father has not automatically gained PR, the mother does not have to add the father's name to the birth certificate. However, this will not stop the father from being able to apply to the court for an order, such as a parental responsibility order, which may result in him acquiring PR.
Other family members
Other family members, taking grandparents as an example, do not automatically have PR. They would only be granted PR by a court if, for example, they were appointed as Guardian or were to adopt their grandchild for any reason. If a father with PR asks his parents to take care of the child, they can do so usually without the mother's agreement. However, the child would not be able to remain resident with the grandparents unless they had been granted a residency order by the court.
Voluntary access arrangements
If more than one of you has PR, then the best thing you can do for both your children and yourselves is to voluntarily agree to contact and access etc. If you can do this, then you are more likely to maintain a more harmonious relationship for the sake of your children. Additionally, it will prevent you from having to go to court and from having to pay court and solicitor's fees if you are unable to get legal aid.
Of course, this is the ideal scenario and not always a realistic one. If you cannot agree on residence and contact etc. then you may find that your ex will end up applying to the court for an order.
My Child has Been Taken Away From Me: What Can I Do?
Unfortunately in some circumstances, a father may take your child during agreed contact time and then refuse to bring them home again. If this happens and you are unable to negotiate with the father then you should call the police. However, the police may not be able to do anything. This generally comes down to whether or not the father has PR. If they do not, then the child is the mother's sole responsibility and the police may be able to take the child back to the mother. If the father does have PR, then in usual circumstances, they have the same rights as the mother to look after the child and therefore, so long as the child is not in any harm, the police cannot usually do anything about it. This can be understandably distressing for a mother. What can be done about it?
Residence Orders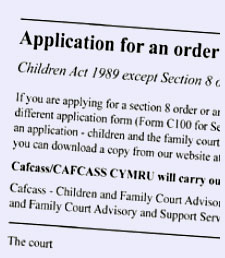 A person can make an application for a residence order, whether or not they have PR. For example, a father without PR can make an application for and be granted residency but then he will automatically acquire PR at the same time. It is unusual for a father to be granted residency as well as a mother as this would result in shared residency, which is not always in the best interests of the child. As a result, it is usually the mother who would be granted sole residency.
If a child has been taken by their father and the police cannot do anything, the mother can make an application for a residency order. If the child was snatched or she believes that her child may be in danger, then she can apply for an emergency ex parte application. This is also known as a 'without notice application' i.e. the other party is not given notice of the application. If the mother cannot make an ex parte application then an application can still be made but the father can attend and make his case. At the end of the hearing, the judge will make an order.
There are lots of other orders which the court can make, including contact orders, prohibited steps orders and specific issue orders.
What Factors Will be Taken Into Account?
When reviewing applications, the court will take a number of factors into consideration with regards to the child or children's welfare. These are:
What is best for the child and the feelings and wishes of the child. This is considered according to the child's age and understanding
How capable the parents (and any other relevant people) are of meeting the needs of the child or children
Any harm that the child is at risk of suffering or has suffered
The likely effect of a change of circumstances on the child
The age, background, personality, sex and any other characteristics that the Court believes to be relevant
The child's emotional, physical and educational needs
Domestic abuse
If you have been subjected to domestic abuse, this would clearly be a very important factor for the court to consider when determining what will be in the best interests of the child. If the father makes an application to the court then you can oppose it by giving evidence as to why he should not be given the order. You can oppose any application in much the same way.
Reality Check
When you find yourself fighting to look after your own child your emotions can begin to take over. It is important when you begin to plan your child's parenting and the access of the father that you understand the law and how it might impact on your child's future.
Remember that if your child's father is on the birth certificate, or you were married and are now divorced, the father has the same access to the child as you do in the eyes of the law. If they take your child or even threaten to do so, the police can often be powerless to change the situation. The best advice is to seek mediation and organise access in a written agreement, give yourself something concrete to work from. If your ex is unreasonable then apply for a residency order to ensure that you keep custody of your child.
You might also like...
Hi I haven't seen it had any contact with my 13 years old son.My ex has the custody of him but it has been further investigated and the allegations made are now found to be false against the person.The other children involved are now grown up and young adults and have come forward and said the allegations are not true and they were made to say it out of fear.To cut a story short,do I have rights to my son?
Blondie
- 25-Nov-14 @ 9:13 PM
My son was with a girl, she used him totally during their relationship, if you can call it that. Her son had been taken from her by social services. My son rented a private flat in the hope that they would get her little boy back, to be honest he was love sick and totally suckered in by this horrible young woman. The court did not give her her son back and he was put up for adoption. She did not deserve to have her son back in my opinion. Anyways cutting a long story short, not long after that she left my son. She totally used him. Just before my son finally left the flat too, she came to tell him that she was pregnant, she even did a pregnancy test infront of him to prove it. She went to the docs, my son went along too. Then she just disappeared, she text to say that she was having an abortion but we were then informed that she did have the baby. What can my son do to find if she really did have the baby? She has posted photos on facebook of a baby girl, but we don't know if it is my sons. Can anyone advise please. We worry so much because of what happened with her son and social services,we don't want my sons baby suffering the same.
Dee
- 23-Nov-14 @ 2:27 AM
@nikkihh - yes you do have a right if you think your children are in danger. It might mean that he can apply for a contact order. But if you have texts of any evidence then keep hold of it. Another alternative is to suggest you go through mediation, at least your children are old enough to have an opinion and it will be taken into consideration regarding who they want to spend their time with. Penny
Pen
- 21-Nov-14 @ 12:02 PM
@Withouthope - this is a trick one to answer as it has quite complex background issues that have obviously gone on for some time and has lawyers already involved. You could look at our partner page When Your Ex-Partner Denies You Access
link here
, but you may have been through all these procedures previously. At the same time you might want to give Family Lives a call as it offers a confidential and free helpline service and can advise on such challenging issues
link here
.
ChildSupportLaws
- 21-Nov-14 @ 11:36 AM
My children have been seeing their dad most weekends since our divorce.There have been times when their dad has lost his temper to the point the kids are so scared that they text me or call me, saying they don't know what to do.I have always encouraged them to have a relationship but this last weekend my son received a text was was nasty and aggressive accusing him of playing games, his dad also said to him "do you think I am a f****** c***.My son who is 15 phoned me terrified and almost got out of the car to run home to me.I have since informed their dad that I think it's a good idea for them to not see him this weekend.I feel this is justified as I am worried about their emotional well being.Did I have a right to do this?
nikkihh
- 20-Nov-14 @ 7:32 PM
My partner and I need some advice. She moved north to Scotland to live with me, and escape her ex.They where never married, yet he was abusive.He also never paid maintenance for their 3 year old daughter.He never kept to timings and was threatening to the mother. When she moved, because she never got an order, he was able to order her south through the courts.Now, she is in a situation where she has no rights.He has PR since their daughter was born after 03 but he is using his daughter as a pawn.As examples: He has refused to allow his daughter to Scotland for a week holiday in new year. He has refused to allow his daughter to live any further than an hour from him. He threatened to go self employed to avoid paying maintenance. He has said the daughter can not attend our wedding. As an aside, when the child said she wanted to live in Scotland with me and her mother, he said "No, neither of you are leaving again". He is very controlling, and my partners lawyers even say they think he is more after her than the child, but they have said because she moved she has no rights.She has shown them images of her daughter being returned filthy, bruised, or playing alone in a dangerous environment, and it's been brushed aside. All we want is to start our own life up north, and we are more than happy for him to have regular visit - I even volunteered to pay for his travel even thought it would financially be difficult for me and not him. Any advice would be really appreciated, because as it stands, he has all the power and we're both being punished very cruelly it feels.
Withouthope
- 20-Nov-14 @ 6:41 PM
I have been removed by the courts form my family home, where my children are cared for by their father.They are under an interim care order. I have just found out the LA are filing for a full care order, even though they agree for the children to stay living at home with their father. I have proven myself to be totally safe with my children (my problem was with my husband, and he got me thrown out)and they might let me home in a couple of years. If I back off and agree to still have no contact with them except for the supervised once a week I have now, will the LA lift the request for them to be 'in care', with all the stigma and hassle and pain it is for the kids to be under that until they are 18? Please, anyone??!!!
Carren
- 19-Nov-14 @ 12:40 PM
@Rob Everitt - this is a difficult situation. A mother automatically has parental responsibility for her child from birth. Unless he has a residence order, I can't see why the social services may view it as kidnapping as theroretically she has the same rights to look after the children, unless there are other mitigating circumstances which you haven't mentioned here. You could have a look at our partner site When Your Ex-Partner Denies You Access
link here
which may be of some help. But as the social services are involved already, it might be that she has to operate through them. I hope this helps.
ChildSupportLaws
- 19-Nov-14 @ 11:59 AM
@chelly - if he is not on the birth certificate then he has no rights to your child. You are well within your rights to ask him to come to you if he wishes to see his child, especially if you don't want your baby in that sort or situation.
Jed
- 19-Nov-14 @ 11:06 AM
@slug2014 - if he has contact with them and pays CSA he can apply for parental responsibility through the courts. Here is some information on how to apply
here
. However, gaining PR doesn't mean he has any more rights to contact, it just means he has to be consulted on certain issues surrounding his children's welfare. Here is another link that may help
here
. I hope this helps.
ChildSupportLaws
- 18-Nov-14 @ 3:14 PM
A female friend of mine has left her husband of 15 yrs and moved out the family house, she left because of her husband mentally abusing her and 1 case of physical abuse, before that married, she was so scared of the bloke that it's taken untill now for her to leave the marriage. Unfortunately she could not get the kids with her, she did try once but the husband hit the grandmother anddragged the 7 yr old out the car, police where called but could do nothing, the husband know has the children with him, my female friend wants the kids back but has been told by social service that she can't just take them back with her as its kidnapping, if she got the daughters consent can she keep her if not can you advise what she should do next.
Rob Everitt
- 18-Nov-14 @ 2:17 PM
@lithium230 - if you are on the birth certificate then you have parental responsibility. I should get in touch with a solicitor and ask for some advice in order to begin the process of resuming contact with your daughter. Or contact the Family Rights Group which has a freephone helpline number on 0808 801 0366.
ChildSupportLaws
- 18-Nov-14 @ 2:02 PM
My babys father is not on the birth certificate. We have broken up and he wants to take the baby up his. I dont want my baby going up there as my babies fathers mum smokes cannabis and they have a dangerous dog. Because I said no, if you want to see our child you have to come down mine, hes giving me threats about how hes going to take theo up his and how hes going to have full custody. Is there anything he can do because he aint on the birth certificate
chelly
- 18-Nov-14 @ 2:07 AM
hi there i really need advice asap!! my husband has 2 kids he takes them every other weekend and for half of every schoolholidays he gives them pocket money buys new clothes etc for them hair cut the lot the mother doesnt have to buy them nothing and she gets full CSA as she has said to them that my husband doesnt do nothing with them anyway my husbands name isnt on the birth cet and he hasnt got PR over them and she wont let him have PR over them dont know know what to do anymore its a constant battle as she is impossible and if i dont do with the kids she blackmailssaying he wont see them again dont know what to do anymore my husband is constantly stressed
slug2014
- 17-Nov-14 @ 5:23 PM
Just looking for some advice my ex girlfriend refused to let me see my daughter after our relationship broke down she got with some other guy and would just argue with me at any attempt to see my daughter so I have not seen her in 9 months now I just found out that she has had the kids taken away from her by social services my daughter is 2 now im on the birth certificate was just wondering were I stand
lithium230
- 16-Nov-14 @ 10:00 PM
@tspurl - as laid out in our article, if your ex has PR in some circumstances, a father may take your child during agreed contact time and then refuse to bring them home again. If this happens and you are unable to negotiate with the father then you should call the police. However, if he has PR the police may not be able to do anything as long as they are not in any harm. This can be understandably distressing for you. Should this happen, there are lots of other orders which the court can make, including contact orders, prohibited steps orders and specific issue orders. When reviewing applications, the court will take a number of factors into consideration with regards to the children's welfare. These are laid out in the article. However, I hope you will be able to negotiate with your ex as it would be rather distressing and counter-productive not only for you, but your children also, if your ex husband decided to take things into his own hands. Have you thought about approaching your ex regarding going through mediation in order to discuss both of your your parental responsibilities rationally?
ChildSupportLaws
- 7-Nov-14 @ 10:00 AM
I i have a full time job and i have 2 kids and currently going through a divorce and house sale... my ex is threatenening to take my kids to go and live with him and his new partner and her 4 kids...can he do this and what rights do I have to prevent this from happening. .
tspurl
- 6-Nov-14 @ 12:26 PM
@Istesta - You do not say what your relationship with your ex is like but if she doesn't want to go through court you may want to consider asking her to attend some mediation sessions with you. If she doesn't agree then there are various other options you have open to you. You might like to see our other page called When Your Ex-Partner Denies You Access, it has some helpful pointers about getting legal advice.You can see the link
here
. I hope this helps.
ChildSupportLaws
- 3-Nov-14 @ 11:22 AM
Hi my son has suffered violence off his girlfriend the most recent of which has resulted in the social services having their son placed in the temporary care of her parents and my son is only being allowed to see my grandson at a contact centre (along with his girlfriend). He has parental responsibility so I just wanted to know if he put a case forward the social workers would return my grandson to the sole care of my son who is the one who was wronged in the first place. It is my sons intention to leave his girlfriend but he does not want to leave my grandson.
cazz1971
- 2-Nov-14 @ 8:48 PM
Hi I would like to ask somebody what I have to do.We divorced 2 years ago(non Uk court but both of us live in UK).We agree to visit my daughter 3 times every month for the weekends.Since October she decided to change mind and stop giving me my daughter.Can I report her to somebody that she didn't do what court said.thanks
Istesta
- 31-Oct-14 @ 8:44 PM
@ShaolinMonkey - it's always difficult in these situations, especially when couples first split up. When a mother takes charge of the situation sometimes there is not a lot you can do but go along with her wishes to keep the peace. You might have to go along with her wishes for a while until the situation sorts itself out. It's horrible, I know, and not the advice you might want to hear, but rather that then her stop access. I had to do it for a couple of years. We work it between us now and my ex still can be argumentative and awkward, but it's a lot better than it used to be when we first split.
Tom
- 21-Oct-14 @ 12:08 PM
This article seems to be based on the premise that the father will be the one who refuses access to the child.My ex and I agreed to share custody 50:50 - she wouldn't discuss custody patterns and insisted I follow the one she suggested which I did to avoid conflict.Since then she has sought to permanently change the days of the arrangement (I refused on the grounds that she insisted on the routine and shouldn't just be able to change at a whim), made several 'one-off' changes that I have agreed to to keep the peace, made several arrangements without consulting me first that she claims can then not be changed, refuses to go to mediation to discuss anything to do with our daughter, refuses to email me any more with regard to our daughter, insists that I pick our daughter up on weekends so that I always do the pick-up (the mid-week changeover is before and after schools) and when I arrive she starts an argument so that our daughter is upset. My concern now is that she is building up to refusing to let me have access to our daughter when I go around to pick her up.When she was emailing me her emails were frequently sarcastic, brusque and didactic and full of what she thought I should be doing with our daughter when it was my time to look after her.I don't seek to criticise her and there are plenty of things I wish she wouldn't do e.g.the drinking, the taking our daughter out of bed in the middle of the night as if she's some sort of teddy-bear and the sneaky way she asked my daughter if she wanted to change her surname without consulting me.It was my daughter who filled me in on the latter two - the drinking I already knew about and is one of the reasons we split up.All I want is to be a good dad for my daughter and for my ex to leave me alone.I am frightened that she is building up to not allowing me access to her.Any advice would be welcome, I'm feeling pretty desperate, I am trying to get some free legal advice at the moment but the waiting list is very long.Thanks.
Shaolin Monkey
- 20-Oct-14 @ 11:11 PM
my nieces ex partner whom she has a baby with hurt her on many occassions, they split and the ex has not once had contact with the child in over a year. his mother pushed him to go to court so that he can see the child, which has occured, during this court the judge would not hear of any wrong doing on the fathers behalf, basically saying 'we need to look forward'. My neice iwho is the babys mum, is already involved with social workers as she has asperges, so it is team around the child. so, the father has had weekly contact supervised, and is now going to take her to court to get the child full time to live with him!!!!!!! surely this cannot be possible, as there are no grounds he can take the child other than the mother has this asperges?? and surely the social workers who work with her and the baby should have done their job thouroughly and know what harm he already caused my niece? and worked with him also?? please can you help advise what we should all do about this, as this is definately ridiculous!! thankyou.
loo
- 19-Oct-14 @ 12:06 AM
Please can someone confirm if its true that residency order will only be granted if father of my child has actually followed through on taken our child and not returning him If someone without parental responsibility can apply for residency - why can't i Our son has lived with me since birth and is 20 months old. A lot of conflicting advice out there One solicitor has said no wouldn't get another yes I would. Very hard indeed
Me and my X have joint custody so our children have two homes. My son is reaching senior school age soon and schools are better closer to his Dads address. But do schools except that divorced children have two homes and can put him my son down as living at them both. Would this effect him getting a placement. I am concerned if we just put him down at his dads address I could loose my benefits...can someone advice thanks
bettyboop
- 17-Oct-14 @ 9:40 PM
@angrymummy -Do you have a parental responsibility order of daughter through the courts? If you do then you should see a solicitor right away. However, if you have joint parental responsibilityit doesn't mean he has the right not to hand her back. PR creates "responsibilities" rather than "rights" regardless of whatever the state of the parents' relationship, emphasising the view that each will maintain an equal, shared and continuing responsibility towards the child. So, I would see a solicitor right away and start a legal process. I obviously don't know the background reasons for him refusing to give her back so it is hard to advise further. But, there are lots of other orders which the court can make, including contact orders, prohibited steps orders and specific issue orders.
ChildSupportLaws
- 15-Oct-14 @ 11:15 AM
Hi my partner who is now a ex partner offered to have my daughter while I sorted something out I reluctantly agreed when I went to get her he refused to give her back what can be done about this
angrymummy
- 14-Oct-14 @ 8:45 PM
@deedee you can find out information on our partner website http://www.separateddads.co.uk/whenyourexpartnerdeniesyouaccess.html Along with other advice it will tell you that your first step should be to send a registered letter to your ex-partner in which you ask her to reinstate contact between you and your children, and stating that if she does not do so, you'll have to resort to legal action. *Don't forget to take a copy of the letter for your records and keep your proof of sending.* If this produces no action, you then have no alternative but to go to court and ask for an Interim Contact Order. In order to obtain a contact order you will need to submit the correct form to the court. You can find the link to the form you need to fill in, on the website quoted above.
ChildSupportLaws
- 13-Oct-14 @ 2:22 PM
I have bee accusssedvof all sorts by my ex. Abuse mently and physicly. And she claims I got her into debt. This is all lies. She has now stopped me seeing my son of 8 years old. My names is on the birth cirtificate and he has my surname. I really want to see hi again. Can and I'm waiting on a court case date. Can some put my mind at ease
deedee
- 13-Oct-14 @ 11:13 AM
NEED ADVICE PLEASE HELP I FEEL STUCK, I have a two year old daughter and befor she was born I had alot going on then wen she was born I wad reali ill and didnt bond then got posnatal depression and she had srvear colic, I started to bond and cope till me and her dad split when she was 7months old then I struggled at nights and her colic so when she was 1 I hit rock bottom and agreed she lives with her dad temporary untill I came through it, I got a job as a carer to help my mental state and it has and got counciling I place, I was agreed she comes back after the counciling in a social services meeting, I do have epilepsy which I do have a few a month but they happen in my sleep and I only hav the support of my nan as my mum is mentally ill but befor my daughter went to her dads he wasn't bothered but now social services are closing the case hes usin my epilepsy against me, I live in a flat, I hav a epilepsy alarm and going to get a mattress one so if I hav one in my sleep my nan will be notified straight away and come down in 1minute, I have all carpet, child locks, kitchen stair gate and Windows are locked and child locked so its all safe, he says I have no say, I feel ready to have her back full Tim bit hes tryin to make me snap but it isnt working and refusing to let me hav her back, he accuses me that I dont hear her in the night and she screams which she doesn't and I want to prove that by recording her wen she's asleep and i am as proof, but I dont no how to get her back or wat path to go down please help me
jade
- 9-Oct-14 @ 1:18 AM