What Rights Does My Ex Have With Regards to Our Children?
Author: Elizabeth Mugan BA/BSc, PGDipLaw, BVC, CIArb - Updated: 25 January 2015
|
We get many comments and questions from you about child support. We've taken a selection of your comments addressing the issue of keeping contact with your children and the fear of your ex taking them from you - and asked our expert to give some comprehensive information and advice.
The traditional view of the family set up has become something of a minority in 21st century society and because of this, a broken down relationship can lead to complicated legal issues. Whether you are recently divorced and wondering about the role your ex-husband has in your child's life, or you have a child from a relationship that has broken down, but were never married, you need to understand your legal position when it comes to creating an amicable situation for your child to grow up in. Here we aim to dispel some of the myths about parental access and to give you the advice you need to rebuild your life and your children's lives.
Parental Responsibility
Parental responsibility (also known as PR) creates "responsibilities" rather than "rights" regardless of whatever the state of the parents' relationship, emphasising the view that each will maintain an equal, shared and continuing responsibility towards the child.
Where both the mother and the father have PR, they have the power to act alone unless there is a circumstance where, by law, each person with PR is to give consent i.e. in the case of adoption. In reality, holding PR gives the ability to make decisions in relation to the child's name, religion, school, consent to medical treatment and marriage etc.
Who has Parental Responsibility?
Below is a flow chart to help you determine if you have Parental Responsibility:
A mother always has PR. A father who is married to the mother at the time of birth will automatically have PR.
To clarify, for unmarried fathers, the situation is different. Unmarried fathers will have PR if:
They marry the mother after the child is born
They have jointly registered the child's birth with the mother i.e. their name is on the birth certificate
For pre December 2003 registrations, the mother provides a formal declaration of agreement that the father's name is to be added to the birth record and the father re-registers the birth to add his details
The court orders a residence order in favour of the father, although this will usually terminate when the resident order ends (generally age 16)
A birth parent has signed a parental responsibility agreement
A step-parent's PR agreement can be made by consent with all those already having PR for the child
By obtaining an adoption order from the court
Where a father has not automatically gained PR, the mother does not have to add the father's name to the birth certificate. However, this will not stop the father from being able to apply to the court for an order, such as a parental responsibility order, which may result in him acquiring PR.
Other family members
Other family members, taking grandparents as an example, do not automatically have PR. They would only be granted PR by a court if, for example, they were appointed as Guardian or were to adopt their grandchild for any reason. If a father with PR asks his parents to take care of the child, they can do so usually without the mother's agreement. However, the child would not be able to remain resident with the grandparents unless they had been granted a residency order by the court.
Voluntary access arrangements
If more than one of you has PR, then the best thing you can do for both your children and yourselves is to voluntarily agree to contact and access etc. If you can do this, then you are more likely to maintain a more harmonious relationship for the sake of your children. Additionally, it will prevent you from having to go to court and from having to pay court and solicitor's fees if you are unable to get legal aid.
Of course, this is the ideal scenario and not always a realistic one. If you cannot agree on residence and contact etc. then you may find that your ex will end up applying to the court for an order.
My Child has Been Taken Away From Me: What Can I Do?
Unfortunately in some circumstances, a father may take your child during agreed contact time and then refuse to bring them home again. If this happens and you are unable to negotiate with the father then you should call the police. However, the police may not be able to do anything. This generally comes down to whether or not the father has PR. If they do not, then the child is the mother's sole responsibility and the police may be able to take the child back to the mother. If the father does have PR, then in usual circumstances, they have the same rights as the mother to look after the child and therefore, so long as the child is not in any harm, the police cannot usually do anything about it. This can be understandably distressing for a mother. What can be done about it?
Residence Orders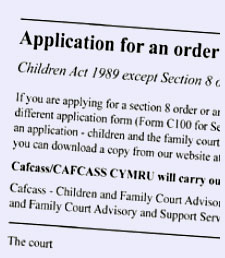 A person can make an application for a residence order, whether or not they have PR. For example, a father without PR can make an application for and be granted residency but then he will automatically acquire PR at the same time. It is unusual for a father to be granted residency as well as a mother as this would result in shared residency, which is not always in the best interests of the child. As a result, it is usually the mother who would be granted sole residency.
If a child has been taken by their father and the police cannot do anything, the mother can make an application for a residency order. If the child was snatched or she believes that her child may be in danger, then she can apply for an emergency ex parte application. This is also known as a 'without notice application' i.e. the other party is not given notice of the application. If the mother cannot make an ex parte application then an application can still be made but the father can attend and make his case. At the end of the hearing, the judge will make an order.
There are lots of other orders which the court can make, including contact orders, prohibited steps orders and specific issue orders.
What Factors Will be Taken Into Account?
When reviewing applications, the court will take a number of factors into consideration with regards to the child or children's welfare. These are:
What is best for the child and the feelings and wishes of the child. This is considered according to the child's age and understanding
How capable the parents (and any other relevant people) are of meeting the needs of the child or children
Any harm that the child is at risk of suffering or has suffered
The likely effect of a change of circumstances on the child
The age, background, personality, sex and any other characteristics that the Court believes to be relevant
The child's emotional, physical and educational needs
Domestic abuse
If you have been subjected to domestic abuse, this would clearly be a very important factor for the court to consider when determining what will be in the best interests of the child. If the father makes an application to the court then you can oppose it by giving evidence as to why he should not be given the order. You can oppose any application in much the same way.
Reality Check
When you find yourself fighting to look after your own child your emotions can begin to take over. It is important when you begin to plan your child's parenting and the access of the father that you understand the law and how it might impact on your child's future.
Remember that if your child's father is on the birth certificate, or you were married and are now divorced, the father has the same access to the child as you do in the eyes of the law. If they take your child or even threaten to do so, the police can often be powerless to change the situation. The best advice is to seek mediation and organise access in a written agreement, give yourself something concrete to work from. If your ex is unreasonable then apply for a residency order to ensure that you keep custody of your child.
You might also like...
Hello, my husbands children my step children are 15 and 14. They live with us but still see and stay with their mother. My husband and his ex were never married. She holds my step children's passports. Do we and the children's grandparents need the birth mothers written permission to be able to leave the country to go on holiday? Even when my step son is almost 16, but not before the holiday? Thank you.
Sasha
- 25-Jan-15 @ 2:21 PM
@Christian - obviously your ex needs help here as does your child. It might be that while you can't give equal support due to work commitments, you could actually make it easier for your ex somehow, so that she doesn't have to take time off work and risk her own career.She also has to earn a living and has responsibilities and just because she is the 'mother' it doesn't mean she should have to shoulder all the burden. While I'm sure she has no legal right, surely you have a moral one to take equal responsibility of your sick child and find some way around it in order to give them both the support they deserve.
Bella
- 21-Jan-15 @ 11:34 AM
I am in the process of getting a divorce. I have a very high paid job that requires me to travel across the UK and EU. My ex has just started working as an accountant admin. I could easily estimate my salary to be 10 times higher than hers. I provide child and spouse maintenance every month, without fail and higher than the legal amount required from me. I have a situation where one of my son is ill and cannot attend school as a consequence. We are Canadians and as a consequence the family is all in Canada. no family support means that my ex has to take days off when kids get ill. After a few illnesses this year, she is now asking that we share the care of the ill child at a 50/50 rate so she doesn't have to miss work. Whilst I practically understand her request I cannot accommodate it most times as obviously illnesses develop suddenly as opposed to my work schedule which is planned almost a month in advance. My question is: can she request a 50/50 share in this situation? Note that she is the resident parent. Thanks
Christian
- 20-Jan-15 @ 2:20 PM
@Shanise2982 - Trinidad and Tobago are a member of the Hague Convention on the Civil Aspects of International Child Abduction (children can be abducted by thier own parent). It is a multilateral treaty, which seeks to protect children from the harmful effects of abduction and retention across international boundaries by providing a procedure to bring about their prompt return. The "Child Abduction Section" provides information about the operation of the Convention and the work of the Hague Conference in monitoring its implementation and promoting international co-operation in the area of child abduction. I have included the link
here
from where you can find out more information on what you should do. You need to act now. I suggest you inform your authorities that your husband is intending to take your son out of the country without your consent. I hope this helps.
ChildSupportLaws
- 20-Jan-15 @ 12:06 PM
@Marika29 - it sounds like you really need to talk to someone personally rather than have online advice, so I have included the Family Lives helpline where you can talk through your problems and receive some caring advice link
here
. I hope this helps.
ChildSupportLaws
- 19-Jan-15 @ 1:55 PM
@saz - from what you say it seems unlikely he would want to go for child contact if he is as not bothered as you say. But every father deserves and to have a relationship with their child, if that is what they want and if he wanted access and you refused, then he would have to apply through the courts for a contact order and it would be up to the court to decide.
Suze
- 19-Jan-15 @ 1:49 PM
I am a Trinidad Citizen I met my Uk husband when I was 18..... we has our son a yr later and got married 3 yrs ago in May this yr .... sadly his work contract has ended and he says he will be taking our son the the UK knowing I wont have access to him as I have no visa or right to remain and says UK courts will never listen to a nobody like me ...... can he do this ... I am scared our o my mind because they are due to leave in 3 weeks and I pray they are idle threats but if not .... will I never see my child again ... please I will pay for a lawyer ......I will do anything to be heard....help me please!!!!!
Shanise2892
- 18-Jan-15 @ 2:25 PM
My boyfriend left me when I was 4 months pregnant. He was in touch with me but kept abusing me; calling me names, saying that I should die, me and baby his biggest mistake in life, Christmas time he called me saying that I should die on my own at home while he will have a great time, nobody wants me even my family.I know that he went back to his ex- then I heard she is much better than me, Im nobody. He will take away our son and he will walk with him and his girlfriend and I will have to watch. I'm user all what I want is only money. What I was thinking that I will sit at home while he is working? Laughing at me that I'm at home alone pregnant I can't even go and have a sex while he is having great time, with women better than me in bed. When I asked to stop telling me all of this he was laughing at me saying so what if you will lose a baby....and lot's,lot's of more. Kept telling me that he don't care about me at all only about a baby, he has no respect to me and he will never change his mind. I'm few days after my baby due. I don't want stop my son of having a father but he is abusing me every time he was coming here. I don't know what to do. I don't deserve all of that at all. When I asked why you are so horrible I can't believe he replied time to believe. I carry your baby- you should be thankful for it. He start laughing and telling me really horrible things. I'm at home on my own as flat is mine. I have a support from my friends but why I should let him coming here to see his son if I was abused for months. He don't understandt how much stress it cause me, I'm worried about my son. What if he will do the same to him. He is expecting his surname on birth certificate after telling me that I will never leave country and he is going to make my life hell. I said there is no way, I want take my son to see his grandparents- they live in France. He is giving me 40 pounds a week since last 2 weeks. All stuff for a baby I got it myself. I even decorated flat while I was 6 months pregnant. He is only saying that he will buy things and never did. I'm feeling trapped and scared :( I understandt ppl broke up but not in the way he did. I applied for a council house so I could have a peace. I don 't know how to talk with him without being abused. I know that I'm nice girl who giving heart who care about people. I don't know what to do with him.
Marika29
- 17-Jan-15 @ 1:17 AM
My ex partner left me at 28 weeks pregnant, he'd not turned up to scans or saved a penny and had been takimg loans out for drugs and betting which i found out that day. I ended up off sick with a.n.d to which he told people i was psycho (we work at the same place) and then that we weren't letting him see baby. From june to 24th sept (day after i gave birth) i had no contact. He was sleeping around and on drugs. If he would have turned up to the hospital social services would have been involved. He saw her 4 times and then 8 days olds didn't see her for 3 weeks and hasmt seen her since 22nd october since i wemt for child maintenamce which im getting now. He denied paternity and then refused a dna test. He hasnt provided anything. I have proof of messaged where hes not bothered, threats where he wouldnt keep his cool around me and baby, threats to me, i can confirm je takes drugs and who with. He never asks about her or amything. His family have no involvement. My health visitor knows the situation. EWhat if he ever went for contact?? Hea not on the birth cert and we are not married.
saz
- 17-Jan-15 @ 12:10 AM
@Zoom - yes, he has a right to take it to court if he wants to see his daughter more often, if he thinks he is not getting fair access, or his usual access has been stopped. I don't want to sound harsh here, but access to a child really should have nothing to do with money and every father should have a right to spend time with their child, regardless. Children should not be financial bargaining tools, so therefore this is why he is obviously feeling that he wants to challenge it through the courts. The financial issue really should be dealt with separately, so if you think this side is unfair and he should be contributing more then you should really either take it up with him directly or go through the CMS and ask them to sort it out on your behalf (there will be a cost involved, but it takes the issue out of your hands). Regarding access, if you prefer for him not to have her over, then when it comes to court you will need to justify your reasons why. I hope this helps.
ChildSupportLaws
- 16-Jan-15 @ 12:15 PM
My ex partner and I have been separated for 4 years. I have always allowed my daughter to spend time with hi. She goes after school once a week then has a sleep over on the weekend and full day there. I have always allowed her extra time on his family birthdays and over Christmas to visit. When he has something to do he really doesn't care if she is there or not but when he's skirt and bored he usually starts. He hasn't paid any money for 2 years and before that it was just bits here and there. A few weeks ago I got fed up of him not helping to provide for her but having a job, money to go out and presumably take drugs like he used too. From this I still allowed her to go twice a week from school for dinner and come back at 7:00-7:30 for bedtime. He has now stated that he is going to get legal advice to force sleepovers to start again. I think I have been more than fair as he's never provided hardly a thing for her and never really does anything with her when he has her. What legal rights does he have to inforce more time with her or sleepovers. He has parental responsibility as he is on her birth certificate. Thanks x
Zoom
- 16-Jan-15 @ 9:39 AM
My ex partner and I have been separated for 4 years. I have always allowed my daughter to spend time with hi. She goes after school once a week then has a sleep over on the weekend and full day there. I have always allowed her extra time on his family birthdays and over Christmas to visit. When he has something to do he really doesn't care if she is there or not but when he's skirt and bored he usually starts. He hasn't paid any money for 2 years and before that it was just bits here and there. A few weeks ago I got fed up of him not helping to provide for her but having a job, money to go out and presumably take drugs like he used too. From this I still allowed her to go twice a week from school for dinner and come back at 7:00-7:30 for bedtime. He has now stated that he is going to get legal advice to force sleepovers to start again. I think I have been more than fair as he's never provided hardly a thing for her and never really does anything with her when he has her. What legal rights does he have to inforce more time with her or sleepovers. He has parental responsibility as he is on her birth certificate. Thanks x
Zoom
- 16-Jan-15 @ 9:01 AM
@#squirt - no he can't- as you have parental responsibility he would have to get written consent from you.
ChildSupportLaws
- 14-Jan-15 @ 1:48 PM
My husband andI are separated and t. Cut long story short he text yesterday to say he was moving our sons school. Can this be done without my authorisation??
#squirt
- 14-Jan-15 @ 4:48 AM
@littleRed - have you tried mediation? If he is very unreliable it might be something you can request from him if you are fed up with his behaviour. Sometimes the tit-for-tat actions of parents can spiral out of control. He may think 'well I'm paying for petrol, she can buy the nappies' approach, while you are thinking 'he doesn't do anything, so he can come and get pick her up if he wants to see her' approach, which doesn't really get both of you anywhere. If you can't sort it out between yourselves rationally then mediation is the next natural point of progression, besides if he is threatening to take you to court then they will expect you to have tried to sort it out via mediation first anyway.
Ben
- 13-Jan-15 @ 10:05 AM
My 2yr olds dad and I split before she was born. he lives about 70 miles away from us but has her every other weekend (in theory), I used to meet him half way but since hes VERY unreliable in paying or providing anything for her I refuse to take her. I've never stopped him seeing her and never would unless I felt it was in her best interest, but if he wants her he comes and gets her. I dont doubt hes a good dad when he has her, but it seems like a case of out of sight out of mind. He also used to smoke cannabis and on occasion coccain, which he tells me hes had counseling for and has now stopped, I feel hes still doing it. Also when he cant even provide a packet of nappies but has a box of 20 cigarettes really gets my back up. If I say something he doesnt like he gets very angry and threatens to take me to court which I don't want for the sake of my child, however im sick and tired of being taken for granted and being the only one who seems to take the responsibility of having a child seriously. I havent gone into great detail about our situation but thats the basic picture. Any advice would be grateful appreciated. Also what are his rights and what could happen if it did go to court?
littleRed
- 10-Jan-15 @ 5:42 PM
My ex-husband and I split nearly five years ago and agreed between us that we would share our young daughter (now six) equally, having half of each week with her. I have always been in receipt of the Child Benefit but have always given him half of it, out of fairness. About 18 months ago, he asked me to also start having her an extra night extra third week, giving me the majority of her care (I think about two thirds to me, a third to him?). Just before Christmas, he thought he would try to stop me from seeing her at all, so I have to take him to Court, where the Judge ordered for the arrangements to go back to what they were before. As I do not have to share the CB with him, I have stopped doing so as of this month. Now, I have the slight majority of care for her and my address is on her school and dental records. Her father's address is on her doctor's records. Please could you take me who has the overall say on what her address is listed as on such records? I suspect her father may try to change some of them over, which will lead me to change them back, which will lead him to change them again, etc. As I get the CB and am classed as her main/primary carer, do I have the overall say? Thanks.
Clare
- 9-Jan-15 @ 1:00 PM
Thank you so much for your advice. So they won't justctake my sons vote as such without taking into account any issues that may affect his upbringing. I think I was worried they just let him decide for himself at 10 years old .
Mrskwakwa
- 8-Jan-15 @ 2:49 PM
@Sophielou - if you are worried about your partner having access to your child when either under the influence or if he keeps drugs in his home, you can request supervised access.
Charlie
- 8-Jan-15 @ 12:36 PM
@mrskwakwa - yes, they will take into account that he has two other siblings and this too will strengthen your argument that he has a secure family upbringing. As long as you can prove that your child has a healthy, secure and consistent family life that would not be in his best interests to be disrupted, then the courts are likely to insist that he stays where he is, especially if your ex has a record of violence. If you are worried that your ex is turning your son against you, then there is a syndrome which is now recognised through the courts called Parental Alientation Syndrome, it may be worth you looking it up online.
ChildSupportLaws
- 8-Jan-15 @ 10:13 AM
Please help**** My boyfriend and I have split up and he has PR. The problem I have is that he smokes weed and has admitted to me that he has done more. I don't want my child growing up around drugs and most of his family do them too. I want him in our child's life but not with drugs around. What can I do? Please help! My partner swore to give up when I was pregnant. Help!!
Sophielou
- 7-Jan-15 @ 10:03 PM
@Compo - I have directed you to our other site When Your Ex-Partner Denies You Access
here
. He should go through the steps laid out in the article in order to reinstate contact. I hope this helps.
ChildSupportLaws
- 7-Jan-15 @ 2:17 PM
HI, Yes this helps,im quite frightened that they take my son away after 10 years of homelife with me,can i just finally ask,do they take into account separation from siblings? Many thanks again
mrskwakwa
- 7-Jan-15 @ 12:43 PM
@Mrskwakwa - he courts consider stability important for a child and therefore believe that changing a child's circumstances should only be done as a last resort. The court will concentrate on what is in your child's best interests so if your child has stability for instance through school and transferring residence would mean uprooting your child fromthen this may not be considered in the child's best interests.Another person such as a new partner who is likely to affect the child if residence is transferred will also taken into account. Plus, your ex's previous behaviour will definitely be taken into account. I hope this helps.
ChildSupportLaws
- 7-Jan-15 @ 11:28 AM
@Nat - Sometimes Children's Services receive information that makes them worry about a child's welfare. If they believe that a child may be harmed, they will take action to protect the child which includes keeping parents apart if there may be risk to the children. I have included a link to care proceedings via the Family Rights Group which fully explains the process
here
. They make make changes in the future for instance if the parents undergo a parenting course, but it very much depends upon how great they think the risk to the children is. I hope this helps.
ChildSupportLaws
- 7-Jan-15 @ 11:06 AM
Hi, I was recently taken to court by my sons father for a contact order, however in the day of the hearing he changed his mind and requested residency. The case was of course adjourned to a later date, this has left me devastated. We had the same arrangements for 10 years until he got a new partner and now he wants him full time. My ex is named on the birth certificate and my son is 10 so he does share parental responsibility, my son would probably choose his father as he has more freedom and no bedtimes etc. The Cafcas report issued showed lots of convictions for aggression and violence from my ex and I'm sad to say some of this behaviour rubs off on my son at times. So I ask what sort of circumstances and feelings so the take into account and will my son simply get to choose? I couldn't bear loosing my so. And feel he has a better life with me , my husband of 7 years and his two siblings. Many thanks
Mrskwakwa
- 7-Jan-15 @ 8:29 AM
I would like some advise please. My brother and partner have had domestic violence in the relationship by both parts. There's two children involved1 is my brothers the other isn't. Social service were involved previous the mother in law is very manipulative and dangerous woman. It looks as if she has been reporting my brother for things that have not happened she is a very controlling person as well. In a nut shell my brother is now having supervised visits with his little girl I'm not being bias but he's been brought up well he shows love to his little girl and as her nest interests at heart. Unfortunatlythere have been a couple of incidents. Now social services give his partner no choice really has if didn't sign the condition they said the children would be taken into care until it went to court. The conditions were that my brother and partner do not have any relationship. So they have split up the family the children are missing him terribly and so is partner. What can they do would it be possible for them to have a relationship in the future
@Dale - the court form is a c100 for contact. Please make sure that if you pay your ex CSA money you don't pay it cash but either pay it by direct debit into her account, or by cheque. You need evidence that you are actually paying her as she could quite easily say she's not received any money if you are giving her cash and you can't prove otherwise!
@carolj - if you are not happy with him I'd move out and get your own place if you can afford it and apply for child maintenance. It sounds like he isn't a good partner and you'd probably be much happier on your own.
Jenny
- 5-Jan-15 @ 1:57 PM
@Rn99 - You can apply for a 'prohibited steps order' c100 to stop the other parent from making a decision about your child's upbringing, which includes moving him away. You have to prove that it is the best interest of your child that he stays close to you. You might find our Separated Dads Facebook page helpful as it has a similar recent posting. I hope this helps.
ChildSupportLaws
- 5-Jan-15 @ 12:39 PM