What Rights Does My Ex Have With Regards to Our Children?
Author: Elizabeth Mugan BA/BSc, PGDipLaw, BVC, CIArb - Updated: 4 July 2015
|
We get many comments and questions from you about child support. We've taken a selection of your comments addressing the issue of keeping contact with your children and the fear of your ex taking them from you - and asked our expert to give some comprehensive information and advice.
The traditional view of the family set up has become something of a minority in 21st century society and because of this, a broken down relationship can lead to complicated legal issues. Whether you are recently divorced and wondering about the role your ex-husband has in your child's life, or you have a child from a relationship that has broken down, but were never married, you need to understand your legal position when it comes to creating an amicable situation for your child to grow up in. Here we aim to dispel some of the myths about parental access and to give you the advice you need to rebuild your life and your children's lives.
Parental Responsibility
Parental responsibility (also known as PR) creates "responsibilities" rather than "rights" regardless of whatever the state of the parents' relationship, emphasising the view that each will maintain an equal, shared and continuing responsibility towards the child.
Where both the mother and the father have PR, they have the power to act alone unless there is a circumstance where, by law, each person with PR is to give consent i.e. in the case of adoption. In reality, holding PR gives the ability to make decisions in relation to the child's name, religion, school, consent to medical treatment and marriage etc.
Who has Parental Responsibility?
Below is a flow chart to help you determine if you have Parental Responsibility:
A mother always has PR. A father who is married to the mother at the time of birth will automatically have PR.
To clarify, for unmarried fathers, the situation is different. Unmarried fathers will have PR if:
They marry the mother after the child is born
They have jointly registered the child's birth with the mother i.e. their name is on the birth certificate
For pre December 2003 registrations, the mother provides a formal declaration of agreement that the father's name is to be added to the birth record and the father re-registers the birth to add his details
The court orders a residence order in favour of the father, although this will usually terminate when the resident order ends (generally age 16)
A birth parent has signed a parental responsibility agreement
A step-parent's PR agreement can be made by consent with all those already having PR for the child
By obtaining an adoption order from the court
Where a father has not automatically gained PR, the mother does not have to add the father's name to the birth certificate. However, this will not stop the father from being able to apply to the court for an order, such as a parental responsibility order, which may result in him acquiring PR.
Other family members
Other family members, taking grandparents as an example, do not automatically have PR. They would only be granted PR by a court if, for example, they were appointed as Guardian or were to adopt their grandchild for any reason. If a father with PR asks his parents to take care of the child, they can do so usually without the mother's agreement. However, the child would not be able to remain resident with the grandparents unless they had been granted a residency order by the court.
Voluntary access arrangements
If more than one of you has PR, then the best thing you can do for both your children and yourselves is to voluntarily agree to contact and access etc. If you can do this, then you are more likely to maintain a more harmonious relationship for the sake of your children. Additionally, it will prevent you from having to go to court and from having to pay court and solicitor's fees if you are unable to get legal aid.
Of course, this is the ideal scenario and not always a realistic one. If you cannot agree on residence and contact etc. then you may find that your ex will end up applying to the court for an order.
My Child has Been Taken Away From Me: What Can I Do?
Unfortunately in some circumstances, a father may take your child during agreed contact time and then refuse to bring them home again. If this happens and you are unable to negotiate with the father then you should call the police. However, the police may not be able to do anything. This generally comes down to whether or not the father has PR. If they do not, then the child is the mother's sole responsibility and the police may be able to take the child back to the mother. If the father does have PR, then in usual circumstances, they have the same rights as the mother to look after the child and therefore, so long as the child is not in any harm, the police cannot usually do anything about it. This can be understandably distressing for a mother. What can be done about it?
Residence Orders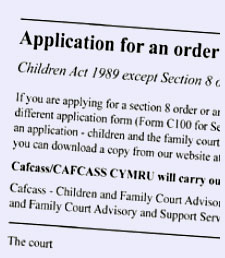 A person can make an application for a residence order, whether or not they have PR. For example, a father without PR can make an application for and be granted residency but then he will automatically acquire PR at the same time. It is unusual for a father to be granted residency as well as a mother as this would result in shared residency, which is not always in the best interests of the child. As a result, it is usually the mother who would be granted sole residency.
If a child has been taken by their father and the police cannot do anything, the mother can make an application for a residency order. If the child was snatched or she believes that her child may be in danger, then she can apply for an emergency ex parte application. This is also known as a 'without notice application' i.e. the other party is not given notice of the application. If the mother cannot make an ex parte application then an application can still be made but the father can attend and make his case. At the end of the hearing, the judge will make an order.
There are lots of other orders which the court can make, including contact orders, prohibited steps orders and specific issue orders.
What Factors Will be Taken Into Account?
When reviewing applications, the court will take a number of factors into consideration with regards to the child or children's welfare. These are:
What is best for the child and the feelings and wishes of the child. This is considered according to the child's age and understanding
How capable the parents (and any other relevant people) are of meeting the needs of the child or children
Any harm that the child is at risk of suffering or has suffered
The likely effect of a change of circumstances on the child
The age, background, personality, sex and any other characteristics that the Court believes to be relevant
The child's emotional, physical and educational needs
Domestic abuse
If you have been subjected to domestic abuse, this would clearly be a very important factor for the court to consider when determining what will be in the best interests of the child. If the father makes an application to the court then you can oppose it by giving evidence as to why he should not be given the order. You can oppose any application in much the same way.
Reality Check
When you find yourself fighting to look after your own child your emotions can begin to take over. It is important when you begin to plan your child's parenting and the access of the father that you understand the law and how it might impact on your child's future.
Remember that if your child's father is on the birth certificate, or you were married and are now divorced, the father has the same access to the child as you do in the eyes of the law. If they take your child or even threaten to do so, the police can often be powerless to change the situation. The best advice is to seek mediation and organise access in a written agreement, give yourself something concrete to work from. If your ex is unreasonable then apply for a residency order to ensure that you keep custody of your child.
You might also like...
Hi, my ex husband, my daughters father can be very immature when he wants to be. He works off shore and when it comes to the school holidays he ignores contact with me and won't say when he is back. He then phones out of the blue and expects everything to be put on hold for him to have access. I have said to him before that we need to arrange contact and have told him that he can't have contact exactly when he wants as we have already made child care arrangements and plans...which results in an ear full of abuse. I am worried if he isn't happy about having to wait till say Wednesday instead of Monday he will go to the child care provider and take her. Could he take her without arranging it and without me saying yes? The contact in our divorce doesn't say anything specific and says its arranged between us so there is no set days or time. Any help is very much appreciated as I always dread the school holidays.
Leigh
- 4-Jul-15 @ 12:14 AM
@Westy - you could either continue the way you are going with an unofficial agreement which is based on trust. Or, you could take it to court, which could have many repercussions if your ex felt that she wants to retain residency of your child. While your ex may be having a good time, so to speak, it does not mean she may love your daughter any less, or want to be parted from her. Therefore, it could cause a lot of bad feeling and you would have to be prepared that as a knee-jerk reaction she may try to stop access if she feels she may lose custody. If you wish to pursue it through the courts it would go to Cafcass first, see link: What Goes into the Cafcass Family Report?
here
. See also the link Applying for Custody: Court Procedure,
here
. I hope this helps.
ChildSupportLaws
- 3-Jul-15 @ 10:04 AM
My wife left me for no apparent reason, only says I can have my child 2 days a week, but then palms our daughter off to me every Friday and Saturday night to go out with friends... I've suggest our daughter lives with me to make things easier and she can see her when ever she wants but says no because she will lose her place to live (council property) and any benifets she gets for her.. I don't pay maintenance as I have my daughter 4/5 days and nights a week. What do I have to do to get custody of my daughter and stop her being neglected by her mother?
Westy
- 3-Jul-15 @ 7:40 AM
@Jess - if you don't want your ex to see your child because you are concerned over his drinking problem, you can negotiate supervised access, or stop contact altogether. Should you do this, he could take you to court in order to apply for access. It will then be up to the court to decide what is in your child's best interests. You could also try suggesting mediation, if you can't agree between you what level of contact he should have. See link: Mediation: What is it and is it For Me?
here
. I hope this helps.
ChildSupportLaws
- 2-Jul-15 @ 2:25 PM
@Dave - sorry to hear this. Should she stop access you can go through the procedure laid out in When Your Ex-Partner Denies You Access,
here
. I hope this helps.
ChildSupportLaws
- 2-Jul-15 @ 11:16 AM
Hello my daughter did not turn up for court almost 4 years ago so the contact order was discharged she has been seeing her child one a week at our house ,the father drops the child off and picks her up now my daughter is settled and in a better place in her life she wants to take her child out for the day or to the shops or park ,but the father is saying she can only do it if myself or wife is there that she is not to take her out unsupervised can he do this and how do we stand about changing it,there is nothing from the court to say access is supervised its just what we did but now time has moved on many thanks
Eddie
- 1-Jul-15 @ 10:17 AM
Hello there, my relationship has broken down with my girlfriend we have a son who is one in September, I am on the birth certificate so have PR. I have moved out the home and I live with my parents. She is now refusing to let me have any contact with my son. I don't want custody as that is not in the interests of my son. I want structured access twice a week and every other weekend. We have a number of arguments before I left resulting in her calling the police, there was no violence or abuse. Just the usual words said in arguments. There has been no arrest, no cautions or warnings. Social services are now involved sue to the fact she keeps calling the police. She has a history of mental illness, depression, self harm and attempted suicide. She has now said I have lost my son forever. I want nothing all to do with my ex, just access to my son. What can I do, please help?
Arry
- 30-Jun-15 @ 12:20 PM
My ex have got a drinking problem and I've got a 10 month old daughter with him I've move back to aunties and he hasn't seen his daughter since I broke up with him and move away and I believe he's still drinking I need advice on what to do?
Jess
- 29-Jun-15 @ 7:59 PM
My wife and I have separated 10 months ago, she was emotional abusin me. I have my children every two weeks at weekend. Now she is threatening to stop Contact, can I just have kids the weekend and tell her there now staying with me?
Dave
- 29-Jun-15 @ 3:22 PM
@brimo - I am sorry to hear this. I can tell you that taking or 'snatching' your child from the mother is not a good idea and could put you in a worse position, resulting in you being allowed only supervised access, as well as losing the trust of your ex, which I'm sure is the last thing you want. Even though you may have parental responsibility, the courts wont take lightly to you taking your child without the consent of the other parent. The alternative may take a little while longer with regards to the process, however, at least you will be in a better position to negotiate an official contact order. I have included the link: When Your Ex-Partner Denies You Access, link
here
and follow the steps provided. You have done the right thing by having the tests done prior to any instruction and this will stand you in good stead. The main issue you have to keep in mind is to keep rational, keep to the rule book and not get sidetracked by impulsive reactions. I hope this helps.
ChildSupportLaws
- 29-Jun-15 @ 12:58 PM
@Niecey - if he is not on the birth certificate, then he has no parental responsibility rights. Should he take your child then you will be able to get the police involved and your child would be returned to you. Should you be concered about him 'abducting' your child, and maybe taking your child out of the country, then you can apply to the court to get a Prohibited Steps Order. A Prohibited Steps Order (PSO) is an order granted by the court in family cases which prevents either parent from carrying out certain events or making specific trips with their children without the express permission of the other parent. This is more common in cases where there is suspicion that one parent may leave the area with their children. If your partner chose to leave with your child, it can be classed as abduction and he could face criminal prosecution. There are a number of offences you can be charged with, including child abduction, kidnapping and false imprisonment. However, as suggested in the article, your general separation will not stop the father from being able to apply to the court for a parental responsibility order, which may result in him acquiring PR in the future. It should also be noted that if he is awared PR, he willnot obtain any extra rights to see your child. I hope this helps.
ChildSupportLaws
- 29-Jun-15 @ 10:43 AM
My ex partner is refusing me access to my 10 month old son. For the past 4 months i have had him on Saturdays and Sundays until last week when she found out i had a new partner. She ceased all contact and even refuses to speak to me. I received a letter from her solicitor instructing me of the above. She also claimed i use cannabis and therefore unfit to look after him, i went to my GP for a drugs test and gave her the negative results yet still refusing me access. Am i within my rights and the law to take my son from her without snatching or using any force what do ever? I am on the birth certificate. Thanks for any help.
brimo
- 26-Jun-15 @ 2:57 PM
I am in a relationship with my childs father but i am desperate to leave him. I tried to break up with him before but it backfired and said hes not leaving without taking our son. He is not on the birth certificate nor has a place of his own to live so hes not a stable person. What are my rights? Can he do this?
Niecey
- 26-Jun-15 @ 7:51 AM
My 15 year old daughter left home to live with her dad staying that I hit her and won't come home she wants to stay there what do I do
nicky
- 25-Jun-15 @ 10:01 AM
@apn - I am really sorry to hear this, it must be very upsetting for you. You will need to take this through court by applying for an emergency order for the return of your child. The courts will look at the circumstances surrounding the father taking the child and decide what is in your child's best interests. The courts value consistency, so they will more often than not restore the previous living arrangements. The courts also do not like father's taking the law into their own hands. If your child is returned to you, the court can also make a number of other orders to stop this happening again. However, you will need to act very quickly and apply for this court order asap. I hope this helps.
ChildSupportLaws
- 23-Jun-15 @ 11:41 AM
@Loulou - you do have a right to stop him seeing your child if he is being unreliable and flouting previous court orders. It would then be up to him to take the matter back to court. However, if he is a registered addict and has not been a part of your child's life, then it is highly unlikely the courts would entrust your child into his care. The most they would allow would be supervised access. I hope this helps.
ChildSupportLaws
- 23-Jun-15 @ 11:24 AM
@Sb1 - I'm afraid access is something you have to negotiate with your ex, or through mediation. Unfortunately, as frustrating as it is, there is nothing you can really do if he is unreliable and doesn't want to keep to a schedule. If you can't agree between yourselves, then mediation may help, see article: Mediation: What is it and is it For Me?
here
.
ChildSupportLaws
- 23-Jun-15 @ 10:25 AM
my ex and i recently separated, i said he could stay till he got on his feet but the three weeks he stayed he secretly started seeking advice from social workers as him and his mother crually made me believe i was bipolar for which he took me to a therapist for (this came back as i did not fit the criteria). He also tried to contact my landlord to gain occupational rights but was refused. When i found this out i asked him to leave and he took my child with him. He is on the bc and he told the police he was concerned for his sons safety and he was allowed to keep him for that night, my son has not been returned to me and his father has not given me an address of where my son is and refuses to allow me any access other than a goodnight phone call. I have saught legal advice and served a letter from a solicitor requesting the return of my son. But he has failed to return him and has said he will now seek legal advice. His father has taken him out of school and at the present moment i believe him to be sourcing a local school to the area in which he (father) now resides with his mother. Can he do this and how quickly? My current situation is i live in a one bedroom flat where we have all lived as a family for the last 11 years (my son is 5) now he has moved to his mothers who i am led to believe she has a three bedroom house and financial support from his mother. I have suffered depression for the last 10 months as i have witnessed material of an affair which i struggled to deal with. My ex has always been controlling in the form of clothes i can wear, people i can see and called me awful names such as a whore etc.. But i fear as i have never reported this i am unable to prove it. Would it affect me if i was to seek my son and remove him from his father? I am very unsure of how to find a resolution for this matter and do not know how to approach this without making myself look like the crazy woman him and his mother have portrayed.
apn
- 20-Jun-15 @ 4:29 PM
Father of my daughter is not around has never really been since I was 6 months pregnant due to his continuous relapsing into drug addiction. My daughter is now 7 yrs and although we tried mediation once recently he let us down badly again and again .we only met once in 7 years due to his criminal behaviour- . I do not want his behaviour to affect my daughter as we have alwaysjust been us two and she is safe and happy. I recently applied for sole parental responsibility as unfortunately he is on birth certificate. I was Informed / encouraged by magistrate not to go down this route as it was unlikely. Do I have the right to stop him seeing her if he wants to in the future as I fear he is unsafe and a stranger anyway. ? I was told by magistrate I can stop him so he would have to apply to court but then could I still stop it? I am worried.
Loulou
- 20-Jun-15 @ 3:58 PM
Hi, My ex partner and I recently split. we have a 7 yr old little boy. However his dad and I were only together this last year having broken up when our son was 1 yr old. We decided to try again as I believed he had changed and my son deserved to know who his father was. Once my ex moved into my house everything was fine for first few months then it all changed.he stared drinking everyother day, never spent anytime with us, caused huge arguments, called our son vile names to his face, said damaging things to him about him, my son would get angry daily and started have "tummy pains". things got so bad I had to throw my ex out. He is asking to see our son but I wont allow it, I do not want him damaging him any further, my son s now happy, school work has improved, tummy pains have gone, he sleeps soundly and we now laugh again. Can I enforce this non contact legally now? Thank you.
starshine.
- 20-Jun-15 @ 9:02 AM
Hi my kids dad is on the bc I had my son in 2011 an my daughter in 2012 we split up in 2012 know he has seen them on and off for about 6 months all together. I know he has rights but my question is what rights has he got because he only bothers when it suits him.
Sb1
- 20-Jun-15 @ 12:29 AM
@jt - does the interdict not prevent your ex from seeing your daughter unsupervised also? This is surprising if he is allowed to take her given the circumstances you've explained. If you feel uneasy, you can stop the access and he would have to apply officially through the courts. You would then be able to then put your reservations and worries forward to the Cafcass officer who would present this to the courts in the form of a report. See link: What Goes into the Cafcass Family Report?
here
. The courts will then decide what sort of access he would have. You could also specify to Cafcass that you wanted full residency, which means he would not be allowed to take her without the police getting involved, if he did. I hope this helps.
ChildSupportLaws
- 19-Jun-15 @ 10:29 AM
@mumof2 - if he is not named on the birth certificate, he doesn't have any rights, as he does not have parental responsibility, so if you don't want him to come and see your daughter, then you can refuse. He would then have to apply through the courts for contact. However, if you want to agree arrangements formally and wish him to see your daughter, and can't agree between yourselves, you could try suggesting mediation. Please see link: Mediation: What is it and is it For Me? link
here
. I hope this helps.
ChildSupportLaws
- 17-Jun-15 @ 1:47 PM
I was in domestic violent relationship he beat me about the left side of my face when my daughter was a baby she was laying on my left shoulder at the time I stayed weekend as I was scared I would lose my daughter this happened middle of week but Fri was when it came out that he beat me while holding Eilidh health visitor came out Police came out asked if I wanted to charge him when he was sitting in same room I was scared but never did on Mon social came out with health visitor and told me if I didn't leave I'd lose my daughter so I left . They also got me to charge him which I finally did he got fined £500 . He sees her but I'm always frightened I won't get her back I have an interdict against him what happens if he doesn't give her back ?
@Jay - I have included a link to the Family Lives article - What is shared parenting?
here
. If you think you fit into this criteria, then you could apply for shared parenting through the courts. You would have to specify the reason's why you wish for shared parenting and why you think your ex doesn't wish you to officially have shared parenting. There is no guarantee you would be awarded it, as it depends whether the court deems it to be in your childrens' best interests. However, you should also keep in mind that your ex may also wish to try and restrict your access, if she thinks she may lose her benefits as a result. I hope this helps.
ChildSupportLaws
- 16-Jun-15 @ 12:02 PM
I have a 24year old son,& a 9year old son ( whose adopted at birth, coz of parental issues & drug issues of my own.) I have a 6 year old son also. Me & his dad split up when he was about 3yeara of age. He's seen him at his parents house every other weekend . Then I had ss involvement regarding my current partner in jan 15. I then had someone turn up at mine,late feb, & overdosed!. So ss picked up my son & handed him to my ex's parents. Well he also lives with them. About one month after this happening, he then beats his girlfriend up in front of Her two children, hence ss involvement on her behalf. But my son continues to live at his parents with him also there. I'm now due in court on the 25th of this month, by my ex's solicitors. For child custody & child arrangements. I have ACT (a local care & support service,offered to me because of domestic violence issues (one of them, him, being violent towards me) anyway ACT have got me a solicitor whom I'm speaking with sometime this week. In court, what's likely to happen?. I miss and love my little boy so much it's killing me &I've only seen him approx 14 times since feb!. Please help ?!!. Thankyou for any advice. :)
K8y x
- 15-Jun-15 @ 5:00 AM
my ex left when I was 8mths pregnant(2012) any way he is not named on bc n she has my surname, he keeps telling me that is is coming 2 c her with or without my permission can he do that n what would be outcome if court was unvolved
mumof2
- 14-Jun-15 @ 3:14 PM
I have 2 boys aged 9 & 7 and I have been parted with their mum for over a year and a half. I have them near enough every other day and on average they spend 3 nights a week with me. I have asked her to agree to 50/50 responsibility but she is saying no as we both know that will affect her benifits if she is not a full time mum on paper. Quite frankly I don't care about the money but refuse to give her anything if I'm constantly paying for everything for them. How can I gain 50/50 responsibility? I'm registered on their birth certificates and have a really close relationship with them.
Jay
- 13-Jun-15 @ 4:26 PM
@mumof2 - If an unmarried father jointly registers the birth of his child he automatically has Parental Responsibility. If he does not jointly register his child however, the father has no rights over the child, and can only act on their behalf in an emergency. Having no legal rights over his child means that the single father has no say over the naming of the child, his/her religion, where the child should be educated, what kind of medical treatment they can have or even over the child's adoption. The father also has no access to the child's official documents or medical records, and is not able to get a passport for the child. The child's father does however have to pay Child Support on demand, but is entitled to apply for a Parental Responsibility Order if the mother of the child is unwilling to agree to a Parental Responsibility Agreement. I hope this helps.
ChildSupportLaws
- 11-Jun-15 @ 12:40 PM
Me and my partner have split up and have two children. I dont want any money from him and i dont want to prevent any access to his children as they love him but i refuse to allow them over i see his certain members f his family eg mother, grandmother as they are really horrible people and speak very badly of me. I also feel that their behaviours are extremely unhealthy and they arent people i want my kids around. My partner (ex) is on their bc's and as i say i am more than happy to share contact with him but i feel like if i am made to do this i will just move away i cant bear to have them involved with my children, causing trouble!!
Carr
- 10-Jun-15 @ 3:46 PM