Who Has to Pay Child Support?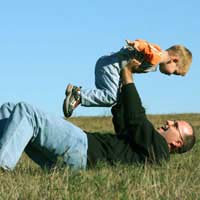 All parents have the responsibility to financially support their children, and to provide a safe environment for them to grow up in. Due to separation or divorce however, circumstances sometimes unexpectedly change, and the child, or children, may have to divide their time between their parents.
Child support payments provide a form of security for the child and parent with care, but require a commitment from the parent who leaves the family home.
Why Child Support Exists
The Child Support Agency (CSA) was launched in the UK in 1993, and was created to financially help and support all separated families - where one parent lives with the child/children and the other parent lives elsewhere. The non resident parent is expected to contribute to the welfare of their child, and it is the CSA's job to enforce these maintenance payments if the absent parent refuses to pay this regular contribution.
Are You Liable To Pay?
The father of the child – regardless whether or not the parents were married – is responsible for financially supporting the child. Many unmarried fathers sign a declaration, acknowledging paternity, when the child is born and others are genetically tested in order to prove paternity. Parents of stepchildren however, are not obligated to pay maintenance support unless the child is legally adopted.
In cases where communication has broken down between the parents a father is still expected to contribute financially even though he may have limited visitation rights. However, if the parent with care disappears and makes visitation impossible for the non resident parent, child support payments can be suspended.
Shared care reduces the cost of maintenance a non resident parent is expected to contribute. By sharing parental duties and spending an equal amount of time with the child, including overnight stays, a non resident parent acknowledges responsibility and reduces maintenance costs accordingly. This is calculated as a reduction of one-seventh for each day.
Do Men And Women Have The Same Rights?
Child Support does not discriminate between genders and the Child Support Agency is only concerned with ensuring parents acknowledge responsibility and financially support their child or children. If the father has custody of the child he is therefore the parent with care. This gives him the right to claim maintenance support from the child's mother.
Maintenance payments are expected to be paid until the child reaches the age of majority, which can range from 16 to 19, depending on the child's schooling and educational needs. The parent's responsibility to financially support though, is terminated if a child is legally adopted at any age. If the non resident parent is paying backdated maintenance this is expected to be continue until the debt is covered.
Failure To Pay
The CSA works alongside the Child Maintenance Enforcement Commission (CMEC) and has the power to enforce maintenance payments directly through the parent's employer, by freezing assets and forcing the sale of property. The non resident parent can also be imprisoned for failure to pay maintenance.
You might also like...
I have for the past 5 years shared custody of my daughter, she stays with me from Thursday until Monday (4 overnight stays). All of a sudden my daughters mother wants maintenance from me & has contacted child maintenance services saying I only look after my daughter 2 nights per week. Child maintenance say I need to provide evidence of overnight stays. I don't know what my options are & also my ex has threatened to not let me see my daughter because she wants the full amount of maintenance.
AMJ
- 15-Aug-15 @ 9:57 AM
I haven been paying child support for ten years since my son was born, and have struggled to see my son in this time, I have had court orders to no avail. I recently went back to court even to get sum kind of access for my son, basically he does not want to see me as he has a new daddy my exes husband.. The child has been brain washed into not wanting to see me.. I have two other children with my current partner, and struggle to meet ends meet, rent rates and maintenance etc.. Do I still have to pay mentainence? As I have been alienated from this child, and is settled with his family and step father? Obviously my money's good enough for them while I struggle week by week.. The system is unfair
Russt
- 29-Jul-15 @ 10:04 PM
Does a father of 15 years old need to pay csa in future?
lee
- 21-Jul-15 @ 3:12 PM
My 18yr old daughter ( 19 end of year ) might be going away to Uni in Sept.My 16yr old son is planning on joining the military in Sept, rather than 6th form . Both children reside with their mother, & @ the moment I pay for both of them . How will this change based on the above scenario?
doubleM
- 14-Jul-15 @ 9:11 PM
@Brettj - In 2013 the law changed, making it compulsory for all UK children to continue in some kind of further education until the age of 18 (that is the end of the school year in which they turn 18). If child support is being paid through the Child Maintenance Service or Child Support Agency, it will automatically come to an end when your step-daughter finishes secondary education in the September after her final school term. However, should your partner feel that your daughter may need support through university, she could apply through court to extend maintenance to the end of her university degree. If she applies through the courts, the court will consider each case individually, taking into consideration her financial needs, along with the parents' ability to pay. Some parents continue with a voluntary arrangement and pay support to their child directly. I hope this helps.
ChildSupportLaws
- 2-Jul-15 @ 10:33 AM
hi I'm the step father of our eldest daughter she turned 18 on Saturday and her father has told her payments to her mum my wife will now stop is this true she is off the uni in September please help brett
brettj
- 29-Jun-15 @ 12:27 PM
Does a father legally have to pay child support for his child if she stays on in full time education after the age of 18
Tikalili
- 15-Jun-15 @ 7:34 PM
@Hambro - If your son has decided that he wants to get a job and not continue in full-time education - which includes studying for 12 hours or more a week - then your payments would end in the September after his final school term. You don't say how you pay and whether it is a family-based arrangement or through a government agency or court order. If you pay through the CSA/CMS you should call directly to discuss how your circumstances have changed. You can also use the CMS Options calculator
here
to calculate what you should be paying for your other children once your maintenance to your elder child stops.
ChildSupportLaws
- 15-Jun-15 @ 2:23 PM
@introuble - you don't say whether it is a family-based agreement for maintenance or an official one i.e CMS/CSA or via a court order. If child support is paid through the CSA or CMS, then you can as for a review if you think he is earning more than he specifies, or if you think his personal income circumstances have changed. If it is a family-based arrangement and his payments are sporadic, then you may want to consider going through the CMS, via the link
here
. However, the fact that his wife earns the money, will have little or no bearing on his payments to you, as in, she is not liable to pay you child support.
ChildSupportLaws
- 15-Jun-15 @ 12:01 PM
@preshy - you don't say whether this amount is calculated officially, or whether it is a family-based agreement. If it is a family-based agreement, you would have to speak to your ex, and request he pays more. If it is through the CSA/CMS, then they will calculate the amount of money you should be awarded by assessing how much he earns, therefore you would have to contact the CSA and ask for a review if you feel that the official calculation may be wrong.
ChildSupportLaws
- 15-Jun-15 @ 10:41 AM
@jadeyy - I'm afraid it doesn't quite work like that. If the mother of your child decides to name you as the father then you will be awarded 'parental responsibility', which means you will (along with the mother), be financially responsible for your child until the age of 18 or 20. I have included the link: Child Support Law and Parental Responsibility,
here
. I hope this helps.
ChildSupportLaws
- 15-Jun-15 @ 10:02 AM
Hi my ex lost parental responsibility dies that mean he isn't financially responsible also..
kazza
- 14-Jun-15 @ 8:02 PM
I have two sons who I have being paying maitence for the last 13 years with no problems One son is finishing education this summer and he is 18 so I will stop paying The other son I have 2 further years to maintain , how do you calculate the reduction ?
Hambro
- 12-Jun-15 @ 8:07 PM
Hello, the father of my 2yr old daughter doesn't pay regularly and claims to earn not enough, even though he lives with his wife and their child in a big house, having an expensive lifestyle, though his wife earns the most of their money at the moment. I there any way I can still get the maintenance for my daughter somehow, even if he really does not earn enough?
introuble
- 12-Jun-15 @ 11:57 AM
Hi...I have a three yrs old son and his father send 600 per month but its not enough. What can I do
preshy
- 12-Jun-15 @ 8:37 AM
Hello....can the father of a child sign away the write to be a parent, before the child is born? If so would that mean they wouldn't pay child support ? Thanks
jadeyy
- 12-Jun-15 @ 1:25 AM
@confused - please see our partner article: Shared Care of a Child, link
here
which tells you all you need to know. The CAB also has a site
here
which has further information. I hope this helps.
ChildSupportLaws
- 11-Jun-15 @ 10:01 AM
Hi... Can anyone tell me what the laws are if there are two children and one child lives with the mother full time and the other lives with the father full time. Are either parents required to pay child maintenance? And if so, how is this calculated?
confused
- 9-Jun-15 @ 9:43 AM
@natty -it is a difficult situtaion that many parents have when trying to claim maintenance, and more so if their ex is self-employed, as hiding money then becomes very easy when they have a good accountant. However, it's rare (and possibly not legal) that an employer would pay wages into a parental bank account, are you sure this is taking place? Can you not speak with your ex directly, he must know that the money is building up in arrears, therefore he might have to pay it back at some point. Hopefully, he can't live in this situation permanently and will at some point have to declare that he is earning.
ChildSupportLaws
- 13-May-15 @ 10:54 AM
hi all.. I split up from my daughters father 3 years ago, I took him to csa, which said he had to pay 54.00 pound a week payable to me every 2 weeks... to this day the csa can not get a penny from him they say now they can not prove he works and his wages yet could calculate he should pay 54.00s??? my ex has his wages paidinto his parent bank accounts, he lives at home with is parents,so cant take from his address, has no car but rents them when needs them,he works in the building industry through an agency, using a cscs card so cant even trace him through work, to date he owes 3 and a half thousand pounds, he sees my daughter 2 nights a week so he feels he doesn't have to pay towards her care as he buys her dolls etc which are not aloud to come back to our home and have to stay at her dads address!! and leaves me to struggle with everyday costs!! the csa have said there is nothing more they can do but monitor him and if he applies for a credit card or something then they can step in!! its crazy...I need to find another way.. was thinking of taking out a maintenance order myself against him in court, but fear as he hides his income I will just be wasting my time and money again!!!?? anyone else got any thoughts or have taken a maintenance order out if so how did it go???
natty
- 11-May-15 @ 12:21 PM
@Janet - if you really want to find out, you can employ a private investigator. It might be worth the initial cost!
Lou
- 30-Apr-15 @ 12:04 PM
@Rebmulp - unless there is a big discrepancy between your earnings then each child should cancel each other out and you shouldn't have to pay.
Alex
- 29-Apr-15 @ 12:15 PM
My sons dad is working but I don't no for what company! I have phoned csa and they won't check with tax as they church August 2014, how could I find out where he works as we don't speak?
Janet
- 27-Apr-15 @ 4:02 PM
Myself and my wife separated over a year ago, my eldest son (13) chose to live with me and my youngest (7) lives with my ex, how will maintence be calculated?
Rebmulp
- 26-Apr-15 @ 8:47 PM
@Howie - I'm sorry to ehar this, but I'm afraid you are still responsible for maintenance, unless your wife agrees otherwise. They are still your children and you are still responsible for their welfare, regardless of another man being on the scene. As specified in the article, all parents have the responsibility to financially support their children.
ChildSupportLaws
- 24-Apr-15 @ 2:51 PM
My wife and I split as she is moving in with a neighbour. I currently work in Azerbaijan for 29 days a months then return to UK for 27 days I cannot bear the thought of my now ex wife and my 2 children being raised in the step environment across from the marital home after13 yrs therefore I feel I have move abroad to the place I work to avoid discomfort I get at the thought. Am I still liable to pay child support when I don't seems kids and they have moved in elsewhere next door
Howie
- 23-Apr-15 @ 10:34 AM
@luis1910 - it is a tricky one and perhaps something that you can sit down with your ex and agree on. However,it may be that you have to pay for your daughter. I suggest you give Child Maintenance Options a call via the link
here
in order to get some direct advice. I hope this helps.
ChildSupportLaws
- 18-Mar-15 @ 11:28 AM
hi, I got 2 kids they both living with my ex but one is coming to live with me,now he is 8 and my daughter 11, so my son is the one that come to live with me, she don't work and her new partner only works part-time, I'm paying child support for both but now one coming to live with me so how does it work I have to pay her and she have to pay me ? or we just don't to no one ? or because she don't work I still have to pay for my daughter ?
luis1910
- 15-Mar-15 @ 4:59 PM
@mg20001 - if she is earning a wage by independent means and is not in full-time education then you shouldn't have to pay. You need to give the CSA a call, they may have just made a mistake.
Gary
- 12-Mar-15 @ 3:08 PM
I am really confused about CSA Payment. My child is now 19 and left school when she was 17. She is now answering phones in a garage on a So called apprentiship scheme. I have just recieved a letter from the CSA Scheduling payments for the next Year.. Surely these payments should have stopped when she left school at 17.
mg20001
- 11-Mar-15 @ 10:11 AM