Who Has to Pay Child Support?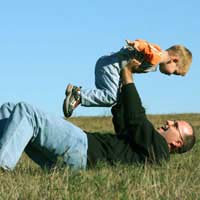 All parents have the responsibility to financially support their children, and to provide a safe environment for them to grow up in. Due to separation or divorce however, circumstances sometimes unexpectedly change, and the child, or children, may have to divide their time between their parents.
Child support payments provide a form of security for the child and parent with care, but require a commitment from the parent who leaves the family home.
Why Child Support Exists
The Child Support Agency (CSA) was launched in the UK in 1993, and was created to financially help and support all separated families - where one parent lives with the child/children and the other parent lives elsewhere. The non resident parent is expected to contribute to the welfare of their child, and it is the CSA's job to enforce these maintenance payments if the absent parent refuses to pay this regular contribution.
Are You Liable To Pay?
The father of the child – regardless whether or not the parents were married – is responsible for financially supporting the child. Many unmarried fathers sign a declaration, acknowledging paternity, when the child is born and others are genetically tested in order to prove paternity. Parents of stepchildren however, are not obligated to pay maintenance support unless the child is legally adopted.
In cases where communication has broken down between the parents a father is still expected to contribute financially even though he may have limited visitation rights. However, if the parent with care disappears and makes visitation impossible for the non resident parent, child support payments can be suspended.
Shared care reduces the cost of maintenance a non resident parent is expected to contribute. By sharing parental duties and spending an equal amount of time with the child, including overnight stays, a non resident parent acknowledges responsibility and reduces maintenance costs accordingly. This is calculated as a reduction of one-seventh for each day.
Do Men And Women Have The Same Rights?
Child Support does not discriminate between genders and the Child Support Agency is only concerned with ensuring parents acknowledge responsibility and financially support their child or children. If the father has custody of the child he is therefore the parent with care. This gives him the right to claim maintenance support from the child's mother.
Maintenance payments are expected to be paid until the child reaches the age of majority, which can range from 16 to 19, depending on the child's schooling and educational needs. The parent's responsibility to financially support though, is terminated if a child is legally adopted at any age. If the non resident parent is paying backdated maintenance this is expected to be continue until the debt is covered.
Failure To Pay
The CSA works alongside the Child Maintenance Enforcement Commission (CMEC) and has the power to enforce maintenance payments directly through the parent's employer, by freezing assets and forcing the sale of property. The non resident parent can also be imprisoned for failure to pay maintenance.
You might also like...
Is it fair that PWC abuse the system, By not declaring CB ends, What about the CSA and its incompetent and incapable staff, that Lie and commit wrong doings on cases, What about the staff whom send Data and letters to the wrong address, what about the staff whom make up fabricated letters, What about staff complaints review and ICE as well ad PHSO all being in bed together, So no fair opportunity of due process, The list is endless as to what these people get up to, They flout Tax payers money, There is a media blackout out, Why would that be, Simples, They don't want you to know how bad they really are, and the draconian methods they use by breaching policy and procedure on a daily basis,
argggggggggggggg
- 19-Dec-14 @ 8:49 PM
@pat.If the father has parental responsibility of the child he is therefore the parent with care. This gives him the right to claim maintenance support from the child's mother. However, this depends on both your own financial circumstances and if the father actually wishes to make an application - he may just be happy to leave the way they are. I hope this helps.
ChildSupportLaws
- 24-Oct-14 @ 1:01 PM
Does mother a mother have pay mantance for a child she left now living with new partner 2 children
pat
- 24-Oct-14 @ 11:57 AM
my ex husband is moving and working in Dubai, can the CSA still get child maintenance from him?
My ex husband is moving and working in Dubai, can the CSA still take maintenance from him?
xxxxx
- 10-Oct-14 @ 2:06 PM
I hav bn separated for four years now. I moved 15 miles away coz he never leaves me alone and he was violent towards me I take my kids to and fro there dads and he never pays anything towards costs, I've asked him before but he thinks am out ov order for asking he never comes to collect them or doesn't even pay bus fare for them Am I wrong for asking him to contribute or wat? Be never helps to pay towards anything the kids need Two ov my kids live with him and his gf and her 2 kids but I still hav to pay for everything for my to ie hair cuts clothes etc coz they spend on there selves and her two I only work part time Do I see someone about this?
Mags
- 18-Aug-14 @ 1:16 PM
My x husband and I were divorced in the early 1990's, I was contacted by the CSA in the late 1990's to find out if I knew the whereabouts of my x husband, unfortunately I only knew the town that he'd moved to and also that he'd remarried. I have never heard anything from the CSA since thento confirm if they'd found him or not. I raised my two children alone and am now wondering if my x husband would have to pay the child maintenance he never paid, my son is now 26 years old and still lives at home with me.
lollea
- 6-Aug-14 @ 7:09 AM
I have 6years old son from last 18 months and my wife is staying with her mother. Now she put case (125 crpc) against me. She is teellin that she will take son from me now and also maintenance and may be divorce. So can I take child custody or not.
Sanjeev
- 27-Jun-14 @ 3:34 AM
I have a son that I pay Maintenance for, he is 16 and starting 6 form in Sep, then no doubt on to college and university.At what point do I stop paying as surely he will be classed as an adult when he is 18!!!?
Matt
- 6-Mar-14 @ 11:27 AM
I hav a granddaughter 20 who has a son 5 months the father has not paid child support from the childs birth my grand daughter how ever has not appiled for support. The grand parents hav provied for the child as the baby grows so does the financial needs . We hav tried to get our grand daughter to seek support she refuses . She lives with me could i seek support for the child as he lives me and his mom does not work . What if any opitions do i have ?
scottie
- 21-Nov-13 @ 4:06 AM
Hi, I am looking for some clarification regarding my current situation. I have been separated from my husband for past 4 years, but with the difference that he still lives under the same roof. I have started divorce proceedings nearly 2 years ago now, as I find this situation unbearable. My husband has been seen this new woman for past 2 years, but its reluctant to leave the house as he actually owns the house( I have claimed my legal rights as I have been married for 20 years). My husband never goes round to put our home on joined names and now keeps threatening me to leave the house if I can't take the pressure. Now in the past as we only used to have 1 bank account, I always had my child benefit going on our joined account and only until he decided to hide all letters from me and get me in debt only then. I decided to remove him from joined account and transfer over all bills and child benefit to my names. Now the problem has risen as my husband has contested the fact that I was getting child benefit because it was previously on his name. They have looked into the decision and the child benefit decided to award my husband child benefit for one of the children, as we still living under the same roof. I have tried to provide with all possible evidence to explain that my husband doesn't live with us on a regular basis and only comes to the house whenever he pleases. He treats me and the children with no respect. I find myself with my hands tide in. Now my husband pays child maintenance form 2 children, but now he is saying since he has been awarded child benefit, he know doesn't have to pay me any CSA money, and that he will speak to CSA about the fact he has been awarded child benefit. I feel really confused as I have proved time and time that I am the main carer for my sons and also despite my husband appealed against the decision of child support for children, he has now been awarded child benefit for one of my children. As apparently the Law states that he qualifies as he also lives in the house. Does this means that I will not longer be able to claim child support? He knows he never cares for any of the children, but he is very hateful person and wants to make my life a living hell as I decided to break off the marriage after tolerating a life of misery and mental abuse. I know very little about law and entitlement, but I am worrying sick as I can't afford it. I was told by an adviser that the fact that my husband has been awarded child benefit for one my son's, it doesn't mean he will need to stop paying me CSA. Is this correct? My husband tells me that he will not have to pay anything for one of my sons. Please advice.
liza
- 7-Oct-13 @ 10:36 PM
Hi, I'm just looking for a bit of advice I suppose, my ex was paying csa however he said if I didn't half what he pays then he would quit his job, I did refuse on the grounds I don't believe he would pay a penny for her! So he quit his job and his fiancee has taken over his position! I have spoken to csa and they've said there's absoluteLy nothing I can do! Help please. X
beetle
- 24-Sep-13 @ 4:27 PM
I have a question I have 2 children and I have one child living with me and my ex has the other child living with him can I still recieve child support for the one I havee
Villa
- 19-Sep-13 @ 10:45 PM
Hello,I am currently in the UK and my son's father is in the USA (am a foreigner with legal UK work permit).My son's dad is doing OK in the USA, but he sends money (almost nothing) when he feels like (which is very inconsistent). I want a court order that would cause him to pay consistently for our son.I would like to know what I could do, or who I need to contact if it is possible to claim something from him given we are miles apart and bearing in mind that the laws might be different.
mom needs to know
- 16-Sep-13 @ 3:01 PM
Does an absent father paying maintenance to the mother through the C.S.A. have to pay in full if the child who is 17 goes to college 3 days a week and has a part time job earning £40 a week.
kassie
- 30-Jun-13 @ 4:50 PM
My husband earns 2x my annual salary. We are planning to have shared parenting of our 2 children. However he has said that this means he on't have to pay maintainance. Is this correct? I am trying to do what is best for our children in terms of maintaining contact with both of us,but don't see how this can be fair financially.
hel1
- 10-Nov-12 @ 11:46 PM
Hello. I have 2 teenage daughters who have lived with me until about 18 months ago. I divorced my husband 7 years ago and allowed him to contribute voluntarily to the girls (he refused to give me any money and would just put money in their bank accounts infrequently and buy them things occasionally). He moved quite far away and I thought as long as he still saw them regularly that was most important and he would need money to travel down. Now that the positions have changed I have been doing the same thing but a lot more regularly and my daughters are old enough to let me know what they need. I then received a call out of the blue from CSA saying he has made a claim and will get at least £56 a week from me. I will no longer be able to afford to travel up to see them or spend my money on them as he had been making it more and more difficult to see them. He won't drive them even halfway to me and I have to use public transport to see them. Both he and his fiancé work and earn reasonable wages and I have no problem contributing to my daughters living but surely it is in their best interest to see their mother and not just have money. I don't know what to do. Please help?
Distressed
- 31-Oct-12 @ 11:23 AM
hi there im currently going through a divorce with my husband who has a violent background. the children were residing with me in the matrimonial home. last month my ex used emotional blackmail with the children and made them take a harrassment order on me after i came out of hospital. ive got a life threatening disease, i work part-time because of this. im solely paying the mortgage and bills and i am currently in big debt because of this. my ex is in arrears with child maintenance according to what csa are saying. ive now learnt that my ex husband has applied for child maintenance from me. how am i gonna cope im gonna loose the house as my ex is refusing to put this property on the market. help
friskie
- 28-Sep-12 @ 3:13 PM
Hi there. i have been married to my husband for 6 years and he has always paid maintenance for his 2 children. He adopted my children 2 years ago as their father sadly passed on and we are niw expecting a baby. i obviously do not receive any money for my children and as a result we are struggling financially. is there a possibility his payments could be lowrred to support all 6 children?
jan
- 23-Aug-12 @ 12:29 PM
Hi' i have 3 yr old daughter so her dad never supported her at all so i want to claim for maintenance but i dont have all documents beside his cell phone numbers.
Tebatjo
- 18-Aug-12 @ 2:43 PM
i have recently married my partner who has 2 children i have been with him for nearly 3 years. now that we are married his ex wife wants maintenance. she hasn't asked for it before. we have the children on a regular basis and get them clothes and shoes and any thing else they need or wanti'm just wondering if she goes to the csa will they take my earnings into account if so why
cat
- 30-Jul-12 @ 5:02 PM
Hi My daughter is 17 and in full time education (college), i currently receive maintanence from my ex husband. My daugher is going to continue in college next year, in which she will be 18 years old, I just want to check if my ex is still liable to pay maintanence? Many thanks
Parry
- 22-Jun-12 @ 7:57 PM
Hi my ex husband has been paying 200 a month for our two children who have lived with me since birth they are now 10 and 11.. my son who is 11 has now moved in with his dad, and because of this my ex says that he should no longer pay maintenance for my daughter as he now has to look after our son, can you please verify for me if he should be paying maintenace for my daughter or not, thanks
Hi I wonder if anyone can give me some advice, My ex has dissapeared to Dubai as to get out of paying child support. He has a UK pension which the CSA cannot touch as he is not a resident in UK. Am I able to get a court order in UK so child support can be collected from him in the future if he returns????
slammer
- 7-Jun-12 @ 9:49 PM
my partner has a 17 year old girl from a previous relationship, shes in 6th form school at the minute but she wants to go to college and then on to university. Does my partner have to still pay child maintenance until she leaves university?Any help you could give me would be greatly appreciated.
songe
- 20-May-12 @ 2:17 PM
Having never received a penny from my father after he left my mother when I was months old, is there anyway I can claim any payments back now as he wants to be part of my life? I don't think it is fair as he was never there and my mother struggled bringing me up till she remarried. I met him for the first time when I was 16, now 30. I have a son which I paid csa for. I feel like he didn't bother with me until he was sure he wouldn't have to pay to see me!
DRH
- 15-May-12 @ 5:53 PM
My ex and I have two children, he re-married and is now divorcing wife number 2 and has 2 children with her. He says that my child support has to be lowered since he now has to pay for the other 2 is this true?
dort
- 1-May-12 @ 10:41 PM
@Cara2- congratulations on your persistence and for getting the results you wanted!
ChildSupportLaws
- 20-Apr-12 @ 10:10 AM
After 12 years of receiving no maintenance payments from my ex husband for our two children, I am pleased to say that court action has been taken. This has been a long and lengthy battle involving up to four letters a year to my local MP and one a year to Downing Street.I have written every year to the various government agencies who I feel have contributed to delays and made it very clear to all of them that I wasnt going to disappear!Inland Revenue have also received details yearly on his whereabouts and local authority have been notified every time he has moved address ( council tax evasion is taken very seriously).I work full time and studied law for three years in the evenings.My determination has never faltered and it never will, mothers and fathers that abandon their children regularly, financially and emotionally deserve nothing less than harrassment, if that can be achieved by a continuous stream of letters and investigations landing on their doorstep then so be it.I firmly believe that keeping their name flowing within the government agencies will eventually lead to a result.The CSA are difficult to deal with so you must ensure that complaints are made through you MP at least twice a year on your behalf and finally enforce their own policy on them. Where wilful refusal and culpable neglect can be proven a commital hearing will be made.Most parents would be unable to continue working illegally or legally without a driving licence and their new life dented by a conviction or suspended sentence.Any parent who goes out of their way to evade their child support payments can be taken to court but a benefit claimant as usual is less likely to.If they are working cash in hand, tell the inland revenue where, regularly.Finally do not give up, just make sure a government agency letter drops through the absent parents door as a constant reminder of their past every week if you have to.
Cara2
- 19-Apr-12 @ 11:04 PM
i have never ever taken my ex partner to the csa for payments as i have always supported her myself but times are very hard and i cannot survive on my wages alone. would he be made to pay for the whole 16 years once my application was submitted or would i have to take him to court for back payment.
sillybilly
- 14-Apr-12 @ 12:28 AM