Who Has to Pay Child Support?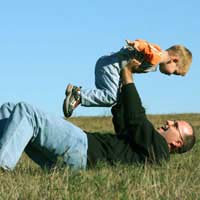 All parents have the responsibility to financially support their children, and to provide a safe environment for them to grow up in. Due to separation or divorce however, circumstances sometimes unexpectedly change, and the child, or children, may have to divide their time between their parents.
Child support payments provide a form of security for the child and parent with care, but require a commitment from the parent who leaves the family home.
Why Child Support Exists
The Child Support Agency (CSA) was launched in the UK in 1993, and was created to financially help and support all separated families - where one parent lives with the child/children and the other parent lives elsewhere. The non resident parent is expected to contribute to the welfare of their child, and it is the CSA's job to enforce these maintenance payments if the absent parent refuses to pay this regular contribution.
Are You Liable To Pay?
The father of the child – regardless whether or not the parents were married – is responsible for financially supporting the child. Many unmarried fathers sign a declaration, acknowledging paternity, when the child is born and others are genetically tested in order to prove paternity. Parents of stepchildren however, are not obligated to pay maintenance support unless the child is legally adopted.
In cases where communication has broken down between the parents a father is still expected to contribute financially even though he may have limited visitation rights. However, if the parent with care disappears and makes visitation impossible for the non resident parent, child support payments can be suspended.
Shared care reduces the cost of maintenance a non resident parent is expected to contribute. By sharing parental duties and spending an equal amount of time with the child, including overnight stays, a non resident parent acknowledges responsibility and reduces maintenance costs accordingly. This is calculated as a reduction of one-seventh for each day.
Do Men And Women Have The Same Rights?
Child Support does not discriminate between genders and the Child Support Agency is only concerned with ensuring parents acknowledge responsibility and financially support their child or children. If the father has custody of the child he is therefore the parent with care. This gives him the right to claim maintenance support from the child's mother.
Maintenance payments are expected to be paid until the child reaches the age of majority, which can range from 16 to 19, depending on the child's schooling and educational needs. The parent's responsibility to financially support though, is terminated if a child is legally adopted at any age. If the non resident parent is paying backdated maintenance this is expected to be continue until the debt is covered.
Failure To Pay
The CSA works alongside the Child Maintenance Enforcement Commission (CMEC) and has the power to enforce maintenance payments directly through the parent's employer, by freezing assets and forcing the sale of property. The non resident parent can also be imprisoned for failure to pay maintenance.
You might also like...
@natty -it is a difficult situtaion that many parents have when trying to claim maintenance, and more so if their ex is self-employed, as hiding money then becomes very easy when they have a good accountant. However, it's rare (and possibly not legal) that an employer would pay wages into a parental bank account, are you sure this is taking place? Can you not speak with your ex directly, he must know that the money is building up in arrears, therefore he might have to pay it back at some point. Hopefully, he can't live in this situation permanently and will at some point have to declare that he is earning.
ChildSupportLaws
- 13-May-15 @ 10:54 AM
hi all.. I split up from my daughters father 3 years ago, I took him to csa, which said he had to pay 54.00 pound a week payable to me every 2 weeks... to this day the csa can not get a penny from him they say now they can not prove he works and his wages yet could calculate he should pay 54.00s??? my ex has his wages paidinto his parent bank accounts, he lives at home with is parents,so cant take from his address, has no car but rents them when needs them,he works in the building industry through an agency, using a cscs card so cant even trace him through work, to date he owes 3 and a half thousand pounds, he sees my daughter 2 nights a week so he feels he doesn't have to pay towards her care as he buys her dolls etc which are not aloud to come back to our home and have to stay at her dads address!! and leaves me to struggle with everyday costs!! the csa have said there is nothing more they can do but monitor him and if he applies for a credit card or something then they can step in!! its crazy...I need to find another way.. was thinking of taking out a maintenance order myself against him in court, but fear as he hides his income I will just be wasting my time and money again!!!?? anyone else got any thoughts or have taken a maintenance order out if so how did it go???
natty
- 11-May-15 @ 12:21 PM
@Janet - if you really want to find out, you can employ a private investigator. It might be worth the initial cost!
Lou
- 30-Apr-15 @ 12:04 PM
@Rebmulp - unless there is a big discrepancy between your earnings then each child should cancel each other out and you shouldn't have to pay.
Alex
- 29-Apr-15 @ 12:15 PM
My sons dad is working but I don't no for what company! I have phoned csa and they won't check with tax as they church August 2014, how could I find out where he works as we don't speak?
Janet
- 27-Apr-15 @ 4:02 PM
Myself and my wife separated over a year ago, my eldest son (13) chose to live with me and my youngest (7) lives with my ex, how will maintence be calculated?
Rebmulp
- 26-Apr-15 @ 8:47 PM
@Howie - I'm sorry to ehar this, but I'm afraid you are still responsible for maintenance, unless your wife agrees otherwise. They are still your children and you are still responsible for their welfare, regardless of another man being on the scene. As specified in the article, all parents have the responsibility to financially support their children.
ChildSupportLaws
- 24-Apr-15 @ 2:51 PM
My wife and I split as she is moving in with a neighbour. I currently work in Azerbaijan for 29 days a months then return to UK for 27 days I cannot bear the thought of my now ex wife and my 2 children being raised in the step environment across from the marital home after13 yrs therefore I feel I have move abroad to the place I work to avoid discomfort I get at the thought. Am I still liable to pay child support when I don't seems kids and they have moved in elsewhere next door
Howie
- 23-Apr-15 @ 10:34 AM
@luis1910 - it is a tricky one and perhaps something that you can sit down with your ex and agree on. However,it may be that you have to pay for your daughter. I suggest you give Child Maintenance Options a call via the link
here
in order to get some direct advice. I hope this helps.
ChildSupportLaws
- 18-Mar-15 @ 11:28 AM
hi, I got 2 kids they both living with my ex but one is coming to live with me,now he is 8 and my daughter 11, so my son is the one that come to live with me, she don't work and her new partner only works part-time, I'm paying child support for both but now one coming to live with me so how does it work I have to pay her and she have to pay me ? or we just don't to no one ? or because she don't work I still have to pay for my daughter ?
luis1910
- 15-Mar-15 @ 4:59 PM
@mg20001 - if she is earning a wage by independent means and is not in full-time education then you shouldn't have to pay. You need to give the CSA a call, they may have just made a mistake.
Gary
- 12-Mar-15 @ 3:08 PM
I am really confused about CSA Payment. My child is now 19 and left school when she was 17. She is now answering phones in a garage on a So called apprentiship scheme. I have just recieved a letter from the CSA Scheduling payments for the next Year.. Surely these payments should have stopped when she left school at 17.
mg20001
- 11-Mar-15 @ 10:11 AM
@Emsie1983 - no, you wouldn't be expected to pay personally. But, his income and expenditure will be taken into account regarding what he pays out while living with you.
Georgie
- 25-Feb-15 @ 2:26 PM
My partner has two children with his ex, and my partner and I also have a child. His two other children caused a great deal of problems going back to their mother and complaining about me that I treat them differently to my son. This has now caused a lot of problems between myself and his ex and we are in the process of starting mediation. We have always had an agreement that we would buy the kids whatever they needed whenever they needed things and now she is demanding more money from us. I have a part time job and my partner has a full time job. My concern is am I liable to pay for two children that aren't even mine or is that down to my partner? He moved in to my home last year, the tenancy is in my name I would not add him on, as we have had problems in the past, and I have no legal responsibility for these two children. Can I be forced to put my income that I work for towards his children?
Emsie1983
- 23-Feb-15 @ 6:53 PM
@stressy - sounds like this may be something that might be better decided by the courts, especially if the terms of you having are very much decided by his ex. In this way you can get a fixed contact order. I can't anticipate what may happen with regards child maintenance, that one will have to be thrashed out between your partner and the CSA. But it is important that the case is stated that she has prevented the access and has nothing to do with your partner. I hope this helps.
ChildSupportLaws
- 20-Feb-15 @ 9:50 AM
My partner has been seperated from his wife for over 8 years and they have two daughters, one who is a adult and the youngest approaching 12.He has always paid csa on time and never questioned the amount.My partner is supposed to have his youngest every other weekend but this is only if the mother feels it's ok and does not interfere with her plans so sometimes due to this it can become months before we see her.We have had a call from CSA stating the mother has put a claim in for amended nights my partner has his daughter going back 2 1/2 years.We are happy to have her every other weekend so wondering if the mother can just decide she wants the extra money rather than the daughter spend time with her father.What evedence would the mother have showing no contact as we have no evedence we have had her so in a no win situation.
stressy
- 18-Feb-15 @ 12:40 PM
@Nice - unless awarded via a court order, your husband does not have to pay for your daughter as she is now at university and he can legally stop support should he wish. You would have to apply to the courts for maintenance in order to cover the duration of higher education. The courts will consider the genuine needs of your daughter for support and even if student loans are available the court may still rule that the non resident parent must pay. If you are successful then the courts may award fixed maintenance payments for the duration of her course. I hope this helps.
ChildSupportLaws
- 16-Feb-15 @ 10:27 AM
Hi. Me and my ex- husband have a 19 year old daughter. We are separated for almost 4 years. Before he used to give £300 alowance for our daughter but often irregular due to some reasons he said. And for some time he only sent 150 because he said he had lots of debts. I understand it and told him next time you need to send it on time and regularly which is healso agreed. Now, he failed again to send a support to our daughter for the last month. My question is, can I arranged it from CSA to compute and deduct it through his employer automatically the support allowance from him because he is not complying on our arrangement on time and on fix amount. He had a live in partner with step daughter, all i want is to let him be responsible to our daughter and have the support because she lives with me and need assistance for her university. He cant comply regularly so I think it is better to do it legally or through his employer. Many thanks.
Nice
- 13-Feb-15 @ 5:11 AM
@yummy mummy - if he is earning then he would be expected to pay. But his wife would not be expected to pay for your children on his behalf.
Wat happens if your ex doesnt work but his wife does, he stays at home to watch child. Is he expected to still pay child maintance to his 2 daughters in my care????
yummy mummy
- 7-Feb-15 @ 4:36 AM
@bern - you should not be paying for your ex's child with another woman. If the child is yours then please see the link
here
which tells you when you can stop. I hope this helps.
ChildSupportLaws
- 4-Feb-15 @ 2:11 PM
My husband is out of work and does not get benefits as i work do i have to continue his maintanence payments to his ex wife for their 18 year old daughter
bern
- 3-Feb-15 @ 4:58 AM
Is it fair that PWC abuse the system, By not declaring CB ends, What about the CSA and its incompetent and incapable staff, that Lie and commit wrong doings on cases, What about the staff whom send Data and letters to the wrong address, what about the staff whom make up fabricated letters, What about staff complaints review and ICE as well ad PHSO all being in bed together, So no fair opportunity of due process, The list is endless as to what these people get up to, They flout Tax payers money, There is a media blackout out, Why would that be, Simples, They don't want you to know how bad they really are, and the draconian methods they use by breaching policy and procedure on a daily basis,
argggggggggggggg
- 19-Dec-14 @ 8:49 PM
@pat.If the father has parental responsibility of the child he is therefore the parent with care. This gives him the right to claim maintenance support from the child's mother. However, this depends on both your own financial circumstances and if the father actually wishes to make an application - he may just be happy to leave the way they are. I hope this helps.
ChildSupportLaws
- 24-Oct-14 @ 1:01 PM
Does mother a mother have pay mantance for a child she left now living with new partner 2 children
pat
- 24-Oct-14 @ 11:57 AM
my ex husband is moving and working in Dubai, can the CSA still get child maintenance from him?
My ex husband is moving and working in Dubai, can the CSA still take maintenance from him?
xxxxx
- 10-Oct-14 @ 2:06 PM
I hav bn separated for four years now. I moved 15 miles away coz he never leaves me alone and he was violent towards me I take my kids to and fro there dads and he never pays anything towards costs, I've asked him before but he thinks am out ov order for asking he never comes to collect them or doesn't even pay bus fare for them Am I wrong for asking him to contribute or wat? Be never helps to pay towards anything the kids need Two ov my kids live with him and his gf and her 2 kids but I still hav to pay for everything for my to ie hair cuts clothes etc coz they spend on there selves and her two I only work part time Do I see someone about this?
Mags
- 18-Aug-14 @ 1:16 PM
My x husband and I were divorced in the early 1990's, I was contacted by the CSA in the late 1990's to find out if I knew the whereabouts of my x husband, unfortunately I only knew the town that he'd moved to and also that he'd remarried. I have never heard anything from the CSA since thento confirm if they'd found him or not. I raised my two children alone and am now wondering if my x husband would have to pay the child maintenance he never paid, my son is now 26 years old and still lives at home with me.
lollea
- 6-Aug-14 @ 7:09 AM
I have a son that I pay Maintenance for, he is 16 and starting 6 form in Sep, then no doubt on to college and university.At what point do I stop paying as surely he will be classed as an adult when he is 18!!!?
Matt
- 6-Mar-14 @ 11:27 AM