Who Has to Pay Child Support?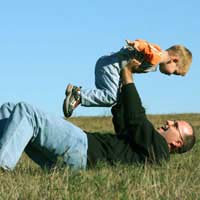 All parents have the responsibility to financially support their children, and to provide a safe environment for them to grow up in. Due to separation or divorce however, circumstances sometimes unexpectedly change, and the child, or children, may have to divide their time between their parents.
Child support payments provide a form of security for the child and parent with care, but require a commitment from the parent who leaves the family home.
Why Child Support Exists
The Child Support Agency (CSA) was launched in the UK in 1993, and was created to financially help and support all separated families - where one parent lives with the child/children and the other parent lives elsewhere. The non resident parent is expected to contribute to the welfare of their child, and it is the CSA's job to enforce these maintenance payments if the absent parent refuses to pay this regular contribution.
Are You Liable To Pay?
The father of the child – regardless whether or not the parents were married – is responsible for financially supporting the child. Many unmarried fathers sign a declaration, acknowledging paternity, when the child is born and others are genetically tested in order to prove paternity. Parents of stepchildren however, are not obligated to pay maintenance support unless the child is legally adopted.
In cases where communication has broken down between the parents a father is still expected to contribute financially even though he may have limited visitation rights. However, if the parent with care disappears and makes visitation impossible for the non resident parent, child support payments can be suspended.
Shared care reduces the cost of maintenance a non resident parent is expected to contribute. By sharing parental duties and spending an equal amount of time with the child, including overnight stays, a non resident parent acknowledges responsibility and reduces maintenance costs accordingly. This is calculated as a reduction of one-seventh for each day.
Do Men And Women Have The Same Rights?
Child Support does not discriminate between genders and the Child Support Agency is only concerned with ensuring parents acknowledge responsibility and financially support their child or children. If the father has custody of the child he is therefore the parent with care. This gives him the right to claim maintenance support from the child's mother.
Maintenance payments are expected to be paid until the child reaches the age of majority, which can range from 16 to 19, depending on the child's schooling and educational needs. The parent's responsibility to financially support though, is terminated if a child is legally adopted at any age. If the non resident parent is paying backdated maintenance this is expected to be continue until the debt is covered.
Failure To Pay
The CSA works alongside the Child Maintenance Enforcement Commission (CMEC) and has the power to enforce maintenance payments directly through the parent's employer, by freezing assets and forcing the sale of property. The non resident parent can also be imprisoned for failure to pay maintenance.
You might also like...
My husband earns 2x my annual salary. We are planning to have shared parenting of our 2 children. However he has said that this means he on't have to pay maintainance. Is this correct? I am trying to do what is best for our children in terms of maintaining contact with both of us,but don't see how this can be fair financially.
hel1
- 10-Nov-12 @ 11:46 PM
Hello. I have 2 teenage daughters who have lived with me until about 18 months ago. I divorced my husband 7 years ago and allowed him to contribute voluntarily to the girls (he refused to give me any money and would just put money in their bank accounts infrequently and buy them things occasionally). He moved quite far away and I thought as long as he still saw them regularly that was most important and he would need money to travel down. Now that the positions have changed I have been doing the same thing but a lot more regularly and my daughters are old enough to let me know what they need. I then received a call out of the blue from CSA saying he has made a claim and will get at least £56 a week from me. I will no longer be able to afford to travel up to see them or spend my money on them as he had been making it more and more difficult to see them. He won't drive them even halfway to me and I have to use public transport to see them. Both he and his fiancé work and earn reasonable wages and I have no problem contributing to my daughters living but surely it is in their best interest to see their mother and not just have money. I don't know what to do. Please help?
Distressed
- 31-Oct-12 @ 11:23 AM
hi there im currently going through a divorce with my husband who has a violent background. the children were residing with me in the matrimonial home. last month my ex used emotional blackmail with the children and made them take a harrassment order on me after i came out of hospital. ive got a life threatening disease, i work part-time because of this. im solely paying the mortgage and bills and i am currently in big debt because of this. my ex is in arrears with child maintenance according to what csa are saying. ive now learnt that my ex husband has applied for child maintenance from me. how am i gonna cope im gonna loose the house as my ex is refusing to put this property on the market. help
friskie
- 28-Sep-12 @ 3:13 PM
Hi there. i have been married to my husband for 6 years and he has always paid maintenance for his 2 children. He adopted my children 2 years ago as their father sadly passed on and we are niw expecting a baby. i obviously do not receive any money for my children and as a result we are struggling financially. is there a possibility his payments could be lowrred to support all 6 children?
jan
- 23-Aug-12 @ 12:29 PM
Hi' i have 3 yr old daughter so her dad never supported her at all so i want to claim for maintenance but i dont have all documents beside his cell phone numbers.
Tebatjo
- 18-Aug-12 @ 2:43 PM
i have recently married my partner who has 2 children i have been with him for nearly 3 years. now that we are married his ex wife wants maintenance. she hasn't asked for it before. we have the children on a regular basis and get them clothes and shoes and any thing else they need or wanti'm just wondering if she goes to the csa will they take my earnings into account if so why
cat
- 30-Jul-12 @ 5:02 PM
Hi My daughter is 17 and in full time education (college), i currently receive maintanence from my ex husband. My daugher is going to continue in college next year, in which she will be 18 years old, I just want to check if my ex is still liable to pay maintanence? Many thanks
Parry
- 22-Jun-12 @ 7:57 PM
Hi my ex husband has been paying 200 a month for our two children who have lived with me since birth they are now 10 and 11.. my son who is 11 has now moved in with his dad, and because of this my ex says that he should no longer pay maintenance for my daughter as he now has to look after our son, can you please verify for me if he should be paying maintenace for my daughter or not, thanks
Hi I wonder if anyone can give me some advice, My ex has dissapeared to Dubai as to get out of paying child support. He has a UK pension which the CSA cannot touch as he is not a resident in UK. Am I able to get a court order in UK so child support can be collected from him in the future if he returns????
slammer
- 7-Jun-12 @ 9:49 PM
my partner has a 17 year old girl from a previous relationship, shes in 6th form school at the minute but she wants to go to college and then on to university. Does my partner have to still pay child maintenance until she leaves university?Any help you could give me would be greatly appreciated.
songe
- 20-May-12 @ 2:17 PM
Having never received a penny from my father after he left my mother when I was months old, is there anyway I can claim any payments back now as he wants to be part of my life? I don't think it is fair as he was never there and my mother struggled bringing me up till she remarried. I met him for the first time when I was 16, now 30. I have a son which I paid csa for. I feel like he didn't bother with me until he was sure he wouldn't have to pay to see me!
DRH
- 15-May-12 @ 5:53 PM
My ex and I have two children, he re-married and is now divorcing wife number 2 and has 2 children with her. He says that my child support has to be lowered since he now has to pay for the other 2 is this true?
dort
- 1-May-12 @ 10:41 PM
@Cara2- congratulations on your persistence and for getting the results you wanted!
ChildSupportLaws
- 20-Apr-12 @ 10:10 AM
After 12 years of receiving no maintenance payments from my ex husband for our two children, I am pleased to say that court action has been taken. This has been a long and lengthy battle involving up to four letters a year to my local MP and one a year to Downing Street.I have written every year to the various government agencies who I feel have contributed to delays and made it very clear to all of them that I wasnt going to disappear!Inland Revenue have also received details yearly on his whereabouts and local authority have been notified every time he has moved address ( council tax evasion is taken very seriously).I work full time and studied law for three years in the evenings.My determination has never faltered and it never will, mothers and fathers that abandon their children regularly, financially and emotionally deserve nothing less than harrassment, if that can be achieved by a continuous stream of letters and investigations landing on their doorstep then so be it.I firmly believe that keeping their name flowing within the government agencies will eventually lead to a result.The CSA are difficult to deal with so you must ensure that complaints are made through you MP at least twice a year on your behalf and finally enforce their own policy on them. Where wilful refusal and culpable neglect can be proven a commital hearing will be made.Most parents would be unable to continue working illegally or legally without a driving licence and their new life dented by a conviction or suspended sentence.Any parent who goes out of their way to evade their child support payments can be taken to court but a benefit claimant as usual is less likely to.If they are working cash in hand, tell the inland revenue where, regularly.Finally do not give up, just make sure a government agency letter drops through the absent parents door as a constant reminder of their past every week if you have to.
Cara2
- 19-Apr-12 @ 11:04 PM
i have never ever taken my ex partner to the csa for payments as i have always supported her myself but times are very hard and i cannot survive on my wages alone. would he be made to pay for the whole 16 years once my application was submitted or would i have to take him to court for back payment.
sillybilly
- 14-Apr-12 @ 12:28 AM
hi,what im concerned about is my partner who does pay csa to his ex every month is moving in with me in the next few weeks,now does it effect me in any way or him??as we will be having his son the odd weekend then hopefully a couple of weekends a month,can the csa touch my wages at all or its it down to my partner and his child?
lainey
- 12-Mar-12 @ 8:30 AM
I was told that my ex was out of the juristiction of the CSA however i have fought now for 11 years and no joy.My ex however claims his tax back through the uk and has an address in the uk - he works on a cruise ship but was told he doesnt earn enough to pay.Its disgusting.There were so many time i was told i would get money and didnt.He now contacts my daughter through facebook since september which I find really hard but I cant stop her wanting to know who he is - not once has he offered anything or asked about sending something.Would love to know how on earth I can get something as there must be another way
nirishlass
- 11-Mar-12 @ 10:13 PM
if the fathers name is not on the birth cert can i still apply for maintenance
audrey
- 9-Mar-12 @ 9:46 PM
i have a 4 month old baby with my ex, he is 20 years old, in college 4 days a week and claims he has no income what so ever. He wont get a job. He hasnt paid any child maintenance since my daughter was born. What should i do? i'd be greatful for any advice
rjr
- 22-Jan-12 @ 3:00 PM
Can a 15 year old lad be held responsible for maintenance payments?
Sylv
- 25-Nov-11 @ 2:47 PM
I divorced my ex in 2005 on the grounds of his infidelity and continued to work and raise my daughter happily, I took minimum voluntary maintenance payments from him (far below what I would have got through the CSA). He is in the RAF and last year got a posting to Cyprus, he discussed with my daughter the possibility of spending a couple of years out there with him to finish her schooling (she is now 15), he approached the subject with me some time after building her hopes up which made it very difficult for me to say no. I reluctantly agreed that she could go on the understanding that she come home as often as possible and made it clear to him that as he was taking her voluntarily and I would consequently lose artound £600 per month in income I would not be able to contribute anything financially, he agreed to this. She went to Cyprus last August, I have seen her three times, one of those times was because I went out there (at great cost to myself) to spend a week with her. I save money so that when she comes home I can 'spoil' her, I buy her clothes, top up her mobile phone regularly and send parcels. I came home from work tonight to a phone call from the CSA saying he has now made a claim against me, after 14 months, no prior warning, no discussion. I have been asked to pay £42 per week. He earns three times as much as me and has a wife who works. The CSA say that shared contact means I have to have her with me for 52 nights of the year, how on earth can this happen when she is so far away. I WILL lose my home and my daughter will have no where decent to come home to if this happens. Please, please can someone advise.
Sparky
- 19-Oct-11 @ 9:52 PM
Stated above: However, if the parent with care disappears and makes visitation impossible for the non resident parent, child support payments can be suspended. My ex (not married) took away my daughter when she was 6 months, refused contact and for a long time I did not know where they were. I have since obtained address and sent letter requesting access. I have recieved a reply saying I cannot have access. How do I enforce above suspension of CSA payments and go about getting access or cutting my payments. I want access to my daughter but that is being denied to me. She even states in the letter that her new husband is her dad!!! I agree totally with payments but where is the justice in having to pay out for a child whom I am denied the chance to get to know. Because the mum wants no contact. This seems all so unfair and biased.
JOHNY
- 17-Jun-11 @ 9:11 PM
All I want is the best for my son, having just sent a parental responsibilities request throough my solicitor to the mother I've had it thrown back in my face. I don't want my son dragged into things, however the mother has done this by shouting down the phone to my mother. I will not stop fighting for my son and would be grateful for any help concerning parental responsibilities-thank you
dad who cares
- 6-Apr-11 @ 11:55 AM