How Much Will I Have To Pay?
Author: Lorna Elliott LLB (hons), Barrister - Updated: 13 April 2015
|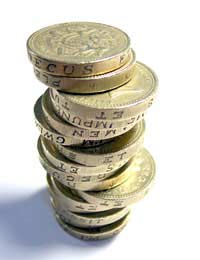 What is child maintenance? Child maintenance is financial support that helps towards your child's everyday living expenses and is paid on a regular basis. The parent to pay the child maintenance is the non-resident parent i.e. the one who does not live with the child or have day-to-day care for the child, to the parent that the child lives with (the resident parent). In some cases, this may not be a parent, such as a grandparent or guardian with full care.
Why pay maintenance?
Paying maintenance for your child is extremely important. The person with full care of your child will no doubt be doing their best, however, the extra money that you pay can help to give your children a more stable and better quality upbringing. Maintenance payments will generally go towards food, clothes, school trips, books, toys and games, toiletries, medicines, childcare, activities, etc.
How much to pay?
The amount of child maintenance that you have to pay as a non-resident parent depends on a number of factors such as income, the number of children living with you and the number of children you have, whether you are the resident parent, are in receipt of benefits and whether or not the child also stays with you sometimes. We give a break down of the general rates and payments below.
Types of maintenance arrangement
There are two main ways to arrange child maintenance:
Family-Arrangement Maintenance
Child Support Agency Maintenance
If you are on good terms with the resident parent, it may be that you can come to some arrangement about how much you pay and how often.
The alternative and most popular option is to pay maintenance through the Child Support Agency (CSA).
How is child maintenance calculated?
The CSA calculates maintenance, whilst taking into account several factors. The CSA calculates payment by applying one of four rates to the non-resident parent's net weekly income. This income includes earnings from employment, pensions and some benefits after paying National Insurance, income tax and any contributions to a pension scheme.
The four rates applied to the non-resident parent's net weekly income include:
basic rate
reduced rate
flat rate
nil rate
Basic rate
If a non-resident parent earns £200 or more per week, the CSA calculates the amount of maintenance they should pay as a percentage of their net weekly income. For one child, this is 15%, for two children this is 20% and for three or more children it is 25%.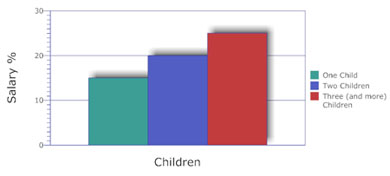 Reduced rate
If the non-resident parent earns between £100 and £200 per week, they will pay a flat rate plus a percentage of their weekly income. This will vary depending on how many children they have that require maintenance. The flat rate is £5 per week, plus 25% of their income for one child, 35% of their income for two children, and 45% of their income for three or more children.
Flat rate
If the non-resident parent earns between £5 and £100 per week, they will pay a flat rate of £5 per week. This includes people who are on state benefits, Job Seeker's Allowance, Incapacity Benefit, Bereavement Allowance, Income Support, State Pensions and certain other benefits. This rate will be the same regardless of how many children they have. In the case of state benefits, the child maintenance is usually deducted at source.
Nil rate
If the non-resident parent earns less than £5 per week, for example if they are a full time student, are under 16 years old, in prison, 18 or under in further education (no higher than A level) or are in a care home, the nil rate will apply. This means that they will not be required to pay anything.
What if a parent has other children?
If a resident parent has children with several different non-resident parents, the CSA will make these calculations separately. For example, if a woman has two children by one father and one by another man, the men will only pay for their own children respectively. Similarly, if a non-resident parent is paying money to several children in different households, the CSA will generally divide the money equally between the children.
If the non-resident parent has some CSA arrangements and some Family-Arrangement maintenance then unfortunately, the CSA cannot take into account the Family-Arrangement maintenance paid. It can, however, take into account any court orders in relation to maintenance.
What happens if the child stays overnight with both parents?
If the child stays overnight with the non-resident parent at least 52 nights a year i.e. on average at least one night a week then both parents have "shared care".
In the case of the basic and reduced rates, the amount of child maintenance that the non-resident parent has to pay is reduced in equal proportion to time the child stays with them. For example, if a parent is to pay £35 per week in maintenance but the child stays with the resident parent for 2 out of 7 nights per week, that £35 will be split into sevenths i.e. £35 divided by 7 nights x 5 nights that the child lives with the resident parent = £25. This is in addition to the flat rate of £5 which is always to be paid.
For the flat and nil rates, the amount to pay is nil.
What happens if the parent with care claims benefits?
Previously if the resident parent was claiming child maintenance, they were not always able to claim in full for benefits . However, since April 2010, benefits will not be affected by the amount of child maintenance received.
What happens if the non-resident parent is self-employed?
Calculations are made in the same way for self-employed non-resident parents as those who are employed. The CSA does have to calculate the earnings differently by working out the average weekly earnings for the past tax year. If this cannot be done, i.e. the business has not been up and running for a full year, then the CSA will use the gross income of the business to date. Reasonable business expenses and VAT are then deducted to obtain a weekly income figure, which is used to determine which rate of child maintenance should be paid.
What happens if the non-resident parent refuses to give their financial information to the CSA?
If a non-resident parent refuses to give information and it cannot be obtained from other sources, then a "default maintenance decision" is applied. This is a default rate which is as follows:
£30 a week for one child
£40 a week for 2 children
£50 a week for 3 or more children
The non-resident parent must pay from the date that the default maintenance decision was applied.
Other Factors
The CSA can also consider other elements before making a determination on maintenance payments. These can include fees for boarding school, special expenses that the non-resident parent pays for disabled children who live with them, mortgage payments for a property in which the parent with care and the child/children live (as long as the non-resident no longer has a legal interest in it) or loan payments for a loan taken out for the family's benefit while the non-resident parent was still living with the parent with care and the child/children.
Challenging the Decision
If you are not paying child support or have an application against you can find out if you have to pay child support. It is possible to ask the CSA to review a decision on maintenance payments.
Do you have to notify the CSA of changes to your circumstances?
The answer is yes. If you have a change in circumstances, you must notify the CSA immediately. If you are paying less than you should be then your child could suffer. Additionally, if the CSA finds out, you may have to make up for what you should have been paying. More positively, you could be paying too much and the figure needs to be lowered. You must also keep the
CSA informed of any change of address
.
You might also like...
@bobbydazzler - he can find out via the Child Maintenance Options calculator
here
. I hope this helps.
ChildSupportLaws
- 15-Apr-15 @ 11:38 AM
@Cj - is it a family-based arrangement? If so it is just a matter of trying to get him to agree, you could tell him you are closing the bank account and send him your new details. If it is paid through the CSA/CMS, then you really need to get on to either one in order to try and sort it out. But, I don't think there is anything you can 'legally' do.
Rich
- 13-Apr-15 @ 12:16 PM
Hi, my son earns £260.00 per week before tax, and after pension contributions. he has one child at home with his partner and one that lives with ex-wife. how much maintenance should he be paying? he receives no other benefits. thanks, Sally
bobbydazzler
- 12-Apr-15 @ 5:38 PM
We are Lithuanians me and my 10 year old daughter and we live in Edinburgh.Her father lives in Ireland,Athlone.He only pays alimony to my account in Lithuania. Is there a possibilityobligate him pay into my UK account? Many Thanks
My daughter's father lives in Ireland,Athlone. My and my10year old live in Edinbirgh. He pays alimony to my Lithuanian (as we are lithuanians)account 68 euros pcm. I asked him many times could he transfer money into my UK account,but he always find reasons not to do so,because it is so convenient for him. Is there a legal way to obligate him to do so? Many Thanks
It amazes me that people are moaning about giving £120 a week or so towards their child- part of the maintenance payment is towards housing the child.....then on top of that food, bills, even childcare....how does £120 even touch what it costs? Get a grip!!!!
lolo1
- 8-Apr-15 @ 7:34 PM
@HJS - you don't say how old your son is and why you have been paying it directly to him. If the CSA says you owe money then you should really take it up directly with the CSA. I'm a little confused at your question. Would it not be a good idea to pay off the arrears and the mother what you owe for your son's upkeep as assessed by the CSA? You say the mother is asking for £30K, do you owe her this money? Be aware that if she says she will 'leave you alone' if she gets the money, is only a verbal agreement and holds no weight whatsoever. If you have other outstanding financial issues with your ex and they are getting a touch messy, then it may be worth going through the courts in order to sort both this and the child maintenance out. I hope this helps.
ChildSupportLaws
- 7-Apr-15 @ 1:52 PM
Hi, Ive been paying regular payments to my eldest son, however I have not being paying the mother. We had an arrangement 2 to 3 years ago where I gave her several thousand pounds and a car total say 10k. Ive always sent 300 a month. I spoke to my son recently and he said she has stated she wants 30k and will leave me alone for good. She lost us our house through not paying the mortgage and bills and also had an affair. No one will take this into account, however I'm in a position now to pay her whatever the past, the kids come first. This is now having a detrimental effect on my stable relationship, but I'm willing to pay if its reasonable, say from 800 to 1000 a month. When I attempt to talk to the CSA they just ignore everything previous and state that I owe several thousand pounds. I am more than willing to give the mother regular monthly payments of 1000 pounds. I live off shore and have a new family and support a family of 4. My question is,how do I arrange the payments? is it through the courts or through CSA. Kind regards
HJS
- 3-Apr-15 @ 11:34 PM
My partner pays £200 a month for his 2 children, who live with their mother. However, we are expecting a baby in the next month and wondered would his payments be reduced as he has another child to pay for or would he still be made to pay £200?
Japril
- 2-Apr-15 @ 4:35 PM
@Chef - it may be easier if you calculate it yourself on the Child Maintenance Options calculator
here
. I hope this helps.
ChildSupportLaws
- 30-Mar-15 @ 11:14 AM
Hi, I was married in India due to my partner being pregnant, we were based in UAE. We were both born in UK.Her parents are Indian. We have two daughters together and have been separated for 5 years now, I have paid every month money to her in India ( children reside there).Now I wish to divorce she has asked more money for the children. Can you tell me what % of salary should I pay for maintenance. Thanks
Chef
- 27-Mar-15 @ 1:41 PM
@Bigbill - if you are unhappy with the service from the CSA and you don't think this estimate is fair because you have been receiving JSA, then you can complain via the link
here
. I hope this helps.
ChildSupportLaws
- 20-Mar-15 @ 10:04 AM
Gets a phone call you owe us £2700 and then came out with it's actually £4780 for periods I was getting jsa and they wasn't taking any money out of it why has this happened and is it right ? And it's got to be payed back within 2 years
Bigbill
- 17-Mar-15 @ 6:30 PM
@fathernorights - yes, you will have to still support your son wherever your ex lives. I am sorry to hear about the breach of court order, which you will have to take back to court. If you do not have the funds and it will go through a UK court, then you can self-litigate, see link Legal Aid Withdrawal: How to Represent Yourself
here
. I hope this helps.
ChildSupportLaws
- 13-Mar-15 @ 12:23 PM
Hi, please advise, my ex now lives on barracks in Germany with my son, i have tried to contact with payments i have been ignored, she has denied contact and breached the contact order, now i will need my money for court, is it right i have to pay csa while she is living abroad?
fathernorights
- 12-Mar-15 @ 12:40 AM
Hello. I am foreigner awaiting paternity results from a UK fling - I am willing to support financially only, with an amount deemed fair and just by an adjudicator. I am focusing on rebuilding the damage I did to my wife and children. Might I run into any issues upon returning to the UK next week?
MarBro
- 11-Mar-15 @ 2:28 PM
@waybo - I don't see there is any reason why you can't still complain. Should you wish, you can use the complaints service via the link
here
. I hope this helps.
ChildSupportLaws
- 5-Mar-15 @ 10:11 AM
may be 10 years ago I had a very low pad job less than 200 a week after tax and most times before tax so I only payed 25 pound I have never missed a payment I have always used the csa I only had one child then lost my job and signed on than got new job told the csa and my payment restarted was only paying 25 again then about 2/3 years later they asked for about 3.500 pound in unpaid payments was no discussion thay just made me pay they had most of my wage left me with 103.29 a week for nearly a year I did some over time lots nearly killed me and still don't understand if it was a cock up on their half I don't think I should of had to be the one to suffer.
waybo
- 5-Mar-15 @ 6:52 AM
@Augusta13 - The UK has Reciprocal Enforcement of Maintenance Orders (REMO) with a number of other countries. Austrialia is on the list, therefore I have included a gov.uk link
here
which gives you extra information on how you can enforce a maintenence decision. I hope this helps.
ChildSupportLaws
- 27-Feb-15 @ 10:47 AM
Bit of advice, my sons father recently emigrated with his new family to Australia, I was informed by the csa that his payments had stopped and they closed our case here, he's not forwarded any new address or contact information. How do I go about into trying to track him down out there as he's not set up anything else
Augusta13
- 25-Feb-15 @ 12:01 PM
@Mug - if you are unhappy with the service you have recieved, then you can complain. You should have been put on a reduced rate when you were unemployed. Please see link
here
. I hope this helps.
ChildSupportLaws
- 23-Feb-15 @ 10:53 AM
Basically I'm having money taken out my wages. I lost my job informed csa and signed on 1month later I was given my job back and again I got in touch with then. 3 months later I got a letter stating they are taking 400£ a month I've spoke to them about this and nobody cares it's just not fair
Mug
- 20-Feb-15 @ 2:05 PM
@Marc - yes, if you are a paying parent then the CMS can re-assess the amount of child maintenance you are paying if you have special expenses of more than £10 a week, or £15 if your income is £200 or more. It comes under 'other financial commitments', please see link
here
. I hope this helps.
ChildSupportLaws
- 18-Feb-15 @ 3:04 PM
@Ok Dad - it comes under the legislation of REMO which as stated by NI Direct is the process by which maintenance orders made by UK courts on behalf of UK residents which can be registered and enforced by the courts or other authorities in other countries. It also states that this is a reciprocal arrangement which means that foreign maintenance orders in favour of individuals abroad can be registered and enforced by UK courts against UK residents. For more information please see the NIDirect link
here
. I hope this helps.
ChildSupportLaws
- 18-Feb-15 @ 2:48 PM
Hi I have a 8 years old son who lives 80 miles away. I have been paying around £250 a month until 2 years ago to his mother, however as Im self employed, this as become irregular due to poor trading ect. I still see my son on average every 3 weeks, however his mother never drop him off, or half way. It's a 320 miles journey to pick him up on a Friday them drop him back on a sunday, costing around £80 in petrol. Could some of that be part of child maintenance? Also, his mum would send him down without spare clothes (I used to buy him loads of clothes/shoes ect before), so I had to ensure he has all he needs at my house, specially if we go away on holidays. Can this also be taken into account as child maintenance? Thanks
Marc
- 17-Feb-15 @ 2:32 AM
I separated in 2008 and CSA has been in place since 2009. I have not seen my children since 2012. I have heard from a third party that they may have been removed from the UK and are now living in Spain. Am I still liable to pay CSA for UK non-resident children?
OK Dad
- 16-Feb-15 @ 11:49 PM
@Joncross - only if she declares that you are paying the loan, and or you can prove that the loan went to her. Can't you agree the maintenance between you, and take into account this loan?
Danny
- 13-Feb-15 @ 3:00 PM
Please could I have some assistance. I separated from my sons mother about 5 to 6 years ago. We have always had a good relationship after this. A couple of years ago she asked me to guarantee a loan for her to buy a car and to help with Christmas for my son and her other children. I did this but my ex stopped making the payments which meant I had to. The loan had a huge interest rate on it so I decided to tak a personal loan out my self to pay this off. The payment for the new loan is 110 per month. I then agreed with my ex that instead of her paying the loan I would use her maintenance (100per month) I usually pay her to pay the loan that she agreed to All was well until recently, where now I think she will want to claim maintenance through the csa. Do you think the loan payment will be taken into consideration when calculating how much I have to pay? I have done some research which suggests it could be but suggests only if we were still together when the loan was took out. I have my son every weekend fri to sun and occasionally sun night. Thanks
Joncross
- 12-Feb-15 @ 11:26 PM
@Jonny - I have a few of suggestions here. Firstly, if you are unhappy by the way you have been treated by the CMS or CSA and think you are paying too much, you can appeal a child maintenance decision about payments via the link
here
. You are also allowed to ask for other factors to be taken into account when working out child maintenance. See link
here
. On another note and regarding court fees, if you are finding them too expensive, you can represent yourself with the help of a McKenzie friend. It is something a lot of fathers are doing with a good deal of success, see link
here
. You may also find our Separated Dads Facebook page helpful. Just before Xmas we had a posting about how to represent yourself. There were some very informative comments from those fathers who have been succesful in doing this. I hope this helps. There is support out there.
ChildSupportLaws
- 9-Feb-15 @ 10:40 AM
I would just like some information as I don't agree with having to pay for csa when I have my daughter 3 nights a week and the mother has her 4 nights. The mother claims every benefit going including disability allowance for my daughter as she has a very mild case of cerybal paulsy. Baring in mind I don't live in the same town as my daughter so I have to travel every weekend there and back on a coach. I pay for everything my daughter needs when she is in my care. I don't get any help from any one for my daughter. I have recently just been through court for full custody of my daughter as the mother had her put on a child protection plan by social services because she is suffering emotional abuse she's still on the plan now.And I didn't win custody this world is one messed up place. That cost me thousands and I'm still paying the debt now. Why do I have to pay her money yes I work but I get 6.50 a hour and not even getting my full weeks work as Thers not enough.
Jonny
- 8-Feb-15 @ 12:06 PM