How Much Will I Have To Pay?
Author: Lorna Elliott LLB (hons), Barrister - Updated: 11 April 2014
|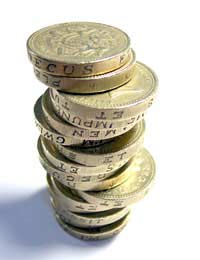 What is child maintenance? Child maintenance is financial support that helps towards your child's everyday living expenses and is paid on a regular basis. The parent to pay the child maintenance is the non-resident parent i.e. the one who does not live with the child or have day-to-day care for the child, to the parent that the child lives with (the resident parent). In some cases, this may not be a parent, such as a grandparent or guardian with full care.
Why pay maintenance?
Paying maintenance for your child is extremely important. The person with full care of your child will no doubt be doing their best, however, the extra money that you pay can help to give your children a more stable and better quality upbringing. Maintenance payments will generally go towards food, clothes, school trips, books, toys and games, toiletries, medicines, childcare, activities, etc.
How much to pay?
The amount of child maintenance that you have to pay as a non-resident parent depends on a number of factors such as income, the number of children living with you and the number of children you have, whether you are the resident parent, are in receipt of benefits and whether or not the child also stays with you sometimes. We give a break down of the general rates and payments below.
Types of maintenance arrangement
There are two main ways to arrange child maintenance:
Family-Arrangement Maintenance
Child Support Agency Maintenance
If you are on good terms with the resident parent, it may be that you can come to some arrangement about how much you pay and how often.
The alternative and most popular option is to pay maintenance through the Child Support Agency (CSA).
How is child maintenance calculated?
The CSA calculates maintenance, whilst taking into account several factors. The CSA calculates payment by applying one of four rates to the non-resident parent's net weekly income. This income includes earnings from employment, pensions and some benefits after paying National Insurance, income tax and any contributions to a pension scheme.
The four rates applied to the non-resident parent's net weekly income include:
basic rate
reduced rate
flat rate
nil rate
Basic rate
If a non-resident parent earns £200 or more per week, the CSA calculates the amount of maintenance they should pay as a percentage of their net weekly income. For one child, this is 15%, for two children this is 20% and for three or more children it is 25%.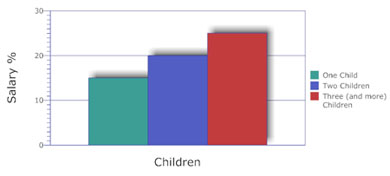 Reduced rate
If the non-resident parent earns between £100 and £200 per week, they will pay a flat rate plus a percentage of their weekly income. This will vary depending on how many children they have that require maintenance. The flat rate is £5 per week, plus 25% of their income for one child, 35% of their income for two children, and 45% of their income for three or more children.
Flat rate
If the non-resident parent earns between £5 and £100 per week, they will pay a flat rate of £5 per week. This includes people who are on state benefits, Job Seeker's Allowance, Incapacity Benefit, Bereavement Allowance, Income Support, State Pensions and certain other benefits. This rate will be the same regardless of how many children they have. In the case of state benefits, the child maintenance is usually deducted at source.
Nil rate
If the non-resident parent earns less than £5 per week, for example if they are a full time student, are under 16 years old, in prison, 18 or under in further education (no higher than A level) or are in a care home, the nil rate will apply. This means that they will not be required to pay anything.
What if a parent has other children?
If a resident parent has children with several different non-resident parents, the CSA will make these calculations separately. For example, if a woman has two children by one father and one by another man, the men will only pay for their own children respectively. Similarly, if a non-resident parent is paying money to several children in different households, the CSA will generally divide the money equally between the children.
If the non-resident parent has some CSA arrangements and some Family-Arrangement maintenance then unfortunately, the CSA cannot take into account the Family-Arrangement maintenance paid. It can, however, take into account any court orders in relation to maintenance.
What happens if the child stays overnight with both parents?
If the child stays overnight with the non-resident parent at least 52 nights a year i.e. on average at least one night a week then both parents have "shared care".
In the case of the basic and reduced rates, the amount of child maintenance that the non-resident parent has to pay is reduced in equal proportion to time the child stays with them. For example, if a parent is to pay £35 per week in maintenance but the child stays with the resident parent for 2 out of 7 nights per week, that £35 will be split into sevenths i.e. £35 divided by 7 nights x 5 nights that the child lives with the resident parent = £25. This is in addition to the flat rate of £5 which is always to be paid.
For the flat and nil rates, the amount to pay is nil.
What happens if the parent with care claims benefits?
Previously if the resident parent was claiming child maintenance, they were not always able to claim in full for benefits . However, since April 2010, benefits will not be affected by the amount of child maintenance received.
What happens if the non-resident parent is self-employed?
Calculations are made in the same way for self-employed non-resident parents as those who are employed. The CSA does have to calculate the earnings differently by working out the average weekly earnings for the past tax year. If this cannot be done, i.e. the business has not been up and running for a full year, then the CSA will use the gross income of the business to date. Reasonable business expenses and VAT are then deducted to obtain a weekly income figure, which is used to determine which rate of child maintenance should be paid.
What happens if the non-resident parent refuses to give their financial information to the CSA?
If a non-resident parent refuses to give information and it cannot be obtained from other sources, then a "default maintenance decision" is applied. This is a default rate which is as follows:
£30 a week for one child
£40 a week for 2 children
£50 a week for 3 or more children
The non-resident parent must pay from the date that the default maintenance decision was applied.
Other Factors
The CSA can also consider other elements before making a determination on maintenance payments. These can include fees for boarding school, special expenses that the non-resident parent pays for disabled children who live with them, mortgage payments for a property in which the parent with care and the child/children live (as long as the non-resident no longer has a legal interest in it) or loan payments for a loan taken out for the family's benefit while the non-resident parent was still living with the parent with care and the child/children.
Challenging the Decision
If you are not paying child support or have an application against you can find out if you have to pay child support. It is possible to ask the CSA to review a decision on maintenance payments.
Do you have to notify the CSA of changes to your circumstances?
The answer is yes. If you have a change in circumstances, you must notify the CSA immediately. If you are paying less than you should be then your child could suffer. Additionally, if the CSA finds out, you may have to make up for what you should have been paying. More positively, you could be paying too much and the figure needs to be lowered. You must also keep the
CSA informed of any change of address
.
You might also like...
Hello. I am currently expecting a baby with my partner. He has a 4 year old son from his previous marriage. He pays his ex wife money each week. His son was born premature so he has many difficulties. I believe his ex wife claims on his behalf and as his carer. My partner is self employed altough his business is new so there is no accurate earnings to date he estimates to make about £2000 a month. Now that we are expecting our own child how will that affect the money that he payes his ex wife for his son. He will not confide in me at this time how much he is alraedy paying as i believe it is considerably more than would be advised. Although i do not wish to deprive his son from anything at all i am concerned that after our living expenses our child will not be left with adequte funds for us to support him the way i would wish. I know it's a sensitive subject but i just want to make sure things are worked out equaly before the baby is born. We are already struggling to make ends meet. I would appreciate a response as i am clueless about these things and i would like to have the revelvent information to address this with my partner. I am currently not work due to long term illness which has been exsasbated by my pregnancy. Kind regards
@lefty Same, income doesn't add up to outgoing living expenditures. I can only assume they have a good accountant. I see no hope!
NoHope
- 3-Feb-14 @ 2:32 PM
Hi, I've been battling with my ex for years! CSA were giving me £7pw for our son until I took it to court and then I got £15pw. My ex is self employed tradesman and works full time. He has our son 2 days out of 7 and no other kids. His income is high (over £200pw) but if I am meant to get 25% I'm not sure how £15 is worked out!!? Is it only worked out from profit when self employed or total income? An up to date tax return was sent in and I have now been told he over paid and I owe him money :'( How is this even feasible? Please help.. I'm no good with figures but want the best for my son.
NoHope
- 3-Feb-14 @ 2:29 PM
My partner has 2 children from her previous relationship, her ex is self employed and claims to be earning £110 pw even though his rent is £600 pcm alone, he drives around in a new car and has 2 holidays a year, we are entitled to 7pw child maintenance can anyone explain how this is possible as i have one child and pay £160 a month even though i am earning less just because i am employed. I struggle to understand how this is fair and is there anything we can do as we struggle to make end meet
lefty
- 28-Jan-14 @ 7:10 PM
I had a short relationship outside my marriage with a married woman, a child was conceived and born and love greatly by both. My child's mother has custody but I have access when every I can. My child's mother is still married to her husband and I am still married to my wife we both have children in our own marriages, 2 each. My child's mothers husband, has taken the roll of father whist my child is with him and he calls him Daddy, they look after my child well and I have no complaints. I provide for my child when with my family and also provide all school clothing asked for. But my wife is the main earner in our family, my income is in proportion insufficient to pay equally the cost of the home we live in and the costs of my other children. As my child's mother and husband have taken the role of parents to my child and effectively adopted him into his family. Am I responsible to financially support them, my wife is very fond of my Child but has never taken the role of Mother to him and he does not call her mum or think of her as mum, but if we were to pay money to them it would be from my wife's earnings as mine are already Inefficient to pay my share of the house hold bills.We love our child and try our best not to argue and squabble but when my child's mothers income changes due to her husband's job changing, they then come to me demanding I should pay money to them.I know the amount of CSA support would be 15% of my income net so I have always made sure my child gets that support directly in the things I buy when my child is with us, it would equate to around £25 a week, if I pay my child's mother payments I will not have the income to provide the things I now provide for my child whilst my child is in my care. As my child gets older and has a choice he can spend more time with me and my family and this we look forward to. When this time comes I would not be asking for any support from my child's mother or her husband. Please advise on what my legal status is and what my child's mother can make me do, is it possible she can take money from my wife's income? I would want to be fair and do the right thing but not if it's going to cause my own family to suffer, they have done nothing to deserve being financially disadvantaged.
JOHN
- 10-Dec-13 @ 11:40 AM
I've been married for 15 years wife and my told me that she wasn't happy with the marriage, to be honest I wasn't to, we agreed at the time that I would move out into rented accommodation and she could stay in the house with the kids, we both had been paying a mortgage for 18 years, I pay maintenance every month for my two children, 5 & 6. A year on and I've moved into another house with my new partner, with debts up to my eyes, because when you start over again you have to buy everything. My wife has a new partner with three children and he wants to move in with her when he sells his house in the New Year 2014. What I need to know is, what percentage of the profit of the house would I be entitled to?, after everything has been paid off we would be left with £110,000, I would like to point out that my wife works and earns £13,000 a year receiving benefits up to £600 a month plus the money I pay, £250 a month, I earn £24,000 a year.
Mark
- 15-Oct-13 @ 11:24 AM
Hi I have split up with my babys dad. I have know income and he all ready has a child with someone else who does not live with him. I know he gets paid 500pw basic money how much should I get as I know he has to pay for his other childas well.
Mic
- 10-Aug-13 @ 8:02 PM
I have a child whose mother have disapeared for the last 4 years abroad and had not made any contact.How do l go about getting a court order for full custody of my child
Kings
- 21-Apr-13 @ 9:27 PM
I am a single parent which make 1200 a month and I am wondering on a scale how much will a preschool charge me if it goes by my income ?
Lily
- 8-Apr-13 @ 5:27 PM
I earn about 390 a week. I have 2 kids with my ex partner, and they stay with me 2 nights a week. I also have a 2 year old with my,new partner and we live together. How much maintenance will I have 2 pay my ex?
rocket
- 2-Apr-13 @ 8:44 PM
hi, i am currently employed but off work with stress atm. i currently earn 20000 per annun. my daughter stays with me 3-4 nights a week and has done since split.my ex-partner has now remarried and her new partner has to pay csa for a previous child in prior relationship.my ex partner has now been to csa and now only letting my daughter stay 1 night a week if i'm lucky, i have no evidence of the money i have given my ex over the years where do i stand? am at the end of my teather with worry
ron
- 12-Mar-13 @ 12:24 PM
My ex partner , we never married , decided to move to the UK and take our little girl. He is now claiming maintainance but I have 2 boys from a previous relationship. As I earn more than him - what would I have to pay ?
Lenisha
- 8-Mar-13 @ 10:25 AM
Hiya I am about to have my first baby but im no longer with the babys dad, and he said he ent going to help me or nothic, does he have to pay me any money beacuse he says he dont, he works full time gets like 200 pound a week??
becky
- 26-Feb-13 @ 9:12 PM
I am abut to split with my partner, we have a 6 year old, I have just started my own business but haven't actually earned any income from it in the last 3 months, my ex works 4 days a week and earns about £30K annually, we are not married, I am living off my savings. we plan to share responsibility of our child,will I have to pay child support? and how much? Thanks
daryl
- 18-Nov-12 @ 4:38 PM
I've just signed my divorce papers and I'm paying £430 child support for one child (net for month =£1666) with 5% increase every year. can I change that after aggreeing to it?
Frank
- 16-Nov-12 @ 2:29 PM
I have 2 children with my ex Wife who I already pay maintenance to and another child with my new partner.Unfortunately my new partner has decided that as she wants more children and I dont that she wants to move out and start again. In these circumstances am I correct in thinking that I would be liable for 25% of my nett income split between the 3 children ? Also is the amount I pay variable and dependent on what income my ex Wife and partner have as a result of their own employment and financial standing ?
Flying Finn
- 7-Nov-12 @ 9:59 PM
We moved to Spain 8 years a go and my husband now works in China. We bought a large house which I have made into a home for us all. I found out my husband had an affair 5 years a go and I believe he is seeing someone now. We have been married for 12 years. I am 52 and don't work, I gave up a good career to be a stay at home mum, not though choice, at my husbands request who now wants me to go and find a job. He continues to pay house keeping and has a very well paid job, he also received 1.2 million last year and bought a house without me knowing at it..... We have lots of ups and downs mainly because I still love him and he doesn't want to try and make our marriage work...... The problem is he spoils our child rotten with the best holidays the best of everything, money is not a problem for him. I am unable to match this as I don't work. My husband said he wanted our child to spent Xmas with him in China which leaves me on my own, my first reaction was No way. It's breaking my heart and I don't know what to do basically because my husband is buying our child's love. I do feel bitter at how our marriage has ended. This is my husbands 2nd marriage, he walked out on his last marriage leaving a child of 8 at the time. I want whats best for my child and am hurt that my husband feels he can come and go as he pleases and have the best of everything. Leaving me tobring up our child without any responsiblities in a country I'd rather not be. We are both come from the UK. Am I within my rights to say No to him but allow him to see our child for some of the Xmas holiday. I know our child would like to go and visit his father, but as this has only happened in the past 5 months I am not ready to let go just yet. This is making me feel so ill, please can you advise..
Marcel
- 20-Sep-12 @ 11:12 PM
Hi, I have two children with my seperated wife and a baby with a girl who tricked me... I earn 1100 pcm. My rent is 400 and all normal bills ad up to 950 before food... do csa take into accout any of this or shall I just move to a bedsit... I also have all three kids at least 1 night a week.... any advice would be welcome... Cheers... Stu
stu
- 27-Aug-12 @ 9:38 PM
My oldest daughter has turned 18 and start university in Septemberand moving to another cityI have an agreement with my ex wife with regards to chid support and have never missed any monthly paymentsPlease can you confirm that from September i no longer have to pay for my eldest daughter and only have to pay for my youngest Many thanksMike
mike
- 14-Aug-12 @ 5:33 PM
if i open a savings account for my two girls and put in 100 a month will i still have to pay child matinence
tom
- 10-Jul-12 @ 9:36 PM
My partner pays his ex partner money each week for his son, she is now asking for more. He works full time on minimum wage. His son stays with us every other weekend with his other daughter who he also pays for, (daughter has a different mother to his son)would just like to know how much he should pay each week taking into account the above factors.
lolly
- 10-Jul-12 @ 2:10 PM
How much money does my husband have to pay for this son a week .he works 24 hrs aweek at moment he get paid £600 pounds at moment.but he is looking for full time job ,if he earns more then £600 pounds a month would he have to pay more money molly.
molly
- 9-Jul-12 @ 7:16 PM
what are the rates for a absent father earning aprox. 1,923 per week
browny
- 4-Jul-12 @ 8:18 PM
i retired from the royal navy in march 2012. whilst serving i was paying for my daughter £275 pm. i married my wife 3 years ago and we have 2 kids together. now i rung the csa to inform them that i had another baby and that we had moved so they could re assess me! now to my surprise my csa payment went up to £420 pm? now the csa said they aren't taking my wifes pay into account! yer right! now i'm retired i only receive a pension of around £600 pm but i'm still on the old system so i could pay up to 33% everyone else is on the new system so why is it taking so long to move me on to it? i was paying 25% which on the new system is for 3 + kids. how does that work when i have 2 other kids to feed, nursery, clothes etc! now i'm worried that there going to take more than £100 pm out of my pension even though i was informed that she wouldn't get any now i'm retired! i offered her £100 pm and for her to come out of the csa but she said that wasn't enough and wanted to stay on the csa. greed!! now my daughters mum informed me that she can work and earn as much as she likes and the csa won't take that into account. is this true? if it is that is kicking me whilst i'm down. paying for my daughter is fine with me but her mum has even asked me to get her clothes for school etc and as i said no she kicked off. i think its a disgrace that i am still on the old system as 15% for one child is more than enough considering i have other kids to feed etc!
danny
- 30-Jun-12 @ 11:20 PM
Hi, my ex partner was paying £58 a week to his ex wife for their 2 children but he now pays £46 a week as we have a 6 week old daughter together which he has declared to csa even tho im not claiming child support from the agency.........If i was to go through the csa to get money from him would his ex wifes payments get dropped again??
annon
- 28-Jun-12 @ 11:03 AM
My husband pays child support for him daughter from another marriage. We have always paid CSA and out of pocket. He is British but I am American. We now want to move back to America with our two children. His daughter lives with her mother and will not be coming. Can CSA still make him pay if we are living in America? This is a long term move with plans to gain him his citizenship. I have been trying to find out but I am unable to fid out if America is one of the countries that CSA can reach. Can you please help? We want to do everything properly and legally. Thank you.
Autumn
- 24-Jun-12 @ 11:59 AM
I live in spain.I had 2 children one in 1986 and one in 1988...we never married.we split in 1990,due to spanish law i never returned to uk as i was told by british consul my ex could charge me with kidnapping. I finally got to court in 2003 after countless delays here in majorca and was awarded 1200 per month,i have never received a penny.I have suffere illness and stress through working so hard without help to bring up my two children.I have found out my ex is now living in manchester uk.can i present papers for backpayment and where do i apply. he cant be allowed to get off scot free after what we have suffered.
lizscot
- 16-Jun-12 @ 11:37 PM
@Boris I think you do need proof that you are paying maintenance for your child, if you are handing over cash each week directly to her why don't you ask her to sign a dated piece of paper each week declaring that she has received your maintenance payment for that week?Also if you are amicable with each other ask her to sign to declare that she has received maintenance from you for the past four years, keep these as your records of payments.
Tara
- 14-Jun-12 @ 12:57 PM
@boris, there's no reason why she would not want the money paid into the bank as child maintenance payments don't impact the amount of benefit you receive anymore, maybe she doesn't realise this. The best thing to do, which I'm sure you know, is to pay it directly into her bank so that the payment can be proven. Alternatively you could contact the csa yourself and pay it through them, that way you will not be paying for something twice if she decides to call them in the future. You can check how much the csa would take form you by using the calculator on the child maintenance options website.
dad
- 14-Jun-12 @ 12:40 PM
I am in full time employment and have been paying my ex £30 cash per werk for my son for nearly 4 years but cannot prove this. She is on benefits and refuses to get payments into the bank. I also look after him every weekend and holidays. I want my son to get the best, but I don't want to give her money and then end up paying it all back to the csa as well. What should i do
boris
- 14-Jun-12 @ 11:31 AM