How Much Will I Have To Pay?
Author: Lorna Elliott LLB (hons), Barrister - Updated: 15 December 2014
|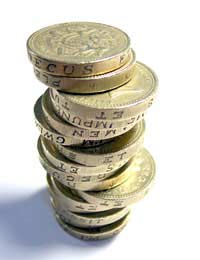 What is child maintenance? Child maintenance is financial support that helps towards your child's everyday living expenses and is paid on a regular basis. The parent to pay the child maintenance is the non-resident parent i.e. the one who does not live with the child or have day-to-day care for the child, to the parent that the child lives with (the resident parent). In some cases, this may not be a parent, such as a grandparent or guardian with full care.
Why pay maintenance?
Paying maintenance for your child is extremely important. The person with full care of your child will no doubt be doing their best, however, the extra money that you pay can help to give your children a more stable and better quality upbringing. Maintenance payments will generally go towards food, clothes, school trips, books, toys and games, toiletries, medicines, childcare, activities, etc.
How much to pay?
The amount of child maintenance that you have to pay as a non-resident parent depends on a number of factors such as income, the number of children living with you and the number of children you have, whether you are the resident parent, are in receipt of benefits and whether or not the child also stays with you sometimes. We give a break down of the general rates and payments below.
Types of maintenance arrangement
There are two main ways to arrange child maintenance:
Family-Arrangement Maintenance
Child Support Agency Maintenance
If you are on good terms with the resident parent, it may be that you can come to some arrangement about how much you pay and how often.
The alternative and most popular option is to pay maintenance through the Child Support Agency (CSA).
How is child maintenance calculated?
The CSA calculates maintenance, whilst taking into account several factors. The CSA calculates payment by applying one of four rates to the non-resident parent's net weekly income. This income includes earnings from employment, pensions and some benefits after paying National Insurance, income tax and any contributions to a pension scheme.
The four rates applied to the non-resident parent's net weekly income include:
basic rate
reduced rate
flat rate
nil rate
Basic rate
If a non-resident parent earns £200 or more per week, the CSA calculates the amount of maintenance they should pay as a percentage of their net weekly income. For one child, this is 15%, for two children this is 20% and for three or more children it is 25%.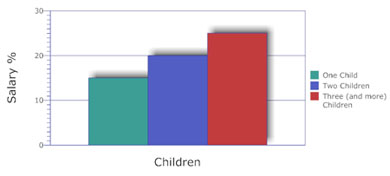 Reduced rate
If the non-resident parent earns between £100 and £200 per week, they will pay a flat rate plus a percentage of their weekly income. This will vary depending on how many children they have that require maintenance. The flat rate is £5 per week, plus 25% of their income for one child, 35% of their income for two children, and 45% of their income for three or more children.
Flat rate
If the non-resident parent earns between £5 and £100 per week, they will pay a flat rate of £5 per week. This includes people who are on state benefits, Job Seeker's Allowance, Incapacity Benefit, Bereavement Allowance, Income Support, State Pensions and certain other benefits. This rate will be the same regardless of how many children they have. In the case of state benefits, the child maintenance is usually deducted at source.
Nil rate
If the non-resident parent earns less than £5 per week, for example if they are a full time student, are under 16 years old, in prison, 18 or under in further education (no higher than A level) or are in a care home, the nil rate will apply. This means that they will not be required to pay anything.
What if a parent has other children?
If a resident parent has children with several different non-resident parents, the CSA will make these calculations separately. For example, if a woman has two children by one father and one by another man, the men will only pay for their own children respectively. Similarly, if a non-resident parent is paying money to several children in different households, the CSA will generally divide the money equally between the children.
If the non-resident parent has some CSA arrangements and some Family-Arrangement maintenance then unfortunately, the CSA cannot take into account the Family-Arrangement maintenance paid. It can, however, take into account any court orders in relation to maintenance.
What happens if the child stays overnight with both parents?
If the child stays overnight with the non-resident parent at least 52 nights a year i.e. on average at least one night a week then both parents have "shared care".
In the case of the basic and reduced rates, the amount of child maintenance that the non-resident parent has to pay is reduced in equal proportion to time the child stays with them. For example, if a parent is to pay £35 per week in maintenance but the child stays with the resident parent for 2 out of 7 nights per week, that £35 will be split into sevenths i.e. £35 divided by 7 nights x 5 nights that the child lives with the resident parent = £25. This is in addition to the flat rate of £5 which is always to be paid.
For the flat and nil rates, the amount to pay is nil.
What happens if the parent with care claims benefits?
Previously if the resident parent was claiming child maintenance, they were not always able to claim in full for benefits . However, since April 2010, benefits will not be affected by the amount of child maintenance received.
What happens if the non-resident parent is self-employed?
Calculations are made in the same way for self-employed non-resident parents as those who are employed. The CSA does have to calculate the earnings differently by working out the average weekly earnings for the past tax year. If this cannot be done, i.e. the business has not been up and running for a full year, then the CSA will use the gross income of the business to date. Reasonable business expenses and VAT are then deducted to obtain a weekly income figure, which is used to determine which rate of child maintenance should be paid.
What happens if the non-resident parent refuses to give their financial information to the CSA?
If a non-resident parent refuses to give information and it cannot be obtained from other sources, then a "default maintenance decision" is applied. This is a default rate which is as follows:
£30 a week for one child
£40 a week for 2 children
£50 a week for 3 or more children
The non-resident parent must pay from the date that the default maintenance decision was applied.
Other Factors
The CSA can also consider other elements before making a determination on maintenance payments. These can include fees for boarding school, special expenses that the non-resident parent pays for disabled children who live with them, mortgage payments for a property in which the parent with care and the child/children live (as long as the non-resident no longer has a legal interest in it) or loan payments for a loan taken out for the family's benefit while the non-resident parent was still living with the parent with care and the child/children.
Challenging the Decision
If you are not paying child support or have an application against you can find out if you have to pay child support. It is possible to ask the CSA to review a decision on maintenance payments.
Do you have to notify the CSA of changes to your circumstances?
The answer is yes. If you have a change in circumstances, you must notify the CSA immediately. If you are paying less than you should be then your child could suffer. Additionally, if the CSA finds out, you may have to make up for what you should have been paying. More positively, you could be paying too much and the figure needs to be lowered. You must also keep the
CSA informed of any change of address
.
You might also like...
@jo - In theory you should only pay maintenance at the flat rate or half the rate if you get income-related Employment and Support Allowance (ESA). Is this a back payment? It seems rather hefty if you are in receipt of ESA. There is a link
here
to the CSA, 'what to do if you can't pay'. I also suggest you call Family Lives which is a confidential helpline which gives parenting and family support on 0808 800 2222, it may help you to talk through your problems with someone who can give you some direct helpful advice.
ChildSupportLaws
- 16-Dec-14 @ 10:24 AM
hi im divorced mom of two boys , one lives with dad , and one with me , divorced through dv ,im on esa as had breakdown ,i moved to new area and x dont know where i am , no contact for 8 mths and just recived letter from csa to inform me they stopping £72 pm out my esa , i am lost for words ,this is just his way of control , yes i claim from him to help me an little boy live , rent ect , i dont drink or smoke or go out just live for my boy ,6 , i dont see my other son , and xmas coming im finding this all too much to bear , my solic said she cant do anything can anyone help ?
jo
- 15-Dec-14 @ 12:23 PM
@Tan - Many people who are self employed see it as a way of escaping payments through disguising their earnings which reduced the amount they owe to the CSA. The CSA takes the amount from the most recent tax return. Unfortunately, self employed people who want to avoid paying CSA will try to declare as little as possible in their tax return in order to pay both less tax and child support.
Phil
- 10-Dec-14 @ 12:40 PM
It would seem the csa benefit the wealthy and victimise the poor. A non resident employed parent earning £20.000 a year has to pay £40 a week maintenancefor one child per week. Yet a self employedperson, such as my ex, gloats and mocks me about only having to contribute£10 per week when he earn £50.000 per year. Disgraceful.
@Nolda - I have included a Government link on how to apply for child maintenance if one parent lives abroad
here
. I hope this helps.
ChildSupportLaws
- 9-Dec-14 @ 10:54 AM
Am married to a British man and am from Sierra leone. We have a baby he is 2years old now. But my husband left 2days after I had our son he came back after 3months begging I accepted him and after we got my sons British passport by then the baby was 6months he wanted to take him and I disagree andhe left promising to come back for us and since then he hasn't come back or send financial support I need help on how to make him pay child maintenance as I live in Sierra leone with my son
Nolda
- 7-Dec-14 @ 4:37 PM
I think it's very UnFair how csa work. They don't care about the non resident parent.. They just want to bleed them dry.. The non resident parent moves on and begins a new family,wife children etc and the csa use his income including working tax credits if he recieves them which is fine BUT.. Not his other children's child tax credit benefits..as the residential parent obviously is claiming child tax credits anyway..I'm all for supporting kids after seperation but what I think is totally wrong is how CSA use the child' tax credits and class it as your income.. Obviously it's there as a benefit for children for a reason..so what gives them the right to take money away from this??? Did you no csa and child maintenance are to different organisations??Where as child maintenance does not class child tax credits as your income so why does the csa??this needs to be stopped It's a Terrible organisation what is 1sided
Danny
- 1-Nov-14 @ 10:42 PM
Personally i think that mothers who have full custody and are in reciept of csa should get it knocked off the child tax and child benefit also theier income should be taken into consideration. i have an 8 y o lad whom i dont see after an 18 month court battle and visits to contact centres ended when the government got rid of legal aid. My ex knew i didnt have the money to continue with it so basically stuck 2 fingers up at me. I recieved a letter from the csa to say they want £40 a week off me plus money for arrears. I am all for supporting my child but what they are asking for is scandalous. I bike it 7 miles to work and 7 miles home in wind rain snow or shine as i cant affford to run a car. setting off @ 5am and getting home @7pm for £250 a week. My partner has 2 children and i try to support them all and run the house on just my wage.My partner cant work yet as her daughter is to young for full time school and we cant afford childcare. We struggle along whilst thatc**t sits there raking in2 wages (1 off its new partner] benefits .plus has 2 cars and a mortgage. the law stinks and so does csa. your better off not working
koppel
- 30-Oct-14 @ 4:03 PM
This system is a joke! Who runs on organisation like this?? Its about time the government pulled their fingers out sat on a pile of money at home forcing dads to be homeless whilst the mothers laughing all the way to the bank, every father should pay for their child but not half a wage! COME ON open your eyes dads need to live to! I have two children and would never use the csa on my ex because I dont hate him enough to put him in an early grave and steal his money. Csa should be used as an alternative if you agree to give up your benifits, its one or the other its wrong to be claiming so many benefits plus juicing your ex's wage to a point where he would be better off on the dole than working.I feel ashamed to bring my kids up in a world like this with this disgusting government,and even more so how are csa even aloud to operate this way?! Any mother who tries to argue against this should also be ashamed nobody should be aloud to work for nothing, women play the system because they can.
Sarah
- 30-Oct-14 @ 3:46 PM
My Brothers wife has kicked him out of the materal home and has been forced to move into a tiny bedsit,she has refused him access to his little girl who he absolutly adores who is austistic for a whole year and has decided to ho to the csa and he has been made go pay £75 per week and he cant afford it what can he do????
gem
- 25-Oct-14 @ 9:31 PM
Hi i have a 4 yr old daughter who livez with me.. her father and i split up when she was 14months old. He pays anything from £0 - £20 a week for her. He is self employed with safestyle and says its comission based so if no sales then no wage for him so child gets nothing. Would going to csa be a benefit for me? The father gets cash in hand and has no bank account.
jen1uk
- 20-Oct-14 @ 6:59 PM
@Robert. It depends on what your income is- but as shown on our website if a non-resident parent earns £200 or more per week, the CSA calculates the amount of maintenance they should pay as a percentage of their net weekly income. For one child, this is 15%, for two children this is 20% and for three or more children it is 25%. I hope this helps.
ChildSupportLaws
- 17-Oct-14 @ 2:51 PM
I have 2 children by differ t mothers. I've always paid maintenance to the mother my first child and we've had a verbal agreement that has worked well. I've just separated from my current partner and my second child and wish to pay maintanance. What % of my net income should I pay for my second child? Do I pay 10% of net for each child (20% total) or is there a set amount that I am obliged to pay for each child?
Robert
- 16-Oct-14 @ 9:16 PM
Question- Contrary to Equality Act 2010 - I have just Established that contrary to this Act I am Disabled as I have had cancer. I was Medically retired from the Police and receive a Pension- For many years CSA have taken this in to Account as Income- And would not accept that I was classified as Disabled . Should this Income be taken in to Consideration? for CSA Purposes?
My ex husband is self employed and maintenace he pays does not reflect the company's income or his lifestyle. How can I prove 'real' income. Will the CSA look into this for me?We have previously had a proved arrangement.
Mumoftwo
- 12-Oct-14 @ 8:34 PM
I have my daughter as much if not MORE than my ex wife. She sleeps at mine 2/3 nights per week and MY parents house another night per week. Also either myself or my parents take her and pick her up from school the majority of the time. I have been paying £100 per month to my ex wife, as a verbal arrangement, despite all of the above but she has now applied for CSA. I'm not really concerned about this as I have a very poorly paid job with a basic salary of £12000 per year, however I want to know my rights. She works full time and earns possible twice the salary I do and also must get some sort of child benefit for our daughter - I recieve no benefits whatsoever and have to pay full rent, council tax, car insurance, gas, electric, internet, phone, food bills etc per month. I always have too much month left at the end of my money :) I don't think it's fair that I spend lots of time (more than my ex wife) and money on my daughter and still have to give my ex wife money especially when she earns double what I do? I have evidence of days/nights my ex wife has her child and the times me and my family have her. Any advice and people to discuss this with would be greatly appreciated. All the best everyone! Chin (or in my case chins) up.......
CuriousChris
- 9-Oct-14 @ 10:37 AM
My boyfriend has a 5 year old daughter and is split up with her mother for 4years he has to travel 196 miles to pick her up on a Friday and the same on a Sunday to drop her off and he still pays the mother 160 a month is this right?
Hello. My bf and I split up im 18 and he turned 18 awhile back as well we have a 2 month year old son and were sharing custody he takes the baby on the weekends but the baby doesnt spend the night with him because hes to little still. My ex lives with his parents and I live with mine my parents dnt work because there retired and his parents both work and my ex also works (I dnt work I go to college) my ex earns around 700$ per week sometimes more if he works on the weekends or goes to texas to work.My questions are approximately how much will he have to pay for child support? Since he has no bills to pay besides his prepaid phone car insurance and gas . Also,if I find someone to be with but not marry will my ex have to pay the same amount of child support?
Yesi
- 4-Oct-14 @ 9:56 PM
I have been paying my child maintenance ever since my ex and i split through a personal arrangement at the basic rate of 15% and have no problem with this at all. my ex works full time as a professional and I have regular contact with my 14 year old daughter take her out and also pay her monthly pocket money direct to her. my ex has moved in with another guy along with my daughter, and this is also cool. Until this point despite that fact i knew not all the mantenance goes on my daughter, i was happy paying but now she has moved in with another guy to his home, who also works full time, do i still have to pay the full amount or am i within my rights to reduce the cash payment to my ex but continue to provide pocket money, school trip payments, clothes and other essentials direct to my daughter? i would appreciate any advice any one may have in this matter. thanks.
Will.
- 4-Oct-14 @ 5:14 PM
@cassy, yes you can make a claim to the CSA regarding your ex's maintenance payments.
sam
- 26-Sep-14 @ 1:33 PM
Hiya my daughters dad refuses to give me any money for my daughter is there anything I can do she is not in his name has he was to busy to turn up to the registered registry office need need some help on what I can do?
Cassy
- 26-Sep-14 @ 10:35 AM
My boyfriend has two children with his ex one aged 18 one 15 he used to pay maintenance a few years ago when he worked, not through csa but agreed to stop when he became unemployed.He hasn't saw his son for over a year (his sons choice) and now she is claiming csa. My boyfriend does work and we have a child together, just doesnt seem right for him to hand over money when the ex and son wants nothing to do with him. How much maintenance will my boyfriend have to pay each week/month?
wiiknees
- 24-Sep-14 @ 11:36 PM
If my expartner is on the sick does he still have TO pay me maintenance for my 1 child
Jennie Atkinson
- 24-Sep-14 @ 6:37 PM
@Sherri, they won't take any benefits she receives into account because the CSA don't look at the claimant's income, they just look at the income of the parent who is paying the CSA. The should take into account the amount of time the child stays with your husband and reduce the amount accordingly.
Jane
- 22-Sep-14 @ 10:53 AM
Hi, my partner has a son with his ex. She claims disability allowance for his son. His son stays with us for more than 52 nights a year. Should the csa take the disability allowance that his son receives into account when calculating payments as she gets the full amount? Thanks
Sherri
- 21-Sep-14 @ 1:30 AM
@dean, it doesn't seem fair that you should pay maintenance to your ex if she hasn't paid you for the past 10 years. Does your daughter live with her mother full time now or do you have shared custody?
Laura
- 15-Sep-14 @ 11:50 AM
My ex and i had a child when the baby was 8 months old the mother decided she didnt wanour baby so i bought her up my ex became a druggy evenually cleaned up and wanted access i had legal custordy but gave her access she never paid a penny to me for our daughter now my daughter Is 10 and decided she wanted to try living with her mum which i agreed as at her age she needs her mum as pubity etc is coming. But now her mother wants me to pay her maintanance this woman has necer worked always had boyfriemds to support her or signs on i pay half school uniform etc give my daughter money when she needs somethimg or buy her clothes am i wrong to believe i shouldnt b payimg maintanance after 10 years struggling with out a penny from this woman???
dean
- 12-Sep-14 @ 5:39 PM
@J, it's not right who told you that? Your ex has to pay for his daughter regardless of how many other kids he has. Go to the CSA and they will work if out for you and if necessary put an attachment of earnings on his wage.
JaCKO
- 12-Sep-14 @ 12:19 PM
I have a 16 year old daughter and her father has not paid for her since his 2nd child with another partner. I was informed that because he has 2 dependant children living with him that he does not have to pay for my child so I have received nothing for the last 10 years. How can this be right when I know people in the same situation who have to pay csa?
I pay my exthe required amount asked off me by the socialservices every month by Standing Order direct into her bank account. She now tells me thatI must contribute half of the costs of school books which is€ 111 She has informed the principle of their school to get the money from me . . Do I need to pay this amount ?
Mikey1
- 8-Sep-14 @ 10:19 AM