How Much Will I Have To Pay?
Author: Lorna Elliott LLB (hons), Barrister - Updated: 15 September 2014
|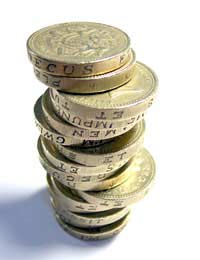 What is child maintenance? Child maintenance is financial support that helps towards your child's everyday living expenses and is paid on a regular basis. The parent to pay the child maintenance is the non-resident parent i.e. the one who does not live with the child or have day-to-day care for the child, to the parent that the child lives with (the resident parent). In some cases, this may not be a parent, such as a grandparent or guardian with full care.
Why pay maintenance?
Paying maintenance for your child is extremely important. The person with full care of your child will no doubt be doing their best, however, the extra money that you pay can help to give your children a more stable and better quality upbringing. Maintenance payments will generally go towards food, clothes, school trips, books, toys and games, toiletries, medicines, childcare, activities, etc.
How much to pay?
The amount of child maintenance that you have to pay as a non-resident parent depends on a number of factors such as income, the number of children living with you and the number of children you have, whether you are the resident parent, are in receipt of benefits and whether or not the child also stays with you sometimes. We give a break down of the general rates and payments below.
Types of maintenance arrangement
There are two main ways to arrange child maintenance:
Family-Arrangement Maintenance
Child Support Agency Maintenance
If you are on good terms with the resident parent, it may be that you can come to some arrangement about how much you pay and how often.
The alternative and most popular option is to pay maintenance through the Child Support Agency (CSA).
How is child maintenance calculated?
The CSA calculates maintenance, whilst taking into account several factors. The CSA calculates payment by applying one of four rates to the non-resident parent's net weekly income. This income includes earnings from employment, pensions and some benefits after paying National Insurance, income tax and any contributions to a pension scheme.
The four rates applied to the non-resident parent's net weekly income include:
basic rate
reduced rate
flat rate
nil rate
Basic rate
If a non-resident parent earns £200 or more per week, the CSA calculates the amount of maintenance they should pay as a percentage of their net weekly income. For one child, this is 15%, for two children this is 20% and for three or more children it is 25%.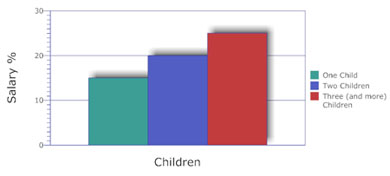 Reduced rate
If the non-resident parent earns between £100 and £200 per week, they will pay a flat rate plus a percentage of their weekly income. This will vary depending on how many children they have that require maintenance. The flat rate is £5 per week, plus 25% of their income for one child, 35% of their income for two children, and 45% of their income for three or more children.
Flat rate
If the non-resident parent earns between £5 and £100 per week, they will pay a flat rate of £5 per week. This includes people who are on state benefits, Job Seeker's Allowance, Incapacity Benefit, Bereavement Allowance, Income Support, State Pensions and certain other benefits. This rate will be the same regardless of how many children they have. In the case of state benefits, the child maintenance is usually deducted at source.
Nil rate
If the non-resident parent earns less than £5 per week, for example if they are a full time student, are under 16 years old, in prison, 18 or under in further education (no higher than A level) or are in a care home, the nil rate will apply. This means that they will not be required to pay anything.
What if a parent has other children?
If a resident parent has children with several different non-resident parents, the CSA will make these calculations separately. For example, if a woman has two children by one father and one by another man, the men will only pay for their own children respectively. Similarly, if a non-resident parent is paying money to several children in different households, the CSA will generally divide the money equally between the children.
If the non-resident parent has some CSA arrangements and some Family-Arrangement maintenance then unfortunately, the CSA cannot take into account the Family-Arrangement maintenance paid. It can, however, take into account any court orders in relation to maintenance.
What happens if the child stays overnight with both parents?
If the child stays overnight with the non-resident parent at least 52 nights a year i.e. on average at least one night a week then both parents have "shared care".
In the case of the basic and reduced rates, the amount of child maintenance that the non-resident parent has to pay is reduced in equal proportion to time the child stays with them. For example, if a parent is to pay £35 per week in maintenance but the child stays with the resident parent for 2 out of 7 nights per week, that £35 will be split into sevenths i.e. £35 divided by 7 nights x 5 nights that the child lives with the resident parent = £25. This is in addition to the flat rate of £5 which is always to be paid.
For the flat and nil rates, the amount to pay is nil.
What happens if the parent with care claims benefits?
Previously if the resident parent was claiming child maintenance, they were not always able to claim in full for benefits . However, since April 2010, benefits will not be affected by the amount of child maintenance received.
What happens if the non-resident parent is self-employed?
Calculations are made in the same way for self-employed non-resident parents as those who are employed. The CSA does have to calculate the earnings differently by working out the average weekly earnings for the past tax year. If this cannot be done, i.e. the business has not been up and running for a full year, then the CSA will use the gross income of the business to date. Reasonable business expenses and VAT are then deducted to obtain a weekly income figure, which is used to determine which rate of child maintenance should be paid.
What happens if the non-resident parent refuses to give their financial information to the CSA?
If a non-resident parent refuses to give information and it cannot be obtained from other sources, then a "default maintenance decision" is applied. This is a default rate which is as follows:
£30 a week for one child
£40 a week for 2 children
£50 a week for 3 or more children
The non-resident parent must pay from the date that the default maintenance decision was applied.
Other Factors
The CSA can also consider other elements before making a determination on maintenance payments. These can include fees for boarding school, special expenses that the non-resident parent pays for disabled children who live with them, mortgage payments for a property in which the parent with care and the child/children live (as long as the non-resident no longer has a legal interest in it) or loan payments for a loan taken out for the family's benefit while the non-resident parent was still living with the parent with care and the child/children.
Challenging the Decision
If you are not paying child support or have an application against you can find out if you have to pay child support. It is possible to ask the CSA to review a decision on maintenance payments.
Do you have to notify the CSA of changes to your circumstances?
The answer is yes. If you have a change in circumstances, you must notify the CSA immediately. If you are paying less than you should be then your child could suffer. Additionally, if the CSA finds out, you may have to make up for what you should have been paying. More positively, you could be paying too much and the figure needs to be lowered. You must also keep the
CSA informed of any change of address
.
You might also like...
@dean, it doesn't seem fair that you should pay maintenance to your ex if she hasn't paid you for the past 10 years. Does your daughter live with her mother full time now or do you have shared custody?
Laura
- 15-Sep-14 @ 11:50 AM
My ex and i had a child when the baby was 8 months old the mother decided she didnt wanour baby so i bought her up my ex became a druggy evenually cleaned up and wanted access i had legal custordy but gave her access she never paid a penny to me for our daughter now my daughter Is 10 and decided she wanted to try living with her mum which i agreed as at her age she needs her mum as pubity etc is coming. But now her mother wants me to pay her maintanance this woman has necer worked always had boyfriemds to support her or signs on i pay half school uniform etc give my daughter money when she needs somethimg or buy her clothes am i wrong to believe i shouldnt b payimg maintanance after 10 years struggling with out a penny from this woman???
dean
- 12-Sep-14 @ 5:39 PM
@J, it's not right who told you that? Your ex has to pay for his daughter regardless of how many other kids he has. Go to the CSA and they will work if out for you and if necessary put an attachment of earnings on his wage.
JaCKO
- 12-Sep-14 @ 12:19 PM
I have a 16 year old daughter and her father has not paid for her since his 2nd child with another partner. I was informed that because he has 2 dependant children living with him that he does not have to pay for my child so I have received nothing for the last 10 years. How can this be right when I know people in the same situation who have to pay csa?
I pay my exthe required amount asked off me by the socialservices every month by Standing Order direct into her bank account. She now tells me thatI must contribute half of the costs of school books which is€ 111 She has informed the principle of their school to get the money from me . . Do I need to pay this amount ?
Mikey1
- 8-Sep-14 @ 10:19 AM
Quoted from above: 'If the non-resident parent has some CSA arrangements and some Family-Arrangement maintenance then unfortunately, the CSA cannot take into account the Family-Arrangement maintenance paid. It can, however, take into account any court orders in relation to maintenance.' Does this rule remain with the changes from CSA to the CMS? I have an order with the CMS that enforces payment as for two years he refused. He has now contacted me saying he is dropping the amount he is paying because he is providing maintenance to his other son (pocket money into his son's account) and spoken to the CMS who have told him how much to pay. If it's true I'm all for him supporting both his sons but suspect he's just trying to drop the amount of outgoings in favour of more social and using his children to do it - surely he would have to prove he's actually paying maintence if it's not a CMS organised thing (which it isn't) and surely they should contact me of any changes? Come payment time and it's not what is on my paperwork I will report him as I should - but would be a waste of time if it was a legal change and I didn't know about it? Our relationship ended due to Domestic Abuse and so naturally is riddled with control and manipulation which still continues where he is able and has point of acces - this unfortunately being his children.
Dawn
- 26-Aug-14 @ 1:36 PM
Hi I have a 1 year old son and a 2 year old son and there dad [my partner] works full time and earns around 20000 a year but I do not work I stay at home and look after the kids a was just wondering. If we would be Entitled to any housing beneifit at all or would we have to pay full rent ??
bex
- 20-Aug-14 @ 10:41 AM
My daughter was born in the UK but her nationality is French due to her father's He is living in England, and we both live in Argentina. Life is very difficult as it is only us, so I had to sacrificed my career to look after her. Now, he sends us 600 pounds monthly, but his life style is glamorous, I was wondering how he should send for her? we do not own a house, we rent. thanks for helping
Chechu
- 19-Aug-14 @ 6:26 PM
Hi my boyf and I have a kid on the way and we live together and both work. I have a son from a previous relationship and so does he, he gets 230 a week what would he have to pay her the 15%? She has 3 kids to different dads and is on benefits
julz
- 16-Aug-14 @ 11:17 AM
Hi i jast want to ask i been divorced from my husband 4 years ago and we have a son but my ex husband have not seen him from four years and my son is 6 years old so if i apply for child maintnance will it effect my benefit i get job seeker allowance ,housing benefit,child tax credit ,and childbenefit and hopefully if i start my college next month i will getting bursary so tht will effect or not
Ash
- 12-Aug-14 @ 7:31 PM
Hi. I have recently seperated from my wife. We have two kids from her previous marriage which she recieves maintenance from him for them. We have one child together. Do I still pay maintenance for all three children or just one? I earn fair money, so roughly what percentage should I be expected to pay? Help.. Ralphie
Ralphie
- 11-Aug-14 @ 7:31 PM
Hello, I'm a director in a business and the business is to be sold soon as my fellow directors want to sell up so I agreed to go along with it. What I want to know is this, if when the business is sold do I need to inform the CSA and will I have to pay a share of it to my ex?
Adrian
- 7-Aug-14 @ 4:31 AM
I have just started a new job and earn £16,000 I also get a £6,000 a year car allowance and have had to go out and buy a one year old car as car needs to be less than 5 years old.The car allowance I get just covers my car finance and car insurance. When the csa calculate my payments what figure will they do in on £16,000 or £22,000 if its the later then I can't afford to live have paid out a loan, rent and other expenses - are there any exceptional circumstances and will they take my other off takes into account
spence
- 1-Aug-14 @ 10:48 PM
@Mick, the CSA have probably already written to your wife stating that you have overpaid and that she will have to pay that money back. Just give them a call and ask them what they are going to do about the overpayment.
grant
- 24-Jul-14 @ 9:38 AM
Just had a letter from csa to stop my csa payments immediately (jul 2014) as my daughter moved out of my ex wife's home in sep 2013 and she stopped claiming child benefit then so I have paid 10 months too many. My question is I have paid over £2000 since last September but did not know so where did that money go and how do I get it back. Do I claim it from the CSA or from my ex wife and what are the chances of being successful
Mick
- 23-Jul-14 @ 10:23 PM
I was under pre 2003 CSA rules which allowed them to take 33% of my wage. Under the new rules post 2003.....i should have been paying 15% net for one child. They would not allow me onto the new rules and for 10 years i was continually reassessed under pre 2003 rules even up to 2012. Hardly fair. Considering the Mother was on £43000 per year and i was on £25000 at one point they still gave her 33% of my wage. Including her husbands wage they were on a combined salary of £80000 per annum. Fair?? I never once denied payment as it is my responsibility but as i was on ' old rules ' i was actually paying more money than a work friend with 3 children on the ' new rules ' on exactly same wage as me...Fair???? The entire system is corrupt....and no matter how many times they change it...it will always be to the detriment of the Father..who in nearly all cases is the ' non-resident parent'. Having a child is a joint venture. Responsibility should be joint. Financial responsibility should be joint. The CSA maintenance payments go on individual wage.............SO..... Mother 1...works 16 hrs per week...receives all entitled benefits and gets £1300. The NRP(non-resident parent) pays his percentage based on wage which equates to £500 per month. SO...Mother 1 gets £1800 per month. Mother 2...works 16 hrs per week...receives all entitled benefits and gets £1300.(same as Mother 1) The NRP(non-resident parent) pays his percentage based on wage which equates to £200 per month. SO...Mother 2 gets £1500 per month. FAIR????????? Why should any child or Mother OR Father looking at it from all angles and sides.....be worse off...depending on the father's income? It is a travesty that our Government can not only allow children to be ABUSED by the system yet also abuse Father's and Mothers. Sort it out without the CSA...because like any other major Government funded establishment....it is there to take your hard earned money...because that is all they care about. NOT the child. Its ok that a Mother gets plenty of money from the father but where does that leave him??? unable to personally provide when he actually WANTS TO. Equal financial parental rights......You equally made that child...you equally pay for it. If new daddy " Oh i so want to be involved, i love your kids"....then sorry pal....fork out. You knew she was a mother whe you got with her. Stop using their Father's money to help pay your mortgage. Man up System is flawed.
gcee29
- 15-Jul-14 @ 10:26 PM
My ex split up with me 8 years ago when she had the baby, ive giving her money but she refuses to take any, what happens if she takes me to child support, will they backpay 8 years and how much would i have to pay back, i take home about £300 - 500?
Jones
- 12-Jul-14 @ 10:09 AM
Do not go through the CSA/CMS to arrange child maintenance.They are completely useless.You might as well just piss in the wind.They have no powers at all.When I recently asked to do a reassessment, they asked me to provide evidence of my ex husband's income.They said if I did not have hard evidence, they will not check.If they ask my ex, and he says his circumstances have not changed they will not reassess.What is the whole point of the CSA/CMS.Waste of taxpayers money.Be heartened that any parent though is legally obliged and has the legal responsibility to give financial support to their children.Go through the solicitors, it may cost you but they are better at it.The trouble is this stupid government has changed the system but has not changed the legal system that supports it.So if you go to court, the court will ask you to refer maintenance to CSA/CMS but CMS will do bugger all for you and prefer you to do it yourself.
ellie
- 9-Jul-14 @ 9:52 AM
hi im about to start a clam for maintenance from my sons father whos best friend is his boss he earns between £ 600 and £1000 per week payed into his bank account each week. he has told me he will not submit his financial details to the cma/csa and will get his boss to pay him cash from now on if I claim what can be done about this?
cmum
- 7-Jul-14 @ 9:20 PM
Sr Good day My wife has filed false case of dowry n dv.i hv a son who is with my wife.iwant to keep her but she want maintenance n dont want to stay with me.can maintenance be denied by coury.should i file rcr? How much percentage of salary be maintenance.my salary is20000 in which in hand is 12000
mukesh
- 6-Jul-14 @ 9:11 AM
I'm seperated from my husband who works ,lives in the uk.I'm a nurse and work 36 hours a week (basic pay)I rent and have to pay everything including medical care I have a 13 year old daughter in full time education.I live in Ireland,My ex will not contribute any moneys towards her support,"would you please enlighten me as to how I could make him support his daughter,He works full time. thanks
mellica
- 5-Jul-14 @ 9:57 PM
Cob if one of your children stays with you for the majority of the week and you have joint custody then surely you should be in receipt of that child's child benefit! Maintenance is only payable to the parent in receipt of child benefit. You are then in a position to claim maintenance from your ex for that child (a counter claim). You are mugging yourself by not claiming the Child Benefit for that one child.
Patrick
- 19-Jun-14 @ 9:19 AM
@cob if your child stays with you regularly for as many nights as you say then you should ask the CSA take this into account as a shared care arrangement. They should reduce your payment accordingly.
Patrick
- 19-Jun-14 @ 9:12 AM
I earn 50,000 per year before tax and insurance. I pay 500.00 per month for my 14 and 16 year old children. My money after tax and insurance is 2400.00. I have one of my son's living with me 4/5/6 nights a week and the other when he wants to be between homes. My ex wife has her money and benefits and has 2400.00 per month and only has to pay 300.00 towards her rent while mine is 1000.00 she has more disposable income than me. When the children are with me I pay for everything and even when they are with her I pay for clothes, activities and food. I think we should be paying for the time they are with us and not contribute? What does the law state? We both have joint custody and they live with both of us?
Cob
- 11-Jun-14 @ 6:38 PM
I have been divorced from my ex husband since 2010 and he has only ever paid 350-375 per calendar month in maintenance for my two children. He signed as part of our divorce proceedings to statehe would be paying 20% of his monthly net earnings he doesn't provide me with a p60 so how do I know what he is paying is 20%?
Kelly
- 17-May-14 @ 8:49 PM
Hello. I am currently expecting a baby with my partner. He has a 4 year old son from his previous marriage. He pays his ex wife money each week. His son was born premature so he has many difficulties. I believe his ex wife claims on his behalf and as his carer. My partner is self employed altough his business is new so there is no accurate earnings to date he estimates to make about £2000 a month. Now that we are expecting our own child how will that affect the money that he payes his ex wife for his son. He will not confide in me at this time how much he is alraedy paying as i believe it is considerably more than would be advised. Although i do not wish to deprive his son from anything at all i am concerned that after our living expenses our child will not be left with adequte funds for us to support him the way i would wish. I know it's a sensitive subject but i just want to make sure things are worked out equaly before the baby is born. We are already struggling to make ends meet. I would appreciate a response as i am clueless about these things and i would like to have the revelvent information to address this with my partner. I am currently not work due to long term illness which has been exsasbated by my pregnancy. Kind regards
@lefty Same, income doesn't add up to outgoing living expenditures. I can only assume they have a good accountant. I see no hope!
NoHope
- 3-Feb-14 @ 2:32 PM
Hi, I've been battling with my ex for years! CSA were giving me £7pw for our son until I took it to court and then I got £15pw. My ex is self employed tradesman and works full time. He has our son 2 days out of 7 and no other kids. His income is high (over £200pw) but if I am meant to get 25% I'm not sure how £15 is worked out!!? Is it only worked out from profit when self employed or total income? An up to date tax return was sent in and I have now been told he over paid and I owe him money :'( How is this even feasible? Please help.. I'm no good with figures but want the best for my son.
NoHope
- 3-Feb-14 @ 2:29 PM
My partner has 2 children from her previous relationship, her ex is self employed and claims to be earning £110 pw even though his rent is £600 pcm alone, he drives around in a new car and has 2 holidays a year, we are entitled to 7pw child maintenance can anyone explain how this is possible as i have one child and pay £160 a month even though i am earning less just because i am employed. I struggle to understand how this is fair and is there anything we can do as we struggle to make end meet
lefty
- 28-Jan-14 @ 7:10 PM
I had a short relationship outside my marriage with a married woman, a child was conceived and born and love greatly by both. My child's mother has custody but I have access when every I can. My child's mother is still married to her husband and I am still married to my wife we both have children in our own marriages, 2 each. My child's mothers husband, has taken the roll of father whist my child is with him and he calls him Daddy, they look after my child well and I have no complaints. I provide for my child when with my family and also provide all school clothing asked for. But my wife is the main earner in our family, my income is in proportion insufficient to pay equally the cost of the home we live in and the costs of my other children. As my child's mother and husband have taken the role of parents to my child and effectively adopted him into his family. Am I responsible to financially support them, my wife is very fond of my Child but has never taken the role of Mother to him and he does not call her mum or think of her as mum, but if we were to pay money to them it would be from my wife's earnings as mine are already Inefficient to pay my share of the house hold bills.We love our child and try our best not to argue and squabble but when my child's mothers income changes due to her husband's job changing, they then come to me demanding I should pay money to them.I know the amount of CSA support would be 15% of my income net so I have always made sure my child gets that support directly in the things I buy when my child is with us, it would equate to around £25 a week, if I pay my child's mother payments I will not have the income to provide the things I now provide for my child whilst my child is in my care. As my child gets older and has a choice he can spend more time with me and my family and this we look forward to. When this time comes I would not be asking for any support from my child's mother or her husband. Please advise on what my legal status is and what my child's mother can make me do, is it possible she can take money from my wife's income? I would want to be fair and do the right thing but not if it's going to cause my own family to suffer, they have done nothing to deserve being financially disadvantaged.
JOHN
- 10-Dec-13 @ 11:40 AM