How Much Will I Have To Pay?
Author: Lorna Elliott LLB (hons), Barrister - Updated: 9 August 2015
|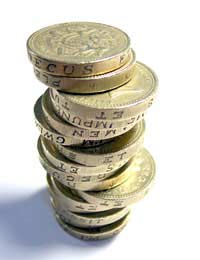 What is child maintenance? Child maintenance is financial support that helps towards your child's everyday living expenses and is paid on a regular basis. The parent to pay the child maintenance is the non-resident parent i.e. the one who does not live with the child or have day-to-day care for the child, to the parent that the child lives with (the resident parent). In some cases, this may not be a parent, such as a grandparent or guardian with full care.
Why pay maintenance?
Paying maintenance for your child is extremely important. The person with full care of your child will no doubt be doing their best, however, the extra money that you pay can help to give your children a more stable and better quality upbringing. Maintenance payments will generally go towards food, clothes, school trips, books, toys and games, toiletries, medicines, childcare, activities, etc.
How much to pay?
The amount of child maintenance that you have to pay as a non-resident parent depends on a number of factors such as income, the number of children living with you and the number of children you have, whether you are the resident parent, are in receipt of benefits and whether or not the child also stays with you sometimes. We give a break down of the general rates and payments below.
Types of maintenance arrangement
There are two main ways to arrange child maintenance:
Family-Arrangement Maintenance
Child Support Agency Maintenance
If you are on good terms with the resident parent, it may be that you can come to some arrangement about how much you pay and how often.
The alternative and most popular option is to pay maintenance through the Child Support Agency (CSA).
How is child maintenance calculated?
The CSA calculates maintenance, whilst taking into account several factors. The CSA calculates payment by applying one of four rates to the non-resident parent's net weekly income. This income includes earnings from employment, pensions and some benefits after paying National Insurance, income tax and any contributions to a pension scheme.
The four rates applied to the non-resident parent's net weekly income include:
basic rate
reduced rate
flat rate
nil rate
Basic rate
If a non-resident parent earns £200 or more per week, the CSA calculates the amount of maintenance they should pay as a percentage of their net weekly income. For one child, this is 15%, for two children this is 20% and for three or more children it is 25%.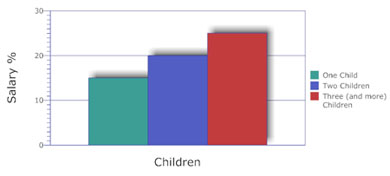 Reduced rate
If the non-resident parent earns between £100 and £200 per week, they will pay a flat rate plus a percentage of their weekly income. This will vary depending on how many children they have that require maintenance. The flat rate is £5 per week, plus 25% of their income for one child, 35% of their income for two children, and 45% of their income for three or more children.
Flat rate
If the non-resident parent earns between £5 and £100 per week, they will pay a flat rate of £5 per week. This includes people who are on state benefits, Job Seeker's Allowance, Incapacity Benefit, Bereavement Allowance, Income Support, State Pensions and certain other benefits. This rate will be the same regardless of how many children they have. In the case of state benefits, the child maintenance is usually deducted at source.
Nil rate
If the non-resident parent earns less than £5 per week, for example if they are a full time student, are under 16 years old, in prison, 18 or under in further education (no higher than A level) or are in a care home, the nil rate will apply. This means that they will not be required to pay anything.
What if a parent has other children?
If a resident parent has children with several different non-resident parents, the CSA will make these calculations separately. For example, if a woman has two children by one father and one by another man, the men will only pay for their own children respectively. Similarly, if a non-resident parent is paying money to several children in different households, the CSA will generally divide the money equally between the children.
If the non-resident parent has some CSA arrangements and some Family-Arrangement maintenance then unfortunately, the CSA cannot take into account the Family-Arrangement maintenance paid. It can, however, take into account any court orders in relation to maintenance.
What happens if the child stays overnight with both parents?
If the child stays overnight with the non-resident parent at least 52 nights a year i.e. on average at least one night a week then both parents have "shared care".
In the case of the basic and reduced rates, the amount of child maintenance that the non-resident parent has to pay is reduced in equal proportion to time the child stays with them. For example, if a parent is to pay £35 per week in maintenance but the child stays with the resident parent for 2 out of 7 nights per week, that £35 will be split into sevenths i.e. £35 divided by 7 nights x 5 nights that the child lives with the resident parent = £25. This is in addition to the flat rate of £5 which is always to be paid.
For the flat and nil rates, the amount to pay is nil.
What happens if the parent with care claims benefits?
Previously if the resident parent was claiming child maintenance, they were not always able to claim in full for benefits . However, since April 2010, benefits will not be affected by the amount of child maintenance received.
What happens if the non-resident parent is self-employed?
Calculations are made in the same way for self-employed non-resident parents as those who are employed. The CSA does have to calculate the earnings differently by working out the average weekly earnings for the past tax year. If this cannot be done, i.e. the business has not been up and running for a full year, then the CSA will use the gross income of the business to date. Reasonable business expenses and VAT are then deducted to obtain a weekly income figure, which is used to determine which rate of child maintenance should be paid.
What happens if the non-resident parent refuses to give their financial information to the CSA?
If a non-resident parent refuses to give information and it cannot be obtained from other sources, then a "default maintenance decision" is applied. This is a default rate which is as follows:
£30 a week for one child
£40 a week for 2 children
£50 a week for 3 or more children
The non-resident parent must pay from the date that the default maintenance decision was applied.
Other Factors
The CSA can also consider other elements before making a determination on maintenance payments. These can include fees for boarding school, special expenses that the non-resident parent pays for disabled children who live with them, mortgage payments for a property in which the parent with care and the child/children live (as long as the non-resident no longer has a legal interest in it) or loan payments for a loan taken out for the family's benefit while the non-resident parent was still living with the parent with care and the child/children.
Challenging the Decision
If you are not paying child support or have an application against you can find out if you have to pay child support. It is possible to ask the CSA to review a decision on maintenance payments.
Do you have to notify the CSA of changes to your circumstances?
The answer is yes. If you have a change in circumstances, you must notify the CSA immediately. If you are paying less than you should be then your child could suffer. Additionally, if the CSA finds out, you may have to make up for what you should have been paying. More positively, you could be paying too much and the figure needs to be lowered. You must also keep the
CSA informed of any change of address
.
You might also like...
Child maintenance is usually calculated by averaging the payments out over the year. The non-resident parent is still usually expected to still pay child support, unless otherwise arranged between the parents. But, given the child is on holiday with the father and he is catering/paying for her day-to-day needs many parents agree between them for the non-resident payment to halt paying over this time, as the money is for the care of the child, not for the mother.
BenJ
- 11-Aug-15 @ 12:37 PM
My ex pays child maintenance for his daughter but he refuses to pay if she is on holiday with either him or his mother - is this right? Or is child maintenance still payable ? Thank you
Been paying £40 a week for years, and struggle what's left after paying bills... Why is it that if I get a better payed job what's worth £800 a week that you take more off me just cause I earn more and got 2 kids at home. Why is it that, that child is worth more than my other two at home for really the parent to spend on themselves other than my child.
Ado
- 6-Aug-15 @ 11:06 AM
@Meme - In response to your question:
"
My ex partner has already a daughter which he pays csa towards I am now going to claim for my daughter from him but will this change his ex wife claim for her daughter ?
"
I have included a link to the Government leaflet, 'how we work out child maitenance'
here
which includes payments to children from separate families. It should tell you all you need to know.
ChildSupportLaws
- 5-Aug-15 @ 2:22 PM
My ex partner has already a daughter which he pays csa towards I am now going to claim for my daughter from him but will this change his ex wife claim for her daughter ?
Meme
- 4-Aug-15 @ 9:25 AM
@Lj - if you feel you have been treated unfairly, you can complain via the link
here
. I hope this helps.
ChildSupportLaws
- 3-Aug-15 @ 12:39 PM
My 8 year olds dad is currently a fulltime student for 3years.he has done one year already and he is always saying that he doesnt legally need to pay me anything for our son. He works for at least 15 fulltime weeks a year plus every Saturday. And i still struggle to get anything off him moneywise even when he is working during the holidays. And now he is talking about buying a new car next year?! Where do i stand because i am getting sick of him using his student status as a 'get out of jail free' card. Thankyou.
Advice required please. I have 2 children with my estranged husband. My eldest child has a disability and I receive DLA on their behalf plus carers allowance, housing benefit, income support, tax credits and child benefit. When we separated we agreed to have shared care of our children. This means that we both have them 7 nights out of 14. I agreed that because of this arrangement I would not seek any maintenance. I would also keep the child benefit and DLA however I would provide all the children's clothes, shoes, school trips etc and that the DLA would be used for whatever was needed for our child with additional needs. Recently things have not been great between me and my ex and communication is almost nil. Because he works full time I have both of the children after school every day until he comes to collect them after work if it is his night to have them (5.30 ish). I also have them every inset day (7 per academic year), plus most of the school holidays (13 weeks off per year and he has them for 3!). If either of them are off school sick I also have them. If he takes a days leave from work and it is the school holidays he still doesn't have them that day even if it is his night to have them, he still comes to collect them at 5.30ish. I have recently discovered that he is moving in with his new partner and her children. So my question is, should I now approach him for maintenance? My youngest child has said that they won't want to live with him and his new partner for 50% of the nights (child is old enough and intelligent enough to make that choice). The other thing is that although they may spend several nights a week with my ex he clearly is not doing his fair share of parental responsibilities. I have spoken to him and said that the care of our children is not 50:50 however the response I always get is that he works and I don't however I am unable to work at this time because I have a child with a disability. I would love to work and be able to support myself and my children however that is not an option. Any advice would be gratefully received.
Spiritandmore
- 27-Jul-15 @ 6:49 PM
Hi, My boyfriend pays his ex mrs for there 2 kids £180 a week, he also pays £600 a month for the mortgage for her to live in his house. He also pays over £200 a month for her to drive around in a brand new car... surely this should be taken into account what he pays her each week for child mainteneance he has them all weekend every other weekend and during thw week if hes not away with work. He buys them all ther clothes presents and gives them what they want. He pays some of the bills in the house too. So he basically pays for her life and then she also works full time and has all that money. He is without a house and has to give all his money to her. but she has looked up child support and said thats what it is so he gives that to her... Is this right???
inforequired
- 22-Jul-15 @ 10:34 AM
The father to my 3 year old little boy is paying me 20 per week out of a 600 per wage I asked him for 5 pound extra per week to help with his new uniforms and shoes and coats he knows I have 3 other children who's dad passed away and he knows I struggle I do not expect him to pay for the other but to help with the cost of his child what he gives me doesn't cover most things he picks and chooses when to be a dad I needed him to have our son while I go into hospital but he is refusing to get time off and asked me to pay a sitter how can I do this when I am on a low income and he won't help in any way
Hadenough.com
- 20-Jul-15 @ 3:00 AM
@Hafeez - you can check whether you should be paying maintenance on your earnings via the Child Maintenance Options calculator
here
. I hope this helps.
ChildSupportLaws
- 15-Jul-15 @ 10:53 AM
Hi I'm ironing 6100 year and saved only 500 year did I stil Hav to paid child's maintance???
Hafeez
- 13-Jul-15 @ 6:25 AM
My ex is self employed and always told me if we ever split I'd never see a penny. He's right in that I only gt £5 a week for his 2 children. He has had holidays abroad, drives a decent car and the new partner has a holiday cottage. The new partner also "works" with him so I guess she is getting a larger "wage" than he gets yet the income is jointly shared between them. Is there anything I can do about this. He doesn't pay anything else towards his children so I pay for all school items including uniforms and all school trips as he always pleads poverty if I ask him for a bit of assistance. Getting fed up with him trying to bully me about issues regarding he children when he doesn't help me fund them!
Geo
- 12-Jul-15 @ 12:53 PM
@raylibmilmark - if there has been a change in circumstances he should inform the CSA, who will take the discrepancy in earnings into account. He can check how much he should be paying via the link
here
. I hope this helps.
ChildSupportLaws
- 3-Jul-15 @ 12:47 PM
hi for the past 15 years my partner has always paid maintenance on time taken straight from his wages . . He has recently changed job to work for an agency as a stop gap too a better job comes along, he now only brings home £250 a week and csa want him to pay at least £41 which is the £1000 a month yet after important bills ie rent ctax gas electric car tax car insurance that's his wages gone ? Can this be right ?
raylibmilmark
- 2-Jul-15 @ 7:49 PM
My partner pays £100 maintenance a month (2012 scheme)and is leaving work to go back to full-time education in September. We know that he will then qualify for the nil rate (which will be temporary because he will be working again from next July. My question is IF his ex-partner applies for a variation what other income will they look at? Is it just his or mine included? I am a full-time university student with a child ourselves that we have struggled to support the past year due to lack of money! Yet we see her continuously buying herself new clothes/trainers. He has contact with his children also on a regular basis with overnight stays (although she did want to keep this to a minimum for more money, even states that in the court papers)
Lexie010
- 2-Jul-15 @ 5:24 AM
I'm a paying parent and Ive just changed jobs and my wage has dropped by about 20%, I have an arrangement with my ex over payments, am I entitled to drop the payments according to match the drop in my wages?
Whitey85
- 1-Jul-15 @ 7:38 AM
I need help. I am an Asian married to a British. We live in the middle east. Which law to follow on child custody?
lee
- 25-Jun-15 @ 9:11 PM
@Lammi - I have included a leaflet via the CSA regarding the annual review and what is taken into consideration
here
. I have also included a link to the CMS calculator
here
which allows you to work out how much you should be paying. I hope this helps.
ChildSupportLaws
- 25-Jun-15 @ 2:46 PM
I have a 15 year old daughter, I have paid for her maintenance since her birth, by arrangement and then through the CSA. I have maintained contact and have tried to be a part of her life but this is becoming strained as her mother is stressed and I fell like I am constantly under threat of a review of my monthly payments. I earn approx £1,600 per month and pay CSA £200 per month which is always paid on time and am curious as to what any review of my payments may be. I have no other dependants , have an average mortgage, pay into a pension etc. thanks .
Lammi
- 23-Jun-15 @ 9:59 PM
Ade I assume your wages are £17500 gross? Then you will be paying roughly £173 per month based on seeing your daughter and her staying over average 1 night per week. This is on the assumption that she is still in full time education. SM
Sailormonkey
- 18-Jun-15 @ 2:48 PM
My partner has his children (sleep over) 6 days out of two weeks, he pays for their schools meals, activities, other school fees, activities with their mother (camping) clothes, christmas/birthday presents, etc, we pay for the same things when they are with us. They were are cohabiting couple and have parted on bad terms, she has asked for a monthly maintenance fee so that 'she can live, and that the children don't lose out, she only works two days a week and the boys are both in full time school, she refuses to get more work. She is about to move into a large house with her boyfriend and is still expecting this monthly allowance from my partner, he currently does not give her anything as he pays for all these things for the children, he also is still paying for the house they own together that he does not live in or her. She is also asking for money for rent that she has paid since she has moved out! What are my partners rights with these extortionate demands?
nutsandgrapes
- 11-Jun-15 @ 5:43 PM
Hello my ex has been paying £200 amonthfor my 2 children and has now asked if he can use that money to take them clothes shopping I tried to explain it's not all for clothes shopping as other bits are needed thro the month he now saying well half of it then isn't all that money ment to come to me for kids and if he won't to buy them clothes it comes out of his own pocket many thanks for reading
Missy
- 10-Jun-15 @ 10:39 AM
@boo - if you are claiming maintenance through a family-based arrangement, then the figure is negiotiable. However, you don't say whether he has given a reason for the drop. If you think it unfair, then you could go through the CMS in order to make his payment official, but this does cost and it may end up that he is paying less once the costs are factored in. However, you can contact the CMS via the link
here
if you wish to speak to someone about this further. I hope this helps.
ChildSupportLaws
- 4-Jun-15 @ 10:33 AM
@Kelly 22x - I have included the 'how we work out child maintenance payments' leaflet
here
which explains further how child maintenance is distributed between separated families. I hope this helps.
ChildSupportLaws
- 4-Jun-15 @ 10:19 AM
@johnnyboy - you can check through the Child Maintenance Options calculator via the link
here
how much you should be paying. You can apply for access through the courts should you want regular contact with your child. If granted, this would make the contact official and if your ex denied access once a court order was issued, then she would be in breach. In addition, if you do pay maintenance under this obviously very precarious family-based agreement, then make sure you are not paying cash, as should you ever need to prove it through the courts then you wouldn't be able to. I hope this helps.
ChildSupportLaws
- 3-Jun-15 @ 12:05 PM
@kim - if you think you have been treated unfairly by the CSA/CMS, you can complain via the link
here
. I hope this helps.
ChildSupportLaws
- 2-Jun-15 @ 2:28 PM
Hi. My sons dad has been paying me £45 a week maintenance for the last 4 years, but now he wants to drop it by £10 a week. I offered to meet him half way and except £40 a week but he has refused. He has two other sons but are both over 16 although one is in university. He is now living with another women who has a 16 year old. Where do I stand on trying to secure maintenance payments from him?
Hi if the non resident parent (the dad) has 2 children living with him and is living with the mother of those children , but has another child with another woman elsewhere . Does it impact how much maintenance the other woman gets for the 1 child because the non resident parent already has 2 children at Home with him to care for ?
Kelly22x
- 2-Jun-15 @ 6:55 AM
My ex wont pay maintanance even though hes been self employed for 7 years.csa wont help as they say theres no.proof hes worked.he came into quite a bit of money from his nan passing yet still stays on dole and has rent council tax payed for him.how does this work
lolly
- 1-Jun-15 @ 5:48 PM