What Happens When the CSA/CMS Gets it Wrong?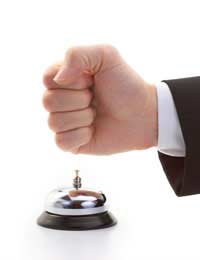 As with any organisation that relies heavily on administrative resources, the Child Support Agency or Child Maintenance Service may, from time to time, cause parents to become frustrated, disappointed and annoyed. A parent with care may express concerns over the lateness of payment distribution or the lengthy application process, whereas the non resident parent may feel stressed at having to provide so much personal information. Understanding there are times when the CSA/CMS gets it wrong will help parents deal with resolution.
How To Complain About Service
The first thing a parent should do, if they are not satisfied with the level of service the CSA/CMS provides, is to contact them direct. Contact can be made by phone or in writing. Communicating in writing provides the parent with a visual record which can be presented at a later date if required. When writing a letter of complaint it is worth photocopying the original letter, if a PC document is not used and stored.
If CSA/CMS staff are unable to resolve the issue and a parent wishes to pursue the matter further, details of the individual's case will be forwarded to the Complaints Resolution Team.
Taking A Complaint Further
Once a parent has received a response, to their complaint, from the Complaints Review Team they have the option to take the matter further by writing to the Independent Case Examiner. This service is free to all parents, although the Independent Case Examiner will only consider accepting a case if they are satisfied the complaint has been reviewed appropriately and according to strict guidelines. In order to use this service however, parents must contact the Independent Case Examiner within six months of receiving the Complaints Review Team's response.
Appealing Against A Decision
If a parent feels a decision is unjust or unacceptable they must contact the CSA/CMS and ask them to explain their decision. Parents can also request a formal appeal. It is worth bearing in mind that any new decision that the CSA/CMS make may increase or decrease the amount of payable maintenance.
Whilst the decision is being examined, the original decision remains in force and all maintenance payments will be collected and distributed accordingly.
Are Parents Compensated?
A complaint may highlight a lengthy period of processing, incorrect information or even a serious mistake. This is formally known as maladministration, and if this occurs an apology is usually not enough. Some parents may have lost money through the Child Support Agency's or Child Maintenence Service's negligence and will expect to be compensated for the inconvenience.
In cases where financial compensation is paid out this will be treated as part of handling the complaint. A parent, however, has no legal right to compensation and must wait to have their complaint assessed. The CSA/CMS decide this by using a set of rules that have been agreed by the HM Treasury and the National Audit Office.
In the financial year 2006/07 the CSA paid out around £3.5m in compensation to parents.
You might also like...
Please help. The CMS gave me a figure at my annual review that was including pension payments. I call them and told them about the error, they told me to get proof from the HMRC which I did and I applied for a reconsideration. They wrote back to be and refused it. Because the "Historic figure" they had didn't fall within the 25% Bracket. My MP has been involved but they still refuse to budge. I'm guess the figure given was an error in the payroll department at work. Why should I be penalised for someone else's error. The only thing I can do now to is to go to a tribunal. Do you think it's worth doing? I know that my figures are correct and the ones they are using are wrong 100%. Surely the 25% figure should not be taken into account on an error! Any advise would be great Thank you
Marlee768
- 26-Jun-20 @ 3:08 PM
I earn £18.000 per annum, but am paying £486.00 per month and a 20% administration fee this is due to go up in August?I am currently furloughed and have already taken a 20% pay cut for the foreseeable future!!What the he'll is wrong with these idiots?I cannot pay my bills, have my children over or eat!!Seems to Mr you have to be a special kind of arrsehole to work for the CMS and if you dare question them they screw you over.
big g
- 25-Jun-20 @ 7:49 AM
I brought my three children up as a single parent and in 2019 I received a letter from child maintenance saying I owe over ten thousand pounds to my ex partner with no explanation as to why, how the money was calculated!! They threatened to take my driving licence passport and applied a deduction of earnings to a previous employer. The child maintenance team offered no support and said no information was held so they cannot give me any explanation only the claim was from 2011 To 2015 so I cannot prove I am a innocent party in all this. How does the government get away with this and the staff team are no better then the child support agency, there is no escape and no answers
Amanda
- 23-Jun-20 @ 6:49 AM
I have been sent a text from DWP saying I have not paid my monthly amount of CMS as reported by the recieveing parent. I sent of proof the payment was made the very same day via the self service portal. Since then my payments have increased and fees added to my account. And all I get is emails saying your payments will not change, you don't need to contact us again. The new values are 35% of my basin salary that I can't afford. If remains I will not be able to make my next payment in full meaning even more fees. CMS is my biggest monthly outgoing and they do there best to get paying parents on collect and pay for the 20% fees. I know the penalties for missing payments whats the consequences for the false accusations made by the recieveing parent. I have also found out the receiving parent works for DWP.
Puppa101
- 18-Jun-20 @ 10:03 AM
I opened my case back in 2014 and my ex husband has managed to rack 11k of arrears in CSA. I have had every excuse under the sun why they haven't been able to get the money , yet he is buying a brand new car, having multiple big tattoos done and buying hot tubs for his new gp's house.To add into the wounds, he sees his children 1 day every 3weeks. It's like he just doesn't care about them. To all the fathers who are paying and see their children regularly, I have the absolutely upmost respect for you, I really do. It's when people like my ex, who will do anything to get out of paying for his own children and then screams I have rights I'm their father. The whole system is an absolute shambles. I don't feel supported, I'm not listened to. Not worth it.
Nicki
- 22-May-20 @ 3:03 AM
Unbelievably, I am paying inaccurate maintenance arrears to the husband of my dead ex wife for my grown up children now 27 and 29, and he DIDNT even raise them!! I have argues the accuracy of any arrears for over a decade, been thru all the complaints procedure and have crucial evidence to prove they are incorrect, and they keep throwing it back in my face. My MP currently in communication with them (after they rejected his last letter, even tho he can see the mistakes they've made). All a bunch of crooks that make the rules up as they go along. They cause as much damage as they do good. No dept causes more suicides than the CMS. They need to be hauled in sorted out!!!!
BamBam
- 19-May-20 @ 12:10 AM
The CMS as an organisation is run by faceless, useless muppets that I would not trust to sit the right way round on a toilet!! Nobody answers, and even when you do get answers they are different and conflicting! The wY to get their attention is to stop paying Ang let them chase you!
Andy
- 28-Apr-20 @ 5:20 PM
My ex told them I failed to pay. I sent evidence twice and they still got an attachment to earnings order. And claim I owe nearly a grand. They won't even get back to me
Painter 605
- 18-Apr-20 @ 1:33 AM
Report the maladministration to the police. Scan and email the letters threatening to take your driving license etc and cite 'threarening communications'. Report any instance of fraud, ie Deduction/ Attachment of earnings orders; police via email. Do not use the complaints system. The law cannot tell you what to do. The law must not tell you what to do. For readers who understand, good luck. It's not the childrens fault
diaryofajobseeker
- 23-Feb-20 @ 12:19 PM
Here I am the parent with care. I'm a dad. Guess what? They listen to the mother every bleating tearful lie of a conversation that had with her... I gave full custody of the kids due to court and carcass but yet I am being threatened with prison and taking my license and passport... why??? I complained and they ignored me. I had an MP the famous Ms Antoinette Sandbach ... she did nothing for us. My kids should receive some maintenance and I calculated it to be £26k so far. Yet they want £7000 from me and it's simply not true... I think it is maladministration.
Joeski
- 20-Feb-20 @ 8:12 PM
I recently got a letter that I had to pay £819 per month, I have paid with a direct payment for 5 years. My ex has become hostile due to my new relationship so in comes the csa, I should pay with my earnings 290 per month(calculated)which I have no issues with. When I questioned how they came to this figure, it was unclear. it is impossible that I could ever afford £819 so I have now no other option but to become unemployed. This is the first ever time I have claimed universal credit but it has worked and I am now on a nill payment. Do this for twelve weeks and everything will be written off. Once you find your new job they will asses you on actual earnings and not some figure plucked out ot the air. I am all for paying for my daughter but in a fair and proper manner. The csa are ruthless and really do not care at all, just like any other agency they have targets and have to make money. Hope this helps
Antony
- 12-Feb-20 @ 11:41 AM
My brother in law divorced his wife 3 years ago and he has care of their daughter who has always lived with him. His ex has remarried and lives abroad for 3 months on and off with her new husband. They are very well off and she doesn't need to work. His daughter has never lived with her mum or had regular overnight stays. She has very little to do with her. Last week he was called in by his manager at work to be informed that CSA have requested an attachment of earnings of £461 per month (he only earns less than £1400) and received a letter at home stating that he owes back pay of over £8000 for 3 years child maintenance to his ex?!? Today he received his wage slip confirming the deduction. He is going to a solicitor about this and has rang CSA numerous times being put on hold and his call not being logged. My question is how on earth has it been possible for her to claim this without checking the system to see the child benefit goes to him, checking with school to see he is the main carer, checking with thbe him to see how often he has his daughter and verifying the situation? She has recently gone abroad for another 3 months and he has no means of contacted her and CSA have sent her £460 leave ing him in financial hardship caring for his daughter full time. The school have written him a letter, he has the child Ben award letter but they have not even given him a week to appeal the decision, no questions asked before taking the money. Will he get this money back as quick when they realise this harmful irresponsible error.??
LisaBB
- 27-Jan-20 @ 5:33 PM
Anyone else want to work out why the suicide rate in men is the highest. Take a bow and full credit CMS you have blood on your hands you filthy disgusting bullying and blackmailing defunct organisation.
HMS
- 27-Jan-20 @ 3:08 PM
The Child Maintenance Service are the worst Government Department I have ever come across.I am a Civil Servant and have always understood that our role is to serve the public.We are expected to reply to letters, explain our reasoning and put the customer first. The CMS seem to have different rules and do not even respond to letters.I have been writing to them since August and have not had a single response to the five letters - just generic computer processed letters that do not address any of the issue raised.
Sue
- 16-Jan-20 @ 2:45 PM
What kind of outfit (csa)can accuse you of not doing a dna test for a family's child,I have no idea of the people, yet I have been ripped off by these,even the family birth certificate is in their name.
rossmac1234
- 4-Jan-20 @ 2:01 PM
There must be someone out there who is willing to take on the CMS this calculation that gets done before tax surely needs addresses we are paying tax on money we are not getting. Can anyone help .
Alan
- 9-Dec-19 @ 8:53 PM
A couple of months ago my friend received a letter from the CMA indicating that her ex had initiated a CMA claim for their two children. It came as something of a surprise to her given that the two children live with her. She alerted CMA to this, only to be informed that she needed to 'prove' her situation by claiming child benefit for the children. The kids had previously lived with the ex for about a year. She dutifully applied for child benefit only to be informed that there was a 'rival claim' for the benefit, from her ex who had presumably 'forgotten' to cease his own claim. She returned to CMA with that information to be informed that was insufficient 'proof'. Last month she had an amount taken from her salary by the CMA to award to the ex....for the two children she is in full time custody of. In repeated telephone conversations with the CMA it has been established that the initial claim from the ex, though very temporarily valid, was riddled with inaccuracies and falsehoods. For example no mention was made that the two kids spent considerable time with her nor that she also has another dependant child in her care. It has also been established that the ex's claim has become null and void and that he is/was committing benefit fraud. In addition, the children's school and social services have confirmed to the CMA my friend's situation. And the CMA's response? To take another month's maintenance money from her salary to award to the ex for the kids he does not have. Apparently it is their 'procedures and processes' and there is nothing they can do to prevent more withdrawals nor can they guarantee her a full reimbursement of the monies taken thus far. You couldn't make it up....
No Surprises
- 7-Dec-19 @ 3:06 PM
What happens is you contact their complaints department. The DWP investigate themselves and decide that they did nothing wrong. They continually messed up my case at least 3 times now they have thrown me on at least 3 different schemes. I used to work in the department. Apparently when the mess up your claim so bad they throw you on a different scheme they refer to it as doing a 'falkirk' because them lot regularly screwed peoples case up like that. They have farmed my case out all over the country. I've spoken to people in Scotland, Belfast, Birmingham. Literally everywhere in the UK. They have cost me at least two jobs and one secure tenancy. They have lied to me on the phone they have stolen money directly from my account. They just harvest details then rob you. They are a souless killing machine that hate men. I now cannot stay calm on the phone to them. I refuse to speak to them on the phone. I would happily kill every one of them.... I took the matter to my Labour MP Rachel Maskell. She is female and a femanist. No action taken. They are a completely unaccountable department. MP's dispair of dealing with them.
God
- 28-Nov-19 @ 2:26 AM
I brought up 2 girls on my own for 12 years without a penny off my ex. He even left the country to avoid paying. In total he owes me just over Eighteen thousand pounds. After a petty argument my 15 year old daughter tracked him down and moved in with him. He made a claim against me which I disputed as he has an outstanding debt. After 12 months of back and forth they sent me a letter stating writing off his debt and I need to pay him £75 a week although I have a 13 year old son and a minimum wage job working 30 hours a week. They also said they couldn't track him down to claim money. It's just crazy. Made an adjustment of earning on my wage which left me in the food bank to feed my son. £311 pound they took. Although I wrote to them with wage slips. Had a phone call stating they would deal with complaint raised by MP then another questioning my wage!? The whole system is an absolute joke!
Hebsy
- 23-Nov-19 @ 8:19 PM
Since leaving my ex in 2012, I have received 2 payments for 2 children. The CSA (now CMS) claim they were unable to locate my ex. It appears he was not paying tax or claiming benefits, so they claim all avenues of tracing him were closed.He has chosen not to have contact with the children so I'm unable to help. I received a letter a few weeks ago that HMRC have flagged that he is now active and my payments will resume - in April 2020. They claim that they won't be able to find out his earnings until then. I'm owed thousands in back pay and am still no further on.
Tut
- 14-Nov-19 @ 12:58 PM
Wowzers ive just been given a bill of 1250 per month saying ive never paid a penny and they want all monies plus 20% ive been paying directly for years and buying stuff for my daughter and all the fuel to collect and drop back £60 a trip. bit blown away really as to how this lot think they can just demand 20% ???? can you take CMS to court or can I go to court to get an order that removes this lot ? I cannot pay 1250 per month any way and it will also mean i never see my daughter whilst im robbed blind.
Daddy
- 30-Oct-19 @ 9:08 AM
CMS are deliberately miscalculating payments... Its cruel enough that someone has to go through the loss of their child from their day to day lives but to be forced to pay the mother that has inflicted this cruelty is disgusting and its is socially destructive, every study shows it is damaging to children's welfare have time with their good fathers restricted or removed entirely... But they are also failing to inform father's of what they class as 'non mandatory' calculation... Fathers have to guess what could be considered then ask before they will calculate to their own unfair and poorly pulled together rules
Gn86
- 29-Oct-19 @ 8:09 PM
Hi everyone, I feel your pain. Since splitting up over 12 years ago, I have paid over £70k in child maintenance to my ex. This doesn't include additional money I've supported them with such as paying for school trips, days out when I've had them stay with me and an annual holiday I've taken them on. I got made redundant and stupidly gave my ex a lump sum (a years maintenance up front) to support them whilst I looked for a new job. Within days of me transferring the cash, she manipulated them into not seeing me and started to alienate me from their lives. I have since found a job but now have the CMS bullying me into paying ridiculous monthly payments which I can't afford. This is due to them having incorrect salary details on their systems. 6 months I've been fighting my corner and still firmly at square 1. They aren't interested in helping, their only goal is to get you on the collect and pay which you have the pleasure of paying an additional 20% on a number you already can't afford. I am now in a position where I can't afford to go to work and will most likely resign and live on the streets for a few years. It will be less hassle than I currently have and financially I won't be any worse off. If their main aim is to help children get support, then why don't they review each case on its merits rather than square pegs in round holes approach? How do we collectively fight this system to get a fair and reasonable outcome? I wish everyone the best of luck when dealing with these bullies, as the mental strain this has caused me during these 6 months has been immense and with the worst possible outcome for all. The government should be embarrassed and held accountable for ruining so many lives.
Bunchofseeyounexttue
- 29-Oct-19 @ 8:12 AM
I have been contacting the CMS for the past 3 years with regards to an outstanding CSA claim. Back in Feb 2005, my ex and I separated, we reconciled in June 2005. She advised CSA in April 2007 that we reconciled in October 2005, however they are chasing for arrears from October 2005 to April 2007. They have the conversation from my ex however they will still not remove the near £4000 arrears. I finally separated from my ex in January 2016 and have not missed a payment since, as a matter of fact I have over payed by close to £13000. I have sent them a complaint in writing which they received last Friday and only because I called them today have they started the complaints procedure. I have now told them several times that if they continue to chase for this money then I will be suing them for trying to obtain money by fraud and deception. They don't seem to care. My ex has told them to chase the debt. I am getting to the point where Court is the only action. I have provided proof that we reconciled in June 2005 as I kept a Council tax bill in joint names which I have sent them. They still don't want to listen to me. I have been promised countless call backs and never had one. They are completely incompetent and the scum of the earth.
I'm a non-resident father who has absolutely no problems paying towards the upkeep of my child. I've been dealing with the CSA/CMS for over ten years and in my experience, they have been absolutely useless and seem to employ people who have no idea how to do their job. From day one I have have had no end of problems, ranging from inaction from them resulting in me owing arrears, losing information, members of staff not carrying out tasks they should have and general disregard and animosity towards my position. Talking to people in similar situations, it seems that it is not just me who is having problems and reading some of the comments here just reinforces that fact. The change in name from the Child Support Agency to the Child Maintenance Service hit the nail on the head; no longer are they concerned with supporting children's needs, they have, it seems, solely concerned with money and are now taking a cut for themselves, making cash cows of non-resident parents. In addition to this, their methods for taxation are disgusting as they consider your salary before PAYE, essentially adding their own tax on top of your income tax. They also consider Child Tax Credits claimed for other children as income so those children are deprived of money which was meant for them and the Tax Credits essentially go back into the system. No surprise really from an incompetent Tory government. The CMS are an utter disgrace and should undergo a complete overhaul along with general child support policy.
Rick
- 22-Oct-19 @ 2:13 PM
I have been proven that I'm not the biological father for a child and the mother still disputes the case. The cms are a joke I'm owed around £2000 of fund and its been 4 months since cellmark has done there test there a joke just like the mother and she just comitts fraud I hope they get what's coming to them karmas a bit#h
Angry individual
- 25-Sep-19 @ 2:21 PM
So I had an agreement with my ex to pay a set amount each month, this was going well until I met my now wife. My ex went from not a nice person to total scum. Not only did she make it hard for me to see my kids, try to damage my relationship she when to the CSA/CMS to get her money. Even though an agreement was in place the CMS/CSA took her work and opened a case. Not ones was I asked about my agreement with my ex. After talking to CMS/CMS they tell me that they like people to come to there own arrangements. All they have done is take the BS my ex has told them, i can prove that I have made payments before the case was set up but they will not listen. Now I'm getting screwed over time and time again. Iv not seen my kids for 3 years now as I cant afford the legal costs, there is no help for me as the system is totally messed up. The CMS/CSA needs to get there act together. I sick of being treated like a criminal every time I talk to them. I want to pay the money but not this way as it should never of happened. May be one day my kids will find me so I can tell them the truth and give them the lost years of cuddles they have missed out on. If you are reading this and you are the one making a claim with fails information then you should be punished. People like that destroy lives.
AngryDad
- 30-Aug-19 @ 12:49 AM
My youngest child will soon be 31yrs. My ex husband who remains in Class One employment still owes £10k towards his support. How is it it possible that the debt has not yet been recovered? I am now retired & expect this maintenance to be paid with interest. How do I ensure that, following a 2yr timeframe for debt recovery notified in 2016, the money is paid?
Norfolk & Chance
- 15-Aug-19 @ 10:12 PM
Where to Start? - My partner is suicidal, to the point of whats left to live for? and has only been in the system for 6 weeks. For 17yrs my partner has paid maintenance direct to the mother for 2 children he believed were his. My partner came out of work and there was an agreement between them both to lower the payment until back into work, this was agreed by both. My partner went back to work, then suffered a work place injury which placed him on the sick for quite a few weeks, he had no help from the DWP regards help with bills or mortgage but he managed to get through. On returning to work his ex partner made contact with him and requested maintenance for the children, the only thing was the amount she was requesting was over what the initial agreement was. he refused to pay the extra and sent the agreed amount. his ex partner informed him she was going to the CMS and thats when the trauma began. Awaiting to hear from the CSM a family member from my partners side posted a note through the door of my partners house informing him that one of the children was not his and his ex partner had an affair while they were together. upon this when contact was made by the CMS we informed them of this information and requested a DNA on all parties, Mother, Father and 2 children. the DNA tests were paid for by myself and were done by the independent body the CMS use so there was no way the tests could be tampered with. My partner went through the process and within 4 working days his results were back. after numerous phone calls with the CMS and receiving threatening letters for payment for maintenance to which my partner was paying each week direct to the mother, we rang the CMS to find out if the mother had carried out her testing? NO! 6 weeks down the line and still no tests have been carried out by the mother. after a phone call to the DNA company they informed ourselves that they had told the CMS to close down the claim as no tests had been submitted only the fathers. we rang the CMS and explained that the case was supposed to be closed down as they were instructed and they fobbed us off, they were not interested, and have now sent 3 threatening letters in 3 days demanding money from my partner. i have contacted the prime minister, every MP in house of lords regards child and families, human rights, and have no where else to go. so CMS are you going to put some money together for the funeral costs of my partner? if so send it in your next letter.
Amanda
- 9-Aug-19 @ 1:48 PM
In 2006 my home was repossessed I lost my job my possssions everything. I couldn't get rental because no credit I couldn't. Get benefits. I had no where to store my furniture etc it all went with the re possession. lived on the streets for 9 years. A friend of mine was retiring and offered me his business for a £1 (you can't givea business for free) to sort myself out. However I needed an address, which a friend of mine let me use his as a correspondence addy until I got sorted.My business doesn't make a lot of money. I don't have a permanent home yet. I do struggle. The child support agency sent me a lettersaying I don't owe them money, it's all been cleared off. A month later I get a letter saying they are taking me to court for £1,500 unpaid child support . My child is older and working.