What Happens When the CSA/CMS Gets it Wrong?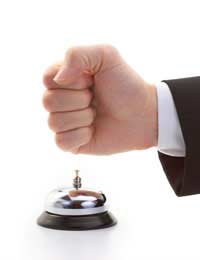 As with any organisation that relies heavily on administrative resources, the Child Support Agency or Child Maintenance Service may, from time to time, cause parents to become frustrated, disappointed and annoyed. A parent with care may express concerns over the lateness of payment distribution or the lengthy application process, whereas the non resident parent may feel stressed at having to provide so much personal information. Understanding there are times when the CSA/CMS gets it wrong will help parents deal with resolution.
How To Complain About Service
The first thing a parent should do, if they are not satisfied with the level of service the CSA/CMS provides, is to contact them direct. Contact can be made by phone or in writing. Communicating in writing provides the parent with a visual record which can be presented at a later date if required. When writing a letter of complaint it is worth photocopying the original letter, if a PC document is not used and stored.
If CSA/CMS staff are unable to resolve the issue and a parent wishes to pursue the matter further, details of the individual's case will be forwarded to the Complaints Resolution Team.
Taking A Complaint Further
Once a parent has received a response, to their complaint, from the Complaints Review Team they have the option to take the matter further by writing to the Independent Case Examiner. This service is free to all parents, although the Independent Case Examiner will only consider accepting a case if they are satisfied the complaint has been reviewed appropriately and according to strict guidelines. In order to use this service however, parents must contact the Independent Case Examiner within six months of receiving the Complaints Review Team's response.
Appealing Against A Decision
If a parent feels a decision is unjust or unacceptable they must contact the CSA/CMS and ask them to explain their decision. Parents can also request a formal appeal. It is worth bearing in mind that any new decision that the CSA/CMS make may increase or decrease the amount of payable maintenance.
Whilst the decision is being examined, the original decision remains in force and all maintenance payments will be collected and distributed accordingly.
Are Parents Compensated?
A complaint may highlight a lengthy period of processing, incorrect information or even a serious mistake. This is formally known as maladministration, and if this occurs an apology is usually not enough. Some parents may have lost money through the Child Support Agency's or Child Maintenence Service's negligence and will expect to be compensated for the inconvenience.
In cases where financial compensation is paid out this will be treated as part of handling the complaint. A parent, however, has no legal right to compensation and must wait to have their complaint assessed. The CSA/CMS decide this by using a set of rules that have been agreed by the HM Treasury and the National Audit Office.
In the financial year 2006/07 the CSA paid out around £3.5m in compensation to parents.
You might also like...
My Brother is a great Dad, loves his kids. He moved across the country to be closer to them because his ex moved. He has always paid. She is running him into the ground. Somehow she is able to call up CMS (like she did already) and say that she wasnt happy with what he was paying so they they increased the amount and back dated it 6 months. Because the backdating immediately put him into arrears, they went to the employer and take 40% of his salary. He is now working full time, sees his kids every other weekend and has to manage on around £500 per month after her deductions. She is working full time, has a salary of £50k, owns 2 houses.. She plays the system. for example, he could get a reduction as he has the kids more than 52 nights a year so she changed it. Now he gets them every 2nd weekend Say & Sun but has to take them home by 7pm. Because they dont 'stay overnight' he is not eligible. Why is it so easy for the mothers to rip of the dads through CMS? There is nothing in place that promotes joint parenting.
MyBrothersBrother
- 19-Sep-20 @ 4:33 AM
CMS have been an absolute waste of time, i paid for them to help me get child maintenance off my ex but i still have not received by back pay which has been going on since 2010. My ex still owes me 2K back pay How can i get this because they have stop taking payments from him and he still owes me money
Took all my mums money out of my account ,she was using to look after it ,I haven't worked on the cards for 6 years , down as not working , No Csa calls for 6 years now they have cleaned my account she was using of all her money , 10k , feel like this is the end of the road for me , I'm already homeless living in a hotel , she is supporting me as she lost the house, while I find somewhere now we're destroyedsurely this is illegal as I'm not working have no taxable income ?
The CMS used figures for my annual review that were over a year old.When I raised a mandatory review they advised that they can use any figures of my earnings from the last six years to calculate my payments. I understand that an upper court ruling says that they must use evidence of the most recent earnings to calculate, this being my last year's P60. Surely it is time for a parliamentary review to look into the incompetence of this department?
Mr t
- 16-Sep-20 @ 6:53 AM
I have been trying to justify my missing payments for 10 years, especially when evidence has been sent in.No one can tell me where they have gone. It seems very unfair that after receiving CMS messages that they will seize assets if I don't pay and that I have to pay the missing amounts again. It seems no one is bothered where my missing payments have gone.
Injustice
- 15-Sep-20 @ 1:02 PM
I have been trying to justify my missing payments for 10 years, especially when evidence has been sent in.No one can tell me where they have gone. It seems very unfair that after receiving CMS messages that they will seize assets if I don't pay that I have to pay the missing amounts again. It seems no one is bothered where my missing payments have gone
Injustice
- 15-Sep-20 @ 12:06 PM
Child maintenance are an absolute JOKE! 3 years my partners ex wife is still trying to ruin our lives! We have the children on set days like agreed in court he still provides for them But they are not allowed to take things home because 'mummy puts them in the bin' so we stopped buying things for them. We were having £400 A WEEK! Taken out of the account only way we stopped this was by going self employed we have been to court explained about our situation and our circumstances baring in mind we have 2 babies together and they do not give a flying monkeys!! They wrote to us saying they are taking money from the account every week and to get in touch with them .. so I try to contact them and surprise surprise they won't talk to me as I'm not a representive on the case yet they can take money from a joint account which has my name on it! They infuriate me and are trying to leave us and our babies homeless and starved absolute waste of space this system is!
loulouxo
- 14-Sep-20 @ 12:14 PM
I am currently logging a complaint with the CMA as they want to right off my kids fathers arrears which currently stands at nearly £22,000. He has not paid any maintenance for nearly a year and I have been in the system since 2003 I think. Catalogue of errors and I will take legal action if I have too. They are not always on the mothers side, this man has lied and evaded them and they have done nothing
Deli
- 11-Sep-20 @ 12:03 PM
how is it that they help the women but not dads who have to pay iv been paying for 7 years and now because I have a better job I have to pay double when the mother hasn't worked a day in 16 years its a joke I have mortgage car another child this is so wrong my other children don't go without
andy
- 7-Sep-20 @ 4:31 PM
my ex has rarely paid and is tbousanda in debt and the CMS arebdoing nothing. They seem to be working on his side and not the kids. He is around 8k in arrears over 10ish years and still they won't try and get it. They want me to go direct pay but he consistently stops paying when suits. I have refused on the grounds that I was abuses mentally and physically and don't want him having my details. Doesn't even bother his arae with his kids and blocked them on social.media after friend requesting them. My partner gets screwed over by them constantly but my ex walks away scot free!!! They need to be accountable for this shambolic state. I'm.signed off with stress and worried sick about finances as I can't tell my kids they can't have clothes they need etc.... they need clothes for school.
kmwkd79
- 6-Sep-20 @ 4:20 PM
I've been furloughed for 4 months so my payments dropped I'm now back at work and they state I'm nearly 3000 pounds in debt to them ..... how can this be as I was only earning the furlough they are driving me close to bankruptcy
Fordy
- 5-Sep-20 @ 7:20 AM
Im a paying father. The CMS are protected in law against financial abuse. They deemed my payments at £838. Then when I took deductions cos the ex wasn't paying the £500 mortgage as ordered by court, I took out the difference out. She squealed to the CMS. They put me on their pay and collect "service". Added charges and now I'm up for £1260 /month. Oh yeah - their original £838 estimate was wrong - it should have been £720 based on my actual P60. So I tried to take out a court injunction against the CMS to resolve the matter but it looks like the court does not have the power. I've been to court 14 times, but nothing compares to the abuse, financial rape, and mental torture the CMS inflict. There are no suitable words to describe what contempt I have for them.
cms-hater
- 4-Sep-20 @ 1:38 PM
What a complete and utter shambles this lot are, I went self employed a few years ago, they gave me a nil assessment, they now say 3 years later that they assessed me on an employed basis not self employed, they have backdated the debt and added collection fees, I've actually shown that I have paid monthly payments privatelyand they claim that does not matter and they won't take it into account, they state they have to keep the collection fee on the case actually laughable, never the same person deals with the case, you call up nobody has a clue they want £7,000 laughable
Neilsy
- 2-Sep-20 @ 8:15 PM
I have issues with the Child Maintenance Services rejecting my claim for the number of nights the children stay in my care. The COV-19 situation resulted in the children staying in my care 50% of the time since March 20 and this is known by the CMS but they will not take this into account for the monthly payments. I am hoping that a letter from the solicitors detailing the issue and the evidence can be done to help change CMS decision. Is this something you can do?
Johnson
- 1-Sep-20 @ 5:24 PM
I am a full time carer on Carers allowance ! And a child I have! Whom I do not see at all. Lives with his aunt now! Due to a various attacks on his new brother is not allowed within 100ft of us! I am paying reluctantly the minimum towards him! He's16 now ! They have with no explanation gone after my new partner and are taking £50 a week off her from her disabled benefits ! She's not legally linked to him in any way ! Not blood related and not a stepmother or guardian! And when I get in touch they also have no idea why they they are taking this amount ! But can't seem to sort it out or stop this! What can we do?
Annoyed!
- 25-Aug-20 @ 5:22 AM
I have been dealing with the incompetency of this agency for over 3 years I have paid over 30thousandpound in child support yet I am 20thousand in arrears with no justification or explanation I am now reaching 10thousandin legal fees and have been advised by my solicitor that this could run into 100thousand before I get justice with no way of claiming costs back from CSM where does parliament stand on this it's wrong a parent wrongly claiming CMS for a child that doesn't even live with her and also has a job but I am still left paying
Simmo
- 18-Aug-20 @ 8:39 AM
I've been dealing with the CMS for almost 3yrs now and similar to my ex-wife, they see my kids as nothing more than a source of income (they forced me into a Deduction From Earnings order). They have caused so much damage over the years that they have near destroyed my relationship with my children and financially ruined me. The CMS are a law unto themselves and answer to nobody for any of their actions. The only time things will change is if WE make change. The Americans know how to get their point across when they feel wrongly done by so why can't the people / Fathers of the UK take a similar stance against these imbeciles? They need to be stopped or NOTHING will change.
Kenny
- 1-Aug-20 @ 6:00 PM
My partner has paid the CMS consistently for a number of years and now they say he's nearly £2500 in arrears. When we've tried to call he can't through. No one is there to help. What can we do?
I'm diagnosed with chronic GAD, currently have serotonin syndrome. I explained the sick in's and outs of the child's mother and was later sent a text saying "no further action needed" I assumed that was the end of it,. 2mths later I'm sent a letter giving me 7days to respond.. or attachment to earnings will be in place. So I phone and questioned the text and all I got was "sorry" I was speaking to a emotionless clown who didn't give a poo.. I told him if carry's on then I'm going to kill myself.. an guess what he carried on! Promises me an ambulance that never came. He told my exwhat I said and told me the reply "she's more than happy to proceed" so this child's mum cheats on me, mentally destroys me, pushes me to overdose twice. Changes her name and disappears with her new man send me emails asking me to sign adoption forms!! But 12yrs later I'm still on the antidepressants from this.. but now she wants a good lot of my wages.Surely this is wrong. I asked is this phone call recording, he said yes, so I made a honest statement about my mental health and I was in A/E twice yesterday with it..
P-take
- 10-Jul-20 @ 4:38 PM
Do they realise that they drive parents to desperate and hopeless places due to their wrong decisions. They have no clue of the mental health impact they have and the implications on the children that depend on their parents for food, clothing and shelter. It should be illegal that they are able to get away their inept and dreadful management without any repercussion, without taking any responsibility for actually doing the job they are paid to do. I am besides myself as to how I am going to cope because of them. They should be audited, removed and replaced immediately. To add insult to them not acknowledging my second child for over 6months despite repeated emails, phone call and letters they have now reduced the payments to my other child and quoted their own regulations falsely as their rational- they have written and quoted the opposite of their Own regulations!!! Omg.
I am currently owed over £10000 due to continually and severe maladministration from the csa,which leaves them unable to take him to court due to the severity of mistakes they have made, no unable to retrieve from his accounts I am currently at the stage of ice investigation but i have been told that 1/ the CSA do not pay the outstanding owed anymore? 2/ that compensation for the severe stress and enabling of financial abuse is also no longer done ? Does anyone know if this is true I had been told via a csa manager they do have a pot they can pay me from and retrieve the arrears themselves due to severe mistake but I'm getting conflicting information Many thanks
Chilli and ginger
- 8-Jul-20 @ 10:48 AM
The csa are unwilling to except the fact that when they get things wrong the ready to cover up as fast as possible I was arrested as my brother from a Anisa Squires real name samantha morris stated she was raped I was DNA tested by Stechford police were it was stated that my brother is the father of samantha daughter Mr Barry Porter head of fraud in csa notice that the dna from cell mark came up as cocasian meaning white when it fact they are mixed race children andcan not become cocasian but he drop the fraud case my details along with samantha morris are on police Archive system on police record samantha know as Anisa Bruster Squires my name Alcass to police I'm known as Heradine csa are racists full stop
Heradine meah
- 5-Jul-20 @ 2:49 PM
Please help. The CMS gave me a figure at my annual review that was including pension payments. I call them and told them about the error, they told me to get proof from the HMRC which I did and I applied for a reconsideration. They wrote back to be and refused it. Because the "Historic figure" they had didn't fall within the 25% Bracket. My MP has been involved but they still refuse to budge. I'm guess the figure given was an error in the payroll department at work. Why should I be penalised for someone else's error. The only thing I can do now to is to go to a tribunal. Do you think it's worth doing? I know that my figures are correct and the ones they are using are wrong 100%. Surely the 25% figure should not be taken into account on an error! Any advise would be great Thank you
Marlee768
- 26-Jun-20 @ 3:08 PM
I earn £18.000 per annum, but am paying £486.00 per month and a 20% administration fee this is due to go up in August?I am currently furloughed and have already taken a 20% pay cut for the foreseeable future!!What the he'll is wrong with these idiots?I cannot pay my bills, have my children over or eat!!Seems to Mr you have to be a special kind of arrsehole to work for the CMS and if you dare question them they screw you over.
big g
- 25-Jun-20 @ 7:49 AM
I brought my three children up as a single parent and in 2019 I received a letter from child maintenance saying I owe over ten thousand pounds to my ex partner with no explanation as to why, how the money was calculated!! They threatened to take my driving licence passport and applied a deduction of earnings to a previous employer. The child maintenance team offered no support and said no information was held so they cannot give me any explanation only the claim was from 2011 To 2015 so I cannot prove I am a innocent party in all this. How does the government get away with this and the staff team are no better then the child support agency, there is no escape and no answers
Amanda
- 23-Jun-20 @ 6:49 AM
I have been sent a text from DWP saying I have not paid my monthly amount of CMS as reported by the recieveing parent. I sent of proof the payment was made the very same day via the self service portal. Since then my payments have increased and fees added to my account. And all I get is emails saying your payments will not change, you don't need to contact us again. The new values are 35% of my basin salary that I can't afford. If remains I will not be able to make my next payment in full meaning even more fees. CMS is my biggest monthly outgoing and they do there best to get paying parents on collect and pay for the 20% fees. I know the penalties for missing payments whats the consequences for the false accusations made by the recieveing parent. I have also found out the receiving parent works for DWP.
Puppa101
- 18-Jun-20 @ 10:03 AM
I opened my case back in 2014 and my ex husband has managed to rack 11k of arrears in CSA. I have had every excuse under the sun why they haven't been able to get the money , yet he is buying a brand new car, having multiple big tattoos done and buying hot tubs for his new gp's house.To add into the wounds, he sees his children 1 day every 3weeks. It's like he just doesn't care about them. To all the fathers who are paying and see their children regularly, I have the absolutely upmost respect for you, I really do. It's when people like my ex, who will do anything to get out of paying for his own children and then screams I have rights I'm their father. The whole system is an absolute shambles. I don't feel supported, I'm not listened to. Not worth it.
Nicki
- 22-May-20 @ 3:03 AM
Unbelievably, I am paying inaccurate maintenance arrears to the husband of my dead ex wife for my grown up children now 27 and 29, and he DIDNT even raise them!! I have argues the accuracy of any arrears for over a decade, been thru all the complaints procedure and have crucial evidence to prove they are incorrect, and they keep throwing it back in my face. My MP currently in communication with them (after they rejected his last letter, even tho he can see the mistakes they've made). All a bunch of crooks that make the rules up as they go along. They cause as much damage as they do good. No dept causes more suicides than the CMS. They need to be hauled in sorted out!!!!
BamBam
- 19-May-20 @ 12:10 AM
The CMS as an organisation is run by faceless, useless muppets that I would not trust to sit the right way round on a toilet!! Nobody answers, and even when you do get answers they are different and conflicting! The wY to get their attention is to stop paying Ang let them chase you!
Andy
- 28-Apr-20 @ 5:20 PM
My ex told them I failed to pay. I sent evidence twice and they still got an attachment to earnings order. And claim I owe nearly a grand. They won't even get back to me
Painter 605
- 18-Apr-20 @ 1:33 AM