Child Support and the Human Rights Act 1998
By: Lorna Elliott LLB (hons), Barrister - Updated: 24 Jul 2020
|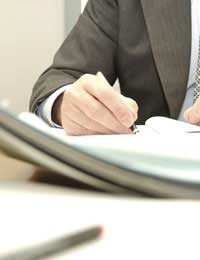 The Human Rights Act provides a number of fundamental rights and freedoms that UK citizens are entitled to enjoy by law, unless those rights are expressly or implicitly taken away by law. For example, the right to liberty is qualified by the fact that a person's liberty can be taken away by the state, such as through arrest or imprisonment. The important Article in the Human Rights Act for the purposes of child support is Article 8.
What Article 8 Means
Article 8 relates to the right that people should be entitled to a personal and family life, and provides protections from the State for someone's home and correspondence. Article 8 freedoms are wide ranging, and incorporate a huge variety of a person's existence. These include rights of transsexual people, the right to develop your own personality and, critically, the right to create relationships with others. As a result, a child has a right to have a relationship with his or her parents, siblings are entitled to know and see each other, and grandparents should be entitled to form relationships with their grandchildren.
Privacy
Although there is a right to private life in Article 8, this right of privacy is not absolute. The State is entitled to interfere if necessary, but this can only be under circumstances. These are:
the interference must be lawful
there must be a reason for the interference
the interference must be necessary in a democratic society
In terms of the reasons for the interference, it must not be gratuitous – but must be carried out in pursuance of an 'identified legitimate aim.' Therefore an individual's privacy rights can be invaded on the grounds of:
national security, economic well-being of the country, or public safety
to protect rights and freedoms of others
to prevent crime or disorder
to protect health or morals.
This means, therefore, that the interference of the Child Maintenance Service in a separated parent's life is fully justified on the basis of one of the restrictions contained within Article 8. This is because the interference caused by the CMS is justified on the basis that it protects the rights of others (the child), as well as arguably protecting the health of the child because of the provision of a financial benefit.
How Is Article 8 Used?
The Human Rights Act is commonly misinterpreted. The Act applies only to public bodies, rather than individuals. That means, therefore, that if your ex-partner is refusing to allow you to see your child you cannot then sue your ex-partner under Article 8. That said, the court is recognised as a public body. Legal challenges can be brought in other ways and the court can then be asked to protect your Article 8 rights. It would not be possible, however, to bring a claim against a private individual solely on the basis of Article 8.
This concept sometimes causes confusion, especially since high profile celebrities often bring court cases on the basis of 'privacy' (which is a concept protected by Article 8.) These cases are usually to do with a newspaper publishing intimate photographs or details of a celebrity's private life that they do not consider should be in the public domain. In these circumstances, the celebrity in question will often bring the court case on the basis of 'breach of confidence' and then ask the court to enforce their Article 8 privacy rights.
You might also like...
The CSA/CMS is without a doubt in breach of Article 8- the interference must be lawful there must be a reason for the interference, the interference must be necessary in a democratic society. Firstly the CSA/CMS have this habit of false accounting and 9 times out of 10 harass you for money that is not actually owed thousands of pounds of fraudulent arrears, this is not lawful at all it is blatant fraud and misconduct, the correspondence they send if of a threatening nature and causes distress which constitutes a breach of the Malicious Communications Act 1988 sect 1. Secondly, this is not necessary interference in a democratic society when the public body is committing fraud against members of the public, this is not acceptable conduct of a public body when we allegedly live in a civilised and democratic society. The unlawful and draconian operations of the CSA/CMS is unconstitutional!
Bully Beef
- 24-Jul-20 @ 3:16 PM
A few months back I received a letter stating I owed arrears from 2009 to 2011. cutting it short , I applied for my SARs report ( freedom of information act ) , this proved I didn't owe anything, this was because I had received nothing in writing over the period from 2009 to 2011 , I had no information for 25 month. After many emails to Arlene Sugden , head of the CSA ,or at least complaints , I get a phone call yesterday out of the blue. After explaining what I had found in the report ,the man I was talking to , Derek , said I should not be having to pay as the claim against me was wrong. All of a sudden , the phone went quiet, then Derek piped up again and said he has made a mistake , I believe they have someone sitting with them advising them in ways to get away with taking peoples money, he said that they didn't have to write to me , this was because they had contacted the DWP to check on my work status , I have suffered health problems for many years , what he told me I don't believe. in the times i've spoken to anyone from the CSA/CMS , they have a habit of moving the goal posts when ever it suits them. It has been known for many years that the CSAhave been know for making bogus ,fraudulent claims , why is it they are allowed to get away with it, I would really love to know. I explained to Derek , as a word of caution, that he or anyone else making fraudulent claims could get into deep trouble. i have now made a request for any recordings of the phone discussions i have had with them,I will now wait to see if I receive anymore information.
shawbags
- 18-Jun-20 @ 2:51 PM
I am taking the CMS to small claims court on the basis that as a result of remaining on the DEO, long story short, it has lead to poverty and the inability to see my children or have contact with them. I have quoted the Human Rights Act in my claim as they are culpable. My question is, can I use this act to assist my claim?
Inpoverty
- 18-Jun-20 @ 12:12 PM
I have 3 daughters all in education 2 higher education,my youngest 10 her father does not want any part of her upbringing financially physically her wellbeing dancing school etc no support at all and financially and emotionally I am exhausted but financially I'm finding such situations by benefit department not doing my housing and council tax claim correctly my landlord taking me to court to evict us even though I'm causing my family hardship and depriving our daily needs too pay as much as possible then I get behind with keeping on top of situations as it has took a lot of organising then tax credits take 4.500 pound overpayment in one year housing benefit again say they can use figures of calculations as if I'm still receiving the 4,500 so out of 27.00 a week my landlord wants me to pay 90 so they taking me back to court to take Our home of 9 year which it's took me to get it a home and now my youngest is very ill ongoing hospital etc etc she is needing extra love care and certainly time due to her illness the list goes on and I've been to can of which were no help and basically I'm a survivor of a violent abusive marriage 10 year ago I had nothing but my children one was a baby so it's been a lot to make my children a home while continuing as normal and I really have no support off parents no one .
I need to talk to someone about my case...thanks
juliana
- 22-Feb-16 @ 2:54 PM
I would like to find out if your child father's name is not on the child birth certificate but know the child his his biological child want to see him once in a while doesn't want to listen to the main needs of the child and only wants to buy him toys and don't want to maintain the child financially what should I do?
jjp
- 28-Dec-14 @ 9:14 PM
i am separated from my husbandon 2012, and been married since 1997'due to that we have 2 kids thats lives with me and when he left out of state i applied for government housing,welfare for my kids and i to survive because their father never send. any financial help,so i filed for child support all along we know that he was working as a truck driver in utah and now he's back in vegas, for 1 year he havent seen my kids ,,my daughter dont want to see him because of what have happen, he always say he will take the kids from me,called a police on me and he told my neighbor that he will call a CPS on me because we dont have a electricity due to nv nevada transferred his delingquent account owed 1,400.00 and to my electric bill account and wanted me to be rsponsible for his bill,,, pls help me me and my kids are doing okay until their dad enter our life again,,,,,what can i do?
shirley
- 2-Feb-14 @ 5:46 AM