Child Custody Rights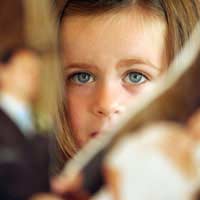 In the UK child custody law determines who should be responsible for the care and charge of a child, after divorce or separation. In the majority of cases parents opt for joint custody, which enables the child to spend an equal amount of time with each parent. This option also allows both parents to participate in any decision making which may affect the child. However, if parents are unable to amicably decide what living arrangement is best for their child, the courts will decide on their behalf.
Parent Vs Parent
Most bitter disputes between married couples end up in the divorce courts. Whilst this separation may affect the children most child custody law cases end amicably, with either agreed custody or joint custody as the outcome.
Access and maintenance payments from the non resident parent are also taken into consideration. In disputed cases each parent is individually assessed before a decision on which parent is given custody of the child, or children, is made.
Although child custody issues arise from divorce it is also a common concern in guardianship or any action that involves paternity rights. The best interests of the child is the standard that is emphasised in any issue directly involving children and their welfare and emotional needs.
Joint Custody
In the best interests of most children joint custody is considered to be the preferred solution. This choice of custody reflects the changes in society and takes into consideration work that mothers do outside of the home and a more hands-on approach of child care by fathers. By allowing both parents to have an equal share in the physical care of their child, or children, all legal rights connected to responsibilities and obligations to children are also divided.
Custody Disputes
Most custody disputes involve the child's mother and father. However, in some cases a third party – a grandparent, for instance – may seek custody at the time of a parent's death or incapacity. If a couple has never married making provisions for the care of their child may also develop into a dispute. Generally though a court will accept that a parent has the best opportunity to maintain the welfare of their child.
Unusual Circumstances
In some rare circumstances one parent may be permanently excluded from having any access to their child. However, the court has the right to change the decision at any point in time, should the parent's circumstances change. The parent is able to re-apply for access at any time, and once an application is made the court may reconsider arrangements after examining evidence.
The Court Decides
The courts will generally accept custody arrangements that parents submit as part of their separation agreement. To ensure these arrangements serve the child's interests the courts will review the plan. The role that grandparents, step-parents and other influential adults play in the child's life will also be taken into consideration by the courts.
Changing Or Regaining Custody
Changing a child's custody arrangements or regaining custody is possible. In order to support the change substantial evidence of the stability the child will have needs to be submitted. There are many other factors to consider, which may include relocation of a parent, stability of employment, integration of the child into the new environment etc.
You might also like...
Myself and my ex husband have been divorced now for 4 years and have shared custody of our 2 children. We have them alternative weeks 7 days with me, 7 days with their father. This was a agreement between us both rather than going through courts which most of the time work really well and wouldn't want to change it. The issue I have is he keeps changing addresses at their schools, doctors, dentists and changing their appointments etc. I have always been the primary care (even though its not in writing) and taken my children to appointments etc. How do I go about getting something in writing to say he cannot change these things or can't i?
shol
- 17-May-13 @ 2:57 PM
I have a very disturbing story to tell, please forgive spelling mistakes as I need help quickly. I am a father, and my ex has made it very hard for me to see my children. about a month ago, after we had taken my daughter back to her mothers after a shopping trip, my 10 year old daughter phoned me histerical, screaming that her mum had beaten her badly, and that I must go get her. As we went to pick her up her mum had gone out, she got in the car, she was crying, begging us not to take her home!!. I phoned her mum, to tell her she would not be comming home, and her mum said as long as she could keep her bennifits we could keep her (she claims dla and carers allounce for her). even though she sent the police around latter to but they were happy for her to remain with us. When we got back home we phoned social services, where my daughter made a full statement about the abuse and beating that regular accure. Roll on 3 happy weeks with my daughter living with us, and I must say she is 10 times the little girl that came to live with us 3 weeks ago, people who see her every day can not belive the difference and what a happy child she is!!. Now cut to last friday!! I was served court papers friday at 2.30 to be in court monday morning(mother had found out we had stopped the benifits and wanted her back), it all went to court and I lost and she has been granted a intrim month with her mother for things to be looked at. Now apparantly social services did not think my daughter was to be in danger, the judge did not care for me or what I had stated in my report!! and that everything I and my daughter said was dismissed as she had lived with her mother for the last five years, and that my daughter had to be removed latter friday afternoon. When I got home from court and my daughter and step mum found out she had to go back to her mothers, my child was inconsoleabe, screaming, crying, she was terrified. I phoned social service to see if they could over rule the judge, my daughter stated to the social worker on the phone that she must not go back, she would run away or kill her self. needless to say no help came!! my daughter was removed from my house at 3pm, kicking, screaming, crying (took 45 mins to get her in car), she has stated for a long time she wishes to live with me and stated that fact to the social worker. I can not belive what a total waste of time our law system is, the judge was a total waste of time and the social workers that are there to help my child are a total waste of time and have let her down very badly. I have always been a honest hard working man, where my ex is from a family of life long claimers and they know the system inside out. it just shows now what a bad state the uk is in, where the honest hard working man has no rights and the sit at homes do nothing but claim off the social system have all the power. a sad loving father who lost his daughter.
jonnydoo11
- 15-May-13 @ 12:04 PM
Hi my husband and I split up nearly 2 years ago and we have a five year old daughter. For the first six months we shared care of her where he'd have her 3 nights a week and pay nursery costs for the days she was at his although I was still her primary carer. After that he stopped having her overnight and refused to look after her while I was at work half the time or pay the nursery. He's never paid any child support for her but still had access to her whenever he wanted. Recently I refused him access until he accepts responsibilities as her father but he's threatening to take me to court. He lives in the isle of Mann and doesn't provide for her financially. At The end of our relationship he was very abusive and violent and got arrested a couple of times for beating me up which my daughter witnessed so social services were involved. Every chance he gets he tries to poison my daughter against me and my partner. What chances does he have in court and where do I stand with all this as a mum?
Kret
- 22-Mar-13 @ 1:45 PM
Separated from my ex-partner July 2011 after she returned from six weeks away living with her 'male friend.'We agreed she should sign over the council house which we'd shared for 9 years as i wasn't on the tenancy, she'd leave and I would continue to parent our two kids, 7 & 9 yrs old at the time, like I'd been doing anyway.I have always been the primary carer and the kids repeatedly stated that they wanted to live with me (dad) if they had to choose. Anyway, long story short this didn't happen. Her dirty tactics and her blatant lies about her being abused by me etc all completely muddied the issues. I went from being a single parent dad just looking after his kids after his missus of 20 odd years woulld say she s going to her girl friends BBQ for the afternoon and then disappear for 3 or 4 days at a time before returning back home, this happened 4 or 5 times over a 3 month period, to a non priority homeless male and she just waltzed straight back in - no questions asked. I was forced to leave due to not being on the tenancy and during an 18 month battle i gained parental responsibility and eventually full custody of both children. When 'd initially had to leave home I left everything barring my clothes. Now the children reside with me do I have any way of making her hand over at least half of the furnishings etc.things that belong to the kids etc. I asked for our trampoline out of the garden which i had bought the kids and her response was that i could buy it off her! it's been 6 months now and she refuses to listen to any requests for personal stuff. My son visits her two days a month and my daughter does not visit their mother at all. What can I do?
Ex-Non Priority Home
- 20-Mar-13 @ 2:17 PM
Could you tell what chance I have of gaining full cusody of my sonI'm not saying she's an unfit mother, she ok but when she goes out On the drink she tools in at 6-7 the next day, when I have work n my Son has nursery.Here is a run down of what I've done over the 4 year of my sons lifeWe split up briefly so I went to stay with my brother for a couple of monthI was up at 6 everyday I'd go to her house get my son ready for nurserySo she could get ready for work, I then took him to nursery for 7.30Started work at 8 till 5.30 picked up my son and went to her houseWere I waited till 9pm for her to finish at the gym or whatever els She was doing, I had him every weekend while she was out on the drinkPeople used to say they see her pushing her bike more than the pramEven now I go to work pick my son up afterwards come home bath himFeed him sort his stuff for the next day. She drops him off goes to uni (Monday and Tuesday only) rest of the week he's in nursery she does nothingShe gets back from wherever goes to the gym @5 When it comes to weekend shes out, I've brought him upNot her but if I went for full cusody would they let her have Him just Coz she's the mother? Its Sunday, 10.50am and she's stillNot back from a night out. Do I have a good case?
Dingbat
- 24-Feb-13 @ 10:39 AM
My partner has been seperated from his ex for over 6 years. They have two girls age 15 and 10. My partner has a good job which unfortunately means long hours and most weekends working. He has the girls one day a week which has been written into his work contract. We have always had the girls most of their school holidays especially Xmas and summer where he books off at least 5 weeks with them. His ex has now decided she needs more time to herself even though she doesn't work. She has stopped him seeing the children saying that unless he has them every other weekend he can no longer see them and its been over a month now. We don't know what to do as we can't afford for him to quit his job. Please help with advice.
Stickbyhim
- 19-Feb-13 @ 3:00 PM
Hi I have at 3 year old son me and his father split when he was 2 months old and I obviously gave him them chance to see his son he had 6 chances and only turnt up once but was then more interested in seeing his friends and getting a new girlfriend my son has not seen his dad since he was 2 and a half months old. my sons father speaks to my sister in law still and has told her by the end of the year he is taking me to court for custody. my son lives with me and my partner and his sister and sees my partner as his dad and calls him dad too what would my ex's chances be in court.
kgiggles53
- 11-Feb-13 @ 9:41 AM
Im looking for advice for a freind. my friend has 2 children with an italian national, 8 years ago they split and she took the children back to italy with her, he has been paying maintenence through a private arangemnt with his ex wife since the children have left. now my friend has moved to a different part of the uk with his new wife, and the ex wife has suddenly moved back to the uk and is demanding more than he can possibly aford, he has gone through the csa and the csa gave him a amount to pay based on his new earnings, he had offered to take the children on ceartian days and nights so his ex wife can look for a job and try and get back into a pattern in the uk, and this has been going on for some time. But as soon as his ex wife found out that this may affect the payment amount to her she has since stopped him seeing the children. is there any advice out there?
T.bone
- 9-Feb-13 @ 4:47 PM
My ex wife's husband seems to think he now has legal rights over my child due to marrying her mum, is this true? I am in my daughters life as much as possible, and i have heard he must legally adopt her before obtaining any legal rights over her, is this also true? I feel he is only a guardian to her through marrying my ex wife and has no legal rights over my daughter just because of this. can you please help by confirming if this is true or not, or what rights he does or does not have as she has a daddy, and that person is ME.
br1stolboy
- 28-Jan-13 @ 12:04 AM
my ex partner wants to take me to court over access to our 5yr old because he thinks he doesnt get her enough even though he gets her twice a week one day through the week and one day at the weekend (24hrs) . He works away so theres no consistancy of how long hes going away for and how long he will be home for so when he does come home he doesnt give me any notice and expects me to drop everything for him which i normaly do because our 5yr old is desperate to see him. I just wanted to know where i stand with this?
May I ask the question - if a father has managed to obtain residency albeit through tatics we will not go into - what rights does the mother have - access was going ok but now he has decided that the mother should be denied ALL access and indeed he has done this.He has apparently gone down to Court and got an emergency order that access be denied to the mother (which hasnt been heard yet) but insists she is not seeing or hearing her chlldren Can he do this. The mother is in such a state with worry and has sought legal assistance but to no avail he just keeps being able to do these things
flowers
- 15-Jan-13 @ 12:38 PM
Hi. I wanted some advice regarding the possibility of a custody issue with my 2 year old son and 5 month old son. My husband and I have been married for 3 years now and it is slowly coming to the point where living together might not suit either of us. Personal and emotional circumstances. The problem arises in that I am an American citizen and he is British. If we were to separate or even divorce I would want to return back to America where I have my parents, siblings, a stable home environment and would finish off my education and work to provide for my children. What would the courts say in this situation? I have financial support in America, while my husband works but lives with his aged mother.I have no problem sharing custody but seeing as the children are very young I don't feel he would be able to provide for them and their emotional needs just yet. Any advice or information would greatly be appreciated.
rose
- 14-Jan-13 @ 8:33 AM
Hi i am after advice...my friend is about to go through a custody battle where the man is trying to say the woman is unfit due to now being a lesbian, She was in an abusive relationship with the man and was thrown out of the marital home, and was pushed into the arms of another woman who happens to be her best friend, my friend and her best friend / lesbian partner in a loving home and they share joint custody with the ex husband. any tips on gaining custody please ? ?
My brother's wife recently died and his 15 year old daughter has been battling depression because of it. He has been very absent and even before the accident was very cold and distant from her, but even more so now, he hardly ever sees her and I spend quite a lot of time with her and have helped her to give up her pill addiction. While she is not abused, she is emotionally neglected, and I am wondering if I would be able to gain full custody of her. Thanks.
Mark
- 7-Jan-13 @ 4:21 AM
What it is a friend of mine has recently split from his partner they have a 2month old baby. She has told him that he has no right to see the child and if he does what to see him then he has to go to England. The thing is he is currently living in Northern Ireland and is a career for him mother. His ex knows this and is making it difficult for him to see the child. There is also many other factors that have given my friend reason to thing that his son is not safe with his ex. My friend really needs help as he is being made to suffer for no reason. I there anyway of my friend getting custody without having to go to England as he is living in Northern Ireland and is a career, also he is named on the babies birth certificate. Please help as he is really starting worry about his baby boys safety
Biff
- 19-Dec-12 @ 3:45 PM
hello i have just this week as in sunday 18th nov ened my relationship with my boyfriend of 9 years we have two children together this week i have found out that he has a "friend" he was meeting the following sunday but he had the children he and they where at his mothers i went round to speak to there dad about condictions about seeing "friends" while having the children he has many time complained to me that he doesnt see the children anomre or much as he liked (sorry he moved out in feb march time to finda a job) i said that if he wanted the children at the weekends then it should be him and only him with the children i don't think it was fair on them to be introducted to his new "friend when it was new to him too and don't want the children confussed or hurt if his "friendship" didn't work out, my son then said that there were meeting a new person today so i said that i would take the children with me or he could ring his friend up and say can we meet up in the week coz i have my children this weekend i'm sorry i don't think i'm asking too much for our kids its only been a week that we split well rally wedsenday coz he came back on tuesday my worry was that if he could do that this early whats to say he wont do it later on the weekends he should have the kids, well things got out of hand coz his mother was there and i told her what i said and that he had choose his new "friend" over his kids other things got said i lost my head and said things that just poped into my head and they didn't make sense we got into each others spaces and we got phyiscal i know i shouldn't of i am not a personm that is like that ever i may get angry and scream and shout but never phyiscal well now he wants to take the children away from me he thinks i will hurt them he even said that i went for out younger child which i didn't i'm aware that she was crying and being pushed over a chair but never going for outr child he says that i did it to get at him coz he loves her sorry has a better bond with her than his son which is true which was another reason why i didn't want a new "friend" around at the weekends coz he has to already compete for his dad over his sister which is courseing problems with them i know i was in the wrong by it getting that far i went round to just talk about setting rules that we both would stay too i'm scraed that they will use this all against me in the courts there are other under currents that i have been made a ware of about being mental abused by him i'm starting to see things that i'm shock at that i have become a person that has become weak
legsarelikejelly
- 26-Nov-12 @ 11:44 AM
I have a 5year old son and separated from his father when he was 18months, I have always done my best to keep things amicable in front of my son and it has for the most part been good. My ex and I dont get on well but any arguing/disputes is done via text so that our son is none the wiser and only sees us happy around each other. But recently (gradually over last 2 years, gotten dramatically worse in last 6months) my ex (the father) has not been doing this, he turns up at the school gates to shout at me in front of our son and his friends/parents/etc. He starts arguing and swearing at me when I pick up my son from his house/vice versa, and has started refusing to see our son alot of the time. when he arranges to come and pick him up to see him, our son is excited looking out for him at the window, everytime i have to ring after he's late just for him to say he's now too busy and doesnt want to, leaving our son crying and upset. he now goes weeks on end without seeing him, just a couple of days ago after offering a lift home after work he ordered us both out of his car telling us to walk instead as his new girlfriend doesnt like us being around, leaving my son crying all the way home thinking his dad doesnt want him (the look on his dads face showed he couldnt have cared less). I now have to rely as much as I can on my parents and brother to babysit while I am in work. The Father is also being awkward with money now, not wanted to contribute, he says he cant afford it but earns about triple my wage and constantly goes out and lends his girlfriend money. My son gets only upset and disappointment from his dad, has started having tantrums (hasnt had them before) and never wants to see his dad (at 5 this is wrong surely, i still encourage him to have fun with and see his dad) but always comes back from him upset and naggy. If i try and talk to him about his behaiviour he says i am being petty and just want my own way and an easy babysitter, which, when he hasnt had his son overnight for over a month now, i disagree on. i am not bothered about a babysitter (other than when i am in work obviously), i dont go out, I just dont know what to do. everyone i know thinks i should stop contact, including the fathers parents!! but this still feels like the wrong option. but with him doing more harm than good to my son, im considering it recently but dont know where to get good advice.
DisneyQueen
- 19-Nov-12 @ 11:31 AM
My Daughters boyfriend has just found out he is a father after 2 years. Until the mother of the child seperated from her existing boyfriend nobody knew that this guy was not the dad. It was only after that guy refused to pay that she then decided to see if someone else was the dad which turned out to be the case. After the DNA test she now wants money from him but does not want him in the childs life. She refuses to put him on the birth certificate nor give him access. She also wants back payment and is demanding payment in cash. What is his rights and does he have to pay back payment? Can he get access? Does she have to put him on the cretificate to prove he is the father? Any ideas?
2 weeks ago i split from the farther of my child he was abusive and aggressive towards me he would hit me if i wouldnt give him money and would hit me if he got angry. i decided it was the best to split as the social services got involved for his aggressive behavour turning up to my house in the early hours of the morning on drugs. early last week we had a meeting with the social services regrading what my daughter need i was upset the social services said i couldnt see my daughter for 4 days because they are claiming i am an unfit mother. i havent had my daughter back yet as they still claim i am an unfit mother. i went to my solicitor and she said it is illegal what the social services have done with out no proof that i am ill and with out no court order. i also attended another meeting with the social services and they have said that i am only allowed my daughter twice a week a friday and a saturday. i feel i am getting treated unfairly as i am close to myt daughter and give her everything she needs i love her so much i just want her back. the social services do not believe me that there is an illegal pitt bull locked in the shed of his mothers garden they do not believe me that he is on cocaine and does drug dealing. im getting made out to be a liar i just want some one to beleive me
laceysmum
- 10-Oct-12 @ 3:55 PM
Por favor gostaria de uma informação, minha ex mulher mudou-se para uma outra localidade levando consigo as crianças já que a guarda esta com ela, desta forma as visitas para mim ficaram inviáveis, para que eu faça essas visitas quinzenais ela terá que arcar com as despesas de viagens, ou é tudo por minha conta, o que diz a lei a esse respeito, em contra partida, caso ela traga as crianças para que eu possa ver, estes custos são meus, ou sendo ela quem mudou de cidade eu fico honerado destes custos. Obrigado
gilberto
- 21-Aug-12 @ 8:49 PM
Babe Ruth It sounds like your wife has Bi-Polar disorder, and is probably not capable of dealing with all your son needs. I would contact a lawyer who is familiar with international law. You should have full custondy, with her having visitation rights. I have seen this situation first hand, and the mom lost custody, but had some visitation rights.
Deb
- 17-Aug-12 @ 10:06 PM
hi seek legal advice as abuse is abuse
hama
- 12-Aug-12 @ 12:41 PM
My wife and i separated over 2 years ago and she has had our child living with her. i had visiting rights agreed which she then changed.I have not seen my child for almost a year as she has refused to let me see him. i have had a letter from a solicitor in her parents name saying that they want to have full custody of my child as my wife is entering the army. they have also said that his surname should be the same as my wifes maiden name. what are my rights and what should i do?
spindly
- 7-Aug-12 @ 7:39 PM
i have seperated from my partner and father to my 1 year old daughter. i am worried that if i let her go unsupervised to him or his family they may snatch her and not return her. he is named on the birth certificate. what are my rights in this sisuation? Is they away i can pervent this from happening?
hollie
- 6-Aug-12 @ 4:06 PM
I live with my partner and his two children. His wife has brain damaged and is legally non-competant. If my partner dies who would have legal custody? Thanks.
Sue
- 28-Jul-12 @ 8:52 PM
second continued................... which I have no knowledge and some are in Lithuanian a language I do not know. I feel I must, report her illegal activities; go to the Court Office and begin proceedings under the Children's Act for an injunction about her abuse and attempt to get an Family Law occupation order against her. Has anyone both a moral and legal viewpoint on this monster? Please can anyone help if not me then my children? Thank you in advance!
Tamarman
- 21-Jul-12 @ 12:36 AM
this is the final piece of informationas just previously given....(continued) .........since our marriage that she might even still own this. The proceeds if there were are still secreted in some locality in Lithuania...they were never brought as assets to new family joint assets. Seven years on and I am still looking after the children as both mother and father. Last February after much work on my behalf and preparing a business plan, gaining her a lease with her landlord and all renovations, saving her a 5figure GB£, she opened a small seamstress shop/designer clothes; with much difficulty at first but is now beginning to thrive. Our relationship died in 2007 but like a lot of people who are loving for their children and impecunious in finances we stayed together for these last years me supporting her business whilst being mum and dad to the children. Now she wants a divorce drive me out of my own home and "care" for the children, which she never really has. She is attempting a occupation order claiming my gifting the cottage to her in 2003 even though I lived and owned it continuously for the previous 20 years. She did not make a deposit payment on the property during purchase and has not made any mortgage or maintenance payments in the last nine years at all! During my ownership I provided mortgage and maintenance payments plus the original deposit payment. My eldest son cannot under any circumstances bear to be with her at any time; he was so worried about this situation that he has told me and being reinforced by telling his social support teacher at school that he has to live with me or he would rather be fostered! My youngest son will follow his brother. My estranged wife "will fight until death" for her children, sorry her possessions so she proclaims. She does not have maternal instincts for the children and cannot understand in its fullest meaning what loving, caring parental responsibility means; from feeding and general care, ensuring hygiene and proper nutritional foods, their health and dental/eye needs, and especially education. She has never listened to the 7 year old read and it was 5 years ago she last did the like for our 11 year old....SAT's what are these? She abuses the boys savagely in an emotional manner on a daily basis, and has hurt the oldest physically more than once and now attempts to put me on the "ropes" because she thinks that she can get an occupation order.I know she is doing this as she sees the best form of defence is attack and do so savagely. I saw a local Family Solicitor who says my income is £5.00 a month more than my eligibility to support from the LAC. But I found out only yesterday, when I was burning some papers and on further investigation I identified that my estranged wife has been conspiring illegal criminal activities on five different areas, through her business and other activities.And NO I did not know about such actions as some are linked together with her sole business for
Tamarman
- 21-Jul-12 @ 12:34 AM
This is a question...and I am afraid one with along introduction of relevant facts. My estranged wife and I were married 12 years ago. She is a Lithuanian citizen who sadly lived in dire circumstances in her native country with two boy children; one a severe diabetic and one a seriously emotionally deprived child. In reality I took pity on them and my kindness has not been rewarded in any manner but conveniently turned against quite viciously against me 12 years later. They came to the UK in 2000 and we married in 2001. Our first child was born in 2001 later and our second in 2004. ( I feel the first was done to secure a form of emotional residency). When she first new me and because I came from the UK and was a professional person she automatically thought I was wealthy which to her I was in comparison to only a few of her countrymen. She had a relationship previously with a well to do businessman in that country who I found out was an embezzler! (Crime is the only way for many in her native nation to become financially wealthy) so she thought that financially I would be a copy of her previous boyfriend...I explained within a few days of her coming as a foreign fiancée that her initial rights are of that of a visitor, that my home was bought on a high mortgage and I did not own it outright. From that moment on her whole attitude to me changed NOT as an extreme emotional outburst as if I had deceived her. I attempted to explain in her limited English that in the UK most properties are mortgaged to a high level but that had not effect of easing her understanding. She informed me that she was pregnant and was quite ill with the pregnancy and persuaded me to not take a good job but to remain at home and look after her....Like a fool I did...but please attempt to understand. From that moment on I was to her a "sad individual" and not worthy of her love and that I was not good enough for her. She used such a cant daily and after a month I suggested to her to use the return ticket to go back to her "shack" in her native country. Obviously she was not going to do that seeing that now I know all she wanted from our relationship was money and property. She was/is a mediocre artist designer having only studied it to A level equivalent but feels that she is a professional. Her efforts at such work failed because she does not understand business. After our own children were born I took very early retirement to look after the children entirely, at least 90% of the time as she is a workaholic; attempting aspects of art-design on websites and clothes but have not been a success. And since February 2011 she has virtually abandoned the children due to her business but in the last month she has attempted the perfect mother syndrome.....but the boys know that their emotional and welfare relationship with her has NOT CHANGED one bit! When she left Lithuania she was the owner of an apartment flat and as far as I am aware as I have not seen any Deed of Sale
Tamarman
- 21-Jul-12 @ 12:31 AM
Hi to you all on line this is the first time i have ever done this but i don't no were else to turn. I feel that my grandson is being emotionally abused at home by his mother or hernew partner he is so un happy when he goes back to her that he cry's he has not done this in the past.Also his mother is getting very difficult to deal with in how when what were and how we do things with him. I would love to keep him here with me but i don't think i can do this.
nan
- 18-Jul-12 @ 4:58 PM
my husband has left me and our children. he was hitting me and beating me up . he was also hitting our children. i really wanna divorce him and custody of the children. he has told loads of lies for years. and has left me with loads of debts.
candy queen
- 16-Jul-12 @ 6:52 PM