Child Custody Rights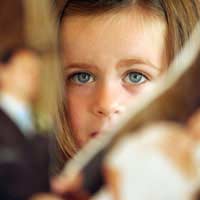 In the UK child custody law determines who should be responsible for the care and charge of a child, after divorce or separation. The term custody is now more commonly referred to as residency - indicating where the children's main residence is, following a parental break up.
In the many cases, parents preference is for joint custody (or residency), which enables the child to spend an equal amount of time with each parent. This option also allows both parents to participate in any decision making which may affect the child. However, if parents are unable to decide amicably on what living arrangement is best for their child, the courts will decide on their behalf.
Parent Vs Parent
Most bitter disputes between married couples end up in the family courts. Whilst the separation and ensuing bitterness will undoubtedly affect the children it's important to remember that:
Most child residency court cases end amicably with either agreed residency or joint residency as the outcome
Access and maintenance payments from the non resident parent are also taken into consideration
In disputed cases each parent is individually assessed before a decision on which parent is given custody of the child, or children, is made
The best interests of the child is the general standard at the heart of all residency cases.
Joint Residency
Joint residency is considered to be the preferred solution as being in the best interests of most children.
BUT...there are no laws or 'rights' that state that a child should live specifically with either the mother or father.
Assuming you both have parental responsibility it is up to you to negotiate residency on the basis of what is best for the children. Many couples neglect to consider this fact and err on the side of what they themselves would prefer (or what suits them).
If you cannot come to an agreement, you should try mediation first. If that is unsuccessful, the courts will become involved and will issue a court order based on what it sees as appropriate.
Joint Residency Reflect Modern Society
The choice of joint residency, reflects the changes in society and takes into consideration work that mothers do outside of the home and a more hands-on approach of child care by fathers. By allowing both parents to have an equal share in the physical care of their child, or children, all legal rights connected to responsibilities and obligations to children are divided.
Custody Disputes
Most custody disputes involve the child's mother and father. However, in some cases a third party – a grandparent, for instance – may seek custody at the time of a parent's death or incapacity. If a couple has never married - making provisions for the care of their child may also develop into a dispute. Generally though a court will accept that a parent is in the best position to maintain the welfare of their child.
Unusual Circumstances
In some rare circumstances one parent may be permanently excluded from having any access to their child. However, the court has the right to change the decision at any point in time, should the parent's circumstances change. The parent is able to re-apply for access at any time, and once an application is made the court may reconsider arrangements after examining evidence.
The Court Decides
The courts will generally accept custody arrangements that parents submit as part of their separation agreement. To ensure these arrangements serve the child's interests the courts will review the plan. The role that grandparents, step-parents and other influential adults play in the child's life may also be taken into consideration by the courts.
Changing Or Regaining Custody
Changing a child's residency arrangements is possible. In order to support the change, substantial evidence of the stability the child will need to be submitted. There are many other factors to consider, which may include relocation of a parent, stability of employment, integration of the child into the new environment etc.
You might also like...
Been with my ex partner 10y r I threw him out after he h. had his hands round my throte he came home after seven months but walked out last week he said it's his right to see my son everyday is this correct? I want him home he said yes soon but I seen on government site about parent logbook for custody if he had a lawyer or started processing would I be made aware of this?i don't want to sit on fence if he is just playing until he gets legal papers Please help me as he has threatened to take my son to London and I won't see him again there's a lot more to this fraud on universal I've reported it but seems he knew what to do in my details ect am so scared of his true intentions I worry for my health as had stroke and fear another due to this Urgent advice needed
Terrified
- 21-Sep-20 @ 8:12 PM
My mother and his boyfriend have a child(my little brother) and he always threatens my mom with throwing her out without my little brother. And he always drinks and smokes very much and we wanna go away with my mom and my little brother but we don't know what to do. Can anyone give us some advice how we can leave and how my mother can get custody for my little brother?
Asd
- 14-Sep-20 @ 7:03 PM
I am 24 and my sister is 21. We each have 1 child. Over the last 2 years our mother has become increasingly unfit to look after our 2 younger siblings aged 8 and 11 due to alcohol and drug use so between the two of us we have been looking after them. However she is showing no signs of trying to get herself out of this rut and we think it is in the best interests of the children to come and live either with one of us or for us to share custody of them permanently. The only reason we havent persued this yet is because we would first like some advice incase things went wrong and the children went into foster care (which none of us want) does anyone know what are the best steps we can take so that the children are legally in our care or what would happen if we applied for full custody of them?
Ndw
- 8-Sep-20 @ 10:04 PM
Ex partner (female) has custody of 11yo daughter. She has made it difficult to see my daughter since I remarried (haven't seen her in 4 years). Even though the courts maintain she must co-parent with me, she has alienated me from my child. It has come to my attention that my ex has had a life threatening health issue occur. Since things have been contentious since the beginning of our split, it's has been impossible to approach things such as wills and after death plans surrounding our daughter and property. From the stories I've heard from family members, I am the devil incarnate. I'm concerned about her extended family fighting for custody, not out of concern for my daughter, but out of spite. If something where to happen to her, would I still get custody of our daughter?
LRMcG
- 1-Sep-20 @ 10:59 AM
My wife has a daughter (my step daughter) and her father is causing all sorts of problems for us. My wife has full custody of her and he has visitation rights. Now, before my wife met me he paid no attention to his daughter had no contact until my wife met me. I am a US citizen currently living in the US. When my wife first came to the US she asked the father if he could watch her while my wife came to US but he wanted money to do so. Then after my wife and I were together for 2 years doing long distance relations, his daughter stayed at his house and when she came back she said he touched her woowoo (privates) but when my wife told the courts and officers they said it was just a touch not enough to do any charges. She is 7 years old and he didnt need to be touching her because she can use the restroom on her own. I dont know what to do right now because my wife is here in the US with me and our new son who is 8 months and he is lying to the courts in UK and accused my wife of child abduction. I dont know what to do, it seems we are fighting a losing battle and might have to move back to the UK. We need to get full custody and take away visitation rights. Her father also threatened to kill my wife with a knife in front of his daughter and thats one of the first things she told me when she came to the US and told my parents the same thing. Can I get help please.
Joel
- 30-Jul-20 @ 1:02 AM
My husbands crazy Ex has said she will be contacting social service as she feels I am an unfit mother and I and holding my husband against his will. Both statements are very untrue. Firstly, my child is perfect and I have no doubt that I am perfectly capable of meeting all his needs. Secondly, my husband is a grown man and can come as go as he pleases. She is jealous and finding anyway possible to make our life hell due to custody disputes between their child. I need advice on what to do next with the situation and what steps the social services will take due to the allegation. Thanks
Hi, my dad was in a relationship with his ex partner and has 3 small kids with her, She only lets him see the kids on her terms, he has a new partner and she will not let the kids to my dads house due to this new partner, she is very abusive emotionally towards my dad making him feel worthless and not good enough. My dad has a voice recording of his youngest daughter aged 4 telling him that her mum hates him and wants him dead. He has screenshots of text messages sent from her telling him she wants him dead and will never be a good enough father. I really want to help him but don't know what to do, was hoping to get some advice?
Anonymous
- 26-May-20 @ 9:18 AM
Hi My son hasn't had any contact with his fatherin 8 years but he is on the birth certificate. I'm struggling to get a passport and things like that without his consent, but we have no idea where he is to contact him what can I do?
Anonymous
- 9-May-20 @ 1:01 PM
My partner is currently going through a divorce with his ex wife they have 3 children together. Since the lockdown has begun she has let him have access then pulled it away at the drop of a hat. Now she has removed herself and the children from the family home with no reason and is refusing my partner to speak to them. This is all because she has just found out he and I are in a relationship. She has even threatened the safety of my child. She has told him she wants full custody of the children for the onlyreason that I am in his life. Can she get away with this?
Emma
- 25-Apr-20 @ 8:29 PM
My boyfriend is UK citizen, his nationality and his ex-wife nationality is yemeni. Currently his ex-wife living in Saudi. 1. Can he ask to government to let his ex-wife to stay in uk, so that their son can stay closed with both of them? 2. Is it true, if the father want to met his son he must ask for ex-wife permition first? His son now is 8 yo.. 3. In what age the son free from his mom custody?? 4. If the divorce man (UK Citizen) wanna get marry with a new girl (non UK Citizen) is it the procedure is different with if he is get married again with his ex-wife (non UK Citizen)??
muti
- 25-Apr-20 @ 4:32 AM
Hello there My name ken I have a 2 year old son I'm currently going through a separation due to my wife mates bullying and assaulting me in fornt of my son the police have told them to stay away from me and my son. I'm contacting you so I can get a form or something for my wife to sign saying she won't let them contact him so he safe there not family just her friends. And the other thing is I have my son full time as my wife can't cope with him and she wants me to have him full time is there away she can sign a form to say that I'm the main parent? Just want to protect my son if you can help would be grateful. Kind regards k.Round
Kenneth Round
- 11-Apr-20 @ 10:27 AM
Parents often forget that a child has two parents. A child is entitled to all the love they can possibly get.No one parent has rights over another unless one of the parents is unfit.Grandparents also enrich a child's life.It is healthier to put aside squabbling and think of the life they created.Of course, it is wrong for a child be be mistreated by anyone.Anyone. It took two people to make a child.Whether you get along anymore, it is better to put aside your differences and try to give the child what it needs. This also means not to go out of your way to provoke the other parent.And it means that you have to treat the child well, not just stick it in front of the telly and never share anything with it. A child is not a trophy.
Kat
- 26-Mar-20 @ 4:56 PM
Hi, I am a single mum of 2 children aged 7 and 9. They have been going to see their dad regularly every weekend although I had to stop them sleeping over when every time my son aged 7 kept kicking off that he didn't want to go and would run and hide. It got so stressful that I asked the dad if he could just take them the Sunday so they wouldn't have to sleep over. This was fine until recently when my son got invited to tennis lessons which were in a Sunday. I asked the dad if he could take him and he said he would only take him if they started sleeping over again. I felt that I didn't have a choice as my son really wanted the tennis lessons so I agreed but on alternate weeks only. My son is starting to kick off again that he doesn't want to go. He says the reason is because all t y do is sit and watch tv and if they talk they are told to be quiet the whole time. His dad freely swears and shouts at them both which is another reason I feel my son doesn't like going round there. If I ask the dad to stop swearing and to do more things with the kids he just does exact opposite as of to spite me. I am now thinking about stopping the kids from going around there at all as both of them have voiced concerns to me which doesn't sound right but I don't want the kids to go through an ordeal of a court order where they may be forced to go see their dad. Can anyone please advise how I should handle this? Many thanks
Question
- 13-Jan-20 @ 11:00 AM
My relationship with my wife has been strained for a good number of months now perhaps even over a year I'm not apportioning any blame I feel its just a difference of opinions and we rushed into marriage etc we have a child together who is at nursery, I moved in with her in a house that she was already living in. She also has a son from a previous relationship who I have brought up since before he was 1 my worry is if we do split up my family and support network are all over on the opposite side of the city so I don't know how I would get my daughter to and from nursery as well as getting to my own work, how is residincy decided and would I be expected to take her to nursery on the days I have her or could I arrange an alternative child care solution and what would happen when the time comes for her to go to school how would a school be chosen do the parents mutually decide or are living arrangements what dictate it? I love my stepson as well but I take it I wouldn't have any rights to see him? I don't care about how much child support I have to pay or any of the rest of it I just want to spend as much time as possible with my girl as she is my whole world and if possible I would still like to see my stepson as I love him dearly too.
Andy
- 21-Oct-19 @ 2:40 PM
My relationship with my wife has been strained for a good number of months now perhaps even over a year I'm not apportioning any blame I feel its just a difference of opinions and we rushed into marriage etc we have a child together who is at nursery, I moved in with her in a house that she was already living in. She also has a son from a previous relationship who I have brought up since before he was 1 my worry is if we do split up my family and support network are all over on the opposite side of the city so I don't know how I would get my daughter to and from nursery as well as getting to my own work, how is residincy decided and would I be expected to take her to nursery on the days I have her or could I arrange an alternative child care solution and what would happen when the time comes for her to go to school how would a school be chosen do the parents mutually decide or are living arrangements what dictate it? I love my stepson as well but I take it I wouldn't have any rights to see him? I don't care about how much child support I have to pay or any of the rest of it I just want to spend as much time as possible with my girl as she is my whole world and if possible I would still like to see my stepson as I love him dearly too.
Andy
- 21-Oct-19 @ 2:40 PM
I am married and have 2 boys both under the age of 2. My husband is not legal in the UK (he doesn't have a British passport. He has a Bangladeshi passport) but has been in this country for nearly 10years with all the right paperwork. He's not allowed to work or anything. We are having trouble in our marriage and it's not getting any better. I want to divorce him. I just wanted to know that if I do get a divorce then will I get permanent custody of both my boys or will he get the right aswell, because he's not allowed to work so he won't be abe to support any of them.
EssKay
- 25-Aug-19 @ 10:48 PM
I have a 3month old son and my ex has recently threatened to come to the house and take him as he thinks I won't be able to do anything I've contacted the police and made them aware but I'm scared to let him have him alone in fear he will refuse to give him back but he keeps pushing me to let him do it, he hasn't changed a nappy and has fed him 3times I give him two days a week to come down and see him as there his days off but he's starting to become unreasonable and making different threats each time he doesn't get his own way, he's on the birth certificate and I have no clue what to do. Can anyone give me any advice or have been through this as it would be a major help, I'm struggling to eat and sleep everytime I'm alone in the house I have to keep all my doors locked and if I go out I'm constantly looking over my shoulder in fear he's going to be there.
... 13
- 2-Jul-19 @ 12:55 AM
My husband and I are going through really hard times. All drama aside, I am in the UK on a marriage visa. If him and I divorce, and I go back to america, I'm afraid for what will happen to our son. There is no way I could ever leave him behind. Has anyone gone through this or know what can be done so I can take our son to America with me?
Quinny
- 29-Jun-19 @ 4:35 PM
My partner and I live in Australia and his ex lives in the UK with both of their children. He left the relationship when his first child was 2 and his ex was pregnant with their 2nd child. He was denied access to see the kids and didn't get to see his 2nd child be born. He ended up having to leave the UK and it has now been over 4 years since he has seen his first child and last contact with the ex was 2 years ago. He is now going to make contact again with the ex to see if she will allow him to be part of their lives but if she doesn't then what issues is he facing? Given he hasn't been able to be part of their lives would the courts be against him? Also if given access would he be allowed to have them visit abroad sometimes?
Happy
- 25-Jun-19 @ 4:05 AM
I'm a full time mum of a 19 month old little boy. The relationship between me and his father has been broken for over a year. He is on the birth certificate. We used to have a really good schedule arrangement when it came to him seeing his son on the weekend, sticking to pick up/drop off times. Recently he entered in a new relationship with a younger girl who he met in March may I add, and I've tried to negotiate with him about boundaries and the welfare our our son with meeting new people as he's still rather young. I feel uncomfortable that he's gone behind my back numerous of times and introduced this girl to my son without consulting me first. And now recently she's been present when he picks up his son outside my house which I do not feel comfortable nor agree with. This has caused many arguments between us both and I need some advice on how to go about this correctly and maturely for the sake of my son as I suffer with depression & can get seriously ill due to stress. Thanks!
JayJay
- 15-Jun-19 @ 3:12 PM
Hey I have a 7 months old baby boy. That I can't get to have on my own. His mother wouldn't let me take him for couple hours in the week. It's very frustrating cause I can't get to see my son. The only way I can see him is if I go around her house which is always packed with people family and not family. So I feel I can't bond with him properly. What can I do
Shawn
- 3-Jun-19 @ 1:18 PM
My Name is called Chrstina Douglas i am fighting a redunice custoday oder my ex boyfriend has taken my daughter away from since i was sixteen years of age i was 15teen when i was carry my daughter my ex family put me there Airde court still fighting my daugher now my daughter is now age8 comeing up age 9 in october could note coup when my daughter was a babey but now i can cope whit my daughter finding hard to understand my court cause back then my daughter was note aloued to stay whit me when my daughter was a babey at the time now i manghted to get over night stays ive onlay gote my daughter once a fornight now i nead advice to fight my daughter back my daughter stays cumberulad now i want may daugher back whit me. i dont know if dexla could infved my daughter life alsow whats whats best for my daughter now plesce some give me addivce on this
Douglas
- 18-May-19 @ 7:32 PM
I have a 8 month old and her dad got in a relationship when I first found out I was pregnant he never helped out whe pregnant and since baby's been born never held out now, he comes and see's tribe baby for 19 minutes every week doesn't pay child support and never had the baby overnight or on his own even though he has been asked if he wants to but he has no interest he is on the birth certificate . What should I do ?
Askingmum
- 8-May-19 @ 10:02 AM
hi i am azam pasha, presently i am in india. i came to india in 2012 dec, and then again i appiled for for family visit to uk, but immigration people gave me banned for 10 years , since 2013 onwards i am in india, i have a daughter of 7 years old and my wife died on 20/04/2019, presently my daughter living in foster home, i want to see my daughter back please help me
azam
- 27-Apr-19 @ 11:14 AM
I have a 7 month old I don't live with the father he is on birth certicate he has drug issues and there has been domestic violence towards me for which he received a caution there have other times when I've had to call police but not pressed charges I wish I had now as he wants shared custody he lives back with his parents not stopped his cannabis use but it has decreased I worry he will in a temper hurt the baby his parents go away at weekends I don't want him there alone with him he does stay there 2 nights social care say they don't feel it's now a safeguarding issue well I do he pays nothing towards him I know that's not a reason to prevent access but it's his drug use he smokes weed around baby albeit outside he doesn't declare his tax works cash in hand I don't want my son raised in a family that thinks benefits are the norm I do work I worry my son will be harmed physically by him but social care aren't bothered he was evicted from his last property for anti social behaviour and left the property in a filthy state covered in dog faeces I paid for the dog to be rehomed as he was cruel to him what do I do.
Rosypops
- 25-Apr-19 @ 6:56 PM
COOKIES!!! On a serious note I have a rather complicated issue. I have a 2 year old with my ex girlfriend. We split up in March 2019 after she had an "episode" and I had to remove my son from the property as she was a danger to herself and to him. We still lived together and tried our best to get on as friends but she has been more interested in going out to drink or smoke. I work Mon-Fri and usually get home between 5.30pm and 6pm at which point she will go out if she has made plans (2-3 times per week). When she goes out she does not come back until 2, 3, 4 and most recently 5.30am. The most recent time she knew I had work and our son was getting dropped off in the morning after a weekend at his nans house. I am thinking about going for a majority custody as I believe she is irrisponsable and not capable of looking after herself let alon our 2 y/o son. I have the support of both my parents and her father & step mother whom due to her behaviour have cut off all contact with her such is the extent that she has manipulated and abused me over the years. I am currently sheltering at my parents house and she has been told that were staying there "for a while" and if she wants to see him she can go there but cant take him away. She has yet to do this. If this got messy - would on the basis that she has been abusive towards me and manipulative, she is mentally unstable with a history of self harming and hospital visits, proven she is irresponsible and he is not her priority, the fact I have support from both sets of parents. Would I get full legal custody if things got messy and we couldn't come to a joint agreement?
Cookie Monster
- 23-Apr-19 @ 8:17 AM
What age do I decide to which parent I live with? I'm currently 13 and my mum is a drunken silly to behaved mother my dad on the other hand is mature and found someone and she is nice to me and her son (same age) is nice too,I want to live with my mum but she is very malipunative (Spelt wrong) and I don't know what to do my dad Has called social services???
Worried child
- 14-Apr-19 @ 6:30 PM
My son had a relationship with the mother of his child he pays maintance as expected the mother got in new relationship stopped acces to my son she was under child protection order last year now stopped because her relationships with men she not under order now.my son is deverstated she has stated new man is het new daddy won't let my son see his daughter.
Anne Thomas
- 3-Apr-19 @ 9:53 PM
am from Africa . Worked for an airline, I was not allowed to have children, so I put my career first as I had to provide for my family. The when I was in the late 30s I made a very hasty decision. Met a man who ticked all the boxes. We have a very beautiful daughtervery very clever. He beat me up when I was pregnant changed locks bashed my phones Was in a refuge. When I came to ukI thought it was like maana from heaven. Now am trapped. I see my girl only on Saturday for 3 to 5 hrs.I have no family here My story is very complicated please help me somehow. Thank you
Zip
- 19-Mar-19 @ 3:41 PM
Hi. I need some advice. I have been married for 3 years and had been having marital problems. My spouse is in the UK on a spouse visa as I am British. Over 4 weeks ago my wife left with my 2 year old toddler without telling me and hasnt returned. She had a non molestation order issued on an ex parte basis. She falsely alleged that I had abused her and assaulted her twice which are blatant lies. I went to court and could have contested the charges but instead signed an undertaking without accepting any of her claims and she did likewise. I havent seen my son in over 4 weeks and do not knowthe location of where he is and missing him like crazy. What can I do no in order to see my son again? Do I have to see a solicitor and apply for a child arrangements order? I am a low earner but own a house on a mortgage so cannot get legal aid.
Sub
- 15-Mar-19 @ 3:24 PM