Child Custody Rights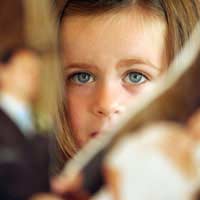 In the UK child custody law determines who should be responsible for the care and charge of a child, after divorce or separation. The term custody is now more commonly referred to as residency - indicating where the children's main residence is, following a parental break up.
In the many cases, parents preference is for joint custody (or residency), which enables the child to spend an equal amount of time with each parent. This option also allows both parents to participate in any decision making which may affect the child. However, if parents are unable to decide amicably on what living arrangement is best for their child, the courts will decide on their behalf.
Parent Vs Parent
Most bitter disputes between married couples end up in the family courts. Whilst the separation and ensuing bitterness will undoubtedly affect the children it's important to remember that:
Most child residency court cases end amicably with either agreed residency or joint residency as the outcome
Access and maintenance payments from the non resident parent are also taken into consideration
In disputed cases each parent is individually assessed before a decision on which parent is given custody of the child, or children, is made
The best interests of the child is the general standard at the heart of all residency cases.
Joint Residency
Joint residency is considered to be the preferred solution as being in the best interests of most children.
BUT...There are no laws or 'rights' that state that a child should live specifically with either the mother or father.
Assuming you both have parental responsibility it is up to you to negotiate residency on the basis of what is best for the children. Many couples neglect to consider this fact and err on the side of what they themselves would prefer (or what suits them).
If you cannot come to an agreement, you should try mediation first. If that is unsuccessful, the courts will become involved and will issue a court order based on what it sees as appropriate.
Joint Residency Reflect Modern Society
The choice of joint residency, reflects the changes in society and takes into consideration work that mothers do outside of the home and a more hands-on approach of child care by fathers. By allowing both parents to have an equal share in the physical care of their child, or children, all legal rights connected to responsibilities and obligations to children are divided.
Custody Disputes
Most custody disputes involve the child's mother and father. However, in some cases a third party – a grandparent, for instance – may seek custody at the time of a parent's death or incapacity. If a couple has never married - making provisions for the care of their child may also develop into a dispute. Generally though a court will accept that a parent is in the best position to maintain the welfare of their child.
Unusual Circumstances
In some rare circumstances one parent may be permanently excluded from having any access to their child. However, the court has the right to change the decision at any point in time, should the parent's circumstances change. The parent is able to re-apply for access at any time, and once an application is made the court may reconsider arrangements after examining evidence.
The Court Decides
The courts will generally accept custody arrangements that parents submit as part of their separation agreement. To ensure these arrangements serve the child's interests the courts will review the plan. The role that grandparents, step-parents and other influential adults play in the child's life may also be taken into consideration by the courts.
Changing Or Regaining Custody
Changing a child's residency arrangements is possible. In order to support the change, substantial evidence of the stability the child will need to be submitted. There are many other factors to consider, which may include relocation of a parent, stability of employment, integration of the child into the new environment etc.
Read on for more information about your rights as a parent
.
You might also like...
@evie - Yes, it's very difficult these days and grossly unfair when one person can afford court fees and the other party can't. Citizens Advice Bureau provide free independent legal advice, and can be found at more than 3,000 locations throughout the UK. Our page on Legal Aid Withdrawal: How to Represent Yourself may be of help
link here
. There are other pages on the Separated Dads website too, while aimed at fathers who are quite often in your situation, may help you and your family.
ChildSupportLaws
- 27-Nov-14 @ 10:47 AM
My Sister and her ex husband got joint custody of my Niece and she lives with her Dad. Her Dad believes he is above the law and does not allow my Sister to see her Daughter every weekend and half the holidays as ruled by the court. He continually lies and has taken my Niece out of the country without permission. My Sister cannot afford the legal fees so is unable to take him back to court. What options does she have? The judge did comment during the court case that he was aware that the father was lying about many things!Can you please offer some advice because none of us are able to see her so she is missing out on time with her Mum and ?Aunties. Thank you.
evie
- 26-Nov-14 @ 9:12 AM
@Klou - you need to read When Your Ex-Partner Denies You Access, link
here
. It will tell you what to do in the first instance, so you can make the much needed contact with your son.
ChildSupportLaws
- 25-Nov-14 @ 3:08 PM
Please help. My partner has kicked me out of our home sand all my family live in a different city at least 3 hours away. My first priority is my son and he will not let me see him, despite the fact I have offered him joint custody. He finally agreed today after he told the police I kept contacting him, the police advised him that my offer of joint custody would actually be reasonable and he doesn't have the right to deny access. We doother have PR and he is not a bad father. But he is now ignoring me and to me this implies he is going back on his word. I do not want any maintenance from him. I just want my baby. Even if that means joint custody and residency. What should I do now? I have been staying at a relative about an hour away from the home so it is difficult and costs a fortune to travel back and forth everyday. I just want to see my baby and this horrible man is not allowing me to out of his own selfish,spiteful fun.
klou
- 24-Nov-14 @ 9:24 PM
@AMARN -even if it is formalised she can still go against any court order if the situation changes and she doesn't like it. She seems pretty agreeable to me, especially as she is willing to come and stay in your house when you go away on business trips. Sometimes you get better results if arrangements are made on trust and a mutual respect for each other and you might find she is not quite as accommodating if you try and apply for a residency order. But if you feel you need to to have it formalised I would take legal advice.
Mike
- 20-Nov-14 @ 2:05 PM
Hi, My wife has moved out of our home 6 months ago and is planning divorce and is now living with another man. We have a 7 year old son, he is staying with me in our home, he prefers to stay with me. My job is in London with flexible working option to work from home and in office based on business needs. I often have to travel on business trips, during my travel and when I commute to my office and return my wife takes care our son at our home.( she has access to our home). I wish to know how this arrangement of me being the primary carer be formalised, does it have to be court order. In case of need to relocate away from the current place to place closer to my office, what will be the impact on any formal arranged. Am looking for formalised arrangement as I suspect the current mutual agreement may be unilaterally broken by my wife.
AMARN
- 20-Nov-14 @ 1:32 AM
@LCT - I'm afraid this is a difficult question to advise on because conflict in EU/UK laws and for obvious reasons we could not advise you whether or not it would be OK to leave the country with your child. I have directed you to a link which may be able to help further and which is provided by the Citizen's Information Board and has a section on EU Family Law
link here
. I hope this helps.
ChildSupportLaws
- 19-Nov-14 @ 11:45 AM
Hello. I am a British citizen living in Spain. I hhave a 15 month old baby whose father is Argentinian. I am looking into separation due to him being unfaithful. I have had legal advice here in Spain and they have said that if I wanted to move back to the UK the best way would be to start the legal proceedings in the UK as my son is British even though he was born in Spain. I was told if I were to start the separation proceedings here it would be very difficult to move bavk to the UK because of the custody rights of the father here in Spain. Is this true. What I really want to know is will I get into trouble for taking my son to the UK with the intention to stay? Thank you for your time.
LCT
- 18-Nov-14 @ 1:56 PM
@Ahmedpawlo. The courts will have your children's interests in mind when in deciding whether or not to make a residence order. Also, it will only award a residence order to you if it considers that it is a better alternative to making no order at all. The court will adhere to a welfare checklist with regards to the care of your children and how capable each parent is at meeting your children's needs. I hope this helps.
ChildSupportLaws
- 17-Nov-14 @ 10:59 AM
Hi I marred and have 3childern 8,11,13 years old my wife did runawy with them to apply for council house take them to shelter now I am waiting for court day to apply for residence order I hope to gat the children Monday to Friday for school and she can have them weekend iam asking for Monday to Friday because my wife she can't speak English and she not working to help her to study English and find work because to keep claiming Benefit for long term not good for her and as example for the children ?now my question I can apply for Monday to Friday ??by the way I am taxi deriver 15 years now I can work at eny time pleas I need answer thank you
Ahmedpawlo
- 14-Nov-14 @ 7:06 PM
advice please my auntdied in august leaving her 11 year old who is now living with my other aunt my auntneeds to get parentalresponsibility so the childs father cant take her he has a very violent past with quite a few charges of domestic violence he is on the birth certificate but was registered before dec 2003 they were not married so im assuming he doesnt have automatic parental rights as it was before dec 2003how is the best way to go around thisas solicitors we havespoke to are confusing
nic
- 12-Nov-14 @ 3:17 PM
My 16 and 18 yr old nieces live with myself and my family, their father lost Parental Responsibilty in court after the breakdown of my sisters and his relationship (due to his abusive nature). Since then my sister has moved to another country with her new partner. Now the girls father is threatening to go back to court to regain parental responsibility of the youngest child as their mother has left the country. She does not want this and neither do I! what rights do I have? Should I apply for some kind of residency order? Also can the father go back to court for the same thing he has already been denied? Regards.
Rae
- 12-Nov-14 @ 12:14 PM
This weekend my ex partner and i had a row, as she intimated that i couldn't have access to my daughters birth certificate so that i could 1. Open a child isa 2. Apply for passport. I was extremely annoyed as I have paid for my daughters holiday and i honestly see no reason why she should do this?! Do I have any legal right to this document as I have PR and can I just directly request a copy of my babies birth certificate? thanks Gaz
Gaz
- 10-Nov-14 @ 6:59 PM
@Rfak - This is a tricky one given that you are also married and have a family and other children in another country. And she is in a relationship here, it's unlikely that you will be allowed to stay, even if she does name you as the father on the birth certificate. You don't give much information about your circumstances or where you are from. I do know thought that overstaying is a criminal offence and if you overstay for even more than 28 days you will not be allowed to apply for further leave to remain from within the UK, and you could also be barred from the UK indefinitely.
Sal
- 10-Nov-14 @ 10:06 AM
i am a overstayer student in uk. i am already married and have kids in my country. i met a british girl who is already in relationship with his boyfriend and have a child. now she is pregnant of my child. can i stay in uk and care for my child as father
rfak
- 7-Nov-14 @ 4:03 PM
@Female Hudds - you don't say whether he works, or whether you have appplied for child maintenance previously. But this is a link which should help you on your way
here
.
ChildSupportLaws
- 7-Nov-14 @ 10:25 AM
@Female Hudds-There are no legal rights regarding transport, it is really up to you to work it out between yourselves. But it might be time to put your foot down and say to him that it is unfair and from now on you will do no more than half the transporting.
JenT
- 6-Nov-14 @ 3:14 PM
Just some added information..... He has her every second weekend from Saturday until Sunday. He used to have her on Monday nights as well but that stopped when she started school last year. I did all the lifts then but still with no maintenance. I have always been to one to take time off work whilst she's been ill, also my responsibility to find child care in the holidays, he does have her when he can help out though, again i have always been reasonable and never complained. I just want thing's put down officially and come to an agreement that doesn't change, as all this is causing me and my own partner unnecessary stress and right now it's not in my child's best interest.
Female Hudds
- 6-Nov-14 @ 1:03 PM
Good afternoon, I am currently trying to work to an agreement with my ex partner (we have been split for over 4 years now) regarding my 5 year old daughter. He hasn't paid any maintenance, i haven't asked, up until now. I also always used to do the dropping off and picking up of my daughter after access even whilst working full time, this changed last year and we then shared lifts (most of the times). We recently had a falling out as I had run out of petrol and was unable to collect my daughter (after dropping her off) and he refused to do it and then went on to say i always make it difficult, i'm a bad parent and threatened to apply for full custody (This isn't the first time). I have been more than reasonable with him to make life easier and better for my child, however i now feel like he has had an easy ride and is just taking themick out of me. What are my rights? and where do i stand with the transport? we live in the same town but i am refusing to do it now as i have had enough.
Female Hudds
- 6-Nov-14 @ 12:59 PM
@ruby - have you spoken to your sister directly and voiced your concerns? Before you seek legal advice perhaps, this is something you could do in the first instance. She might be going through a tough time temporarily if the split has just taken place. However, the children should not be left on their own and this is a serious issue, which you must report if it continues. You could offer to take the children a bit more in order to help out if she is struggling. It seems a bit premature to go for custody immediately without seeing if the situation resolves itself. But, if you feel that they are being neglected then you can contact the Family Lives helpline
link here
. It is a confidential helpline that will be able to advise you on your options which might be to contact social services. I hope this helps.
ChildSupportLaws
- 28-Oct-14 @ 10:56 AM
hey guys I need some advice, my sister has an 8 year old daughter and a 4year old.my sister just got recently separated from her husband and are no longer together, she now has turned into something no one expected, shes bringing different men home whilst her children are upstairs, shel go out partying and leaves her kids alone at home asleep, she doesn't treat the girls well atall infact she is not there for them and she treats them like nothing. I am 20 years old married and me and my husband would like to take custody of the girls well we hope to, because my nieces are not safe there I am so stressed out I cannot sleep at night, I reckon the girls will have a better future and life with me and my husband, just want know how to do this or is it possible? please can someone advice me as soon as possible, thankyou.
ruby
- 26-Oct-14 @ 11:26 PM
hello i have a son who is months, i am parting with my partner but she is from ireland and has no family in the u.k and is saying she wants to take my child back to ireland. what rights have? have i any rights to be permanently in my sons life? advice please. thanks
Hi i have a quiere..my ex is taking me to court over my son whos not even born yet as he said im preventing him seein his son which im not. But hey children will be children. My concern is he lives in his wrkplace which is a residential home and i myself see.it as unsuitable for a newborn baby to be kept overnight...will the courts agree
twig
- 4-Oct-14 @ 10:08 PM
Advice pls my ex has finally been told by the csatht he must pay 127 a week he has nw rang me and said tht he has spoken to them and explained he cannot afford this and offered 65 a week he says if I refuse this offer and make him pay the 127 he is going to take me to court and gain joint custody of our 4 children he said by doing this it will b months before I get any thing and will get far less confused as I need to decide on wt I am going to do
Asa
- 4-Oct-14 @ 11:14 AM
I have a problem with my friend..he is unhappily married to a polish woman and they have a 10 month old son together, if he was to leave her she would move back to Poland! But could he claim full custody of their son? Or would if automatically be the mother who would recieve full custody? Keeping in mind she has no family here to watch the child while she is working. Another question...if he was to leave her and take his son with him would he be done for kidnap as the child is not leaving with his mother? I need all the help and advice I can get! Thank you in advance!!!
k.j.m
- 22-Sep-14 @ 4:48 PM
No it is not compulsary( law) toi name dad on birth certificate if not married .i and my late mother gained contact orders for my nephew during my brothers case,mine on the basis ofmy childrens and hisneeds and rights to know extended family.i also have access to myex stepson as was in life for over six monthsand ihave full custody of my useless sisters grandchild whose mother dumped him at hours old and never visited.she pleaded pnd as reason and tried to reclaimonce potty trained ,walking and talking i fought her and her social worker as i knew she only wanted his benefit for hisdisability not him,thankfully the judges at3 courts agreed.she said she would visit but guess what? NOT ONCE......
Beltonbetty
- 21-Sep-14 @ 4:13 AM
Hello. My daughter had a break down two years ago, following the break up of her relationship. She also lost her home, and her former partner took control over the care of her two children, however, he is the natural father to the youngest. He gained a residence order over both children, to prevent the eldest going in to care. However, he made no attempt to contact me at the time, and he took me off his friend list and blocked me from social media. My daughter was in no state to provide that herself, as she was in a difficult situation. She has made a lot of progress with her health, but it is being hindered by the criticisms and negative comments that are coming from his side, and he his reluctant to go to mediation with her. I want to have access to my grandchildren, I wish to do it in an amicable way,as I now have his contact details. What happens if he refuses access through personal means or even mediation? Do I have more right to my eldest grand daughter as he is not her natural father?
wolfie
- 16-Sep-14 @ 2:59 PM
I just need advice me and my sons dad have been split for neally two years he started having my son once à fortnight for the weekend then suddenly dropped he didnt bother with my son for the first 10 months of his life he Had recently started having him on weekends but Had been very voilet towards me i have rang the police on a few occasions but Nothing ever happens as he denys It and makes me look like am lying Just First he has booted my foot and pulled my hair i am now getting death threats Hes always Losing his temper and blaming me for everything that happens in his LIFE he hasnt paid a penny my son is now 2 and when he decides he wants him i have to provide everything for my son or he would go without due to his farthers Cannabis addiction i cant Live like this anymore i have to lock my door Just so he cant get to me i have give him Chance after Chance with out son but all he does is say Hes taking me to court unfortunatly i dont have money to Do this Its like a living nightmare what van i Do please help
My daughter 's partner has been very irregular with his payments; up to 8 weeks in arrears at times. He has just told her that his payments have been recalculated at a much lower figure, and is claiming that she should pay him back everything he has, in theory, over-paid since last October. Does she have to give him this money?
Viv
- 29-Aug-14 @ 12:39 PM
Is this law is underpractice in court of Uk?
mirza
- 29-Aug-14 @ 10:47 AM