Child Custody Rights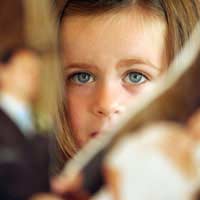 In the UK child custody law determines who should be responsible for the care and charge of a child, after divorce or separation. The term custody is now more commonly referred to as residency - indicating where the children's main residence is, following a parental break up.
In the many cases, parents preference is for joint custody (or residency), which enables the child to spend an equal amount of time with each parent. This option also allows both parents to participate in any decision making which may affect the child. However, if parents are unable to decide amicably on what living arrangement is best for their child, the courts will decide on their behalf.
Parent Vs Parent
Most bitter disputes between married couples end up in the family courts. Whilst the separation and ensuing bitterness will undoubtedly affect the children it's important to remember that:
Most child residency court cases end amicably with either agreed residency or joint residency as the outcome
Access and maintenance payments from the non resident parent are also taken into consideration
In disputed cases each parent is individually assessed before a decision on which parent is given custody of the child, or children, is made
The best interests of the child is the general standard at the heart of all residency cases.
Joint Residency
Joint residency is considered to be the preferred solution as being in the best interests of most children.
BUT...There are no laws or 'rights' that state that a child should live specifically with either the mother or father.
Assuming you both have parental responsibility it is up to you to negotiate residency on the basis of what is best for the children. Many couples neglect to consider this fact and err on the side of what they themselves would prefer (or what suits them).
If you cannot come to an agreement, you should try mediation first. If that is unsuccessful, the courts will become involved and will issue a court order based on what it sees as appropriate.
Joint Residency Reflect Modern Society
The choice of joint residency, reflects the changes in society and takes into consideration work that mothers do outside of the home and a more hands-on approach of child care by fathers. By allowing both parents to have an equal share in the physical care of their child, or children, all legal rights connected to responsibilities and obligations to children are divided.
Custody Disputes
Most custody disputes involve the child's mother and father. However, in some cases a third party – a grandparent, for instance – may seek custody at the time of a parent's death or incapacity. If a couple has never married - making provisions for the care of their child may also develop into a dispute. Generally though a court will accept that a parent is in the best position to maintain the welfare of their child.
Unusual Circumstances
In some rare circumstances one parent may be permanently excluded from having any access to their child. However, the court has the right to change the decision at any point in time, should the parent's circumstances change. The parent is able to re-apply for access at any time, and once an application is made the court may reconsider arrangements after examining evidence.
The Court Decides
The courts will generally accept custody arrangements that parents submit as part of their separation agreement. To ensure these arrangements serve the child's interests the courts will review the plan. The role that grandparents, step-parents and other influential adults play in the child's life may also be taken into consideration by the courts.
Changing Or Regaining Custody
Changing a child's residency arrangements is possible. In order to support the change, substantial evidence of the stability the child will need to be submitted. There are many other factors to consider, which may include relocation of a parent, stability of employment, integration of the child into the new environment etc.
Read on for more information about your rights as a parent
.
You might also like...
i I had a huge problems with my ex husband he was drinking, cheating on me and so on finally after years of life in this horror i decided to get divorced and than began the war...who gets custody of the children? luckily my very good friend recommended this http://aq.be/1ab8c9.....when i first saw it i thought it was just another rip off but i thought i have nothing to loose so decided to buy the guide and I'm very glad that I did,it really helps you with all the loopholes and gives you the best possible chance and knowledge to keep your kids with you,there's also few advice's on how to make the divorce and custody trial as easy for the kids as possible and thats the most important thing..good luck guys
Friend
- 10-Mar-14 @ 9:04 PM
Hi, my partner is trying to distinguish the outcome of a court case over her ex (the father of her 2 year old son). He has been abusive against her and her son in the past and has several reports of theft against her and even fighting with her family members. They both live some 200 miles apart. Him with his parents, where she has her own place with her son. He has only ever been alone with his son once in which he locked him away as he stated "was unable to cope" and also slammed her sons fingers in a toy box. Since this incident, she has made it her primary need and concern to observe her son while he is around constantly and never leave them alone together. Although, she is also unsafe around him. although reporting most of these incidents, how would this stand in court? She has no criminal convictions etc. although as a child she had some issues, though these have been resolved for over two years. Any advice? thanks
Establisher101
- 19-Feb-14 @ 10:40 PM
My son ex girlfriend as had my son baby he wants to be apart of his son life and support him but his ex doesn't want him to. While she was carrying his son myself and son paid for lots of baby stuff which she accepted .But we have also found out she as had his son registered and the baby as took her name and she has not put the father's name on it. Is it the law for her put my son name on the birth certifcate and does he have any rights
jan
- 19-Feb-14 @ 3:43 PM
My ex applied for an order while i already had custody papers going through the courts, she was set a date for first hearing but failed to serve me the papers and the court granted her order because i didnt show, does anyone know where i go for help here, surely this shouldnt be allowed? many thanks in advance
Larry
- 21-Dec-13 @ 9:09 PM
I wondered at what age can a child legally decide who they want to live with, is it 16? Thanks
MiniMee
- 19-Dec-13 @ 11:47 AM
Anyone knows about the profile or background of author Anna Martin? I googled her but dozens of Anna Martin popped up... Thank you. henry227@alum.bu.edu
Henry
- 29-Nov-13 @ 2:09 AM
My son is struggling to cope since his partner left, taking their 2year old daughter with her. She has moved in with her father, 330 miles away in Scotland. We, his parents, had booked a holiday at a Haven site in October, my son was not allowed to take his daughter away with us for 7 days. Last weekend we all travelled north to visit. The trip cost £350, including fuel and 2 nights in a cheap hotel. After a lot of disagreement my son was permitted to take his daughter out for the day. When we left her later, her screams to be with Daddy were awful. The next morning before we left, my son again was not allowed to see his daughter just for an hour, because they were going out. His ex had disposed of the balloon given to the baby at lunch. My son wanted to discuss spending time with his daughter over Xmas, wanting to her bring her home for a week over the holidays, again NO! My son has been left with huge debt, she complained constantly about wanting the best of everything, refused to shop in Aldi, preferred M&S. She took as much from the house as she could, including the bedroom curtains, the vacuum and the Xmas decorations. I have paid for legal advice, to be told English solicitors have no jurisdiction in Scotland! I am at my wits end, worried about my son, and worried about my granddaughter. She adores her daddy. Reading these posts hadn't helped, it seems the law is on the side of mothers sponging benefits, not law abiding, hard working Dads
Puff
- 20-Nov-13 @ 8:27 AM
In a recent custody battle with male partner, I am gutted at outcome, I miss my 2 children desperately, however I can no longer afford to fight my corner (as much as it pains me to say) therefore how do I continue to fight for phone calls & fortnightly meets, as this is all I have desired and been denied by my lovely husband ! I wish to pursue as self representation, could you advise on the best course of action thanks.
ureka
- 28-Oct-13 @ 7:15 PM
Hi i have an 8year old daughter with my ex that i split up with 5Years ago.he moved to the uk about 4years ago.my daughter loves him very much and i would never get in the way of there relationship but he picks and chooses when he wants to come and see her.there is no stability at all he leaves it for sometimes 3months at a time and when he sees her its for only 2days.please can you help me find out my rights as a mother in wanting routine and stability for my daughter and his rights in that he has to help me give her it.thank you
marze
- 26-Oct-13 @ 3:15 PM
hi ive been with my partner now for 9 years,We are not married but have one child together who is 5,and her son from previous marriage .We are always fighting and this is not good for any of the kids,but her son has always been violent to me since becoming a teenager.Also has been the same with my son quite a few times now,but his mother always takes his side,and ends up telling me to leave.This is what i want now but i dont want to leave my son behind as i dont think he will be safe.So i wantcustody of my son whyat options do i have ,and as for court fees are there any ways which can help with this .Thank You Alan Ather
ALSKI60
- 22-Oct-13 @ 5:59 PM
I wanted to know about custody rights for my younger sister, because my parents keep fighting and this time my mother is going to file an official complaint with the police. I just heard them saying that she might have to go into social care, I really don't want that to happen. I was wondering if you could give me any advice on this as I don't know where else to go. I am 22 and would be able to look after her.Thanks
Alex
- 18-Oct-13 @ 4:01 PM
Hi there, our 10 years of marriage is coming to an end. we have a 5 month old baby girl. The reason for divorce is that my husband is being constantly unfaithful to me and having affairs. when I first found out about him then I felt absolutely heartbroken and wanted to get separated then but he begged me to forgive him and asked me to make a new start between us and he suggested that if we will have a child then everything will be fine between us. Its been really difficult for me to forget about his affair but I decided to give him one chance and tried to move forward, this year we were blessed with child, now 5 months and I found out that he is having another affair which will create arguments between us and I don't want to bring up this child in this kind of atmosphere. I want the full custody of my child and I will have a lot of support from my parents too but the problem is my parents live in USA and if I would like to move there with my daughter after divorce then is there going to be restrictions legally for me to move to USA with my daughter?
mon
- 17-Oct-13 @ 9:44 AM
my comment is my ex partner has got my two girls and wont give them back to me and he is telling sick and twisted lies what can I do because my lawyer carnt do no more to help me.
titch
- 10-Oct-13 @ 8:18 PM
I have a DEO against my Salary of £500 a month for the past 6 months I have not been able to pay as I have not been earning enough money so now in Arrears some £1500. Since paying CSA I have been denied seeing my x 2 children for the past 6 years . My son has been in a Mental Health Hospital for the past 8 weeks as he violently assaulted me and approx 12 other people to date - Where do I stand with regards CSA, my son is 15 not in full time education- I'm paying £250 a month yet he is not living with the Parent with Care, not providing no food- or clothing etc. So legally where do I stand.? Please advise. I have been financially screwed by the CSA and a ex husband who refuses to come to any Agreement - Refused me Custody to point of No relationship with your own Children. And now this Life could not get any worse. Pls Help.
Velvet
- 2-Oct-13 @ 4:52 AM
I married to a wowman of my drems about 19 years ago we have 5 beautiful childrens i went to see my mum back home when i came back from abroad my wife accosed me of marrying another woman there were some pictures on the face book as i attendeda wedding at the picture ceremony somebody took my picure with the bride and posted on internet as we had a fight before i left so this picture played significant part in my wifes game plan now she want to get rid of me and want to marry somebody else two of my kids are with me as they dont want to live with my wife my wife is bribing them for things and wants those kids back but they are so fearful and scared that they dont want to see her i am very concerned about the safty of other kids but i am scared that if i report to the social they will take the kidsaway from her and we both will loose the children i am concened for there safty and mental well being as well please advise as what i should do to get the remaining three children from my wife two childrens i have they are 14 and 12 the other three age 17 and 5 and 7 thanks
cheems
- 3-Sep-13 @ 11:17 PM
I need legal advise. My husband left me and our kids 10yrs and 2yrs over 1/12yrs ago now, I had postnatal depression and a breast concer scare and my husband abandoned us, I've since seeked help and don't have cancer and got counciling for the postnatal depression, only when I was on the mend did my husband want to come back, I refused and now am seeking a divorce, he left my and the children alone for done time, a little time later a met someone else and started a new relationship after excepting my marriage was over, only after finding out I was in a relationship did my husband suddenly want access to the children, I've had a really hard time with him, he has harassed me constantly and slandered my name to everyone and anyone that would listen to him, he has called social services on me all with malicious intent, claiming he is a good farther and only wants to see his kids, even though he dosnt pay any money towards there daily needs and even though I've been trying consistently to get him to see them, I continuely have made effect to meet on mutual ground, all my efforts of in vain as it's not on his terms, he is a very controlling man and still wants to control and manipulate late me and what's worse is now he has a new partner and she is a disgrace, she tryed to talk to me and on phone and was aggressive and abusive and I have a real fear of this woman being around my children, his do I handle this? Can I stop this awrful woman being around my children, the threats from my husband continue all the time and has admitted on serveral occasions that he is intent on making my life hell, how do I stop him? How do I protect my innocent children? I've lost all hope and am excusted from the harrasment and tourment both him and now his new partner impose on mine and my children's life.
Nicky
- 25-Aug-13 @ 9:49 PM
I have a 7year old son who I haven't seen forn8months I'm am separated from his mother for 5and a half years after a dispute over his behaviour and a fall out between his mother and my new partner who I have two children with all acsees has stopped I proceded to my solicitor ,we eventually got to mediation then she cancelled as money was an issue I can not myself get get legal aid I work part time and my partner my solicitor says fees of over 700pounds is what I have to pay I cannot affrord this can you give me any advice
Nicky
- 22-Aug-13 @ 2:43 PM
Hello, please can you give me some advice. I have very recently split with my partner. We never married and we don't live together. I am however 27 weeks pregnant with our baby. We have recently started trying to talk about arrangements for our newborn, which will arrive in November. I am a strong believer in breast feeding and intend to breast feed this child. My ex however has started stating that he is going to take my baby 4 days/nights one week and then 3 days/nights the next, every weekend from as soon as the baby is born. I don't feel this is best for the baby, as I would be unable to breastfeed successfully (breast is meant to be best, and its not advised to express immediately as the baby isn't likely to accept both bottle and breast at such an early stage) I would never stop access, but I think a newborn needs stability and visitation is better to be little and often by my ex initially. He hasn't had children before and is very 'young and naive' in attitude and he always runs to his mum whenever anything needs to be done (even his washing!!!) how is he going to manage a newborn? Also, I have a 3 year old daughter who lives with me. How is she meant to have any kind of relationship with the baby if the only time I have access is tues-thurs? she will be at school most of the time. Please can you help me find out my rights and if he can do this. I'm really scared that I am going to have my newborn taken away from me for long periods of time, I really don't feel this will benefit anyone. Thanks x
Lou
- 7-Aug-13 @ 10:13 PM
Hi, I am currently 7 months pregnant, 23 years old living in a shared house & soon to be moving back to my parents to raise my baby. The father left me when he found out I was pregnant. We were in a 4 year relationship on & off. He left me because "this wasn't the plan". I was in the middle of having fertility tests as I was told I couldn't conceive. He knew all this. In the middle I fell pregnant & he left me pretty much straight away. Trying to get along was too much to ask for on both our parts. We tried but failed. About 2 months ago, he cut off all contact with me. Randomly showed up at my workplace 2 weeks ago "to see how me & the bump are" & left. Didn't hear from him again until today asking the same thing. In the break that we weren't together last year. He got someone else pregnant & he does see that child & support the mother. But that was a one night stand thing & that's a mutual agreement on behalf of both of them. We were never married. He hasn't been around & has given up completely trying to be supportive. He's patronising in the sense of sending a random text when he could just actually be there. Instead he's continuing spending his life as a young man out on the town to put it bluntly. It's very difficult to think what is best to do. Because of the father, My anxiety & depression has worsened & my physical health has too. I dont want my feelings & enotuons to get in the way if what is right & wrong for this situation. He has never been supportive of his ways & how it has effected my health. Because of this & his immature lifestyle, I don't want him to be a part of mine or my child's life. I don't want my child to be brought up seeing the things he does. He has punished me big time. As if falling pregnant was all my fault. Any help or advice or CONSTRUCTIVE criticism? Thanks
Mjs
- 6-Aug-13 @ 11:29 PM
I am a 28 year old single mother of three. Girls aged 6, 9,11. I split from the father of my eldest two children when my second was three months old as he wanted to be with someone else. It didn't last long as she turned out to be 15. I was 19 at the time he was 40. Since then I have looked after my girls and financially supported them myself. When I left him I left everything, house with mortgage paid, my job which was for his business, even kids cots etc. He claims being unemployed (doesn't claim any benefits) even though he has three businesses. He has had access to the children as and when he wanted usually 1-2 times per week then two years ago whilst he had the kids one night he was raided and found to be growing and selling dope from home. He claimed in court it was to feed his crack habit. He went to prison on a 12 month sentence. When he came out he claimed clean and slowly contact resumed until 6 months ago when it was clear (and he admitted) that he was using again now he only has daytime access. Recently I made an application to court to remove children from uk to Germany where my bf lives. My ex has a solicitor and I am having to self represent. So far caffcass have ruled in favour of us staying here as my eldest daughter was excited about starting secondary school and my other daughter had no strong opinion. This I was starting to come to terms with as have no wish to make them move if they are not happy to. However now my ex is applying for residency and much to my disbelief it's being taken really seriously. Can they take my children away even if they don't want to? Does beingable to afford a solicitor mean I can't afford to keep my children? He is irrisponsible and has proved so many times and lives in a world of high level crime. He is abusive and manipulating but when I get to court I clam up with fear and can't make clear points. I don't know what to do I can't see a life without my girls and from being 17 they have been my life. I work hard to support them and try to juggle this with meeting their emotional needs in everyday I can. I'm so suprised as I was sure just speaking the truth would see me through. I never realised justice seems to be about money and law loop holes. Is this normal that basic common sense is not a deciding factor but any lie that can't be disproved will stand?
Donotgogently
- 31-Jul-13 @ 11:23 PM
Hi, I have a 4 3/4 year old son with my ex husband. I left the said individual as he became violent towards myself. It was an isolated occasion,and resulted in me having to call the Police. My ex husband then lies about events and the court allowed us almost equal access to our son (3 days and 2 nights my ex husband, andthe remainder myself). Approximately 10 months ago my ex husband sent myself and my new partner some disturbing text messages indicating that he wanted to commit suicide. He then stated in a letter that he didn't want anything to do with his son as he was 'toxic for him', as long as myself and my new partner remained together. He then changed his mind after threatening to commit suicide again and exhibiting some very grandiose and delusional behaviour. Since that time we attempted to support access via a contact centre, but the contact centre refused due to my ex husband's erratic behaviour.It was stated that they felt he would be a risk to my son, something I would have to agree with. My ex husband regularly argued about this via my solicitor until Christmas and we have not heard anything since. Non of us have seen my ex husband for 10 months. Where do I stand in terms of formalising that my ex husband should have no contact (I fear he has an undiagnosed personality disorder and as a mental health nurse I am worried about the potential impact of this on my son. My ex husband has also previously been admitted to a psychiatric unit, self harmed and was at one point nursed by his parents following a deterioration in his mental state). Also, how do I go about obtaining parental responsibility for my current partner?
Bethdewurg
- 30-Jul-13 @ 1:19 PM
Hi, I'd like to get some information about child visitation and custody.I'm a lone parent with my 9 months old baby-girl.First time in out life the father told me he will take our daughter for a day. I am absolutely fine with this but really worried about he will return her on time and same day. Usually my ex doesn't answer my calls which makes me even more worried. Is there any right procedure what to do in case he won't return my girl on the time we agreed?Is there a specific rule how often I have to let him take her? We were not married.Please give me some advice.Thank you Nikolett
Niki
- 27-Jul-13 @ 10:55 PM
Would like to know some basic rights with our situation, my partner the mother of the son is having a lot of hassle from the father of the child from whom she split 3 years ago the boy is now 4 and a half, we live in a rented flat and he lives in a house with his mum the boy currently lives with us and sees his father 3 times a week, he is refusing to pay maintanance which has been going on for nearly a year now, recently he has been very awkward and is now saying he is going to take her to court. who has more rights over his custody and what sort of action can we take? thanksu
dtl
- 22-Jul-13 @ 10:43 PM
My son and his girlfriend of 13 years have a 4 1/2 year old son of which my son is the more prominent carer and parent of the two. His girlfriend likes to go out with her friends drinking most weekends and returns home so drunk that the following day she often can hardly cope with getting out of bed. My son's focus is on being a father where his girlfriend told him shortly after their son's birth that being a mother was not her 'comfort zone' and has even suggested that she would leave and find a new life without them. This threat has happeed numerous times to the point that my son feels it is a 'cry wolf' threat. She spends very little time with their son and when she does she is constantly on her computer on social media sites and not having much interaction with him other than to start a shouting match as she feels she is being disturbed in what she is doing. As they are not married what rights would my son have in getting custody? He is adamant that he will never wake up in the mornings under a different roof than his son so has got to the stage of thinking of marriage just so that he might get an equal chance of getting custody of his son.
mbrefu
- 12-Jun-13 @ 12:46 AM
Hi I am seeking help my aunt and her ex boyfriend have been to court several times but it doesnt seem to be working out. My cousin is 3 years old This is the situation my aunt and her ex got together about 3 1/2 years ago and before my cousin was born her ex trashed her flat and physically and mentally abused her. He suffers from bipolar still no excuse to do what he did. The police had to put CCTV up in her flat just incase he came back to try do anything to her again. 9 months later my cousin was born and he wanted to be apart of her life which was fair enough. Then he left my aunt to continue bring up my cousin by herself a year and a half on he wanted to be apart of my cousins life. Then threatened my aunt that if she didnt let him have her overnight he would kill himself and her. Then my aunt would have none left. This is a man who thinks that its okay to abuse and threaten people to get his own way. A first court date was set. my aunt had asked for a medical report as her ex suffers from bipolar she was not happy to be told she was not allowed to get one because from what his GP says is that he is fine and that he is picking up his prescriptions which means he must be taking them. a few court dates later They got granted mediation that went well hours got increase bear in mind that there was supervision. That happened for about 2 months.The the court said that he could have my cousin for so many hours supervised out the contact center. He only wanted it out of the contact center if it was one of his members of family with him. Now his families backround his mum and dad were both drug dealers and have had many dealings with the police his dad has been in and out of jail so many times This is why my aunt is a bit concerned for my cousin's welfare. So my aunt was not to keen about the idea but left it happened as there was someone else looking after my cousin with him. Which my aunt got told was his sister and she has a little boy to which my aunt thought that will be okay because she will have someone to play with. Then to be told that it was actually his new girlfriend looking after her and that his sister was not able to do the pick ups and drop offs anymore. so he lied to my aunt about who he was with. The to find out that him and his girlfriend split up and that he was looking after her by himself. If he was to go into his mood swings he could hurt my cousin even kill her as he has threatened before. is it right for the judge to grant full access when someone is unstable and suffers from a serious medical condition? I need help on what I can advice my aunt to do next as she does not want to put her child in the hands of an unstable man who could have a moon swing that can last up to 2 hours? Thank you
LLT
- 11-Jun-13 @ 10:17 PM
Johnydoo I sympathise. Luckily I am not fighting a custody case but my 36 year old brother is. My brothers ex has 2 children. One 12 and one 6. The 6 year old is my brothers daughter. Their relationship wasn't the best and very destructive to both parents. My brother left his partner about 6 months after their little girl was born. She has been neglectful to both daughters. My niece has been in hospital 2 times with injuries that are not common. One being an iron burn on her back and bum! She left my niece when she wAs 14 months old in her cot with no nappy or blanket or food for over 16 hours. My brother luckily that day was due to pick up his daughter. Having knocked on the door several times with no reply he kicked down the door because he could here his daughter crying. His ex was hungover and had had a house party the night before. There was broken glass on the floor etc. he took his child phoned the police and social services. After 8 weeks of keeping his daughter the court granted that the ex could have her Daughter back!!!!!!! Social services remained in touch for a while. During the next couple of years his ex has been in hospital with attempted suicides, several of which when the kids were in the house! Recently her new boyfriend beat her up in front of her kids. My 6 year old niece had the brains to call her grandmother, who went and pick the kids up. When she got there she found my niece trying to clean the blood up. Her maternal grandmother phoned my brother and said this couldn't go on and that she would back him to get custody of his child! 1 week later she and her daughter serve my brother court papers to get my niece back! He goes to court Thursday. It saddens me greatly that I already know that the courts will rule in favour of the mother.
Angry aunts
- 4-Jun-13 @ 10:05 PM
Myself and my ex husband have been divorced now for 4 years and have shared custody of our 2 children. We have them alternative weeks 7 days with me, 7 days with their father. This was a agreement between us both rather than going through courts which most of the time work really well and wouldn't want to change it. The issue I have is he keeps changing addresses at their schools, doctors, dentists and changing their appointments etc. I have always been the primary care (even though its not in writing) and taken my children to appointments etc. How do I go about getting something in writing to say he cannot change these things or can't i?
shol
- 17-May-13 @ 2:57 PM
I have a very disturbing story to tell, please forgive spelling mistakes as I need help quickly. I am a father, and my ex has made it very hard for me to see my children. about a month ago, after we had taken my daughter back to her mothers after a shopping trip, my 10 year old daughter phoned me histerical, screaming that her mum had beaten her badly, and that I must go get her. As we went to pick her up her mum had gone out, she got in the car, she was crying, begging us not to take her home!!. I phoned her mum, to tell her she would not be comming home, and her mum said as long as she could keep her bennifits we could keep her (she claims dla and carers allounce for her). even though she sent the police around latter to but they were happy for her to remain with us. When we got back home we phoned social services, where my daughter made a full statement about the abuse and beating that regular accure. Roll on 3 happy weeks with my daughter living with us, and I must say she is 10 times the little girl that came to live with us 3 weeks ago, people who see her every day can not belive the difference and what a happy child she is!!. Now cut to last friday!! I was served court papers friday at 2.30 to be in court monday morning(mother had found out we had stopped the benifits and wanted her back), it all went to court and I lost and she has been granted a intrim month with her mother for things to be looked at. Now apparantly social services did not think my daughter was to be in danger, the judge did not care for me or what I had stated in my report!! and that everything I and my daughter said was dismissed as she had lived with her mother for the last five years, and that my daughter had to be removed latter friday afternoon. When I got home from court and my daughter and step mum found out she had to go back to her mothers, my child was inconsoleabe, screaming, crying, she was terrified. I phoned social service to see if they could over rule the judge, my daughter stated to the social worker on the phone that she must not go back, she would run away or kill her self. needless to say no help came!! my daughter was removed from my house at 3pm, kicking, screaming, crying (took 45 mins to get her in car), she has stated for a long time she wishes to live with me and stated that fact to the social worker. I can not belive what a total waste of time our law system is, the judge was a total waste of time and the social workers that are there to help my child are a total waste of time and have let her down very badly. I have always been a honest hard working man, where my ex is from a family of life long claimers and they know the system inside out. it just shows now what a bad state the uk is in, where the honest hard working man has no rights and the sit at homes do nothing but claim off the social system have all the power. a sad loving father who lost his daughter.
jonnydoo11
- 15-May-13 @ 12:04 PM
Hi my husband and I split up nearly 2 years ago and we have a five year old daughter. For the first six months we shared care of her where he'd have her 3 nights a week and pay nursery costs for the days she was at his although I was still her primary carer. After that he stopped having her overnight and refused to look after her while I was at work half the time or pay the nursery. He's never paid any child support for her but still had access to her whenever he wanted. Recently I refused him access until he accepts responsibilities as her father but he's threatening to take me to court. He lives in the isle of Mann and doesn't provide for her financially. At The end of our relationship he was very abusive and violent and got arrested a couple of times for beating me up which my daughter witnessed so social services were involved. Every chance he gets he tries to poison my daughter against me and my partner. What chances does he have in court and where do I stand with all this as a mum?
Kret
- 22-Mar-13 @ 1:45 PM
Separated from my ex-partner July 2011 after she returned from six weeks away living with her 'male friend.'We agreed she should sign over the council house which we'd shared for 9 years as i wasn't on the tenancy, she'd leave and I would continue to parent our two kids, 7 & 9 yrs old at the time, like I'd been doing anyway.I have always been the primary carer and the kids repeatedly stated that they wanted to live with me (dad) if they had to choose. Anyway, long story short this didn't happen. Her dirty tactics and her blatant lies about her being abused by me etc all completely muddied the issues. I went from being a single parent dad just looking after his kids after his missus of 20 odd years woulld say she s going to her girl friends BBQ for the afternoon and then disappear for 3 or 4 days at a time before returning back home, this happened 4 or 5 times over a 3 month period, to a non priority homeless male and she just waltzed straight back in - no questions asked. I was forced to leave due to not being on the tenancy and during an 18 month battle i gained parental responsibility and eventually full custody of both children. When 'd initially had to leave home I left everything barring my clothes. Now the children reside with me do I have any way of making her hand over at least half of the furnishings etc.things that belong to the kids etc. I asked for our trampoline out of the garden which i had bought the kids and her response was that i could buy it off her! it's been 6 months now and she refuses to listen to any requests for personal stuff. My son visits her two days a month and my daughter does not visit their mother at all. What can I do?
Ex-Non Priority Home
- 20-Mar-13 @ 2:17 PM