Child Custody Rights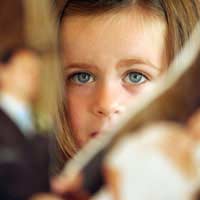 In the UK child custody law determines who should be responsible for the care and charge of a child, after divorce or separation. The term custody is now more commonly referred to as residency - indicating where the children's main residence is, following a parental break up.
In the many cases, parents preference is for joint custody (or residency), which enables the child to spend an equal amount of time with each parent. This option also allows both parents to participate in any decision making which may affect the child. However, if parents are unable to decide amicably on what living arrangement is best for their child, the courts will decide on their behalf.
Parent Vs Parent
Most bitter disputes between married couples end up in the family courts. Whilst the separation and ensuing bitterness will undoubtedly affect the children it's important to remember that:
Most child residency court cases end amicably with either agreed residency or joint residency as the outcome
Access and maintenance payments from the non resident parent are also taken into consideration
In disputed cases each parent is individually assessed before a decision on which parent is given custody of the child, or children, is made
The best interests of the child is the general standard at the heart of all residency cases.
Joint Residency
Joint residency is considered to be the preferred solution as being in the best interests of most children.
BUT...There are no laws or 'rights' that state that a child should live specifically with either the mother or father.
Assuming you both have parental responsibility it is up to you to negotiate residency on the basis of what is best for the children. Many couples neglect to consider this fact and err on the side of what they themselves would prefer (or what suits them).
If you cannot come to an agreement, you should try mediation first. If that is unsuccessful, the courts will become involved and will issue a court order based on what it sees as appropriate.
Joint Residency Reflect Modern Society
The choice of joint residency, reflects the changes in society and takes into consideration work that mothers do outside of the home and a more hands-on approach of child care by fathers. By allowing both parents to have an equal share in the physical care of their child, or children, all legal rights connected to responsibilities and obligations to children are divided.
Custody Disputes
Most custody disputes involve the child's mother and father. However, in some cases a third party – a grandparent, for instance – may seek custody at the time of a parent's death or incapacity. If a couple has never married - making provisions for the care of their child may also develop into a dispute. Generally though a court will accept that a parent is in the best position to maintain the welfare of their child.
Unusual Circumstances
In some rare circumstances one parent may be permanently excluded from having any access to their child. However, the court has the right to change the decision at any point in time, should the parent's circumstances change. The parent is able to re-apply for access at any time, and once an application is made the court may reconsider arrangements after examining evidence.
The Court Decides
The courts will generally accept custody arrangements that parents submit as part of their separation agreement. To ensure these arrangements serve the child's interests the courts will review the plan. The role that grandparents, step-parents and other influential adults play in the child's life may also be taken into consideration by the courts.
Changing Or Regaining Custody
Changing a child's residency arrangements is possible. In order to support the change, substantial evidence of the stability the child will need to be submitted. There are many other factors to consider, which may include relocation of a parent, stability of employment, integration of the child into the new environment etc.
Read on for more information about your rights as a parent
.
You might also like...
@leanne -You would need to seek legal advice on this question, as it would be a complex case that would need to be dealt with through the courts.
ChildSupportLaws
- 31-Mar-15 @ 9:57 AM
I am a mum of 2 year old son and ex doesn't have a child support or maintenance, if he feels like giving, he gives but if he don't, he doesn't bother. We are not married. Ex had been emotionally abused me by texts or a word when he came around to visit my son sometimes recently. He also threatens me to get custody and I am scared because he has the name under my son's birth certificate. He wanted to get our son but I refused as I had no trust in him... He's an alcoholic, just graduated and have work now, lives with his parents they are all a drunkard. (Before when we're all okey) me and my son went to theirs for a family"s party by a train but One time I saw a weed pipe in their house. They all stink with weed/cigarette and they don't have a car seat for my son and ex dad was driving while he had a drink from a party, I complaint but ex's dad said I'm not a bad driver. So now, ex wanted to take our son but I won't allowed it cause of what I saw from his family.. My child could be facing a great risk and the fact that my son has asthma and he's a 7 month old premature. I don't think his lungs are properly developed yet, I couldn't bare the thought of losing him cause I cannot have kids anymore because I had a stroke when I was 11 and a heart disease since I was baby.It took a greater risk for me being pregnant... I had miscarried before but this child is a miracle baby.. It could kill me if something happens with him. I told ex I'm not gonna allow him to go unless I'm there but ex went ballistic and hysterical with me being a mother. Ex doesn't respect me at all as a mother neither as a person and he always humiliate me in front of his family. My whole world is my son and I poured my life over him. Ex doesn't even care if he's alive or not cause we went to emergency a bunch of times and diagnose with chest infections every time. I texted him when it happens but he just ignores it. What are the possibility of him taking our son? I'm so scared and depressed. I can't eat or sleep because what he told me taking my child.
Annefabe26
- 30-Mar-15 @ 10:38 PM
Hi need advice...my ex & I split 2 years in which I moved on with my life. We arranged amicably with my ex to have my daughter 3 days a week and every other weekend (to also accommodate my ex working hours)i don't pay my ex as i provide food clothing toys has her own bedroom...when she has been in hospital i'm the one who has stayed overnight with her, my ex has also sent her to school when he has been very unwell. I also have flexible working hours & can work from home. I do contribute to other things outside in which she wishes to do but if my ex does not tell me so then i don't about this....to which my ex has now this week just decided she thinks that her welfare is in danger as she returns (as she says when she comes home from my house with sore parts..this is due from not wiping and my daughter has happily said so herself...i was wondering where i stand if i took her to court..
lion
- 30-Mar-15 @ 12:23 PM
Help please. I need to know where I stand. My husband and I separated 6 months ago. We have tried to keep everything as amicable as possible and I have not barred him access to our two year old daughter at all. He sees her as much as he wants, whenever he wants to and is able to with his work commitments. He just dropped a bombshell on me and said he wants to fly to South Africa in June and he wants to take our daughter with him. I am not comfortable with this at all. My daughter has never spent a night away from me (her mother) since birth and now he would like to take her away internationally. I am so anxious about this and don't know if I have any right to say no. He is very forceful about what he wants and if I just say I'm not happy about it, he will not accept that as a valid reason. Do I have any grounds to say no? Many thanks for any help or advice you can give.
Coffee
- 29-Mar-15 @ 11:08 PM
Help!!! I'm not married but been with my partner 16 years and we have 2 kids preschool aged. I am leaving him but as house in his name I'm the one leaving and plan to take kids with me. He's very abusive and drinks too much. He's got a lot of money and property whereas I have zero. I wud stay if I thought I might lose my kids . Helo
lana
- 29-Mar-15 @ 10:55 PM
I would like to know if my sister and her partner can get custody of my son who has cerebral palsy and I know that my son's dad is not looking after him properly but the thing is I can't have him as I am disabled my self so can I do that
leanne
- 28-Mar-15 @ 3:09 PM
Hi in need some advice please I have two childrenage 10 and 6 with my ex who doesn't see them on a regular basis just when he feels like ithe hasent seen them for 5 month but now he turned up about 3 weeksagoat his mum'swhere my children go one a week and told my children thay have to go withhim at least one a week but thay don'twant to go when thay told him this he told my ten year old he was taking her to cort and talk to his lawyerto make her go which has upset her alot I have try to reassure her this won't happenbut I am not sure if he can make them go I would appreciate any adviceon this matterthanks
nic
- 25-Mar-15 @ 8:02 PM
Hi, I have 2 kids (one 3 years old and second 5 months). Recently I have separated with my partner - we were not married but he has parental rights. He is now in relationship with the woman I know and I do not trust - she is trying to stop drinking and have been in rehab, her personality gives a lot to comment, she swears in front of my kids and there are other health issues. I have asked my ex several time that I did not wish our children to have a contact with her as a temporary measure until I can see that she is clean from the addiction. My wishes are not taken into account and I am forced by my ex to see her. Recently he told me that he will not pay a child maintenance for the children and he will not come to see them until I accept her to see children - we had personal agreement for the child maintenance which could not be enforced by the courts Please tell me if I have a right to forbid her from seeing my kids and how to do it and if she has any rights to my children - I have been threaten that they will take children away from me.
AR
- 25-Mar-15 @ 12:28 AM
@Jr - first and foremost, the court will decide what is in the best interest of your child and if you have given your daughter a stable and happy home for a good period of time, then any judge would be reluctant to change this. I wish you luck.
ChildSupportLaws
- 24-Mar-15 @ 11:57 AM
@L1695 - are you saying you don't want him to see your daughter at all, even through supervised access? If so it would have to go back to court and you would need a valid reason to stop him seeing her. Surely, if she is supervised, she can come to no harm. If it is a personal vendetta and that you want him out of 'your' life then that is a different matter.
Dan
- 23-Mar-15 @ 1:49 PM
On the reverse side, being a parent who has full residency of a child and has looked after dd for quite some time, and given residency openly by mother who didn't want custody for "personal reasons", how do I fare when ex suddenly reappears claiming joint custody is wanted and demand through access center required?It is excruciating to see someone who cared so little, even refusing to spend mothers day with dd, to one week later claiming they want to go for joint residency?In the past she has asked for dd for two nights, which was accepted and then the second night I received a message claiming it was too much.I feel for my dd and don't want her to be messed around again. I also worry that like last time mother will leave my child with her grandmother (ironically similar to case above!) When I have maintained a healthy living home for her these past years.Surely the court wouldn't risk a child being taken from a routine and stability for a new plan where no evidence has been provided to ensure mother will keep up her arrangement. The scary thing is is the lies that she spins and they sound almost half convincing, that is of course unless you aren't the other parent who knows the truth. Thanks.
@kb - I suggest that if she refuses mediation you take it to court, see link When Your Ex-Partner Denies You Access,
here
. While she may not be totally witholding access it puts you in a very precarious position never knowing whether you will see them or not. If you do not want to have the hefty solicitors costs, you can self-litigate, see link
here
. You may also find our Separated Dads Facebook site helpful as there is a lot of information on there from dads going through the same issues. I hope this helps.
ChildSupportLaws
- 20-Mar-15 @ 11:41 AM
I'm in desperate need of help!! My ex and I were in a rocky relationship for 4 years. There was a two accounts of domestic abuse - i didn't report these incidents however social were informed and my daughter was placed on a child in need programme. He had supervised access at my mothers home. This came to an end when he breached the written agreement. There was a pin notice in place for two accounts of harassment.Even now he still has emotional and verbal abused me calling me a stupid fat c**t and telling me I'm mad in the head. He has history with social services when he was younger due to drug misuse. This is still on going. I reported him slagging me off on social media sites and luckily have got screen shots. Wondering where I stand for gaining full residency till she is older? I understand a child needs to know both parents however in this case I feel it's for both of our emotional and physical well being that he isn't included till she's older where I know she can at least look out for herself. Thank you in advance.
L1695
- 19-Mar-15 @ 10:36 PM
@osborne2602 - I have included a link to the Granparents' Association, link
here
which should answer all your questions regarding your rights. The Grandparent's Association has been working with and for grandparents to achieve positive outcomes for their grandchildren for decades and has grown into a thriving national charity, with around 1,000 members. I hope this helps
ChildSupportLaws
- 18-Mar-15 @ 1:59 PM
@harvey - I am not sure what you are asking here. Are you saying the grandparents are taking your son to live with them? If so you can apply for a Prohibited Steps Order if you don't agree with this move,see our partner article in our partner site Law & Parents
here
. I hope this helps.
ChildSupportLaws
- 18-Mar-15 @ 12:49 PM
My ex partner is growing continuously un reasonable regarding my time with our daughters. Not willing too discuss anything and basically laying down the law. Its got too a point where its gone from all weekend every weekend to alternate weekends for limited time. have always paid CSA monthly, but in an attempt to "negotiate" a response i have considered switching too paying weekly. I have contacted a local mediation service for help hoping they can get through too her she is not 'god'.
@Chez - it is hard to say, but if he is seen as a risk to the children then yes.
Ella
- 17-Mar-15 @ 10:16 AM
@she - I think we have answered this question previously; he has the right to apply through the courts for parental responsibility and contact/access should he wish to pursue this, if you denied him access. If he wanted to apply for residency he could, however if your child has a stable upbringing with you then he would be unlikely to be granted it. If he applies for parental responsibility and gets it he will also be liable to support your son financially - but this does not guarantee him access/contact.
ChildSupportLaws
- 16-Mar-15 @ 2:46 PM
Hi, I am a grandparent, I used to look after my ex daughter in laws [sons] children on a weekly basis, until they split due to her being unfaithful.We had a verbal agreement that I would see the children every 1st weekend of the month, which was suitable to both myself and her.I also had the children regularly when her mother would not help out and if she needed an ad hoc baby sitter! I have gone out of my way on many occasions to see the kids which have not been an issue.Now she has a new boyfriend is pregnant by him, apparently engaged although she has to wait two years before applying for a divorce.As my son has moved back with me and they have had a domestic argument she is now refusing me access.. I have now not seen the kids since before Christmas, we have a large extended family that also miss the kids, cousins are constantly asking about them as they are same age i used to take them to see the extended family and my mother [Their great grandmother] based in Essex. They attended all family parties and occasions to which they are now denied by the mother.They are not allowed to have any contact with myself or my son by the mother although my son has full parental responsibility. She is doing this out of personal vengeance to my son, therefore the children are suffering, it is known that they are playing up, being extremely naughty and ruckus with her via a third party, they are being forced to call the new boyfriend dad, which is quite upsetting and confusing to the children. I have tried to contact her via her mother but she is refusing to help in any way, the mother is refusing all calls and contact.I sent a contact letter but don't expect a response.Therefore as I have now written everything down and dated all actions what is my next action to obtain access. I look forward to your prompt response. Thanks and regards
osborne2602
- 16-Mar-15 @ 10:40 AM
ex has are son living with her and her parents. But she say her mum is controlling herknow she saying that they moving mile away how do I stop them from taking him she won't stand up for her self so how do I stop them from taking him . She won't let him stay with me as her mother won't allow it I see him 3 maybe 4 time a week without her mum knowing I give her money for him.so I won't to now what writes I have ?he has my last name I am on his birth certificate
harvey
- 16-Mar-15 @ 2:02 AM
If the child's father is being investigated for rape of the child's mother and other domestic and family violence to that child and the mothers other children, would the courts grant a no contact order
Chez
- 13-Mar-15 @ 7:06 PM
@she - he has the right to apply through the courts for parental responsibility and contact/access should he wish to pursue this,if you denied him access. If he wanted to apply for residency he could, however if your child has a stable upbringing with you then he would be unlikely to be granted it.
ChildSupportLaws
- 13-Mar-15 @ 2:36 PM
I am a mother of a two year old boy. My sons father has barely supported financially (£500 over 2.5 yrs) or with his time, seeing our son,at most, twice a month for 8 hrs. Also, at the time of registration, didn't want to put his name on the birth certificate. Still doesn't. What are his rights if he were to now look for visitation/custody.
she
- 13-Mar-15 @ 2:33 PM
I am a mother of a two year old boy.My sons father has barely supported financially (£500 over 2.5 yrs) or with his time, seeing our son,at most, twice a month for 8 hrs.Also, at the time of registration, didn't want to put his name on the birth certificate. Still doesn't. What are his rights if he were to now look for visitation/custody.
she
- 12-Mar-15 @ 3:28 PM
My partner (Female) has had ongoing drug and alcohol problems as well as quite badly managed Grand Mal Epilepsy. Recently she has been drinking heavily to such a degree that she becomes psychotic and utterly incapable of looking after herself, let alone our 6-month old. She has also been smoking crack cocaine, although despite my finding the paraphernalia and her violent mood changes, she refuses to admit. Today, her behaviour became too intolerable for me and too dangerous for our baby. I left the family home and went to the council to find somewhere safe for us to live away from her and her addictions. I was told that because I was the Father and because I am not in receipt of Child Benefit or Child Tax credits they would do nothing. Nothing at all! My partner had a seizure later this afternoon due to the volume of alcohol consumed. My question is really a cry for help. I desperately need to get me and my son away from his mother as she has had drug problems all of her adult life and her drinking brings out a very nasty side indeed. This lifestyle also has a very bad effect on her epilepsy (she knows and understands this but is unwilling to change). If she has a seizure whilst carrying our baby she will kill him. Without me around, she does not recognise the pre-ictal (The state immediately prior to a seizure) symptoms and so continues without realizing that our little one is in grave danger. I have learnt not to trust our local social workers so really need some advice on how to make sure my son is safe. If I had an ounce of faith in their ability I would simply go to social services and explain that my partner's lifestyle is making her an utterly unfit mother and that I am perfectly capable of looking after my son; and that I just needed help to get away and find somewhere to live. If I leave on my own, then I really will have let down my son as he WILL be removed from my partner, besides which, I don't feel it is at all safe for him to be alone with her for any length of time. Please help both of us!!!!! Martin the Organist
Martin the Organist
- 11-Mar-15 @ 8:07 PM
@pump - You can apply for a 'residence order' through the courts which will determine where your child shall live based upon the information given from both parents. The courts will decide about what is in the best interests of your child. You don't say how old he is, but if he is over the age 11, then his opinion may be taken into consideration through the courts. Alternatively, have you thought about talking this through with your ex first? If you are on good terms, she may give you more access and residency without going through the courts if he is vocal about wanting to live with you.
ChildSupportLaws
- 10-Mar-15 @ 2:34 PM
@Alex - I am sorry to hear this. If you have no money and want to avoid costs you can self-litigate, please see link Legal Aid Withdrawal: How to Represent Yourself
here
. A lot of men are doing this with the help of a McKenzie friend, or on their own with good success, please see link
here
. You may also find help in our Separated Dads Facebook page a comfort,there was a posting similar to yours recently and our followers offered a lot of helpful advice and comments. Please don't feel disheartened, you really need to keep trying, there is no reason why you shouldn't be able to see your twins. I also think a bit of counselling may help your depression and I suggest you see your GP who will be able to refer you. I hope this helps.
ChildSupportLaws
- 10-Mar-15 @ 2:14 PM
Hi I'm Andrew I have my boy every weekend talk him on all his holidays my ex has just had a notherbababy and she push him out and keeps asking me he want to live with me as we are really close what can I do as I want full custody off him
pump
- 8-Mar-15 @ 8:55 PM
What help and advice can you guys offer me please? Am desperate and suffer emotionally and very depressed most of the time.Been to court four times now for me to gain access to my twins but the mother wont let me. Spent all the little I had and at the moment left with just nothing. I really need help or if there is a charity that can help. She says I can only see my twins when them turn 18. How cruel is that when am alive and able to assist in all ways possible? The twins are just five as we speak. Any good suggestions are welcomed please.
Alex
- 8-Mar-15 @ 5:25 PM
@Nebra - I'm sorry to hear this. As your partner has parental responsibility, officially you would have to apply though the courts in order to take your child home. Please call the National Domestic Abuse helpline, link
here
and they can advise you what to do for the best and whether there are any safehouses in your area that you could go to. I hope this helps.
ChildSupportLaws
- 4-Mar-15 @ 2:42 PM