Child Custody Rights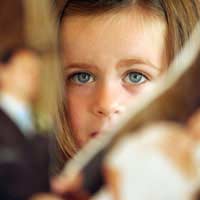 In the UK child custody law determines who should be responsible for the care and charge of a child, after divorce or separation. The term custody is now more commonly referred to as residency - indicating where the children's main residence is, following a parental break up.
In the many cases, parents preference is for joint custody (or residency), which enables the child to spend an equal amount of time with each parent. This option also allows both parents to participate in any decision making which may affect the child. However, if parents are unable to decide amicably on what living arrangement is best for their child, the courts will decide on their behalf.
Parent Vs Parent
Most bitter disputes between married couples end up in the family courts. Whilst the separation and ensuing bitterness will undoubtedly affect the children it's important to remember that:
Most child residency court cases end amicably with either agreed residency or joint residency as the outcome
Access and maintenance payments from the non resident parent are also taken into consideration
In disputed cases each parent is individually assessed before a decision on which parent is given custody of the child, or children, is made
The best interests of the child is the general standard at the heart of all residency cases.
Joint Residency
Joint residency is considered to be the preferred solution as being in the best interests of most children.
BUT...There are no laws or 'rights' that state that a child should live specifically with either the mother or father.
Assuming you both have parental responsibility it is up to you to negotiate residency on the basis of what is best for the children. Many couples neglect to consider this fact and err on the side of what they themselves would prefer (or what suits them).
If you cannot come to an agreement, you should try mediation first. If that is unsuccessful, the courts will become involved and will issue a court order based on what it sees as appropriate.
Joint Residency Reflect Modern Society
The choice of joint residency, reflects the changes in society and takes into consideration work that mothers do outside of the home and a more hands-on approach of child care by fathers. By allowing both parents to have an equal share in the physical care of their child, or children, all legal rights connected to responsibilities and obligations to children are divided.
Custody Disputes
Most custody disputes involve the child's mother and father. However, in some cases a third party – a grandparent, for instance – may seek custody at the time of a parent's death or incapacity. If a couple has never married - making provisions for the care of their child may also develop into a dispute. Generally though a court will accept that a parent is in the best position to maintain the welfare of their child.
Unusual Circumstances
In some rare circumstances one parent may be permanently excluded from having any access to their child. However, the court has the right to change the decision at any point in time, should the parent's circumstances change. The parent is able to re-apply for access at any time, and once an application is made the court may reconsider arrangements after examining evidence.
The Court Decides
The courts will generally accept custody arrangements that parents submit as part of their separation agreement. To ensure these arrangements serve the child's interests the courts will review the plan. The role that grandparents, step-parents and other influential adults play in the child's life may also be taken into consideration by the courts.
Changing Or Regaining Custody
Changing a child's residency arrangements is possible. In order to support the change, substantial evidence of the stability the child will need to be submitted. There are many other factors to consider, which may include relocation of a parent, stability of employment, integration of the child into the new environment etc.
Read on for more information about your rights as a parent
.
You might also like...
@Lucy - this is a tricky one and can be seen from both sides of the story and your ex may view it quite differently. In some ways your ex may be trying to make amends, and trying to include you in his upbringing by inviting you to events etc, but you are seeing it as a threat. On the other hand, it is understandable that you want to distance yourself from this given you have moved on. The good thing is that your son is really old enough to begin to make his own decisions soon and whatever his opinions are can legally be taken into consideration from this age, should any court cases evolve from this. Perhaps you could say to your ex that while you don't mind him having access, you really want the relationship to between your son and him and you'd like him to respect your privacy as you now have another partner. In some respects it sounds like this is more about you and your ex, than it is about his relationship with his son.
Pete
- 27-Feb-15 @ 10:07 AM
I am originally from scotland and i moved in 2010 to the midlands with my boyfriend and son, my dad does not keep well so i have moved back up to scotland to be closer to him. My Ex husband lives in oxford, so me living in the midlands made the journey time and distance easier for him to see his son but he did not take advantge of this and only saw his son for example maybe once or twice a year! he does not phone his son(who has his own mobile) or text or skype him, infact the last time he spoke to his son was xmas past 2014. Now he is wanting to see his son in the April school holidays which is fine, i have never stopped him having contact, but he is insisting i meet him half way at Harrowgate where his parents stay. i work 2 part time jobs a day, 9am-3pm then 5pm-8pm, one job i work mon-fri and the other i work 5 days from 7, he is now threatening to take me to court to force me to take days off my work to drive and meet him half way. can he do this?
shell
- 27-Feb-15 @ 7:52 AM
Hi any help please,been difficult going from full time dad to weekend dad but since seperated ex has run up arrears on rent and couldnt get myself off tenancy due to this, finally managed to get things sorted so she accepts debt and now ive got house ive asked for a few weeks where kids wont be able stay over due to me needing to make house a home shes now threatening with courts. Ive tried asking for joint residency as i love my kids and want to be bigger part of life but not forthcoming. I genuinly believe kids would be more stable and have better routine if lived with me, im more financially stable and have family thats more reliable to help with childcare whilst working, any advice please?
bob80
- 26-Feb-15 @ 11:08 PM
@Paul - it is up to you really. If you have an amicable relationship, you can agree to share the childcare between you as well as organise any financial contributions you both make. However, if you would like to establish a more official arrangement, then you could apply through a solicitor to have something drawn up or through the courts, which would ask you to go through mediation first. It generally only needs to go to court if one of both of you disagrees on an issue.
Kathy
- 26-Feb-15 @ 12:29 PM
Please advise my ex is causing my family much distress. My son is 11, we have been separated for 10yrs we were not married but his name is on the birth certificate although before December 2003 which means legally he has not automatically received parental rights. Until now he has been unaware of this as he chose to hardly see our son for the first 8yrs, instead choosing to travel and work. He has always paid maintenance although lies about his income to the CSA. For the last year he has been trying to see our son every 2 wks and takes him on holiday once or twice a year- all I have allowed for our sons benefit and to remain amicable. However I have since married and had another child and my son has taken my husbands name and my exes name is now his middle name, which my son wanted. We did not ask my ex as he has no PR and it was what my son wanted.Since having regular contact with my ex my son now says he is too scared to tell my ex about his name and I fear that he will apply for PR just so that he can force us to change his name back regardless of what our son wants. My ex has also started calling me regularly and wants to come to my sons events and come and stay where we live ( he lives 80 miles away) can he do this? I'ts already destroyed me allowing him to have as much access as he has and now he's threatening the happiness of our new family. He is a very manipulative person and my son has been made to feel guilty about not seeing him. My anxiety levels have rocketed and this is starting to affect my health again. What can I do? if he applies for PR I will fight it but I fear he will drag my son through the courts as he hates losing.
Lucy
- 25-Feb-15 @ 10:37 AM
Hi, me and my ex wife separated 10 years ago and I have paid CSA since.We are now both in a better position in life and both agree that joint custody is now a better option. Do we still need to seek legal advice for this or can we simply apply for a court order?
Paul
- 24-Feb-15 @ 2:32 PM
@bex1980 - You don't say why she gave away her parental responsibility, or had it revoked, which would make a difference. While she can take it to court, it doesn't mean she will get custody. The courts will be more interested in the best interests of the child and if her father has offered her stability and consistency then it is highly unlikely that this will be revoked.
Carrie
- 24-Feb-15 @ 12:36 PM
I have had joint custody of my son on a weekend since July 2013. It was agreed that I would pay £170 a month in child maintenance even though I have him every weekend 2 nights per week. I work full time. Mon-Fri amd have my son Fri night until Sunday midday. Should I provide my son with everything that he needs? Nappies? Wet wipes cream etc? When I already pay that much maintenance? CSA calculator calculates I should pay £24 per week? Based on what I earn. His mam asks me for money all the time for gas and electric for their house when I dont even live there. On top of what I give already. Please help??
markt211
- 22-Feb-15 @ 1:36 PM
a friend of mine has full custody of his daughter who is now 7 yrs old for the last 5 yrs he has had sole custody, the mother gave up her parental rights and sole rights over to him but now 5 yrs on she wants access and rights again can this happen? can she get a court order to see her daughter who doesnt even want to know her and is now scared due to no contact even via phone that this woman she doesnt know may take her away from her dad? what can he do in this situation? can she waltz back to court or in her daughters life?
bex1980
- 22-Feb-15 @ 12:06 AM
@tkhan - I would approach the CMS, via link
here
. You can contact its customer service line on 0800 988 0988. I think because this is such an unusual case you will be better speaking to someone who can advise you on the best route forward. If you don't want to give your name etc for fear of your ex finding out until you have decided what to do about this, you could also give Family Lives a call via the website
here
where you can get some free, confidential advice, as this may have to be something that would have to go through court so that you can obtain a full residency order for your child prior to approaching him for child support. I hope this helps.
ChildSupportLaws
- 11-Feb-15 @ 12:28 PM
@mal - what the courts don't want to see is a battle between parents. Their ultimate concern is over the welfare of your child and what is in his best interests including consistency and stability. As specified in the article changing a child's residency arrangements is possible. However, in order to support the change, substantial evidence of the stability the child will need to be submitted. There are many other factors to consider, which may include relocation of a parent, stability of employment, integration of the child into the new environment etc. At the same time the courts are coming down heavier on parents who try and play cat-and-mouse by enforcing stricter orders and stricter penalties if those contact orders are not adhered to. We have a Separated Dads Facebook page which may be of interest to you, that offers supportive comments from fathers who have found themselves in the same or similar situations. I hope this helps.
ChildSupportLaws
- 11-Feb-15 @ 11:28 AM
3 years ago i went through a divorce .i was married to my cousin. When the divorce papers came it stated that since we split my daughter has been living with her father...which is a total lie. I refused to sign and the arguments got heated upas famliy got involved and it turned to violence. It came to a stage i was forced and threated to sign the papers. So even tho i signed the papers my daughter has been living with me since. Her father diea not ask about her. I provide for my daughter and her father doesnt give money or buy her anything she needs.i later learned he only wanted me to sign it because he did not want to pay child maintance. I wanted some advice if i go for my daughters custody as she all ready stays with me, would my case be strong and how do i go about it?
tkhan
- 10-Feb-15 @ 9:55 PM
i am currently in the process of starting a residence order for full custody of my son, i have been travelling the country for the past 2 and half years now as i live in Sheffield and his mum decided to basically run off in the night to Torquay, where i see him now every fortnight some days would get two hours at the contact centre and have to travel back the same day, I challenged her and took her to court and with my son residing there it was held there, i went through and am still going through a nightmare even though the order was made but for some reason his mother thinks she's above the law i fought for my parental responsibility and got that,no name on the birth certificate though as my child shouldn't have my name, which i was told by the judge and clerk its only seen as a moral thing to do my answer was that's his birth right, throughout this procedure i was full on attacked by those lovely court workers cafcass they tried everything they could to humiliate and destroy any sort of bond and relationship i would get with my son,i was accused of being an alcoholic which my GP wrote a very interesting letter to the courts about this after the cafcass officer Julian Bartlett requested i receive community treatment for my problems, also my employer made this man look the incompetent unprofessional biased fool that he was, throughout there is always going to be problems with the order as his mum is hostile childish and just basically uncooperative, i would just like some response on anybody who is or has taken the courts on to get full residency of there child children and what i am to expect
mal
- 10-Feb-15 @ 5:43 PM
@Diddy - I can see that it must be very frustrating for you because your ex has moved away. It really is something you need to work out between yourselves and if he was to take it to court, then it would be suggested that you tried mediation first in order to come to a mutual agreement. I know it seems unfair, but if you think of it another way, it would ease the burden for your son too, if you could meet at a halfway place. It's a lot of travelling. I know it might seem unfair, but we all need to make compromises when we split up. I had to drive from Manchester to Bristol when my ex moved to Cornwall in order to drop off my son. As annoying as it was, I still wanted him to see his father and I couldn't really expect him to drive for seven hours each way, it was just something I had to suck up! Beccs.
Beccs
- 9-Feb-15 @ 10:51 AM
Hi I need some advice I am resident parent to my two children, one of my children's fathers immigrated and has not seen his son for 9 years. My youngest is nearly two, his father left a year ago and moved into a place of his own in the same village. Access agreement between us was made for him to collect our son alternate weekends for the weekend and any other days at his choice. He then after six months decided to move away 4 hours down the motorway. I make our son readily available for access whenever he wants it and act as the full time resident parent. As it stands he sees our son 4 days out of a month alternate weekends and travels to collect on a Friday and returns on a Sunday. I also have full custody of my eldest son as stated before. My youngest dad is now threatening me with court as he thinks I should drive half way on his weekend is access in order for him to gain access to his son. He made the choice to move away from our resident village and county and I am full time parent to two children I need to know is this my responsibility to take our son half way??
Diddy
- 8-Feb-15 @ 12:44 PM
Hi I have a 9 yr old son with whom I have a joint residency order since 2011. When I was in the uk I would have my son for one week every fortnight. For the last few months I have been outside the uk due to work commitments so have not seen my son. My ex agreed before I left that she would let him see his grandparents for 6 hours every fortnight. And she would make arrangements to let me see him during his breaks. She has refused to make arrangements during the breaks saying that she does not want to travel with my son as she feels that I might keep him with me. She has now also reduced the contact with the grandparents to 6 hours once a month. Can my sons grandparents make any application at court to see my son more whilst I am overseas? Also at what age can my son have a say in his preferred residence.
Steve
- 6-Feb-15 @ 7:58 PM
My wife and i split up in 2011 ,she met someone off Facebook and disappeared back to her homeland of USA she left the kids with me aged 21,18 and 11 at the time,she told my 11 yr old she would be back in two weeks but never came back,she has never paid child support and has taken all our joint money that we in states my now 14 yr old is going skiing soon in states and he has to use his USA passport,she now wants to see him,but in afraid she will gain a court order in states to keep him therewhat can i dothanks
jkls
- 6-Feb-15 @ 7:27 PM
I have been separated from my husband for 5 yrsI deal with all everyday issues with my children. he sees them regularly. he has now asked to have them over night. they are old enough to make that diction 12 & 14 however he has treated to take me to court if I don't agree to him letting them stat with his partner if he has to go out
@Mr SHAH - you may be able to go for a special guardianship order along with your son that can give you certain rights over your granchildren's development.
ChildSupportLaws
- 4-Feb-15 @ 12:03 PM
My 9yr old daughter suddenly decided she wants to live with me and my partner and go to a new school near us, I know she's not been happy for sometime as she lacks any enthusiasm and is quite withdrawn so me and my ex sat down and talked about it and decided to trial it for a few weeks, I think her mum thought she would miss her and change her mind and that it would all blow over but 4 weeks later my daughter is still adamant that she wants this to happen but now her mum is saying no way it's not happening and won't take into consideration what our child wants. I have tried to reason with her that if it would make our daughter happier then it would be better in the long run but she's being defensive and just saying she's not going to be dictated by a 9 yr old, what can we do?
Stuart
- 3-Feb-15 @ 6:48 AM
my son was divorced by his wife few years back. he has two children, one daughter 5 years & 8 months & a son 4 yearsold. she was given the custody of the children & my son contact twice a week for two hours...my ex daughter in law re-married about 10 months back to an asian who was ill legal & later on he ran away from this country leaving his wife stranded in the UK..my ex daughter in law had panic attack or depression & she declared that she would wish to harm both the children, as a result the Police, Doctor & Social services intervened. both the children were given by the police to my son for care & custody, now my son wishes to apply to the court for the legal custody of both the children, however due to extra pressure on my son he wishes to apply for the joint custody, wishes to include me as a joint carer of his both the children & a divorce aunt , who lives with us as another joint carer for his children...the aunt & I both love the children enormously & we wish to help the son in looking after his children....can this application be made in the family Court?
Mr. SHAH
- 2-Feb-15 @ 11:42 PM
@Chan1234 - You can apply for a prohibitive steps order which can put a hal to your ex moving. A Prohibited Steps Order (PSO) is an order granted by the court in family cases which prevents either parent from carrying out certain events or making specific trips with their children without the express permission of the other parent. This is more common in cases where there is suspicion that one parent may leave the area with their children. The court will take in to account what is in the best interests of your son, which included family life, schooling etc. Your child at 14, should also by now be able to have a say in the matter, if it were to go to court.I hope this helps.
ChildSupportLaws
- 2-Feb-15 @ 12:10 PM
If my partner wants to move 5 hours journey from me and take my child (who is against the move completely) I am also against the move as my child is reserved and struggles in situations to make new friends (there will bo family near) Is there any way that this can be stopped legally? My child is 14. Thank you.
Chan1234
- 30-Jan-15 @ 7:24 PM
@Andy - whether any letter would stand up in court is doubtful. He can always come back to you with a counter-argument. All of these issues will be able to be aired through mediation. If your ex has had minimal contact prior to this through his own decision and not yours, then the courts are likely to favour the fact that you have been consistent in his life and are less likely to favour him causing disruption.
Alex
- 29-Jan-15 @ 12:22 PM
@Iris - you could put a halt to letting him go with your ex and for the time being and perhaps insist on supervised contact. It would mean your ex could either agree with your decision which is made on the back of concern for your daughter's safety when in his care. If he disagrees it would mean he could apply for a contact order which would have to go first through mediation and then through court, from which you could voice your concerns and your wishes regarding him resuming unsupervised access. I hope this helps.
ChildSupportLaws
- 28-Jan-15 @ 12:27 PM
Thanks for the link, is there anything I could put in writing (legally) first just to show he has had a chance but refuses my terms.
Andy
- 28-Jan-15 @ 9:47 AM
@madhouse - you could take it to a family mediator in order to try and resolve the situation with your ex and perhaps come to some sort of an agreement. You could try and request supervised access. If your ex isn't happy then he will have to take it back to court.
Charlie
- 27-Jan-15 @ 2:13 PM
I have a 4 year old daughter who has regular contact with her father now. When she was around 7 months we left him due to taking drugs behind my back. I found out an till he got off them he was not aloud to have time with our daughter. He went though rehabilitation. And now I have found out he back on it. I don't want my daughter around this at all... And as she spends 2 nights with him every other week she will be subjected to it. Where do I stand on stopping contact till he has gone thought full rehabilitation again and I want at least 3 hair strand tests completely clear with at least 3 months apart befor I would even think about letting him have any contact again. And where would I start as to get ball rolling. Thnk you
Iris
- 26-Jan-15 @ 11:36 PM
I have an 11 yr old with adhd and anxiety who has stated he does not want to see other parent As he does not feel safe there. Estranged parents partner just moved out. There is a courtorder in place. confused about what to do..
madhouse
- 26-Jan-15 @ 2:42 PM
@Andy - I suggest you wait until the mediation is announced. At mediation you will be able to put forward your son's feelings and your own. I have included a link from National Family Mediation
here
which will tell you more about the process and what is required of you and your ex. I hope this helps.
ChildSupportLaws
- 26-Jan-15 @ 2:10 PM