Child Custody Rights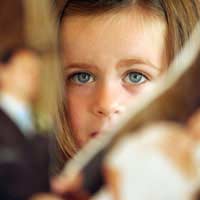 In the UK child custody law determines who should be responsible for the care and charge of a child, after divorce or separation. The term custody is now more commonly referred to as residency - indicating where the children's main residence is, following a parental break up.
In the many cases, parents preference is for joint custody (or residency), which enables the child to spend an equal amount of time with each parent. This option also allows both parents to participate in any decision making which may affect the child. However, if parents are unable to decide amicably on what living arrangement is best for their child, the courts will decide on their behalf.
Parent Vs Parent
Most bitter disputes between married couples end up in the family courts. Whilst the separation and ensuing bitterness will undoubtedly affect the children it's important to remember that:
Most child residency court cases end amicably with either agreed residency or joint residency as the outcome
Access and maintenance payments from the non resident parent are also taken into consideration
In disputed cases each parent is individually assessed before a decision on which parent is given custody of the child, or children, is made
The best interests of the child is the general standard at the heart of all residency cases.
Joint Residency
Joint residency is considered to be the preferred solution as being in the best interests of most children.
BUT...There are no laws or 'rights' that state that a child should live specifically with either the mother or father.
Assuming you both have parental responsibility it is up to you to negotiate residency on the basis of what is best for the children. Many couples neglect to consider this fact and err on the side of what they themselves would prefer (or what suits them).
If you cannot come to an agreement, you should try mediation first. If that is unsuccessful, the courts will become involved and will issue a court order based on what it sees as appropriate.
Joint Residency Reflect Modern Society
The choice of joint residency, reflects the changes in society and takes into consideration work that mothers do outside of the home and a more hands-on approach of child care by fathers. By allowing both parents to have an equal share in the physical care of their child, or children, all legal rights connected to responsibilities and obligations to children are divided.
Custody Disputes
Most custody disputes involve the child's mother and father. However, in some cases a third party – a grandparent, for instance – may seek custody at the time of a parent's death or incapacity. If a couple has never married - making provisions for the care of their child may also develop into a dispute. Generally though a court will accept that a parent is in the best position to maintain the welfare of their child.
Unusual Circumstances
In some rare circumstances one parent may be permanently excluded from having any access to their child. However, the court has the right to change the decision at any point in time, should the parent's circumstances change. The parent is able to re-apply for access at any time, and once an application is made the court may reconsider arrangements after examining evidence.
The Court Decides
The courts will generally accept custody arrangements that parents submit as part of their separation agreement. To ensure these arrangements serve the child's interests the courts will review the plan. The role that grandparents, step-parents and other influential adults play in the child's life may also be taken into consideration by the courts.
Changing Or Regaining Custody
Changing a child's residency arrangements is possible. In order to support the change, substantial evidence of the stability the child will need to be submitted. There are many other factors to consider, which may include relocation of a parent, stability of employment, integration of the child into the new environment etc.
Read on for more information about your rights as a parent
.
You might also like...
Hi everyone. I am English and live in England with my two boys. My youngest(2) boys father whom I am married too is an American citizen and did live here for a year before moving back to america. I have tried to keep him in my boys life by phone calls and pictures and so on. But he hasn't spoke to him in 4 months. By his own choice. but now he's decides he does not want to pay for our son and is going to take me to American court for custody. Can anyone give me any advice on what I can do thank you
helpneedes
- 4-Jul-15 @ 8:54 PM
As for representing yourself... well that is a load of croc... My son did that and her solicitor just kept screaming him down!!He wasn't allowed to ask questions in anyway shape or form.She has defied the court twice now with regard to contact.They do nothing!!
Dainty57
- 3-Jul-15 @ 7:22 PM
Child support laws are all a waste of time if you are the father.Despite the evidence you have no-one is interested.A Mother can get away with murder before anything changes as shown recently. The mother of my grandchildren is bipolar, no-one cares as the courts and related agencies are too scared to explore it. I wish I knew what I could do to help my grandchildren.I am so scared for their lives.
Dainty57
- 3-Jul-15 @ 7:18 PM
@Cakey77 - I'm afraid I can't answer this as it becomes complicated once Social Services are involved. I can only suggest you call Family Lives, who will be able to talk your issues through with you and give you some advice. You can access the helpline number via the link
here
. I hope this helps.
ChildSupportLaws
- 3-Jul-15 @ 1:47 PM
Me and my partner broke up when our daughter was almost 6months. I asked his mum and step father to look after her until I could find a home. Me and my ex partner get on well and have come to the agreement that I should have full custody and I will let him see our daughter as often as possible. However his mum and step dad got social services involved and social services have been given information to say I am not a suitable parent and will not give me back my baby. It has become obvious to me and my partner that they are obsessive of our daughter and are slowly cutting off our contact. I have been reasonable and honest but they are making me out to be a horrible person and don't want my ex partner seeing his daughter at all. Social services won't listen to us and a court hearing has been mentioned but no sign. My solicitor hasn't been helpful either. My daughter is now 9months and is calling her grandad "dadda" she has finally got a tooth, I offered teething gel, they said she's suffered the once she doesn't need it. I also gave them cradle cap shampoo, they refuse to use it, I am not allowed to provide for my daughter although I have everything for her but my stuff is"not good enough" i am getting worried that me and my ex partner may never see our daughter again and I fear she is not being cared for properly. What can I do? Any help would be welcome.
Cakey77
- 2-Jul-15 @ 6:24 PM
Worst day of our lives. Social services have just taken our 5 month baby away from us into care. Our baby woke up in the morning, I fed him and the left him on the bed with mum. Next thing mum calls me back int he room, baby has what looks like blood all over his mouth and muslin, we called an ambulance, after a day in the hospital the doctors confirms its not blood but something he's ingested and social services say either my wife or I have made him swallow the red substance and therefore they don't think he's safe in our care and won't hand him over to grandparents as a nominated person as the my can't believe either of us would do such a thing. My wife and I are completely innocent and would never do anything to hurt our baby. We're devastated! We need to speak to a family lawyer now and then visit social services tomorrow to discuss the next steps. Please, does anyone have any advice? Devastated and desperate to be united with our baby.
Mark
- 1-Jul-15 @ 7:11 PM
@Smokey - if you can't get legal aid, you can represent yourself, see: Legal Aid Withdrawal: How to Represent Yourself, link
here
. Also, you can apply through a C4 court form which is an application for an order for disclosure of a child's whereabouts. While it might not reveal your ex's address, it will help you locate your child, so you can apply for access. I hope this helps.
ChildSupportLaws
- 26-Jun-15 @ 10:09 AM
@sidney45 - you would have to take it to court and apply for a Specific Issue Order, which, much like the name suggests, is an order sought from the family court to determine a particular matter in connection with the exercise of parental responsibility. These orders can cover a wide range of issues that you and your ex-partner cannot agree on. I hope this helps.
ChildSupportLaws
- 25-Jun-15 @ 2:43 PM
@mum - you would have to either stop the access and then he would have to take it to court. Or you could pre-empt it by applying for a Specific Issue Order. This is an order that parents pursue from the family proceedings court to resolve a matter in connection with the exercise of parental responsibility. These orders can cover a wide range of issues that you and your ex-partner cannot agree on. As in all cases, the court's main concern is for the welfare of the child. The court will always put the child's best interests first and this will determine the outcome of any application for an order. Applications for a Specific Issue Order are heard before a judge and a representative from Cafcass (Children and Family Court Advisory and Support Services Officer) who is a qualified social worker. I hope this helps.
ChildSupportLaws
- 25-Jun-15 @ 2:23 PM
@Lossie - I have included a link to a Family Lives page which may help
here
.
ChildSupportLaws
- 25-Jun-15 @ 11:49 AM
@Tammy1 - I'm afraid the mother can specify when she wants your partner's son back. Likewise, your partner can also have a say too and does not have to return him on the specified time. However, this can only create bad feeling and lead to the ex further curtailing the time your partner spends with his son. The only option is for your partner to take it to court, whereby the court could possibly draw up a contact order. Once the court order is drawn up, if either of them try to push the boundaries, it would mean they would be in breach of that order. I hope this helps.
ChildSupportLaws
- 25-Jun-15 @ 11:27 AM
My ex has just taken my daughter she went with himshe is13 has been very low in mood her dad was not in her life for over 4 years she wanted contact so her sister got in touch threw a third party he did not want to no sshe told him that his child had an illness he change his mind so contact started in Feb this yr I thought he would support me in getting her help with school and low mood he mad everything works she hasn't been to school since being of March she started to self harm blamed me for everythinghe has change her doctors school won't tell me his address she was hospital over night they won't tell me why but I believe it's because of stress starting knew school and areahe has no parental rightsbut police won't do anything nor will social services he smokes weed and sells it has no driving license but I can't do a thing can't get leagle aid so can't take him to court anybody got any advice on what to do
Smokey
- 24-Jun-15 @ 2:43 AM
Hello, I have joint custody of my 2 children. My 15 year old daughter has recently chosen to live with my ex-husband and we are currently estranged. My husband is refusing to give me any updates on her life and I am actively not included in any decision making in her life. Can I challenge this legally? I cannot change my daughters feelings but I would like to be given updates on her progress on school, health etc. Can you help?
sidney45
- 23-Jun-15 @ 9:38 PM
Me an my ex- partner split when my son was 4 months old he has had him every other weekend since then he is now in a relationship with a drug user what rigs do I have to prevent my son being around them
mum
- 23-Jun-15 @ 5:54 PM
@Sarajay - the mother will have custody unless it is thought your son's girlfriend cannot look after the child. You don't say who has given her custody. However, should you disagree with this motion, you should seek some legal advice.
ChildSupportLaws
- 23-Jun-15 @ 2:33 PM
I'm divorced and have 2 children, they have been with me since birth. We had already separated before my 2nd son was born. After 2 years of separation I started living with a new partner and we have been to gather for 6 years now. My 2 children from my ex husband call him dad as he has been a father figure to them especially the 2nd child who's never known his dad. We will be getting married soon and how can he apply for the custody of the children.
Lossie
- 23-Jun-15 @ 10:34 AM
My partner's ex partner is dictating where and who he can take his son to see when he has him. Also when staying for weekends what time he has to be home at his and where he can go. If not as she puts it she will take him to the cleaners. I think this is wrong and i am sure it states somewhere "when the child is with the Non Resident Parent the other parent does not have a say in who where they go or see unless there is a threat to the child. Can anyone clarify this?
Tammy1
- 23-Jun-15 @ 10:06 AM
My son has just become a father aged 16. The mother is also 16 and is being told that because her father's girlfriend was her birth partner and her guardian throughout her hospital stay that she now has custody of my granddaughter. I don't believe this to be true especially as she is in no way related to my granddaughter
Sarajay
- 20-Jun-15 @ 11:42 PM
Been going through court along with my sonto c his daughter, this is now 18 month going back and forward to court, never have we had same judge twice , there was never any violence in there relationship all this just because the mum can is there a time limit this case can go on, is it possible to take a child case to European court human rights
Sizzler
- 18-Jun-15 @ 8:40 AM
im just checking if I would be better to go for full custody of our lil boy as I have heard that my ex wants to take my son and have sole custody of him. He's only 6months old at the moment and I have had him with me from birth, we've never lived together as the relationship went downhill when I was 5 months pregnant so I wasn't going to live with him unless he made an effort to sort our relationship out. He didn't so I ended it a month ago. He sees him whenever he wants to, I have never stopped him. My boy is a happy lovely little child and I have a large family who love him and play and help out with him all the time, while my ex has no family to help him. If he has him I'm sure he would isolate him from us all and restrict my access to him. Do I need to be worried or shall I just wait to see what happens, if he takes me to court?
babymum
- 15-Jun-15 @ 3:50 PM
@ye - it sounds like you may have to go to court to get a specific issue order, which is an order sought from the family court to determine a particular matter in connection with the exercise of parental responsibility. I hope this helps.
ChildSupportLaws
- 15-Jun-15 @ 12:41 PM
@a.t - this is always a tricky position that men seem to suffer from partners who wish to remain in control of the decision making process when it comes to your children. Yes, your ex can stop you seeing the children if she chooses. If she does this, then you would have to take her to court in order to regain access, see link: When Your Ex-Partner Denies You Access,
here
to show the process you would have to go through. You could apply for joint custody at this point in time, however, it depends on how much of a fight your ex puts up and what the court decides is in the best interests of your children, which can't really be predicted. I do sympathise with your dilemma, and you would have to make the decision based on whether you are willing to let your ex continually have control or whether you wish to risk taking it to court to try to get your access made official. I hope this helps.
ChildSupportLaws
- 15-Jun-15 @ 10:36 AM
i am divorced from the father of my children who is i supposes is now in Nigeria- divorce was done in nigeria & i was granted sole custody of these children- but I am living here with the 3 kids, I want to apply for nigeria passport or visa for them to visit nigeria. I have been told to get a consent letter for travel from the father & his passport etc which I obviously don't have. I have been asked to go to court to get a letter to say that I have sole custody of these children. is this possible?
I have 2 children with my ex. We came to a agreement that gave us both 50% of the children's time. I have them for 2 days then their mum for 2 days then back to me for 2 and so on. I don't pay her directly any maintenance but do pay £50 a week towards nursery fee's of which she gets 70% paid as she works part time. I mentioned to her that I wanted to get a joint custody order so I'm able to have my legal say, security that the agreement won't change and get a bigger property because we are in a 1 bedroom flat at minute. Too which her response was 'f*** that,you want to do that?watch. I'll get full custody and you won't be able to do s***'. Now I'm panicking of the thought of never seeing my kids again and this being put thru the courts. Just wanting to know what rights I have with just being on their birth certificates and nothing from the court's and if she could actually be allowed to stop me seeing them? Thanks
a.t
- 12-Jun-15 @ 8:31 AM
my ex has the children living with him(this was a mutual agreement not a court order) which is fine for the older children but my son who is 6 is not biologically his father as I fell Pregnant when we were separated 6 years ago but we reconsiled now we have been separated for two years and I'm getting married to my new prtner but he keeps making it harder for me to see him and saying my new partner can't have contact with my son and keeps withholding him even tho we agreed set visitation so i want to take him to live with me so is it ok for me to just take him and file for residency or do I have to go thru a court to get him even tho he is only his son in name not biological Thanks
k&j
- 11-Jun-15 @ 9:32 PM
@Aizan - I can't advise you whether you should take him to court in order to get custody, or whether you would be awarded residency, as that would be for the court to decide and is very much dependent upon circumstances, but it would be an option you could take. Mediation may also helps and it is a lot less costly, please see link: Mediation: What is it and is it For Me? link
here
. I hope this helps.
ChildSupportLaws
- 11-Jun-15 @ 12:42 PM
My husband and I have been separated for one year now and we both decided to have equal shared custody of our daughter however because of his work circumstances he cannot be available in the evening and his partner is actually caring for my daughter. I work for company that is flexible with my hours and I can stay with my daughter on full time basis. I spoke to him about this but he is not willing for her to stay with me and see her at the weekend and shared holidays. Should I take him to court, would I get custody of my daughter? Thanks
Aizan
- 10-Jun-15 @ 12:05 AM
@Lucy85 - if your ex wants to see your daughter and she or you are not in favour, he would have to apply for a court order. It is likely that the courts would recommend mediation and Cafcass would get involved in order to submit a report to the court. The fact that your daughter is 13 means she is of a semi-responsible age and would likely be allowed to say whether or not she wanted to see your ex and her views would be taken into consideration, and if it actually got to court then this too would be taken on board. As far as custody/residency goes, you have this naturally anyway, by the mere fact that you have bought her up and the father has had little to do with her. It is highly unlikely that he would be awarded residency, so I don't think you have much, to worry about there. I have included a link: What Goes into the Cafcass Family Report?
here
which is from our Separated Dads site and which should help you further.
ChildSupportLaws
- 5-Jun-15 @ 10:05 AM
My ex has never played any part in bringing up my daughter who is now 13yrs old he has only seen her a handful of times and the last time he saw her was a year ago. He has recently been in contact saying he wants to see her but she has refused to see him and wants nothing to do with him in the last 13yrs i have only had 5 payments through the csa off him which really wouldnt buy you a hot meal it was that little of money. Where do i stand if i went for full custody? would i get? My daughter does not want to be forced to see her dad to which she doesnt want to see.
Lucy85
- 5-Jun-15 @ 9:42 AM
I have a 7 year old girl who has never met her father. When I found myself pregnant, he refused to have any contact with my daughter and tried to force me into having an abortion several times. After she was born, he refused to have any part in her life and threatened to take her away from me if I ever tried to get child support from him. Three years ago he finally did start making child support payments but still refused to meet her on the grounds that he couldn't put up with me. A year later, after finding out I had gotten married, he contacted me wanting contact with my daughter. I refused to let him see her due to his abusive behavior throughout the years and since then have suffered a series of threats. I contacted the police once and he was given a warning to stop. Three months ago the threats restarted and now he's saying he is taking legal action against me. Furthermore, he says he will go to the police to stop me from moving back to the USA (where I am from and where my child was born; she is not a British citizen). I intended to move back home once my work project in the UK is finished (sometime next year). My question is: does he have the legal right to either take her away or enforce visitation? And can he really stop me from moving back to the USA?
TM2015
- 2-Jun-15 @ 8:40 PM