Child Custody Rights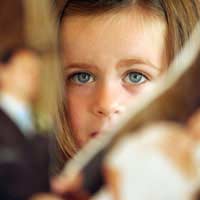 In the UK child custody law determines who should be responsible for the care and charge of a child, after divorce or separation. The term custody is now more commonly referred to as residency - indicating where the children's main residence is, following a parental break up.
In the many cases, parents preference is for joint custody (or residency), which enables the child to spend an equal amount of time with each parent. This option also allows both parents to participate in any decision making which may affect the child. However, if parents are unable to decide amicably on what living arrangement is best for their child, the courts will decide on their behalf.
Parent Vs Parent
Most bitter disputes between married couples end up in the family courts. Whilst the separation and ensuing bitterness will undoubtedly affect the children it's important to remember that:
Most child residency court cases end amicably with either agreed residency or joint residency as the outcome
Access and maintenance payments from the non resident parent are also taken into consideration
In disputed cases each parent is individually assessed before a decision on which parent is given custody of the child, or children, is made
The best interests of the child is the general standard at the heart of all residency cases.
Joint Residency
Joint residency is considered to be the preferred solution as being in the best interests of most children.
BUT...There are no laws or 'rights' that state that a child should live specifically with either the mother or father.
Assuming you both have parental responsibility it is up to you to negotiate residency on the basis of what is best for the children. Many couples neglect to consider this fact and err on the side of what they themselves would prefer (or what suits them).
If you cannot come to an agreement, you should try mediation first. If that is unsuccessful, the courts will become involved and will issue a court order based on what it sees as appropriate.
Joint Residency Reflect Modern Society
The choice of joint residency, reflects the changes in society and takes into consideration work that mothers do outside of the home and a more hands-on approach of child care by fathers. By allowing both parents to have an equal share in the physical care of their child, or children, all legal rights connected to responsibilities and obligations to children are divided.
Custody Disputes
Most custody disputes involve the child's mother and father. However, in some cases a third party – a grandparent, for instance – may seek custody at the time of a parent's death or incapacity. If a couple has never married - making provisions for the care of their child may also develop into a dispute. Generally though a court will accept that a parent is in the best position to maintain the welfare of their child.
Unusual Circumstances
In some rare circumstances one parent may be permanently excluded from having any access to their child. However, the court has the right to change the decision at any point in time, should the parent's circumstances change. The parent is able to re-apply for access at any time, and once an application is made the court may reconsider arrangements after examining evidence.
The Court Decides
The courts will generally accept custody arrangements that parents submit as part of their separation agreement. To ensure these arrangements serve the child's interests the courts will review the plan. The role that grandparents, step-parents and other influential adults play in the child's life may also be taken into consideration by the courts.
Changing Or Regaining Custody
Changing a child's residency arrangements is possible. In order to support the change, substantial evidence of the stability the child will need to be submitted. There are many other factors to consider, which may include relocation of a parent, stability of employment, integration of the child into the new environment etc.
Read on for more information about your rights as a parent
.
You might also like...
@ruby - have you spoken to your sister directly and voiced your concerns? Before you seek legal advice perhaps, this is something you could do in the first instance. She might be going through a tough time temporarily if the split has just taken place. However, the children should not be left on their own and this is a serious issue, which you must report if it continues. You could offer to take the children a bit more in order to help out if she is struggling. It seems a bit premature to go for custody immediately without seeing if the situation resolves itself. But, if you feel that they are being neglected then you can contact the Family Lives helpline
link here
. It is a confidential helpline that will be able to advise you on your options which might be to contact social services. I hope this helps.
ChildSupportLaws
- 28-Oct-14 @ 10:56 AM
hey guys I need some advice, my sister has an 8 year old daughter and a 4year old.my sister just got recently separated from her husband and are no longer together, she now has turned into something no one expected, shes bringing different men home whilst her children are upstairs, shel go out partying and leaves her kids alone at home asleep, she doesn't treat the girls well atall infact she is not there for them and she treats them like nothing. I am 20 years old married and me and my husband would like to take custody of the girls well we hope to, because my nieces are not safe there I am so stressed out I cannot sleep at night, I reckon the girls will have a better future and life with me and my husband, just want know how to do this or is it possible? please can someone advice me as soon as possible, thankyou.
ruby
- 26-Oct-14 @ 11:26 PM
hello i have a son who is months, i am parting with my partner but she is from ireland and has no family in the u.k and is saying she wants to take my child back to ireland. what rights have? have i any rights to be permanently in my sons life? advice please. thanks
Hi i have a quiere..my ex is taking me to court over my son whos not even born yet as he said im preventing him seein his son which im not. But hey children will be children. My concern is he lives in his wrkplace which is a residential home and i myself see.it as unsuitable for a newborn baby to be kept overnight...will the courts agree
twig
- 4-Oct-14 @ 10:08 PM
Advice pls my ex has finally been told by the csatht he must pay 127 a week he has nw rang me and said tht he has spoken to them and explained he cannot afford this and offered 65 a week he says if I refuse this offer and make him pay the 127 he is going to take me to court and gain joint custody of our 4 children he said by doing this it will b months before I get any thing and will get far less confused as I need to decide on wt I am going to do
Asa
- 4-Oct-14 @ 11:14 AM
I have a problem with my friend..he is unhappily married to a polish woman and they have a 10 month old son together, if he was to leave her she would move back to Poland! But could he claim full custody of their son? Or would if automatically be the mother who would recieve full custody? Keeping in mind she has no family here to watch the child while she is working. Another question...if he was to leave her and take his son with him would he be done for kidnap as the child is not leaving with his mother? I need all the help and advice I can get! Thank you in advance!!!
k.j.m
- 22-Sep-14 @ 4:48 PM
No it is not compulsary( law) toi name dad on birth certificate if not married .i and my late mother gained contact orders for my nephew during my brothers case,mine on the basis ofmy childrens and hisneeds and rights to know extended family.i also have access to myex stepson as was in life for over six monthsand ihave full custody of my useless sisters grandchild whose mother dumped him at hours old and never visited.she pleaded pnd as reason and tried to reclaimonce potty trained ,walking and talking i fought her and her social worker as i knew she only wanted his benefit for hisdisability not him,thankfully the judges at3 courts agreed.she said she would visit but guess what? NOT ONCE......
Beltonbetty
- 21-Sep-14 @ 4:13 AM
Hello. My daughter had a break down two years ago, following the break up of her relationship. She also lost her home, and her former partner took control over the care of her two children, however, he is the natural father to the youngest. He gained a residence order over both children, to prevent the eldest going in to care. However, he made no attempt to contact me at the time, and he took me off his friend list and blocked me from social media. My daughter was in no state to provide that herself, as she was in a difficult situation. She has made a lot of progress with her health, but it is being hindered by the criticisms and negative comments that are coming from his side, and he his reluctant to go to mediation with her. I want to have access to my grandchildren, I wish to do it in an amicable way,as I now have his contact details. What happens if he refuses access through personal means or even mediation? Do I have more right to my eldest grand daughter as he is not her natural father?
wolfie
- 16-Sep-14 @ 2:59 PM
I just need advice me and my sons dad have been split for neally two years he started having my son once à fortnight for the weekend then suddenly dropped he didnt bother with my son for the first 10 months of his life he Had recently started having him on weekends but Had been very voilet towards me i have rang the police on a few occasions but Nothing ever happens as he denys It and makes me look like am lying Just First he has booted my foot and pulled my hair i am now getting death threats Hes always Losing his temper and blaming me for everything that happens in his LIFE he hasnt paid a penny my son is now 2 and when he decides he wants him i have to provide everything for my son or he would go without due to his farthers Cannabis addiction i cant Live like this anymore i have to lock my door Just so he cant get to me i have give him Chance after Chance with out son but all he does is say Hes taking me to court unfortunatly i dont have money to Do this Its like a living nightmare what van i Do please help
My daughter 's partner has been very irregular with his payments; up to 8 weeks in arrears at times. He has just told her that his payments have been recalculated at a much lower figure, and is claiming that she should pay him back everything he has, in theory, over-paid since last October. Does she have to give him this money?
Viv
- 29-Aug-14 @ 12:39 PM
Is this law is underpractice in court of Uk?
mirza
- 29-Aug-14 @ 10:47 AM
My husband had an affair and moved in with her i allowed him to take our 17month old daughter there from day one and always went out of my way to make sure he saw her. He has swapped the days he sees her so many times now - at least 4-5 and i have done this with no problems or complaints. I have offered joint custody as he is currently not working which he did for 2 weeks then changed his mind and went back to alternating weekends. I have now decided i would like to join a club but requires me to swap my weekends with him. He has obviously said no and threatened to take her if she interrupts my life! How do i get my days swapped over? I find it unfair and so selfish of him as i have worked with him and helped him with his visits when needed and now i ask its a bo
tntnt
- 26-Aug-14 @ 7:13 AM
hi my son is 17 has ADHD and has been living with his dad since he was like 4 yrs old I have been in his life all them years, but recently me n my son have become close and as a result he has now moved into my home with me , what I want to know is there any way of his father making him physically move out of my home ??
wildnwicked
- 24-Aug-14 @ 5:42 PM
My son is now 17 and his father who is a CEO and earns a lot each year will not pay CSA. He pays minimally to bailiffs every time a court order is made but still owes over £17,000 in arrears. This accumulates as he will not pay regular maintenance unless a court order is made and bailiffs are involved. My son would like to take his father to court for this sum and holidays missed etc. is this possible? Any advice would be much appreciated. Thanks
TheLadyP
- 20-Aug-14 @ 12:20 PM
Please can I ask at what age can a child legally contact they're other parent without parental consent from the live in parent?
croc
- 11-Aug-14 @ 11:17 AM
hii, I have a 2 year old little boy and I am seprated from his father, I was wanting some information on what I can do if I die..i was wanting to place anothergaudian in place to have my son as much as I would and still see his dad on a weekend the gaudian would be my brother and his partner I would love to no if this is possible and what I would have to do to get it done
shan
- 4-Aug-14 @ 10:08 AM
My daughter is pregnant the father being her boyfriend of 4years. He says if she has the baby he will leave her but wants 50percent custody of the child . He will be unable to look after a babybutI wonder if he says this so he does not have to pay maintenance.
Tosh
- 1-Aug-14 @ 2:54 PM
I lived with my uncle at the age of 2 when my dad died and now I am 13 but my mom is trying to take me back and I do not wont to stay their I have ADHD and she does now work and she marred again and my sister that has the same dad as me she lives with my mom and she treats her like a slave she makes her look after the new man kids and clean the floor and they hit her and cleen the toilet when she be laying down I never lived with her and I don not onet to live with herand my sister don't wontto live with my mom but she scared of my mom she hits her and cuts her with nudes
Saif Ul haq
- 30-Jul-14 @ 1:15 AM
@Neil, you have no legal rights to your cousin's baby. You could argue in court against his grandparent's but it is unlikely you would win. The fact that the grandparents won't quit their job to care for him is irrelevant as most people work and care for their children at the same time. Are social services involved?
Rigs
- 28-Jul-14 @ 12:29 PM
What legal rights do i have to my cousins baby.The childs mother is on drugs and my cousin does not want hhim.. if i was to fight in court for the child what would be the chances of winning against his grandparents whom both would not quit there job to care for him.
neil turner
- 27-Jul-14 @ 11:58 PM
Please read this epetition and sign up if you want to put a stop to CMS charges, please get your friends and families to sign up too, every votes counts: http://epetitions.direct.gov.uk/petitions/65354
Mother & Father
- 15-Jul-14 @ 11:56 PM
Just wondering I have moved to the united kingdom i am a british citizen and have a british passport i lived in ireland for 7 years and now moved back to england for support of my family as i am 8 months pregnant, the father still lives in Ireland but never helped me along the way of this pregnancy. Can he be still order me back to ireland after the child is born? or take me to court in anyway?
debs
- 12-Jul-14 @ 2:14 PM
My son was in a relationship with a girl for three years, in that time they had a son which is now 2. The girl was very destructive and controlling constantly throwing fits of rage and trashing his house, she would also call the police and press false charges on my son (which was never founded}she would then apologize to us and say it was because she was angry and we should put it in the past. After more of the same things happening the police saw her attacking his car and arrested her. My son no longer wants to be with this girl and wants to joint custody of his son as she wont let him see his child, he has a CSA letter once again as she was claiming when they lived together and cancelled it. What are his rights and how soon can he see his child
chrissy
- 30-Jun-14 @ 1:12 PM
well been reading a few comments and i will get into my own story after answering one lady with her 16 year old. no this non legal farther dose not have any rights what so ever when it comes to forcing your little girl to see him. and its 14 she can decide this not 18. if she is not happy she dose not have to go at all. ok my prodicament i split with my ex years ago and signed over a 150000 house with 15000 left to pay on it. and gave her £500 a month for 3 years till she met another guy. i then payed £350 a month i have recently started renting a house out and she is starting to look at gaining a share of this. i have my girl at least 2 times a week. is there any way of getting joint custardy where i don't have to pay her anything and go halts on everything for my girl. i just hate greed and think i have been a lot more than fair with her or is it just me ????
andrew watson
- 23-Jun-14 @ 7:17 PM
Hi am just wondering my childrens father is taking the children for 2 weeks over the summer and is asking to borrow things for there holiday?? I am also taking the children for two weeks and have not asked or expected him to provide for this holiday is it down to him as a parent to provide clothing and stuff for his weekends and his holidays he has planned?????
s j
- 22-Jun-14 @ 1:51 PM
Courts in Scotland now let children into court as young as eight if seen as mature enough it used to be 12. If you are fighting to either see your child or for custody some advice keep in regular contact with your lawyer try and take someone with you,do not get into any trouble with the law never slate the absent parent to the child. Courts must take the view of the child into consideration but may not act on it. Try and better yourself do a course or get a job,If you have parental rights you are entitled to go to parents night at school get copies of school photos most importantly keep in touch with lawyer at least fortnightly stay away from drink and drugs and watch what you say to people about your case. Been going through this for eight years yes its heartbreaking and difficult.Never ever give up.T
Tracey Aird
- 11-Jun-14 @ 10:48 PM
My question is, at what age can a child make their own choice on visiting their absent parent? My daughter is almost 16 and has been visiting my ex eevery other weekend with her sister. He is not her natural father, but she always called him dad and was happy to go with her sister. Now however she's no longer happy to go, he's very down on her, gangs up on her with her sister and constantly pressures her over social media to talk to him when she's at home. Does he have any legal rights since she isn't his child? I always let them both go, believing it was in their best interests to keep some consistency in their lives, but nowadays it just makes her unhappy. I've told her when she's 16 I'll leave the choice to her, but when she mentioned it to him he said 'no 18'. Is there any defined age at which they can choose? Thanks.
fidgetpants
- 21-May-14 @ 10:37 AM
Mum and I are separated and has stopped our daughter from seeing her maternal grand parent. Also not allowed to talk to her if she sees her. This is distressing our daughter and she wants to live with me and or be able to see her grand parent. This has occurred as mum has personal issues with her parents. Mum refuses to communicate. Please give some advice about what I should do next.
Ignus
- 16-May-14 @ 8:59 PM
I am worried about the welfare and well-being of my children. I believe their mother is having a nervous break down. She has uprooted our children from their loving family home where they are happy and settled in school. Completely abandoned the children s home in Maidstone, Kent , dragged my son out of school just to move in with her new boyfriend in his one bedroom flat in Beckton, East London, which is overcrowded, unsuitable living conditions and my son still isn't in school. She doesn't care about the affects this may have on my children mentally and emotionally, taking them out of a routine that they are used to, its all they have known since they were born, now its just suddenly been stripped away from them. She is selfish. Her new boyfriend has also been threatening me and making me feel intimidated to the point where I now feel too scared to go and pick my children up to spend time with them, as I believe he could be dangerous. And that is another thing worrying me about my children being under his roof too. I have been the father AND mother to them, i changed the nappies, i cooked the meals, i done the school runs everything. The mother is more worried about spending the benefit money on clubbing and shoes, I just want my babies back in a safe environment, they have now scrapped legal aid for these types of matters so i feel like i am stuck, any advise would be appreciated, please help, thank you.
Jon
- 15-May-14 @ 1:23 PM
Hi, I'd like some advice please.I have a 5 year old son who i have always had parental responsibility for.I split with my ex when my son was 4 months old due to his behaviour and the unhealthy environment of living with him.I also found out at this time that he suffered from bi-polar disorder.His treatment of me was awful, not violent but psychologically abusive.Having my son was the turning point to realise my son and I deserved better.For months he was uninterested but then started to see my son.When I started to see a man he became verbally abusive and would also push things through my letterbox (such as smashed up items we had previously bought) would stalk me and my new partner until it came to breaking point.After he started sending me abusive sickening texts I stopped contact.I agreed to let him see my son again on the grounds that he would be civil at all exchange times.A year or so passed and my son confided in his teachers that his father had told him that if he was naughty he would kill me.This upset my son who was 4 at the time and this time the police were involved.He denied it.The latest event amongst many others (such as teaching my son that it is ok to steal from a Supermarket and then encouraging him to lie to me!) is that he was arrested on suspicion of rape and he tried to commit suicide.I immediately stopped contact for fear of his mental state.It has been 2 months since then and he has reared his ugly head again asking for contact.He has been cleared of the rape charge but i am still very amxious about his attempted suicide, his general state of mind (I also believe he is on drugs) and his general role model capacity.Please help.
Lulu
- 12-May-14 @ 2:43 PM