The Law and Single Mothers
A mother has parental responsibility for her child and is generally expected to become the parent with care, in the event of a separation or divorce. Whilst providing care for her child allows her to receive maintenance support from the child's father, to cover the cost of the child's expenses, a mother's rights are very much conditioned by her marital status. A married woman will be more financially secure, than a woman who remains unmarried, if she has children and her relationship breaks down.
Mother's Pride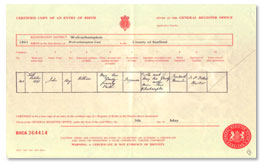 If the mother's name is the only name listed on the child's birth certificate she has sole Parental Responsibility for the child's welfare. Adding a father's name to the certificate can only happen if he attends registration. Once the father's name is registered he will automatically share parental responsibility for the child, assuming that the child is born after 2003. A Parental Responsibility Agreement can be drawn up at a later date if a mother is prepared to share responsibilities with the child's father, if he was not named on the birth registration form. Our page on
What rights does my ex have
discusses Parental Responsibility and how to determine it in some detail.
Paternity Confirmation
Most fathers confirm paternity, when asked, which enables the mother – regardless of the brevity of the couple's relationship - to apply for child support with relative ease. Establishing fatherhood acknowledges shared responsibility and liability for the child, or children. Those non resident fathers who are less willing to provide maintenance assistance for their child however, can be traced by the Child Support Agency (CSA) and have payment enforced.
Mothers' Rights
A single mother is entitled to claim maintenance from her child's father, on behalf on the child. She does not have to have shared parental responsibilities with him in order to ask for Child Support payments to be calculated and collected from him. Maintenance agreement can be made privately or can be arranged through the Child Support Agency.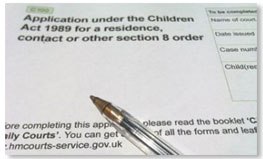 Without shared Parental Responsibility a father cannot have access to his child without the mother agreeing. He may apply for a Contact Order, if communication between the parents has broken down, and should the father want the child to live with him he will have to apply for a Residence Order. However, the court is unlikely to grant a Residence Order to a father for a baby, as this would give him shared Parental Responsibility.
Maintenance Rights
Simply because a father pays maintenance support to the child's mother periodically it does not mean that he is entitled to see the child. This form of support provides funds to be used towards the cost of raising the child, and should be used to pay for educational and extracurricular activities, shelter, clothing and food.
If the mother and the father have been able to agree a figure for maintenance, it is worth getting the agreement agreed by the court, in case payment enforcement is required at a later date.
Special Circumstances
In cases where the mother became pregnant through artificial insemination, or by third party donor, the partner at the time of birth is accountable for the child's welfare and is expected to contribute financially.To find out how child support is assessed take a look at our page
How child support is calculated
.
You might also like...
Hello , I have just spilt up with my partner (unmarried). we have two children aged 7 months and 3 years. he is named on birth certificate. what visitation do I have to give him ? he asking two night and one day but I feel two nights is too much and will disturb their routine ? if we went to court what rights would he have thanks
I am not sure if i quilify for child support , i have been dating this man for 15 years and he promisied to marry me and he even send his family to my house and they said they will come back to discuss about the marrige and i will be the second wife i ddin't have the problem with that and he keeps on making empty promises even now we are still not married and he bought a houser for use which im greatfull for that and i am working and he is a tenderner but he abuses me emotionally and finacially he calls me names and he makes me feel worthless he even sometimes dont buy food . hepromised me to buy me a car years back even now im still waiting buti decided to buy myself one adn he got angry he demanded my bank statement and he said he wantsto know who bought me the car and where did i getthe money for the deposit, he is refusing to pay the helper he said , i dont deserve to have the car. i even take loans to buy food for the kids we dont stay together but he come sometimes . im 30 he is 50. please help what do i do?
ndibbs
- 30-Oct-13 @ 6:09 AM
I am very frustrated of the way that child maintanance is treated in this country. I have a 17 month old son and it happened that me and his father aint togheter since I was 8 month old pregnant- I happen to walk in on him cheating so I broke up with him. As soon as my son was born I contacted the agency to get some help from his father as I am a single parent and I dont need to explain how hard the situation was and still is. I dont have a family here so I am alone with it all. After a while I received a letter from csa to say I will only receive £5 a week !!!!!! For my son as his father is currently unemployed. I felt so cheated again! There is no justice in this country! Guys can do what they like have kids everywhere and dont bother about nothing! This has to change! If I wouldnt work I would still have to find a way to provide for my child as that is my responsibility, so why for the fthers this is made so easy. Can I add that my sons dad was laughing at me as well - he founded this funny that he pays only that much money. After a year he is now in prison and I teceived a letter that the massive £5 a week will stop now ! As he is not earning nothing. Seriously? Where is the justice in this world! I heard in some tv chanel some ppl were debating on why there is so many single woman with kids and why guys have kids everywhere. Well anser to that is simple - they dont feel they need to do anything provide for their children, noone is helping single parents. In my opinion they should pay reasonable ammount of money for children - money enough to pay for half of their needs. £5 a week isa joke. Now my ex will be in prison thats mean he is free from supporting his child!!!!!???
Nikita
- 26-Oct-13 @ 2:09 PM
I would like some advice. My son has recently turned two and his dad was living with us until 3 months ago when I discovered he was cheating. The day after we split up he moved into his girlfriends house. Six days after I then took our son to stay at his parents for the weekend. At this point my son had not even got his round the fact his dad was not coming home and his dad then proceeded to introduce him to his new girlfriend and her children. I have no problem with his dad having access but I do have a problem with him introducing our son to his new girlfriend. I think it is too soon and I do not want our son getting confused at such a young age. I also want to make sure that my ex's new relationship is going to be more permanent as I do not want our son getting confused with different women coming in and out of his life. Where do I stand legally to protect my son against this kind of behaviour from his father?
I split from my ex 5 years ago we have twin boys age 6 were born at 29 weeks i have never had a penny for them he never turns up to see them and has gone and had other kids wiv diffrent people so i thought i would try csa does anybody know how long it takes???:-/
I have been on the phone every week to the CSA for under 3 years with no luck, my boys father is a self employed lorry driver and although he has been declared bankrupt in 2007 he has his own business through his new girlfriend and he brings the money into the company and she draws out wages, so on paper he isn't even working, his partner has just had a little boy and all of a sudden the tax man is chasing his new company for £3000 tax, he is due over £10,000 in maintenance so his only way out is to sign on the dole, but he is still working, his maintenance arrears are shelved until he starts work again and I get a letter to say I am going to receive a HUGE £5 per week for family so the boys get £2.50 each towards their clothes food and heating for the week - so depressing - the sad thing is I know he is still working and he would not stop signing dole as he would have to pay maintenance arrears or face prison - so its a lose lose situation for the children and win win for absentee parent!!!! Well done CSA and well done to my MP who has achieved nothing although he has written to the CSA! Total waste of time and my money on phone calls!!!!!
weeksy
- 7-Oct-13 @ 3:51 PM
Looking for advice for my daughter her ex boyfriend took theit son an hes refused her access for two years. he moved away but now we have his address but hes still refusing. she never gave up custody to him she just asked him to have him fow a few days why she was giving birth to her daughter. please help as shes desparate to she her sin.x
bull
- 19-Sep-13 @ 9:43 PM
Hi i am wanting some advice about my 4 year old daughter , myself and her dad split when she was 10 months and she has had contact with him consistently thurs n friday nights for the past year now she is starting school i have offered him every other weekend but he claims he wants thurs eve to monday morning 1 week and thurs to sat the next week will he get this amount of contact?
Tazzy bear
- 9-Aug-13 @ 6:23 AM
In May 2011 i arranged to have my two children live their father. He now claims for the child tax and child benefits. I now want my children back living with me because he is too controlling over when i can see them and will not tell me when i can next see them. I have been in a refuge with my children in the past because he was violent and too controlling. My children will be 9 and 8 years old in September. Where do i stand, and what is the best course of action. Would it go against me to take them back and stop him from seeing his children like he is doing to me?
Emma
- 20-Jul-13 @ 1:19 PM
I would like to know who I can get in contact with to make public my recent CSA case and subsequent tribunal (which went in my favour) to expose the non resident parent who lives a luxury lifestyle and still refuses to pay back dated maintenance! How can self employed people be allowed to fall through a 'loophole' whereby self employed people are not subject to the same investigations that employed people are and are therefore allowed to get away with it. I cannot afford to pay for a solicitor to represent me yet the other parent can afford a barrister to represent them and keeps mentioning, in court, that he is receiving help from a very publicly well known lawyer who specialises in getting people out of paying child maintenance! Any advice is welcome
Bradders
- 17-Jul-13 @ 5:14 PM
Can an absent father be made to disclose his income? I am perfectly willing to show him my P60s and have asked him to do the same so that we can agree a fair contribution from him. He flatly refuses to do likewise. Can I enforce this request?Thanking you for your help.
Jemima
- 15-Jul-13 @ 1:29 PM
I split from my partner about 7 years ago and have a 9 year old son with him. For the first time he is taking my son away for a week abroad. I thought we had a good relationship, but he will not give me the address in Majorca that he is going to, nor the flight details. I trust him implicitly to look after our child, but he does not understand that as his mother and main carer, I should have this information in case of emergency (on their side not mine). He leaves his details with no-one, whereas when I leave the country, I ensure that someone has all information (he never asks for it and I think that he should). It seems to be a very dangerous world that we now live in. I know they're going to a villa out in a remote part of Spain, and while I don't want to spoil things for him or my son, I feel like saying, no details, no passport. What is my position here? Thanks.
kys690
- 30-Jun-13 @ 3:28 PM
Hi, I am a single Mum. My children are 9,7 & 5. I am currently looking for work & am on JSA. I tried getting Child Maintenance even though it's a measly £20 a month but no one could 'find him on any system', therefore nothing could be done about it. I cant do without a car as everything is far. School, Doctors, Dentists, etc. I live in a Council Property & moving to a private rented property to be near the facilities scares me, especially with the way the climate is right now! I am finding it impossible to make ends meet. I am furious at the system! I find it highly unfair. I have always let the kids dad see them. He takes them every weekend and in the holidays he takes them on a Friday and brings them Sunday evening. I pay for everything including the children's tuition fees and after school activity clubs. Finding work to suit around my children is next to impossible & financially I feel crippled.
SingleMomOf3
- 28-Mar-13 @ 9:10 PM
HI, I am a single mother of 2 who are under the age of 5. They have been through too much emotional and physical damage during the past 2 years due to the seperation of myself and their father. He has been physically violent towards me and verbally avbusive towards me infront of the kids. They're very traumatised, also their behaviour has regressed since this situation has started. The paternal family dispute all of this infront of a social worker who has now placed the children on the CPS register and are holding a conference this week wednesday. Could I recieve some legal advice regarding this situation??
High achiever
- 25-Mar-13 @ 1:33 PM
Am pregnant of a guy who doesn't want anything to do with my baby or I anymore that's after realizing I was pregnant, I want to know if I have a right to make this legal so that he never demands for the kid after some years
princess
- 19-Mar-13 @ 8:48 AM
My son is 2 his dad was in and out of his life for the first year, but he has been having contact with his dad 1 full day a week for about 6months now the problem I have is my son hates going with his dad he doesnt show that he knows hes his dad either but hes had a lot of contact that any child would be used to by now and if he enjoyed going he would go with no trouble at all, the older hes getting the more he kicks off when his dad comes for him and he screams and clings to my legs hes now at the point where he hates his dad even touching him and throws himself on the floor, what are my rights to stop him from taking his son but still have contact in his own environment/house until hes old enough to make up his mind if he wants to go with his dad or not surely you cant force a child to do something they dont want to no matter what age?
kcottam
- 17-Feb-13 @ 7:44 PM
My ex and I sperated 8 years ago we have a son who has now started at university, the ex was paying the mortgage I paid all other house hold bills, and as he was paying mortgage I agreed not to claim csa. now he says he wont pay as son is at uni and is being nasty telling me to rent out the house to someone else or sell. can you please tell me, I thought he still had to pay mortgage while son is at university getting his degree. thank you
plum
- 8-Feb-13 @ 11:42 AM
My ex partner and I seperated 8 years ago, we have a son who has now started university. my ex and I agreed that he would pay mortgage and I wouldnt claim csa. now our son has started university he is now forcing me to either rent out the house or sell it, and being nasty with it,, I thought while our son was at uni getting his degree he still had to pay mortgage. is this correct can you please help thank you
plum
- 8-Feb-13 @ 11:37 AM
I am needing some advice. I am currently living in France with my 3 daughters. After seperating from my ex I found I was pregnant. I desperately want to move back to the UK and wonder if my ex has the right to stop me as we are not married yet he knows I am pregnant?Help please#
normandylass
- 29-Jan-13 @ 7:49 PM
im wanting to know if i can automtically get my childs name changed to mine since the father has not had anything to do with them for 7.5 years of their life maybe a phone call here and there every two years tho and he has been in and out of jail also and been to prison and my record is clean so how do i go about this
2005
- 8-Jan-13 @ 3:36 PM
Hi, I have recently split up with the six month old child's father who has become emotionally abuse towards me. he has threatened me he will take my child off me when I have been the child's sole carer for 4 months of her life as he is in the armed forces and away for long periods of time. He is very controlling and I cannot be without my daughter. I would like to know specifically what my legal rights are. He is named on her birth certificate but said he would like to be taken off it (confusing behavior) and I have written a log of remarks he has made to me including time and date which most of it shows lack of responsibility, aggression and compulsiveness. I wish to know if I could move without his consent, get her a passport, or can he relinquish his parental responsibility? Many thanks.
Laura S
- 4-Jan-13 @ 9:54 PM
i have recently separated from my partner with whom we have a 9 month old baby.He has two sons from a previous marriage and an interferring ex wife. I need advice on what maintenance he will have to pay and is the amount reduced because of the sons?Also he has put the house up for sale which is in his name so basically making myself and our child homeless in a few weeks is he allowed to effectively make his own child homeless?any help or advice appreciated
dolly
- 29-Dec-12 @ 8:35 PM
Me and my partner have recently separated due to his interfering ex .. However he wants to be part of our daughters life who is 4months .. I don't have a problem with him seeing her but he usually takes my daughter to see his ex and her family .. He insists they are only 'good friends' but I don't want my daughter seeing them .. Is there anything I can do? We are not married but his name is on birth certificate.
momzie
- 22-Dec-12 @ 11:55 AM
I'm 18, my dad left when I was 11, when my mum first asked about child support they told us it wasn't around any more, when I reached 16 we got a phone calls saying that he in fact owned us money but they wouldn't back date it so my older brother who was 18 at the time, and my sister, 17 didn't get a single penny when the forms were filled out, He made one payment for £62, and then didn't pay for almost 2 years, we recently got a months worth, £448 that was shared between me and my little brother, the second payment we got, but now the child support has said we're getting paid weekly at £72 a week, £36 for each of us, because he got his friends who owns the flat his living in to tell the child support people that his rent was abnormally higher than it actually is, and is now going around bragging how he has done so, his meant to be living in that flat by himself, but i know for a fact his living with another woman and is pretending not too so they don't have to pay more for their house because she doesn't work. Not only has he stripped a male figure out of my whole family's relationship; stolen, conned and betrayed his family, but he then carried on to commit fraud several times so he can have more, and we can have less. So now I want you to help me... what should I do?
FumingRage
- 19-Dec-12 @ 11:26 PM
I have 2 girls to my ex we was married the relationship ended when my girls was 2 & 6months he was a hopeless father never grew up and was never there for my girls and did violent behavier near my 2 year old,l first gave him access to my girls on returning the girls back he would strip all the clothes of them in the garden at winter of clothes they got and give me the girls back in just knickers,he then stoped turning up for the girls, he applied to court and got 5,000 from my compensation money between all that we had a place in Spain were my dad lived we had to get a mirage in joint names l put all the funds into the property he wanted to take all that but lost there has been no support nothing has a father to my girls it's been over 5& years and he wants contact now my girls are now 7&9 l have told them everything they was crying there eyes out how dare he come now and l want nothing to do with him l hate him and mike my partner from after the split has been there daddy and paid for everything for my girls and all they want is mike what are my rights if my girls feel like this and l dont think my girls are safe near him or his crazy family please help me
I have 2 girls to my ex we was married the relationship ended when my girls was 2 & 6months he was a hopeless father never grew up and was never there for my girls and did violent behavier near my 2 year old,l first gave him access to my girls on returning the girls back he would strip all the clothes of them in the garden at winter of clothes they got and give me the girls back in just knickers,he then stoped turning up for the girls, he applied to court and got 5,000 from my compensation money between all that we had a place in Spain were my dad lived we had to get a mirage in joint names l put all the funds into the property he wanted to take all that but lost there has been no support nothing has a father to my girls it's been over 5& years and he wants contact now my girls are now 7&9 l have told them everything they was crying there eyes out how dare he come now and l want nothing to do with him l hate him and mike my partner from after the split has been there daddy and paid for everything for my girls and all they want is mike what are my rights if my girls feel like this and l dont think my girls are safe near him or his crazy family please help me
denise
- 19-Nov-12 @ 4:06 AM
Hi, im desperate for some advice please. I have a 14 year old daughter who i have brought up by myself for 13 years with some input from her father. Three years ago we went to court as i had stopped contact for a year because he kept letting her down, failing to turn up at school on his day, palming her off onto other people when he should of been spending time with her, putting his business before her ect since she was born this has been the same pattern. Last year my daughter decided to run away to go and live with her dad. I went to the police station to ask for help in getting her back as i was given full custody of her in court and he was given P.R. The police told me that they couldnt do anything because of her age and because there wasnt a power of arrest with the custody document. For the past year i have begged him to bring her back and begged her to come home but to no avail. Dad has an endless pot of money as he has his own successful business and along side the money she also does seem to get alot of freedom while living with him. I feel these are the reasons why she wont come home and when i have asked her why she doesnt want to be with me she just says "i just want to be with my dad". I went to a solicitor who told me that there wouldnt be any point going back to court because of her age a judge wouldnt make her come back to me. Obviously im devastated and this past year has been very hard, i love my daughter and want her back home with me and her younger brother. I hardly see my daughter as she doesnt really want to see me or her younger brother as she says she is too busy. When i do see her its always on her terms and if i try to chastise her she tells me that she hates me and doesnt want to see me and her dad supports her instead of telling her to have contact with us, and so im having to keep my mouth shut about alot of things just so i can see her. i feel so powerless and my heart is broke as i have done all the hard work in bringing her up and now i only see her when she wants, probably once every three months. My ex partner who i was with for three years but i never married goes abroad often. I have asked him to inform me when my daughter leaves the country. He hasnt responded to my txts or messages that i have sent him to ask this of him. Recently my daughters passport has ran out and she wants a new one so they asked me to sign the form which i refused unless he keeps me informed as to when she will be leaving the country. Again he wouldnt reply so i sent him a txt to say that i wouldnt sign the form until he would agree to do this. This evening my daughter has sent me a txt to say "hi im in Paris did i tell you" I live in England, United Kingdom. So where do i stand as i thought he couldnt get a passport without my say so, without my signature? its so unfair that i do not have a say in my daughters life anymore and i just do not know what to do next. I should at least have a say as to whether she leaves the country or not?
Tmac
- 16-Nov-12 @ 12:06 AM
"I'm not with the father of my son anymore and have met someone else, i want to move from my home town to 34.2 miles away. what are my rights? thank you."
emma
- 10-Nov-12 @ 3:45 PM
I am working and living in Thailand and have a 3 years old son from my British partner. We are not married but his name is on my child's birthcertificate. We've been together for 6 years now. My child is a british national and has a british passport. This is his 2nd child as he has an 8 years year boy left in UK with his mother that doesn't get any child support. He threaten me that if I leave he will not give any support for his child. Can I make claim through CSA without him knowing? How can I apply for child support when we are both living in Thailand? He doesn't have work but have big savings in the bank. Help! any information will help me so much. Thnks!
vava
- 5-Nov-12 @ 3:25 PM
hi i have recently split from my partner and he has the sole name on the mortgage, we have a 16month old child together do i have any rights to live there and can he kick us out when ever he wants or can we live there and he has to pay the mortgage. we are not married.
sarah
- 5-Nov-12 @ 8:29 AM