The Law and Single Mothers
A mother has parental responsibility for her child and is generally expected to become the parent with care, in the event of a separation or divorce. Whilst providing care for her child allows her to receive maintenance support from the child's father, to cover the cost of the child's expenses, a mother's rights are very much conditioned by her marital status. A married woman will be more financially secure, than a woman who remains unmarried, if she has children and her relationship breaks down.
Mother's Pride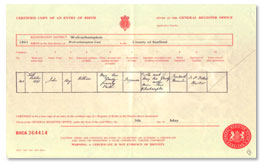 If the mother's name is the only name listed on the child's birth certificate she has sole Parental Responsibility for the child's welfare. Adding a father's name to the certificate can only happen if he attends registration. Once the father's name is registered he will automatically share parental responsibility for the child, assuming that the child is born after 2003. A Parental Responsibility Agreement can be drawn up at a later date if a mother is prepared to share responsibilities with the child's father, if he was not named on the birth registration form. Our page on
What rights does my ex have
discusses Parental Responsibility and how to determine it in some detail.
Paternity Confirmation
Most fathers confirm paternity, when asked, which enables the mother – regardless of the brevity of the couple's relationship - to apply for child support with relative ease. Establishing fatherhood acknowledges shared responsibility and liability for the child, or children. Those non resident fathers who are less willing to provide maintenance assistance for their child however, can be traced by the Child Support Agency (CSA) and have payment enforced.
Mothers' Rights
A single mother is entitled to claim maintenance from her child's father, on behalf of the child. She does not have to have shared parental responsibilities with him in order to ask for Child Support payments to be calculated and collected from him. Maintenance agreements can be made privately or can be arranged through the Child Support Agency.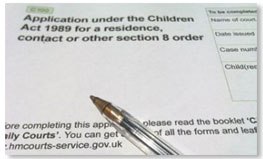 Without shared Parental Responsibility a father cannot have access to his child without the mother agreeing. He may apply for a Contact Order, if communication between the parents has broken down, and should the father want the child to live with him he will have to apply for a Residence Order. However, the court is unlikely to grant a Residence Order to a father for a baby, as this would give him shared Parental Responsibility.
Maintenance Rights
Simply because a father pays maintenance support to the child's mother periodically it does not mean that he is entitled to see the child. This form of support provides funds to be used towards the cost of raising the child, and should be used to pay for educational and extracurricular activities, shelter, clothing and food.
If the mother and the father have been able to agree a figure for maintenance, it is worth getting the agreement agreed by the court, in case payment enforcement is required at a later date.
Special Circumstances
In cases where the mother became pregnant through artificial insemination, or by third party donor, the partner at the time of birth is accountable for the child's welfare and is expected to contribute financially.To find out how child support is assessed take a look at our page
How child support is calculated
.
You might also like...
Hi advice needed, I dont want anything to do with my ex or the newborn she has, she used friends and family to ring my business and email me and contact me on facebook, what options are available, like this gorl is completely coo coo
Bhsil
- 19-May-15 @ 9:42 AM
@Mark - if there is no court order in force then there is little you can do. Has the mother given a reason, did your ex instruct her to do this? It might be something you'll have to wait until his mother comes home in order to sort it out. As frustrated as you may be, it is probably best to keep your head. If you are really desperate, you could even try the police, given that you have parental responsibility and the grandmother doesn't, the police may be able to help.
Suze
- 15-May-15 @ 2:56 PM
My ex has went on holiday aboad without telling me. She has left our son with her mother. I have a verbal agreement with her, that I have my son two days a week. However her mother refused to let me see my son yesterday and says she's not giving me him this Sunday. I've done nothing wrong, I pay more than the asked amount...desperate to see my boy, any advice??
Mark
- 14-May-15 @ 9:20 AM
@Georgia - it is very difficult as you cannot force the father to have your son. Just as he couldn't force you to have him, if you didn't want to. Is there no respite help that you can get? I would have a word with your GP, say that you are finding the strain difficult. But if the father doesn't want him overnight, then you can't really force the issue. There may be a reason that he doesn't want to be in full control, perhaps in case anything happens to your son while he is in his care. I'm sorry to hear that you are under so much stress with this - it must be really hard for you.
Sammy
- 13-May-15 @ 10:33 AM
@shaz - if your daughter has got to 17 without her father seeing her, then she is old enough to decide herself whether or not she wants to see him. With regards to child support if your daughter is in full-time education and your ex is working, then you will be eligible to claim child support, regardless whether he sees her or not. If you had made a previous claim via the CSA, and if he was working during this time, you would be eligible for arrears payments. However, if you have never made a claim, and even if he was working, then you would not be eligible for arrears through the CSA. I hope this helps.
ChildSupportLaws
- 12-May-15 @ 12:50 PM
Hi I have a 3 year old son who has serve haemophilia A (bleeding disorder) his father sees him 8hrs a week split into 4hrs he pays 85 a month child support.. I would like for his father to have him for a full weekend every other weekend but the father doesn't want too. I don't think it's fair that iv had to train hard in medicine in order for my son to have the care he needs his father said if I want a night off to give him full responsibility I don't want to get rid of my child permanently I'm just asking for a weekend every other weekend but this is not acceptable to him even though he has every day and night to himself.. Am I being selfish in asking for a longer break or is he being unreasonable to spite me and to stop me from getting on with life? Please help
Georgia
- 11-May-15 @ 10:53 AM
My Daughter asnt see her father for 17 years not payed no money to now he want to see her she near 18 in November I don't want her to see him I want her safe he not nice man I want to CSA to get him to pay up but he land in prison when I as for some money for her can you give advice.I went to court I got all the rights he only got her welbring that all
shaz
- 10-May-15 @ 11:11 AM
@jakes - mediation is voluntary, so it is up to you whether you want to try and see your ex's point of view and come to some sort of agreement over what he is asking for. Otherwise, if you don't want to come to an agreement with him over your child, you will have to leave it to the court to decide what is in your child's best interests.
ChildSupportLaws
- 6-May-15 @ 11:29 AM
Hi I have a 10 month daughter and the father is not on the birthcertificate but he wants his name on it but I don't trust him and his family are racist and don't want my child around him or his family hes gone to mediation and wants me to go but I don't want to be in the same room as him my question is do I have to go mediation or should I wait to go court could you give me some advice on this please thank you
jakes
- 5-May-15 @ 11:49 PM
Need advice my ex who was present or around when I had my daughter but now wants to know,wants his name on birth certificate I would but I worry about what rights he has he is from Albania and is waiting to get his English passport so having a child will help get it quicker,I don't know what to do
Pops
- 3-May-15 @ 8:50 PM
@Amanda - you are really the one that will make the ultimate decision. If he wanted to fight against you about this matter, then he would have to take it to court. However, I'm sure it wont come to that, and if it should, the court will decide what is in the best interests of your child and if the father has had little to do with his upbringing, then it is likely that the decision would rule in your favour.
Fiona
- 28-Apr-15 @ 11:01 AM
I have a son at the age of 4 hrs starting primary school in September. His father doesn't help me out with him but he is fighting against me what school he goes to because of religion can he do this? My son is attending pre school I bring him every day and attend parent teacher meetings my son is currently on stage 1 of special needs and is on a waiting list for speechtheorhpy. His father has not once attended to hear his sons progress and didn't want him to go to pre school!.. Can him and his family fight against me when I'm the one doing everything for my son from the day I give birth to him. His family has been giving me abuse now for 2 years.
Amanda
- 25-Apr-15 @ 12:13 PM
@Deana - it is very difficult to comment on this as for centuries fathers have had close relationships with their daughters and washed them and cared for them, as is natural for a father to do. It is only over the last few years that is is being questioned, but most fathers love their children and wouldn't see any harm come to them. You really have to ask yourself whether he is actually a father that just wants the chance to see and spend time with your daughter and you are making it difficult for him, or whether there is agenuine reason to be concerned.
Pam
- 14-Apr-15 @ 2:22 PM
The father of my 5 year old little girl had dragged my little girl and me through court, he was violent and aggressive whilst in the relationship, But the courts still granted him access. This was 3yrs ago the courts went on for 2yrs and the ended, he has my little girl every other fortnight fri/sat evening and every Tuesdat after school supposed to take her out for her tea but does not. he also has her 3 nights in holidays twice that in 6wks hols. and alternate Christmas. When my little girl comes back she is always ill and tired and very secretive, withdrawn, his mother is abrubt and sarcastic with me when I drop her off. He keeps threatening to take me to court if I dont do as he says, and drop her of if my little girl is ill, recently had a UTI. I explained about her medicine and bath time to let her wash herself and no bath bubbles, to drink plenty of water. But I got snapped at by his Mother, I do not know what to do, as he is determined that she shares a bedroom with him and he washes her. I get told off sayin he is the father he can wash her and share a bedroom and can do what he wants. can he do this?
Deana
- 11-Apr-15 @ 9:19 PM
@LollyB - if the house is jointly owned then I suggest your friend goes to seek some legal advice regarding her rights. Depending on her fainancial circumstances, she may be able to get support, she could look at the site Turn to Us, link
here
to see what benefits she may be eligible for. I hope this helps.
ChildSupportLaws
- 2-Apr-15 @ 10:33 AM
My friend has advised me that she is thinking of leaving her husband. She has a 2 year old son and 2 10 month old twin girls. Her husband is verbally abusive to her and she is constantly upset. He acts as though he doesn't care about the children and has made horrible comments about them including wishing they had been aborted. Last week he accidentally hurt one of the girls when he pulled her from her bath seat in anger because she was crying. She's told me she doesn't trust him to be around them. She has tried to confront him several times about different issues but he never admits to being in the wrong for anything. He's previously told her that if they were to separate, she would need to go as he wasn't leaving. He said she could afford to run the house without him and he would quit his job so that she would get no maintenance money from him. I don't see why she should be the one to leave as he is the one in the wrong and she has his 3 children. Basically she's worried that her and her kids are going to end up homeless. Does she have any rights here? Is there any support she can get to help her pay for the mortgage etc?
LollyB
- 31-Mar-15 @ 9:26 AM
@Mar - Reading between the lines here, are you saying that she has applied for child maintenance, but you are refusing to pay until a DNA test is carried out? If that is the case, this will put you in arrears and if the baby is found to be yours you might be liable for a hefty sum of backdated money to pay, so it really is better that you pay the maintenance until the test proves otherwise. Has she consented to the test or is she refusing it? If she is refusing to have the test done then you would have to apply through the courts if you want to continue to dispute paternity. I can't see there being a problem entering the UK, unless there is something you have omitted here. I have included a link regarding paternity tests
here
. I hope this helps.
ChildSupportLaws
- 27-Mar-15 @ 2:34 PM
@RagingR - I am sorry to hear this. However, there is quite obviously two sides to the story here. Your partner's time is obviously stretched very thinly and so you have no choice really to compromise here as he is trying his best to accommodate his other children without neglecting them, as well as be a father and partner to your own children and you. Have you not planned to live together as a family? That way you could see him all the time. However you would also have to spend time with his children and integrate them into your family and that can be a big ask. But it does seem a shame to split up when you have a child on the way. I suggest you have a talk to him about making your family a proper unit. If he is not responsive and you don't feel you are getting the love and respect you need, then you may have to go down the separation route and apply for help through the CSA. You may want to speak to someone as being pregnant can be quite a lonely time if you are not getting the support you need. I suggest giving Family Lives a call via the link
here
, they have trained advisors that may be able to help.I wish you the best of luck.
ChildSupportLaws
- 26-Mar-15 @ 11:49 AM
Hello. I posed a question on your site but I was not very detailed and therefore I made it difficult for you to answer me properly.I am American who had an extra-marital affair with a Brit which resulted in a pregnancy that was kept secret from me until the 2nd trimester (the baby was in fact conceived in the Caribbean).The Baby is less than 2 months old. I have every intention of financially supporting the child, but nothing more as there was a grand plan in place to break up my marriage and "run off into the sunset" which I was clear I had no interest in long before the pregnancy. I was having recreational sex an was honest with the Brit all along.I had intercourse with this person the night I met her - it was not a serious thing at all, but she seems to think that the fact that it was ongoing made it a serious "monogamous" relationship. Right now I plan to rebuild my marriage and undo the hurt I caused my wife and kids. Based on the fact that I only had recreational sex a few times a year with this person, I wish to have paternity proven before I commit to payments, and will pay what a judge sees fit without question. I have been postponing my next work trip over to the UK for some time but really need to get there soon. I was wondering if I might have an issues upon entering the country? Might I be detained, or prevented from entering despite my desire to be cooperative and accountable? What might my worst case scenario be with Immigration? Thank you for the work you put into the site Regardless if you have bad news for me or not, your site is an incredible and necessary resource . Regards,Mar
Mar
- 26-Mar-15 @ 11:42 AM
@tezza - if he is the father of your child, yes you can apply for CMS (as it is now known) via the link
here
. I hope this helps.
ChildSupportLaws
- 25-Mar-15 @ 3:01 PM
Iam 6th m of pregnant. Father the"baby" said to the coucil that we are together,so he receive discounts and other benefits like working tax credit. but in reality we are not together,he doesnt care to take any financial responsability of me during the time, the shopping i have to deal myself, doesnt come to me, we simply dont live together and do not lead common household. I tried to tell him than he have to stop take any benefits but i got as response only threats to leave his place (we dont live tohether, he made me stay temporary with one of his studio flat). Is there some oportunity to push the "father" by law to pay on me some maitenance 3 monhts before give birth?
TurnTheTimeBack
- 25-Mar-15 @ 10:39 AM
Hi. My ex and father of my child has been a complete nightmare... He has improved somewhat this year but until very recently ... Let his daughter down, got me into debt and hasn't ever paid towards her. Recently he had been better with reliability and I don't doubt he loves her. Dealing with him I have realised is down to me and the way I react etc. Though the money thing I'm finding infuriating. I allow him to see her. I buy her everything she needs. And I barely see her as I work so hard to provide on my own. But he gives me sporadic money when he's feeling 'nice' ... My issue is... Although he's not short of cash it's not official (or on the books) ... No idea what or how. Dread to think... So I cant even get csa as as far as the calculations online are concerned im entitled to nothing. Feel like screaming ... And have done for four years ... Note to ladies ..... DO NOT HAVE BABIES WITH COMPLETE MORONS!!!
Frustratedmummy
- 24-Mar-15 @ 4:17 PM
@ally - your ex would have to take you to court for access. If you don't agree with your ex having unsupervised access then you would have your chance to voice your concerns to Cafcass pre-court. The courts will consider the Cafcass report and what you have said, and base its decision upon it. I hope this helps.
ChildSupportLaws
- 24-Mar-15 @ 12:02 PM
Hi, I currently have a one year old and I am pregnant with me and my partners 2nd child he already has two other children outside of our relationship one of which is the same age as our one year old son. Currently I am finding it a struggle for him to show us any priority he has the other two children every weekend at his mums as he still lives there and gives me and my son a few hours here and there a couple days a week, I try to make plans to incorporate us all but it seems to constantly fall on deaths ears what am I to do I am now at a point of seeking csa and cutting ties as it's just a constant depressing cycle
RagingR
- 23-Mar-15 @ 3:19 PM
My other half legged me when I was 12 week he said he won't come to the register office can I still take him for csa
tezza
- 23-Mar-15 @ 12:32 AM
I split with my childs dad when 12 weeks pregnant. My ex didn't neet hus child untill he was 10 months as he wasnt interested. He us a heavy cannabis user and I know he used to grow it in his old flat.I alliw him access at my house si I am there and it is supervised.He is now pushing to take my child outI dont care what my ex does in his own time but I do not want my child any where near any kind of drug. Which isn't unreasonable I don't think.My ex and his girlfriend think I am being petty! What are my rights please help
ally
- 20-Mar-15 @ 9:27 PM
@LVC - it may be that your son's father is just being lazy and relying on you to do all the work. I'm sure if he had his son overnight, once alone then his responsibilities I'm sure will kick into gear. However, if you are concerned then while he is living with you, you should make it a firm agreement that he gets up and sees to your son responsibly, otherwise your son will remain with you overnight until he is older. If he doesn't agree with this he would then have to take it to court and it would be up to the court to decide.
ChildSupportLaws
- 18-Mar-15 @ 11:49 AM
@Good dad - you need to apply for a contact order through the courts, see our Separated Dads partner site and article: When Your Ex-Partner Denies You Access, link
here
and go through the procedure listed. If by any chance you want to avoid the hefty solicitor's fees you can always self-litigate, see link How to Represent Yourself, link
here
. I hope this helps.
ChildSupportLaws
- 17-Mar-15 @ 2:42 PM
@bee - they are only really useful if those pages are sent by email or text so that they are officially recorded and are known to come from him. If you have any official evidence that can prove his instability then this would help too.
Jacq
- 17-Mar-15 @ 1:57 PM
@GORDO - I am afraid I can't advise as this is a UK-based site and you are US-based and we don't have the knowledge of USA law.
ChildSupportLaws
- 16-Mar-15 @ 2:26 PM