The Law and Single Mothers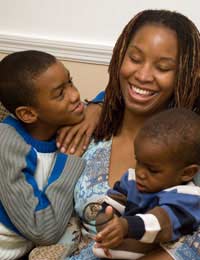 A mother has parental responsibility for her child and is generally expected to become the parent with care, in the event of a separation or divorce. Whilst providing care for her child allows her to receive maintenance support from the child's father, to cover the cost of the child's expenses, a mother's rights are very much conditioned by her marital status. A married woman will be more financially secure, than a woman who remains unmarried, if she has children and her relationship breaks down.
Mother's Pride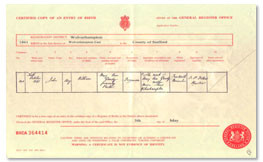 If the mother's name is the only name listed on the child's birth certificate she has sole Parental Responsibility for the child's welfare. Adding a father's name to the certificate can only happen if he attends registration. Once the father's name is registered he will automatically share parental responsibility for the child, assuming that the child is born after 2003. A Parental Responsibility Agreement can be drawn up at a later date if a mother is prepared to share responsibilities with the child's father, if he was not named on the birth registration form. Our page on
What rights does my ex have
discusses Parental Responsibility and how to determine it in some detail.
Paternity Confirmation
Most fathers confirm paternity, when asked, which enables the mother – regardless of the brevity of the couple's relationship - to apply for child support with relative ease. Establishing fatherhood acknowledges shared responsibility and liability for the child, or children. Those non resident fathers who are less willing to provide maintenance assistance for their child however, can be traced by the Child Support Agency (CSA) and have payment enforced.
Mothers' Rights
A single mother is entitled to claim maintenance from her child's father, on behalf of the child. She does not have to have shared parental responsibilities with him in order to ask for Child Support payments to be calculated and collected from him. Maintenance agreements can be made privately or can be arranged through the Child Support Agency.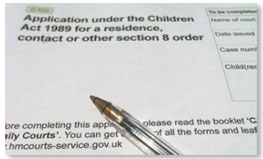 Without shared Parental Responsibility a father cannot have access to his child without the mother agreeing. He may apply for a Contact Order, if communication between the parents has broken down, and should the father want the child to live with him he will have to apply for a Residence Order. However, the court is unlikely to grant a Residence Order to a father for a baby, as this would give him shared Parental Responsibility.
Maintenance Rights
Simply because a father pays maintenance support to the child's mother periodically it does not mean that he is entitled to see the child. This form of support provides funds to be used towards the cost of raising the child, and should be used to pay for educational and extracurricular activities, shelter, clothing and food.
If the mother and the father have been able to agree a figure for maintenance, it is worth getting the agreement agreed by the court, in case payment enforcement is required at a later date.
Special Circumstances
In cases where the mother became pregnant through artificial insemination, or by third party donor, the partner at the time of birth is accountable for the child's welfare and is expected to contribute financially.To find out how child support is assessed take a look at our page
How child support is calculated
.
You might also like...
My daughter is a single mother, the father is allowed to come over to see and help with the baby any day. The mum.lives with the baby with us her parents. He has the baby one full day a week, which he takes to his parents so they can see her. His parents wants to have the baby on their own one full day as well the dad seeing the baby. He wants the baby overnight. He lives in a shared house, with two others who both have partners, plus friends coming and going, all smokers even the dad.His parents also want to have the baby one day a week.Would the dad get custody,is my daughter being unreasonable.
Cassy
- 9-Nov-21 @ 8:29 PM
Hello I have 2 kids whit my ex his name is as endorsement on the birth certificate can he take make kids from me because I haveborderline personality disorder
Juju
- 1-Aug-21 @ 6:20 PM
Im a single mother and father of my baby takes him for the weekends always he is in his birth certificate bt now he want to have a share custody what does it change in my life ?
Kinga
- 21-Mar-21 @ 5:55 PM
Hi, I have 3 year old twins.I have been separated, never married to their father for the past 3 years. I have them 6 nights a week and he has them from a Sunday 1pm till Monday 5.30pm, and Sunday 3pm on alternate weeks.This is because every other weekend he sees another son from another person.He has my boys over one night. He has just said he is changing it to 5pm on a Sunday and reducing my money to £300 per month.He was paying £340.00.However I drop boys to him and pick them up as he doesn't drive. And frankly this is better for my boys. What rights do I have to refuse this change?He essentially will get a whole weekend to himself every other week.I on the other hand am doing everything else for the kids and Sunday from 5pm is no time at all to myself.I work on Mondays when he has them.I am gutted for my children first and foremost, that he is offering them so little of his time.And I need that time to rejuvenate so I can be the best mother I can be for them.By the weekend I am often really struggling and in need of a break.I work 3 days a week on top of being a single mum and my job as well as the twins is demanding. Financially we have never been through the CSA but I know he has paid for his other children via that.He has a 4 year old and a 15 year old.The 15 year old doesn't want to see him.The money he has given me has been based on getting what they get but doubled as I have 2 kids.I have tried to argue the £40.00 a month I get which he is trying to take away represents me taking kids to him in my own time and resources and picking them up.I also know on top of his PAYEE job he has which they used to work out the CSA money for the other kids, he gets A LOT of weekly cash on top for extra work he does and doesn't declare.It was on this basis I have always stood my ground and told him I am not okay with any less money, as if they really looked into his earnings and worked out based on his true income then we would all be eligible for more. I feel so powerless, like I am alone with no support and he is reducing and controlling everything.He even tries to control what support I get from his willing family.My family cannot support me. I tried to stand my ground and say if he cannot cope he needs to sort out something else.It shouldn't be down to me to pick up the slack.I only have his family I can ask but he has issues with that. He was violent during the relationship, hence why I left him.Not that that has relevance.It is of no threat with the kids.Just to me and we have very little contact.Just at pick up and drop off.I never pressed charges.I am letting you know as he is a controlling and rigid man.Like he 'told' me these were the changes, no room for discussion, just dictated, no negotiation.I feel like all I can do is bow down to what he says.Is this true? I'm broken, those few hours on a Sunday WILL make a difference to me.I already know how
Vicky
- 29-Nov-20 @ 10:34 PM
Hi, I am a single mom of 2 and recently I just found out I am pregnant again by a new ex-partner. My kids dad is not helping financially, coz they said he is not working but he is receiving benefits. Now I am not sure what to do with this new pregnancy and I would like to know if I would get support for my 3rd child by government, as the law has changed in 2017 about the 3rd child. Thank you for your help.
Hi. My daughters dad and I are separated and he wants to have her for a full day/ night weekly. However as she is only 7 months old and I am still exclusively breastfeeding I will not agree to this. He is on her birth certificate so if he took it further would he be allowed to just take her from me? I do not trust him as he has severe mental health issues and is very controlling/ unpredictable on his own however he thinks he is absolutely fine. Help!
Grace O'Sullivan
- 19-Oct-20 @ 3:13 PM
I am looking to separate from my partner of 20 years. We are not married and have two children. Ww bought a house together but will refuse to leave unless we sell. Can I force him out without selling? If we do will I be entitled to more of the release funds from the sale because of the children?
Jolee
- 4-Oct-20 @ 8:26 PM
My child lives with me and my ex has him at weekends.When it comes to the weekend do i have to give her money for that weekend that she has him
flia
- 28-Sep-20 @ 2:11 PM
Hey I'm currently pregnant and the father wants no involvement with the baby now, just wanted to know what benefits I am entitled to to support me and my daughter
Mads
- 8-Sep-20 @ 7:23 PM
Hello my sons dad is registered on the birth certificate but he abused me and threatened to take the boy away,he equally refuse to sign his passport form,can I get full custody of the child pls
Blaw
- 23-Aug-20 @ 2:13 AM
Hi. I broke up with my partner and daughters father in 2018. I was suffering with mental health issues, he took our 2 year old and all of her belongings. I continued to look after her most days I sought help for abuse issues and social services (advised) supervised visits with his mother. But he didn't feel it necessary so I've had her half the time or more. I've been struggling to manage on my own relying on food bank etc. He's refused to help financially and now I've applied for benefits he's saying I have no rights as she resides with him. He's changed her doctors without me knowing. Says he'll use my issues against me. Although I've continually sought help and he's never had any concerns about her in my care. I should have looked into my rights but he's continually put me down as a mother. And I'm only now finding my confidence again Can I get her back
Chrissy
- 21-Aug-20 @ 5:53 AM
hi i was wondering, my question is my father left 30 years ago and since then he has never paid child maintenance ever, he disappeared then later on got married and had more kids and left us and our mum on the benefit system that brought us up, and then recently I decoders he did this with his previous wives and left the kids on the benefit system tht kept us by. My question is I'm 33 years old and my mums never seen a payment for me and my sisters. So I was wondering would I or my mum be able to claim any CSA back. Ide be grateful if someone could clarify this for me. Thank you.
NBawlnd
- 18-Aug-20 @ 10:28 AM
I need some advice please. I have been separated for 7 years, I have a court order for the father to see the kids for few house a week. However we have extended the hours over the years. My eldest refuses to see his father and the youngest sees him( this has been going on for about a year) recently the father has asked to have the youngest stay over weekends. Which I do not want. What can I do? Can I refuse and demand for the original court order visits to start again? Will that hold as over the years since separation he has had longer visits ? Thanks
Susan
- 14-Aug-20 @ 9:50 PM
I found out im pregnant with my ex's baby. He wants me to abort it but i want to keep it and for him to sign his parental rights away. Would he be able to challenge me on it if he decides thay coz its is kid he has the right to be in his life even if he wants me to abort it
Ginny
- 26-Apr-20 @ 12:45 PM
Have been with my partner for 3 years and he has a son from a previous relationship. He has him two nights a week, one after school midweek and then Saturday night and takes him back Sunday evening. In this time the mother will text and text and text asking how her son is. If a response isn't given with 10minutes another usually abusive text will follow. She has even turned up to the house before because a text wasnt followed up. There is no reason for this untrusting behaviour and it is getting to the point of harassment. Consent was asked to go abroad during an arranged time which was denied by the mother but then she said she was going to do the same and my partner was pretty much not allowed to say no, it was almost a I dont care I dont need your permission type deal. I keep saying he needs to get mediation but he is worried about the impact this will have seeing as she is already so unreasonable. Has anyone got any advice? Can we limit the texting legally? What are the options? Thanks
I gave a grandsonwho is 11 months, to date the fatherand his parents will not pay maintenance they say the child must have a paternity test done first. Please yelp
Hannabellz
- 9-Dec-19 @ 1:47 PM
hi my ex partner was unable to see his baby after he caused internal swelling in his head a 6 month old, I protected my son n had.bruised arms ect, I took h straight to a& e where social work and police came he pledged guilty to sever assult charges on me and his son, he got 6 month tag and 300 hrs community service I agreed to supervised contact through his mum then something happend to my son that they where unable to explane where a mark had came from so Ihad my solicitor arrange supervised contact at contact centre, after this period I resumed contact with his mother supervision now he is trying for residental weekends so I put forward 2 whiteness statement where my child has returned home soaked through from nappy to his knees ect when they are giving change.off clothes nappy wipes waterproofs wct
soph
- 11-Nov-19 @ 8:16 AM
Just need so advice on behalf of my daughter she was in a relationship for 2 years and has had a baby in April 2019 which has resulted in her suffering with anxiety and depression which led to the relationship breaking down My daughter has remained friends with her ex partner for her daughters sake and has been reasonable with contact arrangements she given him equal share around his work commitments He lives at home with his parents and siblings and my daughter and granddaughter lives with me and her family The problem is he's saying he doesn't have his daughter enough he has her 4 days a week and 6 hours on a Sunday and he wants her overnight but my daughter doesn't want her staying over night Her ex partner doesn't have his own room where's he's living We would like to know if what we have in place and say is right and acceptable her ex partner is named has the father on the birth certificate Many thanks
Susan
- 23-Oct-19 @ 3:27 PM
HI, MY SONS FATHER LEFT WHEN MY SON WAS 2 YO.we were never married, can i claim full custody?
dkk
- 16-Oct-19 @ 5:14 PM
Hi there, Just looking for advice really I've been separated from Ex three years I'm a single (mother) main parent , carer for my son He sees his dad on Tuesday/ Wednesday after school and all day Sundays All been fine until now He's father has been with someone else for two years Now he wants to introduce our son to her But I have always said he doesn't need another family circle or life as he has his mum and dad and both family's He's 5 and doesn't need any confusion I'm trying to keep things normal I keep my life separate from my son He wants him to be with them ... does he have the right to this? As the main parent and his mother I think I have the right to ask that he sees him as his dad only and not involving anyone else ? Maybe I'm wrong but I only want what's best for my son and keeping safe and not confusing him anymore than he needs to be
Bonbon
- 4-Aug-19 @ 7:39 PM
My name is Elena and I am single mum. My daughter is 3 years old. I was missing from work many time because the baby was sick and now I need to have a conversation with the manager. Did I can loose my job because that. I am working in this place for 3 years, I am single mum, my daughter's father and me we are separately before she was born.
Ella
- 1-May-19 @ 2:42 PM
I want to seek advice, please. Am not married to the man we just had a child who is a girl for each other. Since the day I got pregnant and till now that the girl is a year three months old, I owe him no kobo. But just lately, he came asking me to allow him see the child but I refused. What should I do because I don't want him to take her from me?
Vickiedovy
- 22-Apr-19 @ 3:36 PM
Hi I have a son who is 5 me and his father have been separated since he was 1 . His father has never been consistent with contact he has gone as long as 6 months without even a phone call .. he has never paid child maintenance not that this is an issue because I have managed by myself . He has been abusive and violent towards me in the past and too his current partner aswell . I have never stopped him seeing his son until now I have asked him to stay out of his life because the constant being dropped for months at a time is not fair and it has been having an effect on him and he is really sensitive and has learning difficulties as well . I don't hate his dad and I don't hold nothing against him but I do really believe that it is best that he doesn't have contact and my social workers are in agreement with me . Has anyone got any advise on where I stand legally or if I can get a court order in place because I have a real bad feeling that he isn't just going to let this lie and I worry about his reaction when he does see me
Niya
- 19-Apr-19 @ 9:03 PM
Me and my partner have been together for 20 years and have 2 sons aged 13 and 19. The relationship is breaking down. We always argue, with him starting most of them. He always picks fights over the slightest thing. For example: he is very clean and if there is a slight bit of dust anywhere he won't stop going on about it. Now he is arguing about a meal I microwaved which was slightly in too long. Ridiculous. He is working and I am not, so I only have some money my parents gave me recently. He is now saying he doesn't want to be with me as he is fed up, but he is the one always putting me down. I don't talk to my family and he is saying my kids are staying with him. It is breaking my heart. I am feeling so depressed..
Mel
- 28-Mar-19 @ 6:58 PM
I am married but also a single mother at the same time. Me and my husband didn't get the divorce yet but he lives in Slovakia while me and our daughter moved back to the UK. I don't know how much time is it going to take before we get the divorce and my question is: am I classified as a single parent when claiming tax credits? Or do I have to include the husband's income and other things even if we don't even live in the same country anymore? I would appreciate any kind of help or advice, thank you.
Alice
- 24-Mar-19 @ 2:35 AM
Hi, I have been divorced since 2015. My daughter has been living with me in Sweden for over five years (her father has very limit contact with her, he doesn't try even). Now, we are about to apply for Swedish citizenship. However, I have got a paper which need her father to sign. I got in touch with him regarding it. He refused to sign the paper. What's our (I and my daughter) right?. Thanks.
Help Needed
- 15-Mar-19 @ 10:13 AM
Son 10 yr old has adhd at the moment his dad only has him 1 night a week. Differently to all the rest i want him to have him more ,i findin things really tough - but is there anything legally i can do to make his dad have him more - shared custody etc . If id have stopped contact there would be help for his rights????
Lizh
- 26-Feb-19 @ 7:31 PM
Hi, In August 2017, my ex husband applied to the court to see my son after I sent a letter to home office informing them about our separation. He is using the child contact for his immigration purposes. We had a fact and finding hearing in April 2018 where all the allegations regarding abuse I suffered was approved by the court. In July 2018, he also threatened to kill me while we were in court and the judges approved after a quick fact and finding. On the 14th of September, Cafcass sent a report where they do not approve of direct contact as my ex is too high a risk of harm for me and my1 year old. On the 6th of September 2018, home office issued my ex with a 2.5 year of resident permit. We had another child contact court hearing on the 17th of January 2019 in which my ex did not turn up. So the court dismissed the case and the court approved of the CAFCASS report suggesting no direct contact. It was evident that my ex did not turn up as he already got 2.5 year leave to remain in the country and did not need the child contact case for the time being. So I do not claim anything financially from my ex as maintenance. He only sends 3 gifts per year according to court order. The court order also says that I am allowed to go out abroad for 1 month without asking for permission. This restricts me from having longer holidays. As my ex has no direct contact and does not contribute financially, is there a way that I can get sole parental responsibility as I feel restricted with taking decisions.
Jade
- 8-Feb-19 @ 8:33 PM
My partner was deported to Africa because he physically abuse my first son who is now in care. His name is on the birth certificate of my younger son and my younger son and my daughter has been demanding to see their him. They talk on the phone always and they want him back. Please what can I do?
Rose
- 22-Jan-19 @ 6:08 PM
Hi I would like to know if there is a law for divorced mothers with 5 year old kid put my hours at work when they suit me! I feel some of my colleagues see it that I benefit more than them because I divorced and I tell my manager the hours I can work and day and also most weekends I am off! The type of work I do need work weekends too! I also feel bad about it! Is any law that I can do that?